So you're looking for a comprehensive list of NFT websites?
Or perhaps you just want to see which NFT sites you don't know yet?
Well, you've come to the right place because this is probably the most detailed NFT websites list of the best NFT marketplaces, NFT auction sites, NFT art sites, or NFT trading sites.
We've broken down our list of the top NFT sites into various categories, so you can pick and choose whatever you need from our NFT websites list.
In this extensive reference, you'll find all the NFT websites you need in 2022.
Like this content? Then share it!
Best List of NFT Websites in 2023
Here's the answer. Great article by @ChrisHeidorn right here: https://tokenizedhq.com/nft-websites/

www.tokenizedhq.com
About This List of NFT Websites
NFTs are still a nascent technology and sometimes a month can feel like a year in the NFT space.
Everything is moving so quickly right now that it's difficult to keep track of everything that's going on.
Therefore we ask you to bear with us if we occasionally aren't 100% up-to-date on this list of top NFT sites.
As new NFT sites and categories of NFT websites emerge, we'll make sure to update this post accordingly.
Please also understand that while there are tons of sites out there, we are not going to list every single one of them for the sake of maintaining a curated list.
Major NFT Marketplaces
The following list of NFT marketplaces only covers the major websites that focus on the dominant blockchain for NFTs, which is Ethereum.
If you are looking to trade NFTs on layer 2 blockchains, we recommend checking out our list of the best Polygon NFT marketplaces.
OpenSea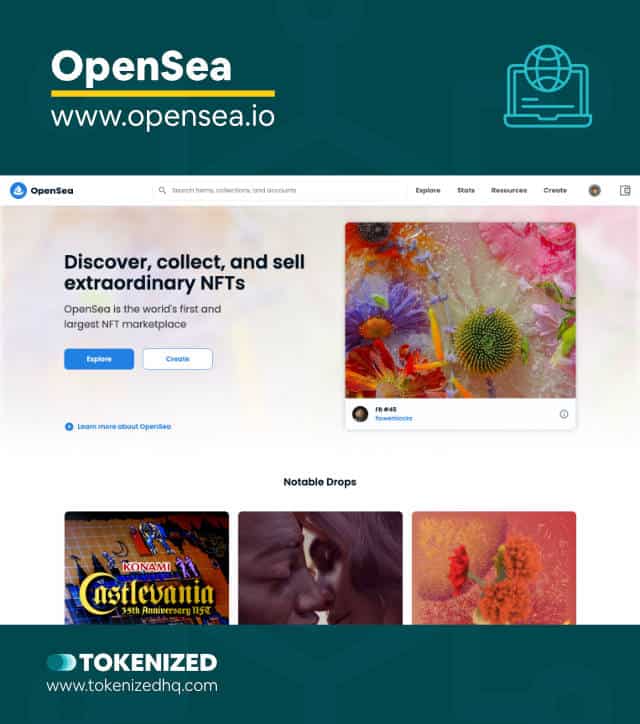 At the time of writing, OpenSea is the single largest peer-to-peer NFT marketplace and by far the most dominant player in the space of NFT trading sites.
Short of calling them a monopolist (which they effectively are), it should be pointed out that with nearly $1 billion in trade volume per week, they eclipse the rest of the market.
With OpenSea fees at a whopping 2.5%, you can do the match yourself and quickly realize how much money they must be printing.
That is also why we strongly encourage everyone to start using one of the many OpenSea alternatives that have been popping up in the market.
OpenSea is obviously making money, but can you make money from NFTs if you're not the platform, but just a trader?
Sure you can, but successful trading also depends a lot on how good liquidity is.
In a market as illiquid as NFTs currently are, aggregation of supply and demand is important for people.
Whatever you're looking for, chances are it's probably listed on OpenSea, amongst other NFT marketplaces.
OpenSea has it all, from art and collectibles to photography and even music NFTs.
OpenSea also offers an extensive set of infrastructure, including an API as well as means to create your own NFTs directly on the platform.
Many people have been asking us: Is OpenSea safe?
The simple answer is: Yes, OpenSea is absolutely safe to use.
It should be noted that even though the team marks verified collections, you should still always make sure that you are trading on the correct contract.
OpenSea currently supports Ethereum, Polygon, and Klaytn as chains.
Rarible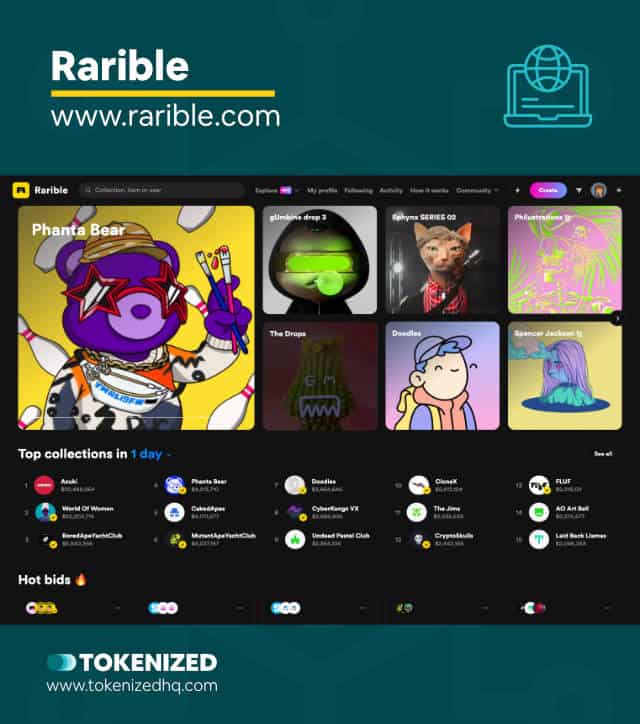 Next up is Rarible, which also belongs to the leading list of NFT websites.
Unlike OpenSea, which is often criticized for primarily being venture capital funded and has already filed for an IPO, Rarible is a community-owned platform that is governed via its $RARI token.
Buyers and sellers on the NFT art marketplace are rewarded for their trading activity and can claim tokens on a regular basis.
Rarible is one of the easiest to use NFT selling sites and most creators who are looking for NFT sites for artists will feel at home here.
Rarible currently supports Ethereum, Flow, and Tezos as chains.
Coinbase NFT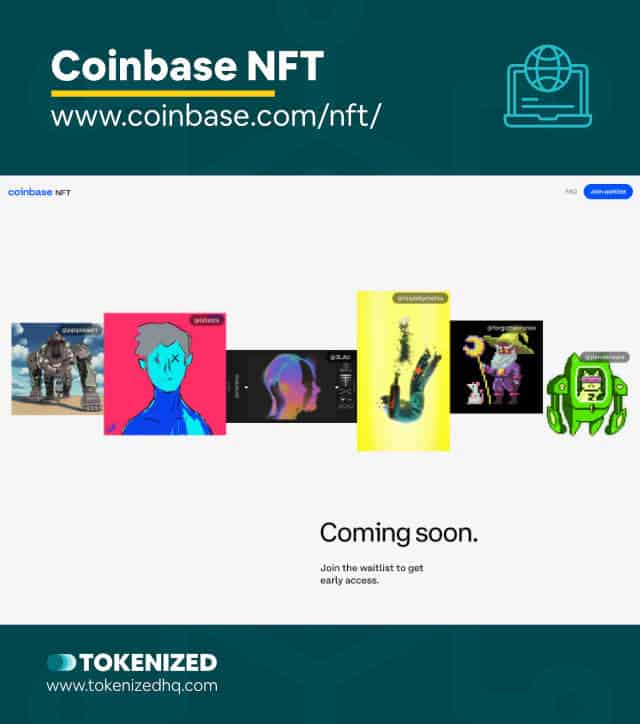 While the platform isn't public yet and it kind of feels like the launch was ultimately delayed, needless to say, Coinbase's massive userbase and user-friendly interface will make Coinbase one of the biggest platforms out there…on day 1.
At this time is it unclear how heavy the curation will be, but it's almost certain that there will be some, simply in order to protect Coinbase customers from bad actors.
Coinbase NFT will also most likely introduce a massive wave of new liquidity as many retail investors have been shying away from NFTs due to inexperience.
We expect Coinbase NFT to support Ethereum, Polygon, and possibly also another large contender such as Solana.
LooksRare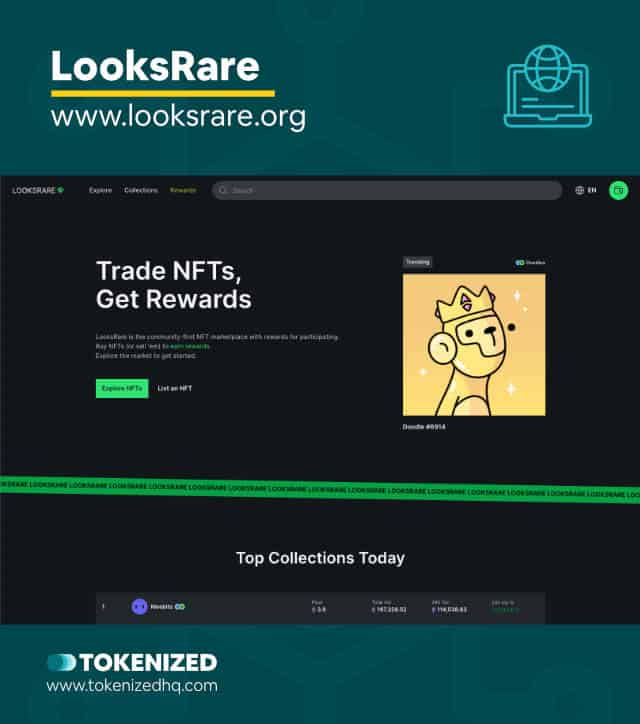 The absolute new kid on the block is LooksRare, which was launched in January 2022.
LooksRare received seed funding from a number of well-known NFT influencers, including @Pranky and @ColeThereum.
It should be noted that not all of the faces involved are particularly popular, especially not ColeThereum who's been linked to multiple questionable projects (e.g. Pudgy Penguins).
That being said, the new NFT marketplace comes with some innovative features that should make NFT trading a bit for efficient and it also charges lower service fees than OpenSea.
They've also introduced their own $LOOKS token which rewards trading activity on the platform.
However, it should be noted that the $LOOKS distribution mechanism isn't without its faults either as it seems to have incentivized a HUGE amount of so-called "wash trading".
While the creators will obviously not admit this openly, it is highly likely that it is part of the marketing strategy, since the artificially inflated volume will surely get attention.
Bear in mind: Wash trading is usually considered illegal for good reasons.
Curated/Exclusive NFT Art Marketplaces
SuperRare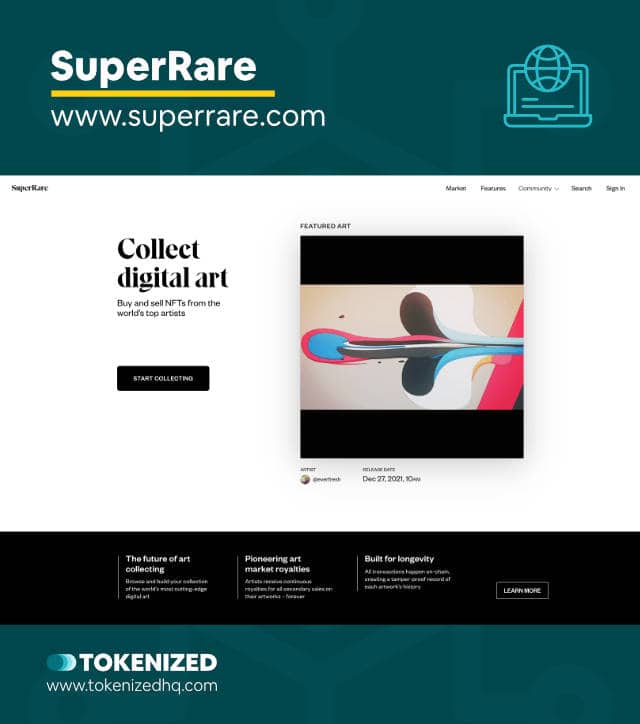 If OpenSea is Volkswagen or Toyota, we're now getting closer to the Porsches in the NFT marketplace space.
SuperRare has positioned itself as a more high-end version of Rarible, in the sense that its interface is much cleaner and less cluttered with all sorts of NFTs.
It is heavily curated and tries to convey the vibe that you'd get at an actual art auction or gallery.
Work that you want to list needs to be submitted for approval before it's put up for sale.
That's also why SuperRare tends to be quite popular with real-life artists.
It's one of the best NFT sites for artists with an established fanbase.
Also similar to other NFT auction sites, it has its own social aspect by having a governance token called $RARE.
SuperRare only supports the Ethereum blockchain right now.
KnownOrigin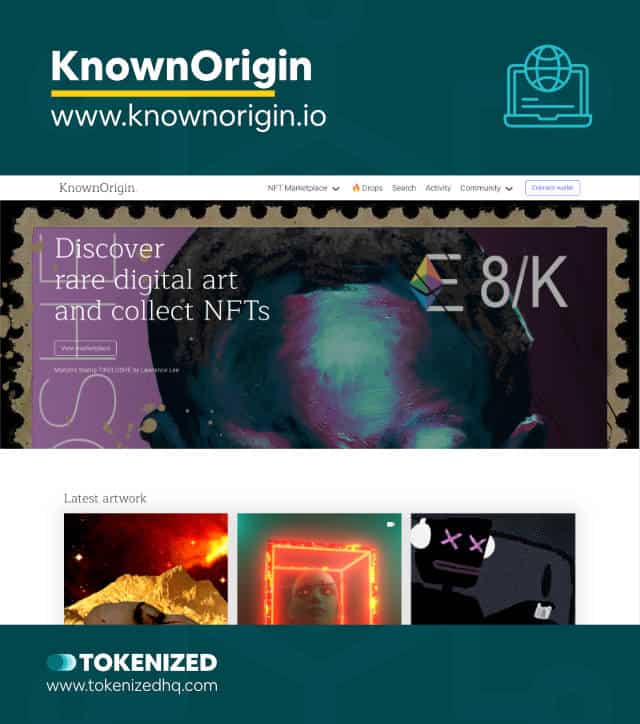 Very much in the same vein as SuperRare is the much smaller KnownOrigin.
It also aims to provide a heavily curated, clean, and gallery-like user experience for elite collectors.
All NFTs created via their platform are stored on IPFS, which means that the underlying assets/images are in decentralized cloud storage, limiting the risks of NFTs ending up with broken links.
You won't find any profile pic (PFP / avatar) projects on KnownOrigin as these are usually considered cheap "mass products" by collectors.
KnownOrigin only supports the Ethereum blockchain right now.
Foundation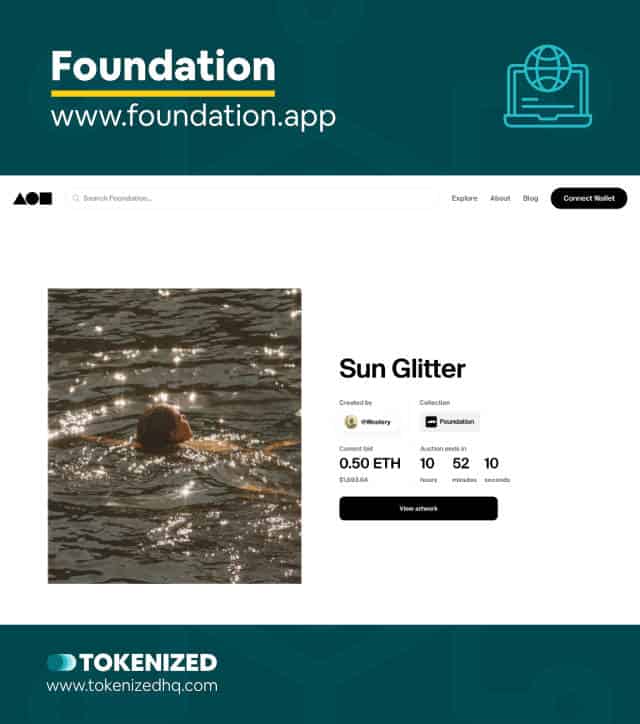 About half the volume of SuperRare but still quite big is the NFT marketplace Foundation.
With its invitation-only system, it's managed to keep most of the garbage off its site, despite still being a relatively open platform.
It's frequently used by a lot of influencers with mid-sized to large audiences as well as established artists.
It is also a very popular NFT photography marketplace.
Similar to KnownOrigin, all artwork is minted by the seller upon listing, unlike OpenSea.
This also means that all assets are once again stored on IPFS.
The OpenSea minting fee is effectively zero because they offer something that is called "lazy minting", which means that it is minted once the NFT sells.
If you don't know what minting is, we highly recommend that you check out our dedicated article on "What is minting NFTs?".
Once again, Foundation only supports the Ethereum blockchain.
Other Notable Mentions
MakersPlace: Another boutique NFT marketplaces focusing on exclusive artwork.
Nifty Gateway: A heavily-curated NFT marketplace own by Gemini and responsible for Beeple's initial $6.6 million sales in February 2021.
Non-Ethereum NFT Marketplaces
There are various other NFT ecosystems that run on blockchains that are competitors to Ethereum.
While we won't list all of them here, feel free to check out our other articles that specifically cover the NFT marketplaces within each one of them:
Binance NFT Marketplace
With its huge trading volume in the crypto world and thus usually also the best liquidity you can find, it was only a matter of time until Binance would launch its own NFT trading sites.
While its primary focus is obviously to capture a portion of the global NFT trading volume, it also reinforces the list of use-cases for its own Binance Chain.
Nonetheless, the platform supports Binance Chain as well as Ethereum.
BakerySwap
It should be noted that you can trade Ethereum-based NFTs via DApps such as SushiSwap or PancakeSwap as well.
However in this case we'd like to talk about BakerySwap, which is built on top of Binance Chain.
We're only listing it here because the other ETH options are usually quite well known already.
Solanart
As you probably already guessed from the name, Solanart is currently one of the biggest NFT websites dedicated to the Solana blockchain.
And with the growing popularity of Solana, you can expect a lot more of these to pop up quite soon.
Not only because gas fees on Ethereum have become a huge problem but also because the Solana ecosystem is quite large already and heavily funded.
Solanart takes a curated approach to NFTs, so the selection is relatively small compared to NFT sites like OpenSea.
It goes without saying that Solanart only supports the Solana blockchain.
TokenTrove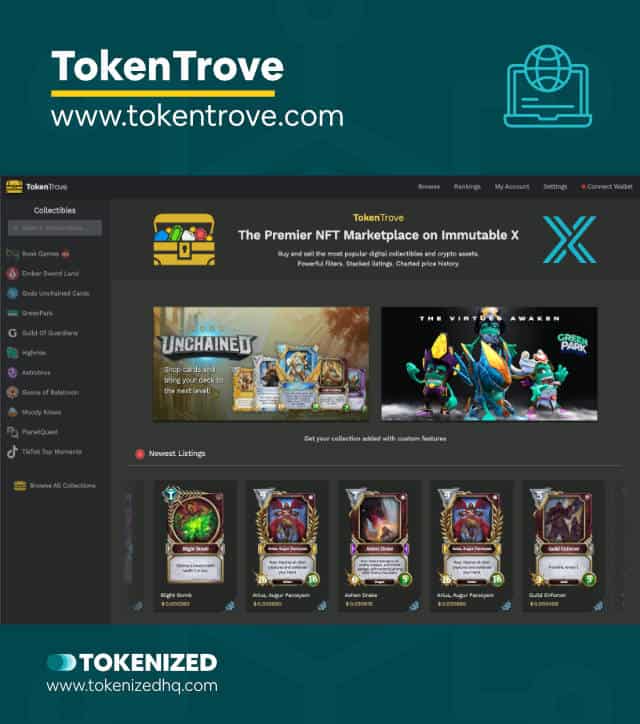 If you visit the TokenTrove NFT site, you'll most probably feel like you've entered a parallel universe within the crypto world.
TokenTrove's obvious fantasy-based, "Magic: The Gathering"-like atmosphere is, in a weird way, a breath of fresh air amidst all the relatively modern and polished NFT marketplaces.
TokenTrove was mainly popularized by GaryVee's Book Games launch, which is part of the great VeeFriends ecosystem.
What makes the platform stand out, is that it runs on Immutable X, which is a dedicated Layer 2 solution for NFTs on Ethereum.
Immutable X is actually one of the most popular scaling solutions amongst the best NFT games in the market.
With zero gas fees and carbon neutrality, it addresses one of the major criticisms around NFT artwork and also reduces a lot of the monetary friction generated by Ethereum's network congestion.
If you're keen to learn how much it would usually cost to create an NFT, we highly recommend you check out our guide "How much does it cost to create an NFT?"
It should be noted that GaryVee has invested in both ImmutableX as well as TokenTrove.
He's a clever man 😉
Other Notable Mentions
Magic Eden: Another Solana-based NFT marketplace that has recently surpassed Solanart in trading volume.
BloctoBay: This is an NFT selling site dedicated to the Flow Blockchain, which is owned by NBA Top Shot (we talk about this later).
Project-Specific NFT Marketplaces
CryptoPunks / Larva Labs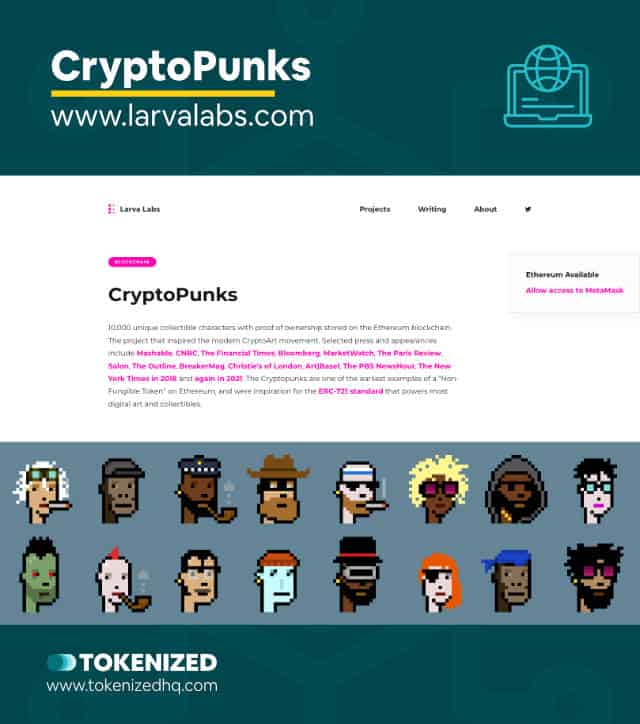 If you are here, it is beyond a doubt that you have heard of CryptoPunks.
They are widely considered to be the very first NFT project, although this claim has since been disproven ("My Curio Cards" was there first).
Nevertheless, it's still the first 10k PFP of its kind and has become the epitome of the genre.
The best analogy we can think of is that CryptoPunks are to NFTs what Bitcoin is to Crypto.
The vast majority of CryptoPunks sales take place on Larva Labs' own NFT marketplace.
For obvious reasons they only list Larva Labs tokens.
CryptoPhunks V2 / Not Larva Labs
You might be thinking "what the hell are Phunks?".
We won't dive into the detailed history here, but let's just say that CryptoPhunks have historic relevance mostly because of how Larva Labs chose to deal with the fact that somebody simply copied, flipped, and listed their project.
One can argue whether it was meant as satire or simply a cash grab.
Fact remains that Larva Labs filed multiple DMCA takedown notices and actively fought to have CryptoPhunks removed and censored from the OpenSea NFT marketplace.
By doing this they effectively created an entirely new narrative for the existence of Phunks: Decentralization & Anti-Censorship.
And thus the CryptoPhunks were resurrected from the ashes, like a Phoenix.
The Phunk community took matters into their own hands and built their own marketplace in order to revive the trading activity.
The NotLarvaLabs website cannot (easily) be censored or stopped.
And the vast majority of CryptoPhunk trading activity (which is quite a bit) takes place on the community marketplace.
NBA Top Shot
As one of the first NFT collections to gain wider public awareness, NBA Top Shot created NFTs based on NBA video highlights.
It all runs on the Flow blockchain, developed by Dapper Labs, who are responsible for NBA Top Shot.
In case you didn't know, Dapper Labs are also the ones who originally created CryptoKitties, which caused the very first gas fee explosion a few years back.
NFT Data & NFT Rarity Tools
Not all of these sites are strictly for NFT data.
However, they all provide some form of NFT data that you can use for analysis, tracking and research.
CryptoSlam!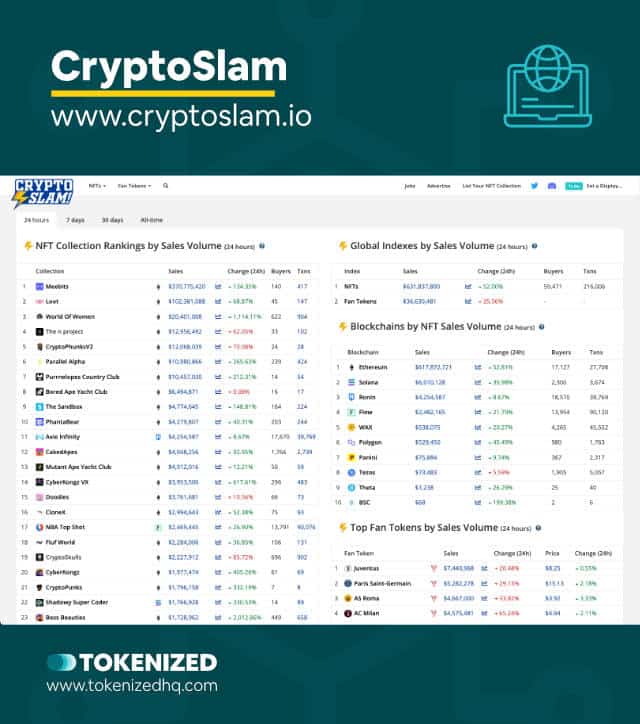 Think of CryptoSlam as a pure leaderboard.
It focuses only on NFTs and Fan Tokens and provides you with tons of data on the entire NFT space, including rankings, sales volume, global indexes, and also data specific to each project.
If you're looking for the NFT price of tons of different collections, then this is the price place for you.
If you like a clean website and raw data without any bells and whistles, then this is your place.
Rarity Tools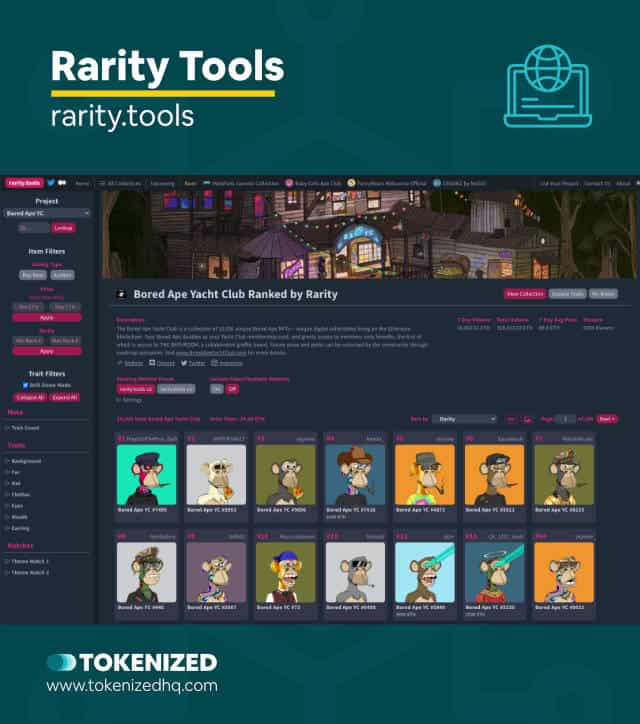 If you're trying to understand the rarities in a specific project, Rarity Tools is the NFT tool that you need.
It doesn't have all projects listed but definitely the vast majority of those that matter.
It's also clean, simple, and fast, which makes navigating a lot easier when trying to figure out how rare your PFP really is.
NFT rarity tools are an essential item in any NFT investor's portfolio.
Rarity Sniffer
An alternative to Rarity Tools, which is sometimes better and sometimes not.
The Rarity Sniffer team is much quicker at adding new projects to their database, however, the interface is sometimes a little buggy and that can be frustrating.
Especially when it feels like data is suddenly missing.
Rarity Tools is also not always up to date because activity might be faster than they can sync, but in terms of the speed of the UI, it's still the better option.
Ice Tools
This is an NFT-centric tool that is specifically meant to help you identify trends and catch hype waves as quickly as possible.
It caters specifically to swing traders who will take the pump and then potentially dump it on the way up.
While this strategy can work and tools like Icy Tools make this a lot easier, be aware that unless you are very skilled, you will usually be on the losing side of trading.
Nansen
Nansen claims that it analyzes and labels more than 100 million Ethereum wallets and their activity.
It then mines this data in order to help you identify opportunities before others do.
We should mention that this is a fairly expensive tool that does not only cater to NFTs but a wider range of crypto use cases.
Other Notable Mentions
If you'd like to discover even more NFT tools, check out our article on the 8 best NFT analytics tools on the market.
Frequently Asked Questions (FAQ)
Before we wrap up, let's quickly address a few frequently asked questions that many people have in relation to the best NFT websites.
What is the best NFT website?

The biggest and most popular NFT websites are all NFT marketplaces and include:
– OpenSea
– Gem
– MagicEden
– Foundation
– Rarible
– Nifty Gateway
– SuperRare
– Known Origin
– JPEGStore

Where can I shop for NFT?

While there are dozens of relatively big NFT marketplaces for various different blockchains, the best places to shop for NFTs right now are:
OpenSea, Gem.xyz, MagicEden, Foundation, and Rarible.

What is the official NFT website?

There currently isn't any formal association for the NFT industry. However, there is a project called the "NFT Protocol" and their official website is located at https://www.nft.org.
Conclusion
So that completes our current list of the most popular NFT websites you can find on the web.
Whether you're looking for NFT lists, NFT auction sites, or NFT marketplaces, we've got it right here.
And rest assured, we'll be adding new NFT sites in the future as well.
Here at Tokenized, we want to help you learn as much as possible about the coming NFT revolution. We help you navigate this fascinating new world of non-fungible tokens and show you how you can integrate tokenization into your own business.