Are you looking for the best Algorand NFT marketplaces right now?
Perhaps you recently heard that FIFA chose Algorand as their blockchain partner and now you'd like to know more about Algorand's NFT ecosystem?
Well, thankfully we've done some research and put together a helpful list of the leading NFT resources built on Algorand.
In this guide, we'll introduce you to some of the best Algorand NFT marketplaces and how Algorand is different from other blockchains.
Let's get started!
Key Points (tl;dr)
Algorand is a smart contract platform that uses Pure Proof-of-Stake as its consensus model and claims that it has solved the blockchain trilemma.
The Algorand blockchain was designed to essentially replace existing payment processing infrastructure and the foundation is generally more active in the DeFi space.
Algorand also claims that it is the greenest of all blockchains, mainly because it buys more carbon offsetting credits than its actual footprint.
We've put together a list of the 7 best Algo NFT marketplaces on the market:

Algogems
AB2 Gallery
ALGOxNFT
Rand Gallery
Abris
Dartroom
ZestBloom
For a detailed overview of the top 7 Algorand NFT marketplaces, PLEASE READ THE FULL ARTICLE.
Like this content? Then share it!
The 7 Best Algorand NFT Marketplaces in 2023
Here's the answer. Great article by @ChrisHeidorn right here: https://tokenizedhq.com/algorand-nft-marketplace/

www.tokenizedhq.com
What is Algorand and ALGO?
Algorand is a smart contract blockchain protocol that uses Pure Proof-of-Stake to tackle the blockchain trilemma of decentralization, scalability, and security. It was designed to be used as a major payment processor and provides infrastructure for decentralized finance. Its native token is called ALGO.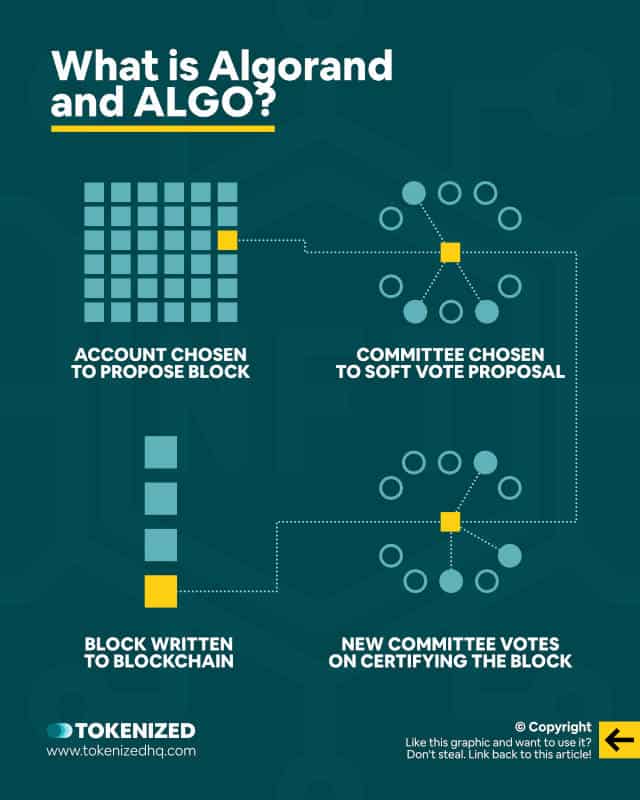 Like many of the leading top 50 crypto projects out there, Algorand's platform along with its cryptocurrency ALGO was founded in 2017 by Silvio Micali.
If you're not familiar with who Silvio Micali is, you should know that he's a professor at MIT in Boston and a world-renowned cryptographer.
Considering that many blockchain projects are run by young males with little academic background, Algorand is definitely one of the more prolific exceptions.
The primary objective of Algorand is to function as an alternative to major payment processing solutions such as Mastercard or Visa.
One of the aspects that Algorand promotes very heavily is its consensus mechanism which it calls Pure Proof-of-Stake.
Pure Proof-of-Stake uses randomness to increase network security.
This apparently allows it to be more efficient and scalable than other platforms and also enables immediately finalized transactions.
It achieves this in a decentralized way by:
using relay nodes for efficient communication paths
incorporating participation nodes
prohibiting forks of the Algorand blockchain
reducing data load by continuous compression
Algorand also markets itself as the greenest blockchain of all, claiming that has been carbon-negative since 2021.
That being said, all it means is that they are buying more carbon credits than their emissions.
It does not mean that their blockchain is actually free of any carbon footprint itself.
7 Algorand NFT Marketplaces That You Should Know
Algogems
AB2 Gallery
ALGOxNFT
Rand Gallery
Abris
Dartroom
ZestBloom
Algorand isn't exactly the first thing that comes to mind when you think of NFTs.
Of course, people are aware that there are NFT ecosystems on all sorts of blockchains out there.
But not many people will necessarily start looking for Algorand NFT marketplaces at first.
Algorand has been in the news quite a bit, with notables partnerships between the Algorand foundation and countries like El Salvador, Bermuda, Panama, Colombia, and more.
But in most of these cases, the use cases are mainly financial in nature.
However, the recent announcement regarding the FIFA partnership is different.
With football being one of the most obvious potential applications for NFTs, we wouldn't be surprised if Algorand ends up being FIFA's enabler for NFT licensing deals.
And who knows, maybe you'll end up trading on Algorand NFT marketplaces sooner than you think.
If you're keen to discover some of the leading platforms in the space, make sure you take a closer look at our list of ALGO NFT marketplaces below.
1. Algogems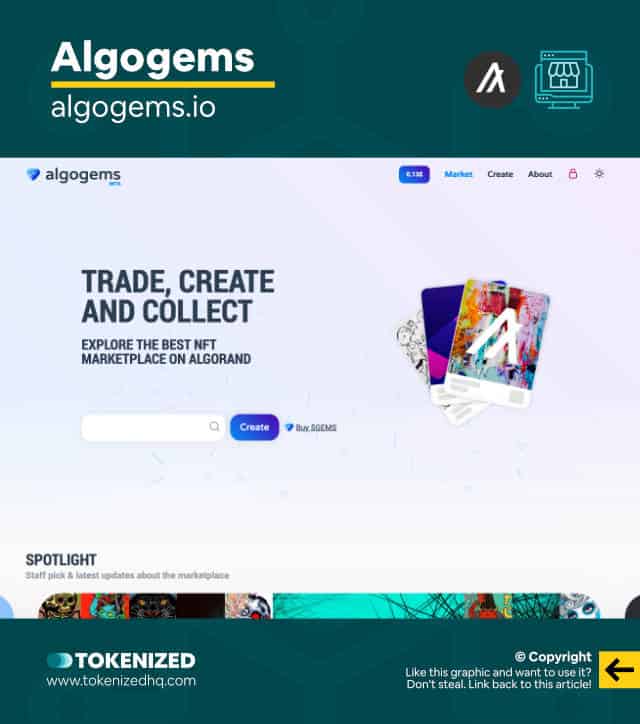 Algogems offers the cleanest and most visually appealing Algorand NFT marketplace within the ecosystem right now.
It's an open NFT marketplace, meaning that you don't need to be a verified artist in order to list your NFTs.
It offers zero-fee NFT creation as well as very low trading fees.
Features include:
Various listing options
Minting tools
Free minting
Creator royalties
Collection pages
Native $GEMS token incl. governance
0.001 ALGO fee on trades
2. AB2 Gallery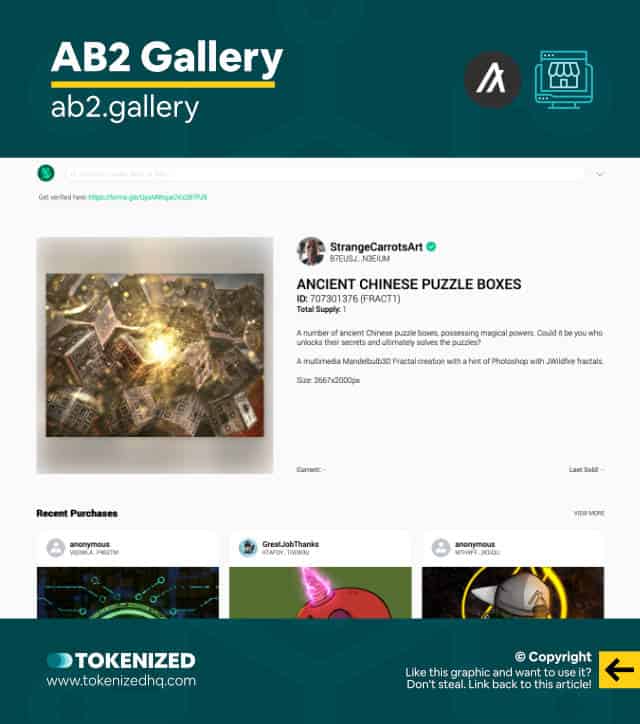 AB2 Gallery is another nice decentralized Algorand NFT marketplace that allows anyone to list their artwork as NFTs.
It's not as slick as Algogems, but it gets the job done and will be enough for most people who just want to experiment a little.
Unfortunately, the only way to discover the marketplace is to search for specific words or simply browse through the various pages.
This makes it a bit difficult to see what sort of collections are actually available.
Features include:
Basic listing options
Creator royalties
Verified artists
0.001 ALGO transaction fees
IPFS support
No platform fee
3. ALGOxNFT
ALGOxNFT markets itself as the leading decentralized Algorand NFT marketplace.
Unfortunately, we're not entirely sure what this claim is based on, therefore it's rather difficult to verify.
That being said, they have a fair amount of NFTs and collections listed on the site.
We're not huge fans of the user interface and overall navigation, but it looks like enough people seem to enjoy it.
Features include:
Various listing options
Creator royalties
Collection pages
Listing fee of 0.25 ALGO
3.5% service fee
4. Rand Gallery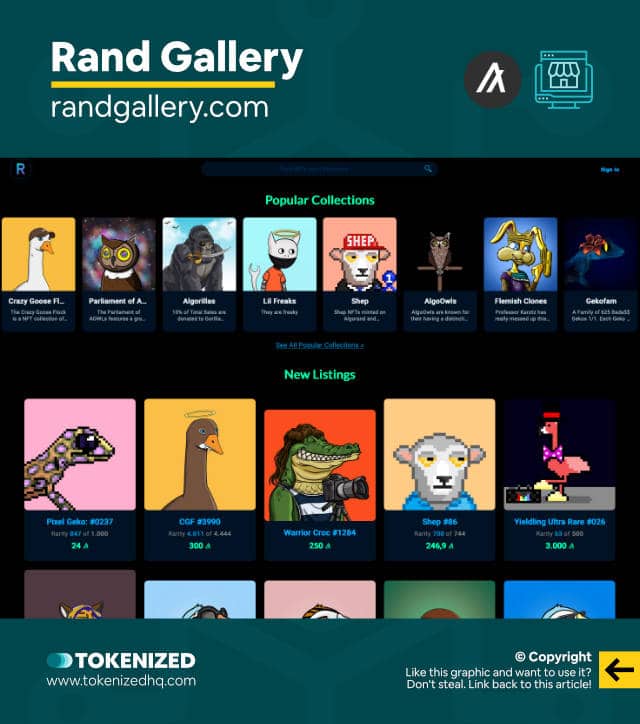 Rand Gallery comes across a bit like a simpler version of ALGOxNFT.
Its Algorand NFT marketplace is limited to a search field, popular collections, new listings, and a rather basic discovery area.
Trading volume seems to be limited, so it's probably not the best place if you're looking to actively trade NFTs.
Features include:
Basic listing options
Collection pages
We couldn't find much else in terms of info
5. Abris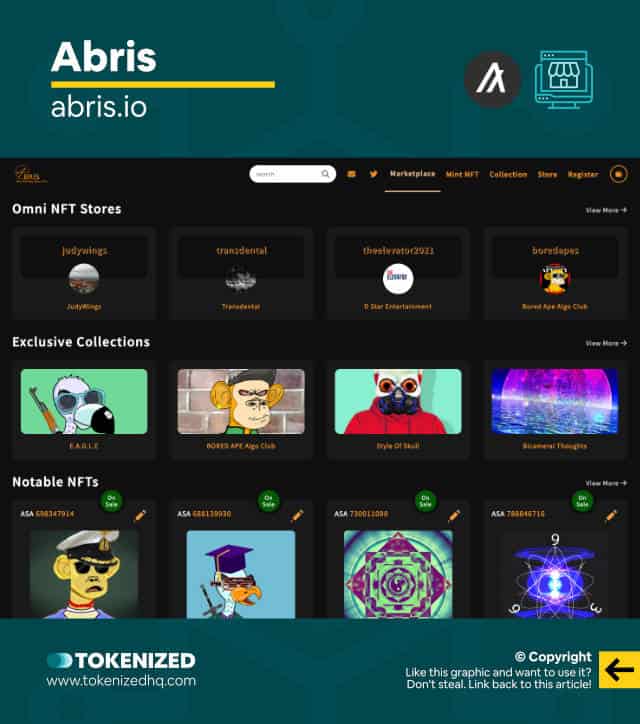 Abris is the next Algorand NFT marketplace on our list and its objective is to enable innovative creators to showcase their work.
Although it seems to have a smaller following than some of the other marketplaces, its navigation feels familiar and it covers most of the key bases.
It is also the very first platform that we've seen that actively promotes "NFT as a Service" services to organizations.
Smart move!
Features include:
Various listing options
Minting tools
Collection pages
Featured artists
NFTs as a Service (NFTaaS)
5% creator royalties
10% fee on primary sales
6. Dartroom
Dartroom tries to keep it simple with a very straightforward user interface.
We're not sure how intuitive it really is given that most people are used to a different style of layout for NFT marketplaces.
Nevertheless, it's a breath of fresh air in an ocean of rather repetitive concepts.
Features include:
Various listing options
Minting tools
Creator royalties
Artist profiles
Collection pages
Strongly moderated content
5% service fee
IPFS support
7. ZestBloom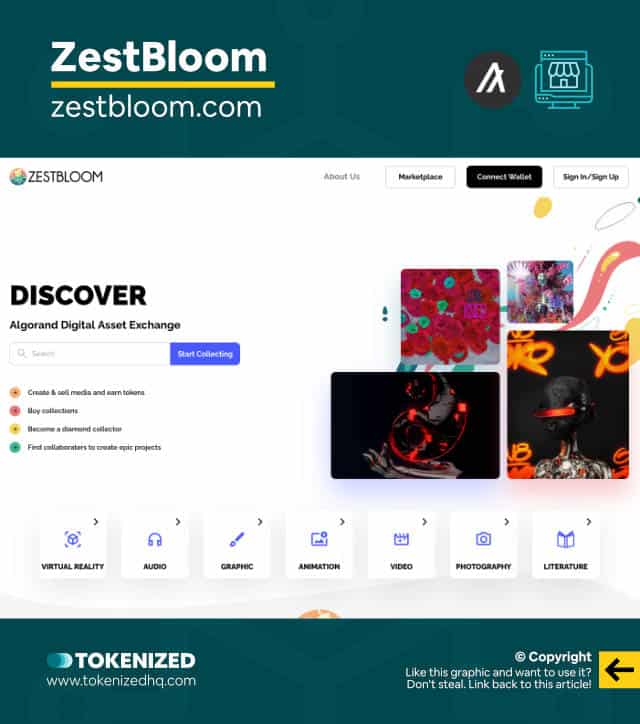 Last time we checked out ZestBloom we really like some of the artwork that was featured on the main page.
Unfortunately, we consistently had issues loading many of the assets on the site.
We're not sure whether the problem was on our end or not, but it was a noticeable issue that simply would not go over away, even several days later.
Their FAQ and help pages aren't super useful.
Features include:
Minting tools
Creator royalties
Artist profiles
Social features
Collection pages
Various media formats
8% fee on primary sales
4% fee on secondary sales
Conclusion
Although Algorand isn't the first place you'd look for a blooming NFT ecosystem, it's obvious that there are a fair amount of people who love the low-fee environment.
That being said, we're not entirely sure that the current Algorand NFT marketplaces will necessarily satisfy those who have grown accustomed to OpenSea, LooksRare, and Co.
Nevertheless, we're curious to see where the new FIFA partnership leads and how it will impact the overall ecosystem.
Here at Tokenized, we want to help you learn as much as possible about the coming NFT revolution. We help you navigate this fascinating new world of non-fungible tokens and show you how you can integrate tokenization into your own business.