Are you looking for the best NEAR NFT marketplaces right now?
Perhaps you're a firm believer in NEAR Protocol and believe that NFTs should be created on an efficient blockchain network rather than Ethereum.
Well, you've come to the right place because we've dug into the NEAR Protocol ecosystem and have found a considerable number of quality NEAR NFT marketplaces.
NEAR Protocol wasn't really on our radar much until we realized that Sweatcoin is building its new platform on it.
In this guide, we'll introduce you to some of the best NEAR NFT marketplaces that already exist as well as others that are being built.
Let's get started!
Key Points (tl;dr)
NEAR Protocol is one of the leading blockchains that uses a combination of delegated Proof-of-Stake and sharding to achieve fast, efficient and secure transactions.
The NEAR ecosystem has seen an immense amount of activity around NFTs in the first half of 2022 and there is reason to believe that this is only the beginning of an incredibly active space.
We've put together a list of the 6 best NEAR NFT marketplaces on the market:

Paras
Mintbase
UniqArt
Apollo42
Few and Far
Seatlab
For a detailed overview of the top 6 NEAR NFT marketplaces, PLEASE READ THE FULL ARTICLE.
Like this content? Then share it!
The 6 Best NEAR NFT Marketplaces in 2023
Here's the answer. Great article by @ChrisHeidorn right here: https://tokenizedhq.com/near-nft-marketplace/

www.tokenizedhq.com
What is NEAR Protocol
NEAR Protocol is a decentralized smart contract platform that focuses on creating a developer and user-friendly experience. Its consensus mechanism is Proof-of-Stake and it uses sharding technology to achieve speed and scalability. NEAR also provides a bridge and scaling solution for the Ethereum blockchain.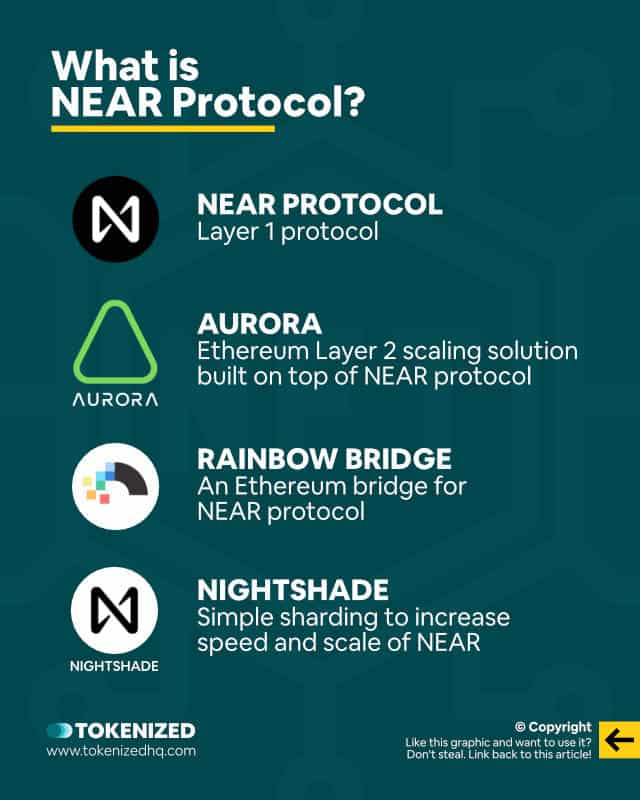 As you probably know, the number of blockchain platforms that are competing for the Ethereum crown is absolutely endless.
For some reason, everyone believes that they need to become an Ethereum-killer in order to achieve any measure of success.
But the fact of the matter is that the cryptocurrency industry is growing so quickly that it barely matters whether anyone overtakes Ethereum or not.
Alternative solutions such as NEAR protocol are going to grow no matter what and their piece of the pie will eventually be huge.
Why? Because Ethereum will never be able to handle all of the demand.
So what exactly is NEAR Protocol?
NEAR Protocol is a Proof-of-Stake blockchain that, like many other networks, has smart contract capability.
Its smart contract platform was designed to run decentralized applications (dApps).
NEAR's solution to the overarching scalability problem of many blockchains is so-called "sharding".
Sharding reduces the overall load on the network by splitting it into many different fragments (shards).
This has the benefit of reducing the amount of code that each node has to run.
Sharding allows the processing of transactions to happen in parallel as opposed to it happening in sequence and thus becoming a bottleneck.
Many blockchains have implemented sharding into their protocols
NEAR's approach assigns different types of roles to validator nodes.
While some of responsible for validating "chucks" of transactions, others produce blocks and another set of validators is responsible for monitoring malicious behavior.
Many companies eager to build products on top of the blockchain have been opting for alternatives to Ethereum.
This makes sense because they need super-fast transactions while decentralization isn't necessarily critical to what they are building.
One of these companies is Sweatcoin, a fitness movement from the Move-to-Earn space that plans on launching its Sweat Economy on NEAR protocol this summer.
7 NEAR NFT Marketplaces You Should Know
Paras
Mintbase
UniqArt
Apollo42
Few and Far
Seatlab
Alright, so before we dive into the full list of NEAR NFT marketplaces, let's say a few things about the ecosystem so far.
Although there are many people who have been strong supporters of NEAR Protocol since the very beginning, I don't think it's necessarily top of mind amongst the general public.
Just like Solana was under the radar for a very long time before it eventually exploded, I think we'll see something similar happens to networks like NEAR.
Just look at how the number of Solana NFT marketplaces has increased and even OpenSea now supports Solana NFTs.
I could imagine something similar happening once we get closer to the next bull run in 2 years or so.
And the NEAR ecosystem for NFTs looks extremely promising right now.
Although the recent downturn most likely put the breaks on a lot of the price action, the sheer amount of development happening around NFTs in the NEAR ecosystem is quite amazing.
So let's have a closer look at the best NEAR NFT marketplaces we could find as well as new ones that are set to launch soon.
1. Paras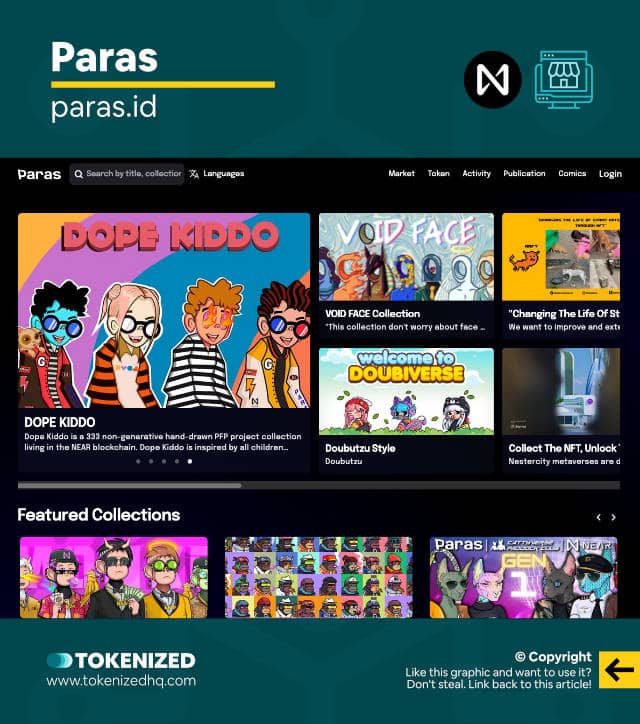 Paras is the first NEAR NFT marketplace on our list today and from what we gather, it's also the biggest one at the moment.
You'll find most of the features here that you'd expect in any serious NFT marketplace.
There's tons of activity on the platform, with new NFTs being sold by the minute.
The overall look and feel of Paras is very professional and that's what we'd expect from a top-tier project in any ecosystem.
Features include:
Various listing options
Creator royalties
IPFS support
Buyer & seller rankings
Detailed analytics & project rankings
Dedicated platform for Comics
Native $PARAS token incl. staking
Public API
5% service fee
2. Mintbase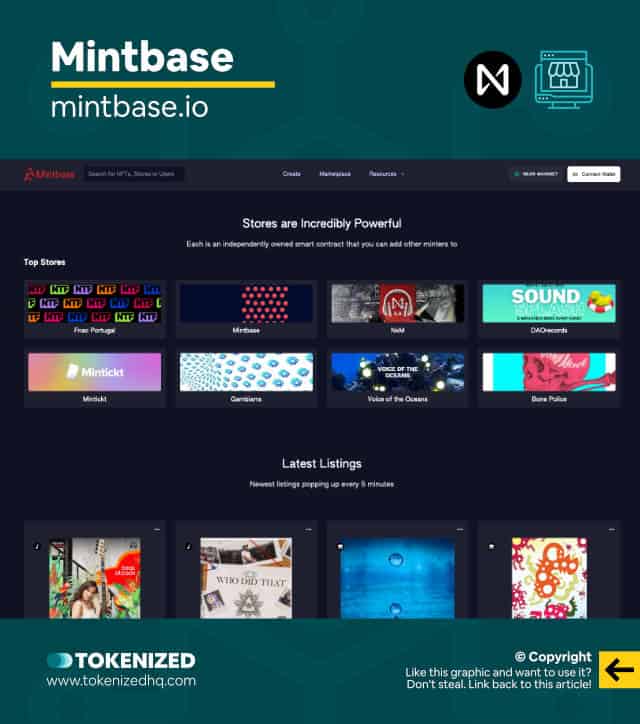 Next on our list is Mintbase, another NEAR NFT marketplace that also lets you build your own smart contract.
It's hard to say how much activity there is on the platform since their marketplace feels like it's not their primary focus.
Overall, Mintbase looks like it can be very useful for building your own NFT project, but it's not on the same level as Paras.
Features include:
Minting tools
Smart contract tools
Dedicated Mintbase DAO
Public API
2.5% service fee
3. UniqArt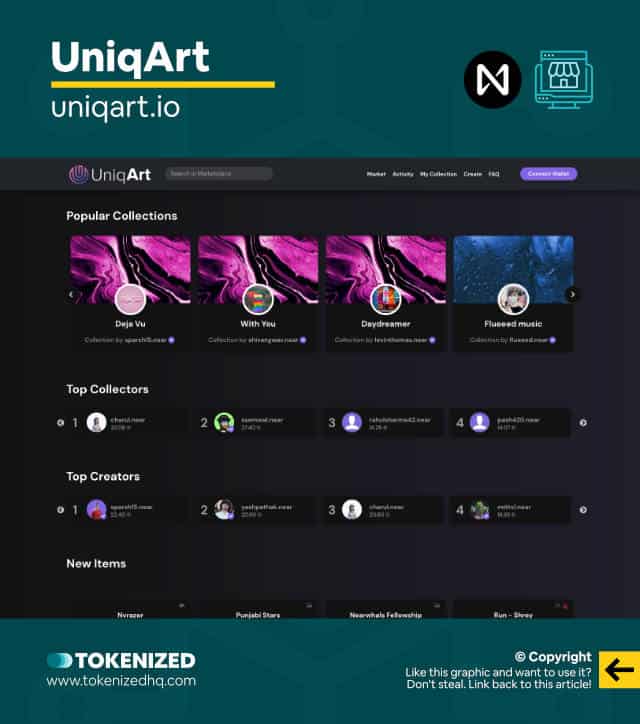 UniqArt markets itself as a NEAR NFT marketplace by artists for artists.
Their primary objective is to get artists into the spotlight by allowing them to easily share their work and leverage a low-fee environment.
UniqArt isn't an open platform, so if you want to list on their marketplace, you'll have to become a verified creator first.
Features include:
Various listing options
Minting tools
Support for various media types
Filecoin support
Creator royalties
Collections
2% service fee
4. Apollo42
Apollo42 hasn't launched yet but you can sign up for their waiting list to get early access.
The objective is to build a social NFT marketplace where you can like, follow and chat with other NFT creators and collectors, just like a classic social network.
It's not entirely clear whether they plan on building a "social layer" on top of an existing marketplace like Paras or an entirely new one.
We have reason to believe that it will be the former, simply because they seem to be partnering with Paras.
Features include:
Collector rankings
NFT Launchpad (work in progress)
Rarity Tools (work in progress)
Marketplace (work in progress)
Metaverse Gallery (work in progress)
5. Few and Fear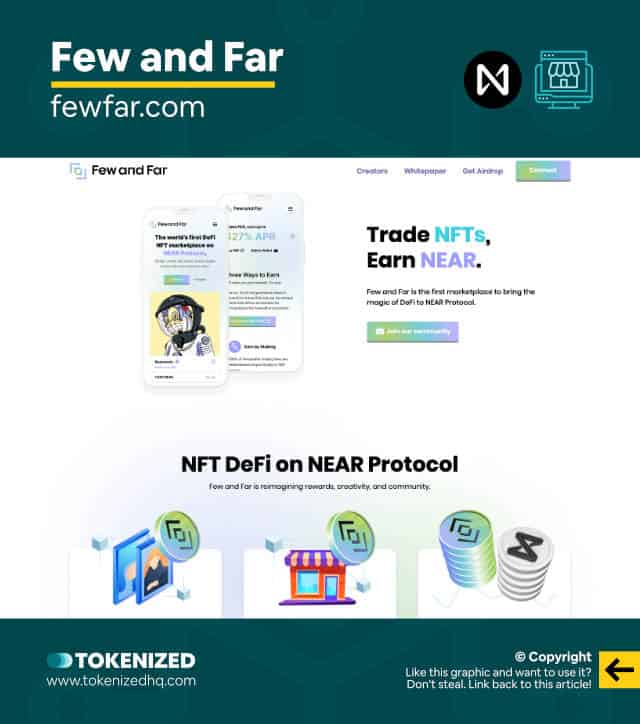 Few and Far is another NEAR NFT marketplace that hasn't launched yet.
However, looking at the website, it seems they are planning on creating a holistic DeFi + NFT experience.
So it's fair to assume that they will be focusing a lot on developing ways in which you can use your NFTs to generate some form of yield.
We recommend having a look at their whitepaper, although we must say that the definition of what constitutes a "whitepaper" has been diluted over the years.
We don't want to be mean, but this it's a pitch deck at best.
6. Seatlab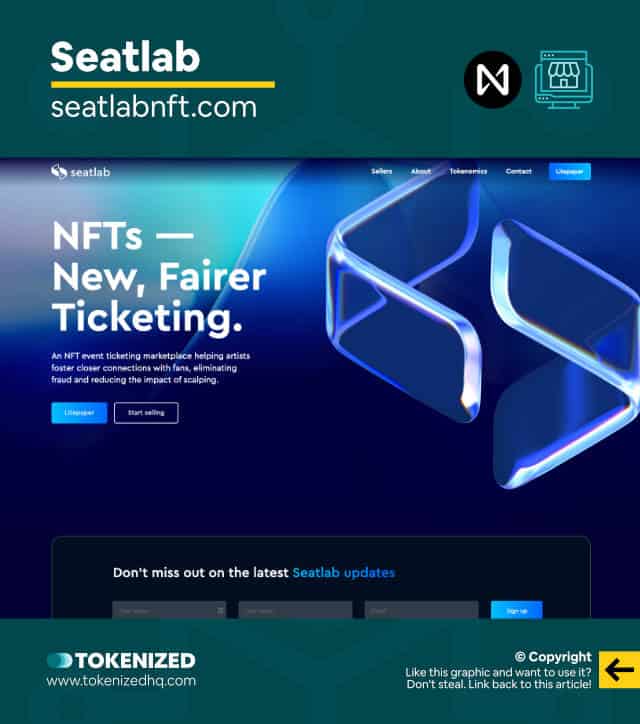 The last project on our list is Seatlab and it's yet another project that hasn't launched yet.
However, we found the concept original and that's why we're listing it here.
Seatlab is building an NFT event ticketing marketplace that is dedicated to helping artists build closer connections with their fans.
This is exciting because compared to many other NFT marketplaces, they've decided to focus on a specific use case.
However, looking at where NFTs are headed, it's probably one of the use-cases with the biggest potential for real utility.
Conclusion
Having looked at the NFT ecosystem for NEAR Protocol, we can assure you that it is buzzing.
A lot of stuff is happening in this space and I'm sure we'll see many more NEAR NFT marketplaces in 12 months' time.
NFTs aside, after seeing what people are building, it definitely makes me want to buy some NEAR for my portfolio
Here at Tokenized, we want to help you learn as much as possible about the coming NFT revolution. We help you navigate this fascinating new world of non-fungible tokens and show you how you can integrate tokenization into your own business.