Are you looking for the best SOL NFT marketplaces?
Maybe you've grown tired of extreme gas fees on Ethereum and now you're looking for an affordable and efficient alternative on Solana?
Well, you've come to the right place because we've had a closer look at Solana's expanding ecosystem and what we found was incredibly exciting.
Looking at the astounding number of dApps that are being built in Solana, it comes as no surprise that it's considered the main contender for the smart contract crown.
In this article, we'll show you the wide away of different Solana NFT marketplaces that have popped up within the past year or two.
Let's dive into the list!
Key Points (tl;dr)
Solana is one of the most popular smart contract blockchains in the world, primarily due to it scalability and low transaction fees.
The Solana ecosystem has grown tremendously in the past 2 years and it is often cited a potential "Ethereum-killer" due to its pragmatic approach to the natural tradeoff between scalability, security and decentralization.
We've put together a list of the 10 best Solana NFT marketplaces on the market:

SupaDrop
Solport
Artz
Exchange
Alpha
Metaplex
DigitalEyes
Solsea
Solanart
MagicEden
For a detailed analysis of the top 3 NFT marketplaces for Solana, PLEASE READ THE FULL ARTICLE.
Like this content? Then share it!
The 10 Best Sol NFT Marketplaces in 2023
Here's the answer. Great article by @ChrisHeidorn right here: https://tokenizedhq.com/sol-nft-marketplace/

www.tokenizedhq.com
What is Solana and SOL?
Solana is a layer 1 blockchain that uses Proof of Stake and Proof of History as a consensus mechanism in order to achieve considerably higher levels of scalability. Solana is often considered to be decentralized enough in terms of security, but superior in terms of speed because certain aspects of its infrastructure are more centralized than other blockchains. Solana's native token is called $SOL.
If you've been in the crypto space for any amount of time, then I don't think we really need to explain to you what Ethereum is and why it's the biggest smart contract platform in the world.
If you've ever used Ethereum, then you've also come to realize that it's actually quite expensive to use as a platform due to its excessive gas fees.
While this clearly says a lot about Ethereum's popularity, it's also one of the main reasons why there is such great interest in newer and faster blockchain alternatives.
One of the smart contract platforms that seemingly came out of nowhere in the past 2 years is Solana.
The Solana project was founded in 2017, so it's been around for quite some time already.
Over the years Solana has evolved into something that many refer to as an "enterprise" blockchain.
You see, while Ethereum clearly strives to become as decentralized as possible (at the cost of efficiency), Solana has decided to sacrifice just enough decentralization in order to become vastly more efficient.
To give you some numbers: While Ethereum's transaction speed is usually 13-15 per second, Solana claims it can achieve 65,000 transactions per second.
To be fair, Solana hasn't actually proven this in a real-life environment yet and it's processing more like 2,000 transactions per second right now.
However, the point is that thanks to their Proof of Stake and Proof of History consensus mechanisms, it's able to process transactions at considerably higher speeds than Ethereum.
And that's also why it costs next to nothing to send SOL (Solana's native token) or process transactions for dApps.
Another benefit of Solana is that developers don't need to learn Solidity in order to build dApps.
Instead, they can choose from widely popular languages such as Rust or C which makes it more accessible and increases development speed as well.
So it comes as no surprise that Solana has become one of the most popular alternatives to Ethereum for the NFT ecosystem.
10 SOL NFT Marketplaces You Should Know
SupaDrop
Solport
Artz
Exchange
Alpha
Metaplex
DigitalEyes
Solsea
Solanart
MagicEden
Before we dive into the entire list of the best SOL NFT marketplaces, let me say a few words on Solana's NFT ecosystem.
Although NFTs on Solana are becoming increasingly popular, they've still got a long way to go before getting anywhere near the relevance that Ethereum has right now.
We think the domain name world might actually have some good analogies.
Think of Ethereum as the ".COM" of the NFT world.
Ethereum was the very first blockchain on which NFT flourished and most people who get into crypto are now inherently familiar with the Ethereum ecosystem.
Also do not underestimate the impact that OG projects have on the market.
Ethereum NFTs are already perceived as being "premium" NFTs.
Not only because the NFT projects are bigger and more valuable, but because the barriers to entry are much higher due to the gas fees.
So there's an element of exclusivity and social status that come with owning an NFT from a successful Ethereum-based project.
In all fairness, the high gas fees on Ethereum also help in keeping a lot of low-quality and fraudulent projects at bay.
As it becomes cheaper and easier to build NFT projects, supply tends to outpace demand, thus reducing overall prices and perceived value.
Nevertheless, Solana has a bright future in NFTs and we're here to show you the best SOL NFT marketplaces available right now.
10. SupaDrop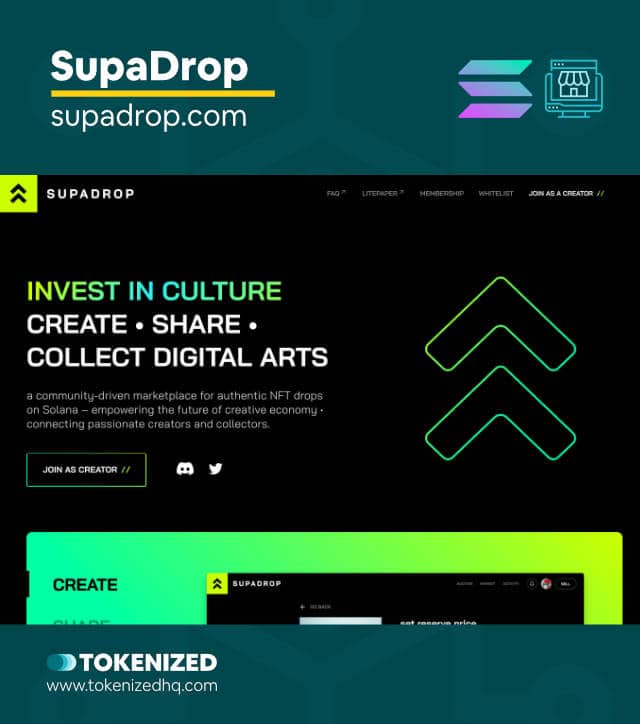 SupaDrop promotes itself as a community-driven SOL NFT marketplace that is primarily focused on independent creators who create authentic digital art.
Their goal is to empower emerging digital creators to start building something they love and find their first 1,000 true fans who can support their work.
Features include:
Various listing options
Creator royalties
Creator splits
Low minting fee
2.5% platform fee
9. Solport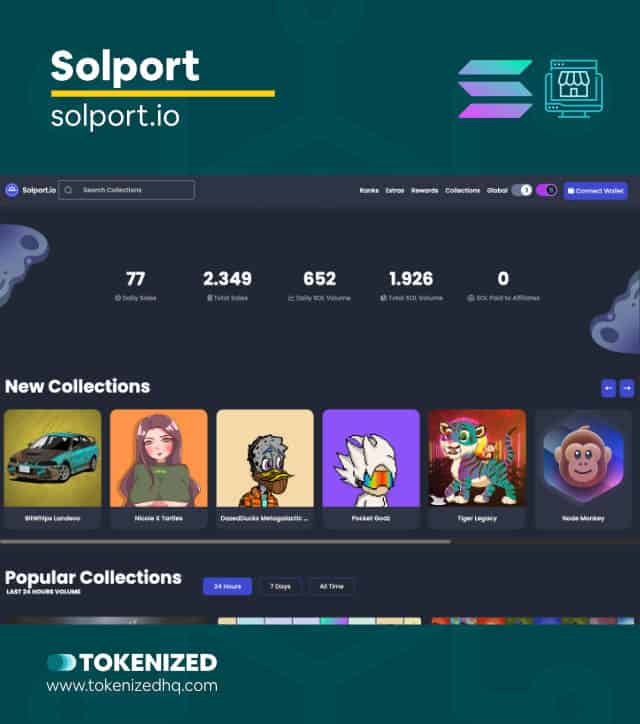 Solport is another SOL NFT marketplace that uses the Solana blockchain and has chosen to use imagery from shipping and sailing (i.e. OpenSea).
It's funny how so many platforms lack the originality to come up with something that doesn't immediately resemble a "me-too" product.
Either way, they offer most of the features you'd expect from a Solana NFT marketplace but also some less common things such as an integrated rarity filter.
Features include:
Various listing options
Free listing/minting
Collection Rankings
Reward programs
2% service fee
8. Artz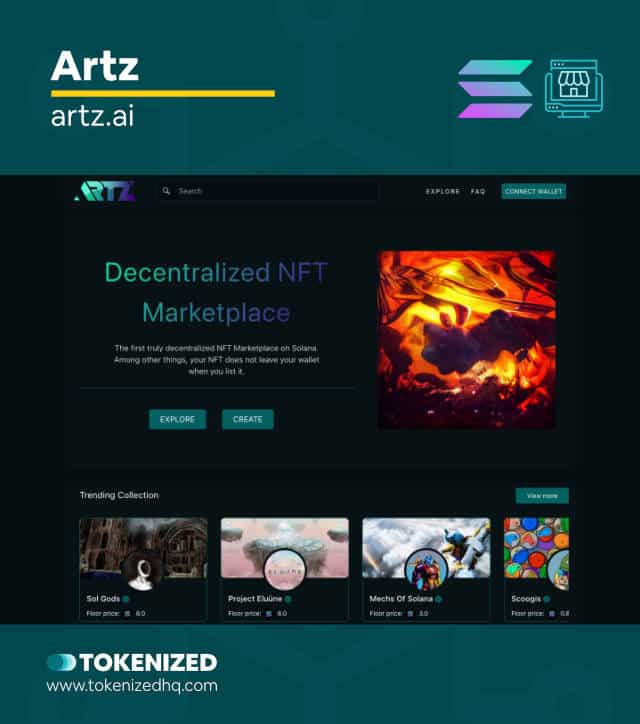 Artz advertises itself as the very first truly decentralized SOL NFT marketplace.
It's interesting that they would emphasize this as it does suggest that most of the other Solana NFT marketplaces may be significantly more centralized.
And this also fits into the overall Solana narrative, which tends to be more centralized than many of its other blockchain competitors.
Features include:
Various listing options
Minting tools
Decentralized marketplace
Mobile app (coming soon)
2% commission
7. Exchange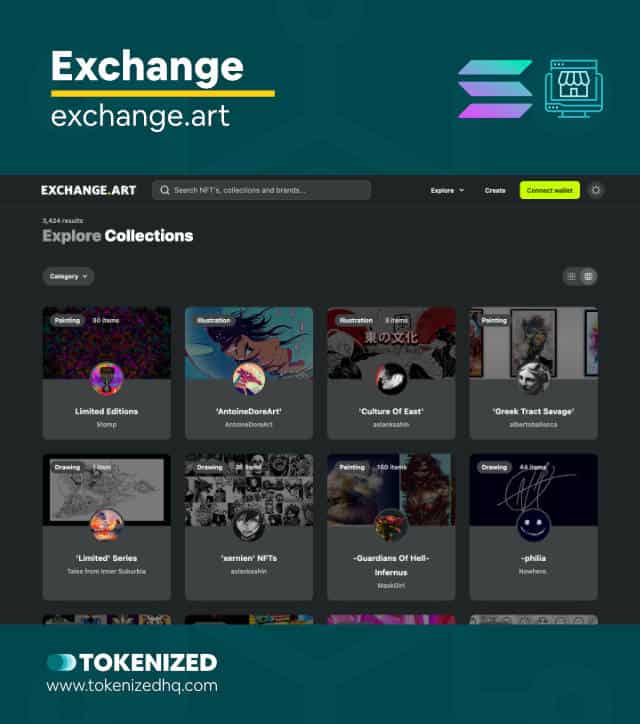 Exchange promotes itself as the SOL NFT marketplace for everyone, with a strong focus on 1/1 art and independent creators.
The team takes a slightly more curated approach to NFTs, selecting and featuring handpicked art collections, illustrations, and various other types of digital art.
What makes Exchange stand out is their Creators Portal, which is a fully integrated dashboard for artists and creators that help them post and manage collections.
Features include:
Various listing optinos
Minting tools
Creators Portal
Creator royalties
Creator splits
2.5% platform fee
6. Alpha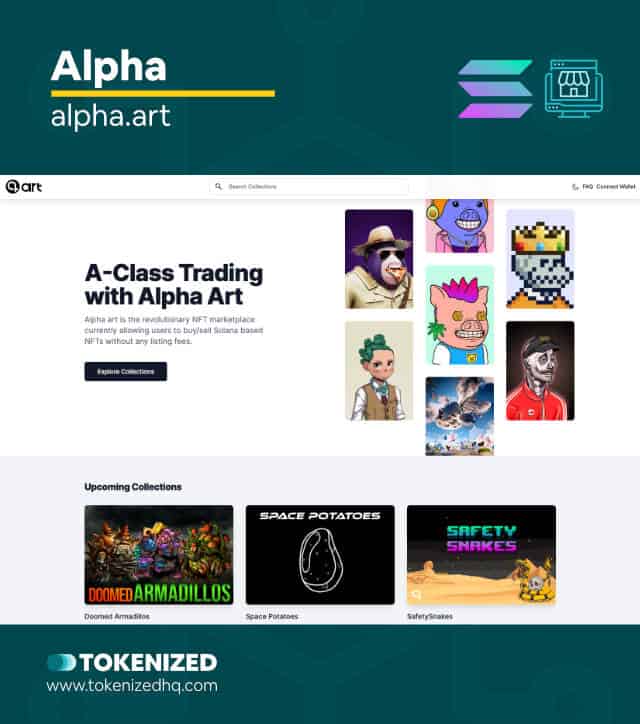 Alpha markets itself as a revolutionary SOL NFT marketplace because it allows users to buy and sell NFTs without any listing fees.
We're not really sure when Alpha was launched because the claim is rather bold, given that there are many other platforms that now do this.
The site's layout will seem very familiar to you as it's essentially a carbon copy of OpenSea, just with slightly different styling, but that doesn't have to be a bad thing, given that OpenSea's usability is fairly good.
What's interesting is that the Alpha team seems to have created their own NFT collection called "Piggy Sol Gang" that can be staked directly on the Alpha website.
Features include:
Common listing options
Creator tools
Property filters
Collections
NFT staking (Piggy Sol Gang)
2% service fee
5. Metaplex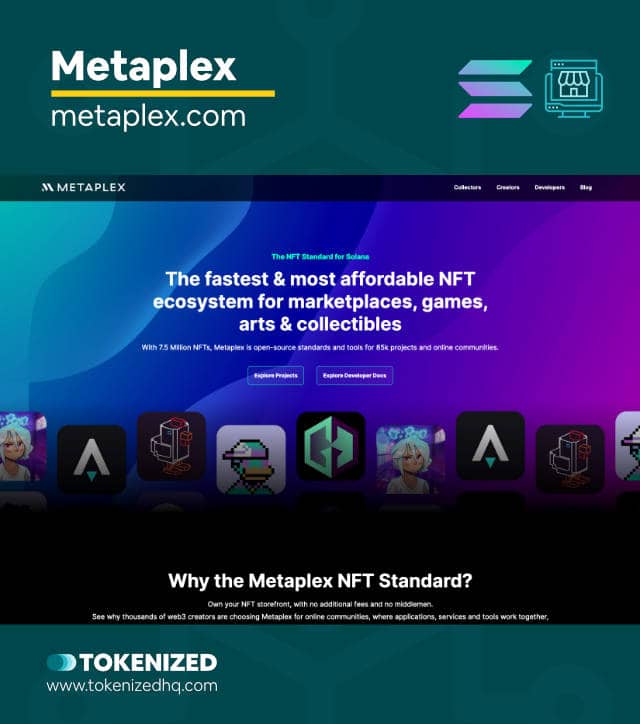 Metaplex is an interesting one because strictly speaking, they aren't really a SOL NFT marketplace.
You can think of Metaplex as Shopify for NFTs, which is an incredibly interesting value proposition for everyone who wants a more customized toolset and we should mention that SupaDrop is actually powered by Metaplex.
So, if you're planning to build your own NFT projects and want to have your very own storefront, then Metaplex looks like the right solution for you.
Features include:
Developer tools
Storefront & marketplace features
Social integrations
Elevated security
Creator-focused features
4. DigitalEyes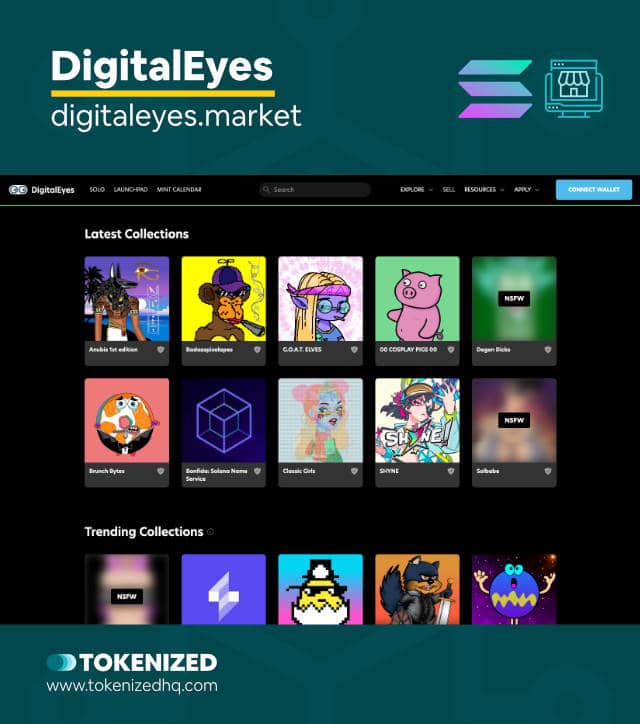 DigitalEyes is yet another SOL NFT marketplace that markets itself as the first "open" NFT marketplace (whatever that's supposed to mean).
The site comes with all the usual features you'd come to expect and the team also puts in the effort to verify collections that subsequently receive the "Verfeyed" badge (yes, I guess the pun is intended).
Their integrated mint calendar is definitely a nice touch for those overwhelmed by the massive amount of new projects.
Features include:
Various listing options
Minting tools
Collection verification
Mint calendar
2.5% service fee
3. Solsea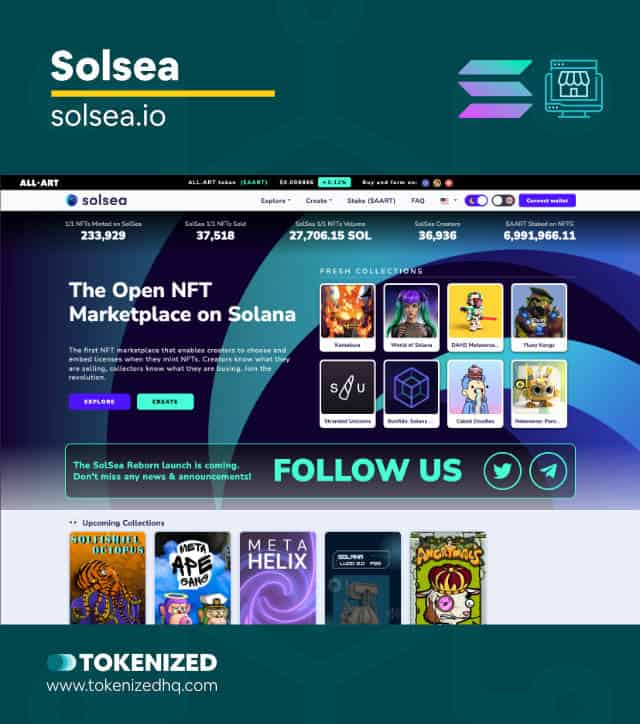 Solsea is amongst the bigger players in the SOL NFT marketplace landscape.
Not only does their marketplace empower creators to sell, mint, and buy NFTs, they also provide enterprise data services to sites like CoinMarketCap.
Solsea has also launched its own First 100 virtual NFT art fair that aims to feature pioneers and early adopters.
Features include:
Various listing options
Minting tools
Creator royalties
Collection rankings
Mint calendar
Virtual art fair
Native $AART token and staking
3% platform fee
2. Solanart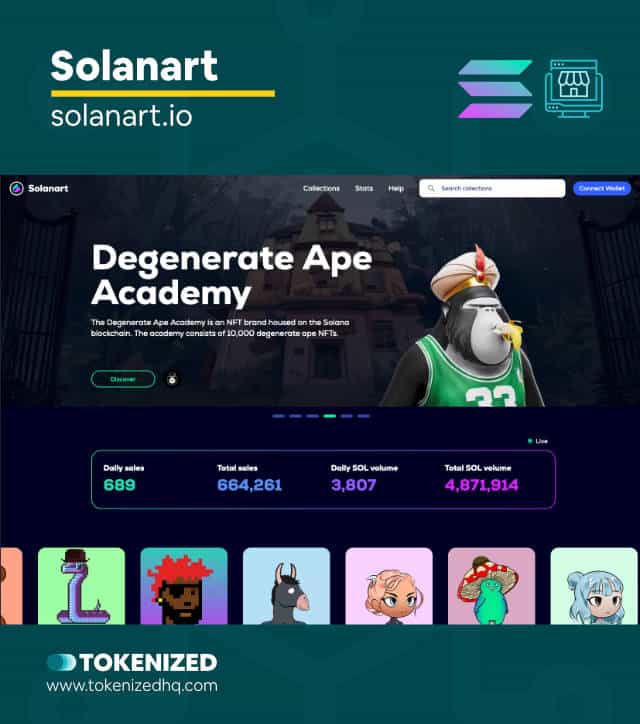 Solanart is one of the biggest and most professional SOL NFT marketplaces out there.
That being said, this also means that they don't necessarily let just anyone list their NFTs on their marketplace and tend to curate heavily.
The team knows very well that with lower barriers to entry you usually end up with significantly lower quality projects and also a lot of potential scams.
Features include:
Various listing options
Global offers
Attribute filtering
Collection rankings
3% platform fee
1. MagicEden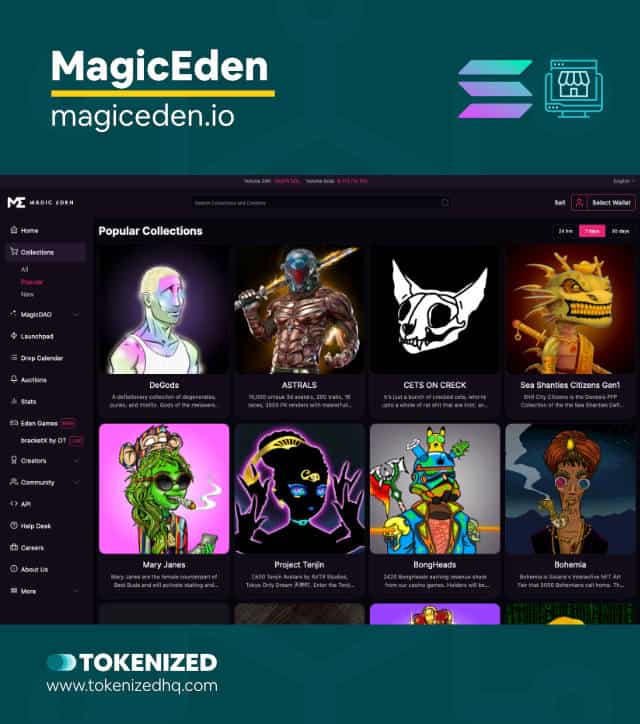 The undisputed king of the SOL NFT marketplaces is still MagicEden, not only with a wide variety of high-quality NFT collections but also various other services.
MagicEden has its own DAO, a Launchpad, a dedicated section for games, and also provides API services to other platforms.
MagicEden is essentially the OpenSea of the Solana ecosystem, with over 90% market share for secondary trading.
It should be noted that MagicEden is heavily funded by venture capital giants such as Sequoia, Coinbase Ventures, and Alameda Research amongst others.
Features include:
Various listing options
Attribute filtering
Launchpad
Magic DAO
Drop Calendar
Collection rankings
Dedicated gaming section
White labeling solutions
API data services
2% service fee
Other Solana NFT Marketplaces Worth Mentioning
As we mentioned earlier, the Solana ecosystem is absolutely massive.
So it's no surprise that the 10 SOL NFT marketplaces listed above are not the only ones out there.
New Solana NFT marketplaces are popping up all the time and although we can't cover them all in detail, we at least want to make sure we list them here.
So here are some other notable mentions:
And if you're not necessarily picky with regards to any specific blockchain, we do recommend you also check out our articles on AVAX NFT marketplaces, Terra NFT marketplaces and Polygon NFT marketplaces.
Conclusion
As you can see, the Solana ecosystem is absolutely pumping with life.
There are so many different Solana NFT marketplaces competing for a piece of the pie that we couldn't even list them all in this article.
However, despite all of this activity, we do recommend that you stick to those that currently have the biggest liquidity in the market.
Therefore the best SOL NFT marketplaces to focus on right now are MagicEden, Solanart and Solsea.
Here at Tokenized, we want to help you learn as much as possible about the coming NFT revolution. We help you navigate this fascinating new world of non-fungible tokens and show you how you can integrate tokenization into your own business.