Are you looking for the best Avalanche NFT marketplace?
Maybe you've recently decided to move away from Ethereum due to its insane gas fees and now need an alternative to OpenSea that supports Avalanche's C-Chain as well?
Believe it or not, Ethereum's dominance in the NFT space is slowly crumbling as more and more users move to more efficient alternatives such as Avalanche, Solana, Polygon and even Binance Smart Chain.
Nevertheless, their respective ecosystems are still incredibly small compared to that of Ethereum and therefore it isn't always easy to find viable alternatives.
In this article, we're going to dive into some of the best Avalanche NFT marketplaces where popular Avalanche NFT projects usually drop first.
Let's dive right in!
Key Points (tl;dr)
Avalanche is a decentralized and open-source blockchain platform that is challenging established players such as Ethereum for the throne in the crypto landscape.
While Avalanche has gained most of its traction in the DeFi space, it is slowly moving into NFTs as well.
We've put together a list of the 6 best Avax NFT marketplaces on the market:

Snowflake
NFTStars
NFTKey
YetiSwap
Kalao
NFTrade
Like this content? Then share it!
The 6 Best Avalanche NFT Marketplaces in 2023
Here's the answer. Great article by @ChrisHeidorn right here: https://tokenizedhq.com/avalanche-nft-marketplace/

www.tokenizedhq.com
What is Avalanche and AVAX?
Avalanche is a decentralized blockchain and open-source distributed ledger platform that uses an innovative mix of blockchain and DAG technology to outperform Ethereum in terms of efficiency, speed and security. Its native token is called AVAX.
There's no doubt about the fact that Ethereum is obviously the dominant player in the NFT space.
Ethereum is simply the largest blockchain platform in the market right now and its community is also primarily responsible for creating the concept of non-fungible tokens in the first place.
So given the fact that we are all spending our valuable spare time on overpriced JPEGs right now, we should probably be thankful for this innovation from them.
That being said, Ethereum has many upcoming competitors who are all trying to dethrone the incumbent.
Avalanche is one of those projects that learned from the mistakes that were made when Ethereum was built and thus tried to create a blockchain that was more efficient.
Avalanche is a decentralized and open-source blockchain platform that also supports smart contracts.
Its primary innovation is an interesting blend of conventional blockchain technology with more advanced directed-acyclic graph (DAG) technology.
Avalanche also has 3 separate chains called the Exchange Chain (X-Chain), Platform Chain (P-Chain) and Contract Chain (C-Chain).
Each one of these chains has a specific purpose within the overall ledger.
As you may have already guessed, its native token is AVAX.
6 Avalanche NFT Marketplaces You Should Know
Snowflake
NFTStars
NFTKey
YetiSwap
Kalao
NFTrade
When choosing the right Avalanche NFT marketplace, creators and investors should primarily be looking at aggregated volume and fee structure.
You see, the most nicely designed marketplace doesn't mean anything unless it has a lot of people who are coming to buy and sell NFTs.
And while fees are obviously a relevant factor for anyone, who cares about fees if you can't get enough eyeballs on your NFTs in order to sell them.
Given how new NFTs still are and the level of risk that is associated with them on Ethereum already, you need to understand that buying NFTs on any other blockchain is even riskier.
Either way, you came here to find some Avalanche NFT marketplaces, so we'll give them to you.
We've ranked them in reverse order, starting with the weakest and ending with the very best.
6. Snowflake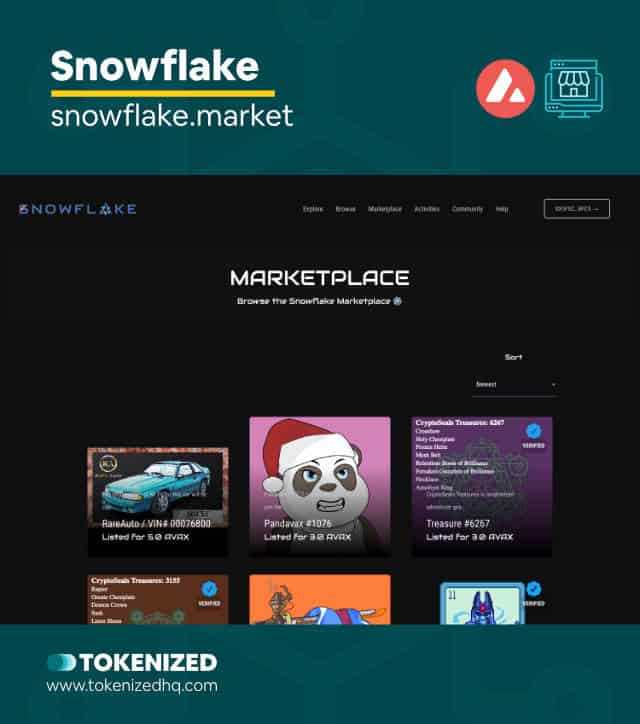 The Avalanche ecosystem likes to use vocabulary related to mountains and snow.
So it comes as no surprise that there's an Avalanche NFT marketplace called Snowflake.
Snowflake was the first global NFT marketplace to launch on the Avalanche blockchain.
In order to access the AVAX NFT marketplace, you'll need to connect your MetaMask wallet or any other MetaMask alternatives.
All the basic features you'd expect are essentially there, however, we would like to point out that there isn't a whole lot of activity going on Snowflake.
The last time we check their public stats, the last sale of an NFT was more than 2 weeks old and there haven't been any new listings since January 2022.
Have a look if you like, but be careful.
5. NFTStars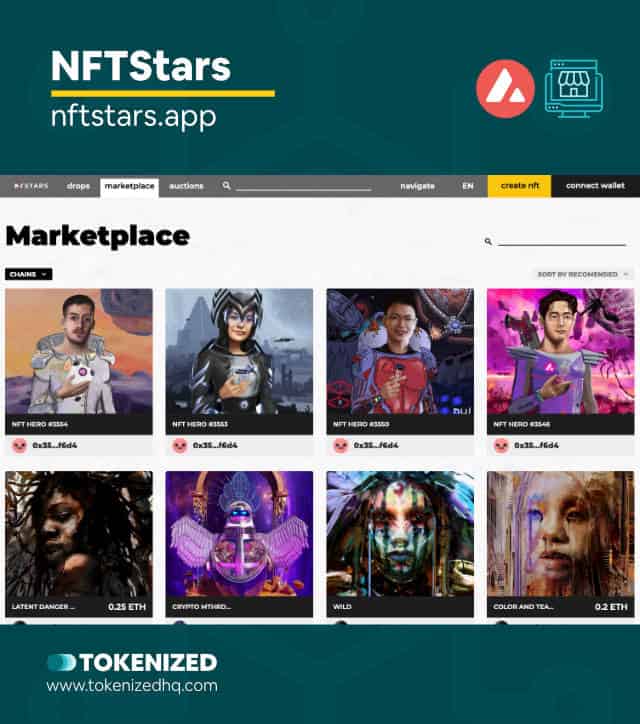 NFTStars is a cross-chain NFT marketplace that supports the Ethereum and Avalanche blockchains.
While it's still a relatively small platform, it has some features that other Avalanche NFT marketplaces simply don't have.
These include collaboration features for artists, fractional trading as well as gas-free NFT minting.
NFTStars currently supports MetaMask, WalletConnect and Coinbase Wallet.
4. NFTKey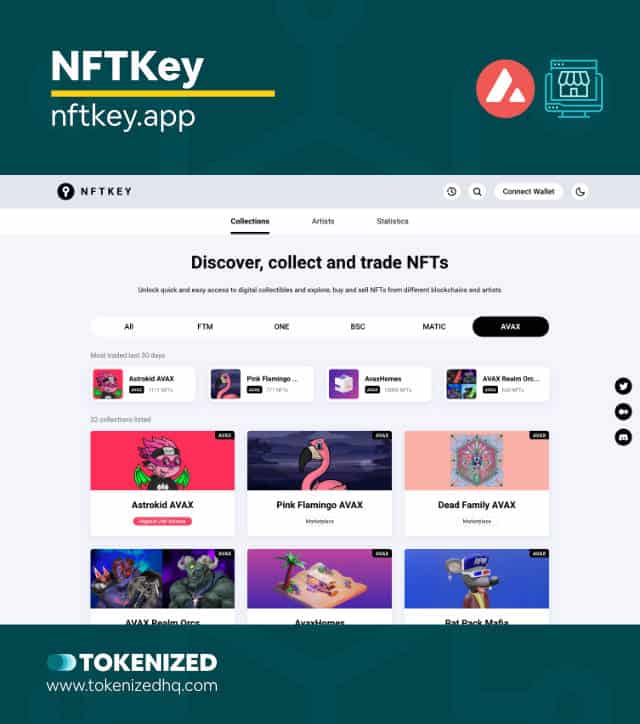 NFTKey is not exclusively an Avalance NFT marketplace, but rather one that aggregates several different blockchains.
It's a decentralized NFT platform for trading NFTs on Ethereum, Binance Smart Chain, Avalanche, Fantom, and Harmony.
This is great news because it means that it's more likely to attract the attention of many users and their stats speak for themselves.
While the activity obviously isn't anywhere near OpenSea, there's a sizeable amount of trading going on at NFTKey which makes it a really good option for those looking for AVAX NFT marketplaces.
That being said, the AVAX-specific trading volume is still very low because Avalanche NFT just hasn't really become a big thing yet.
3. YetiSwap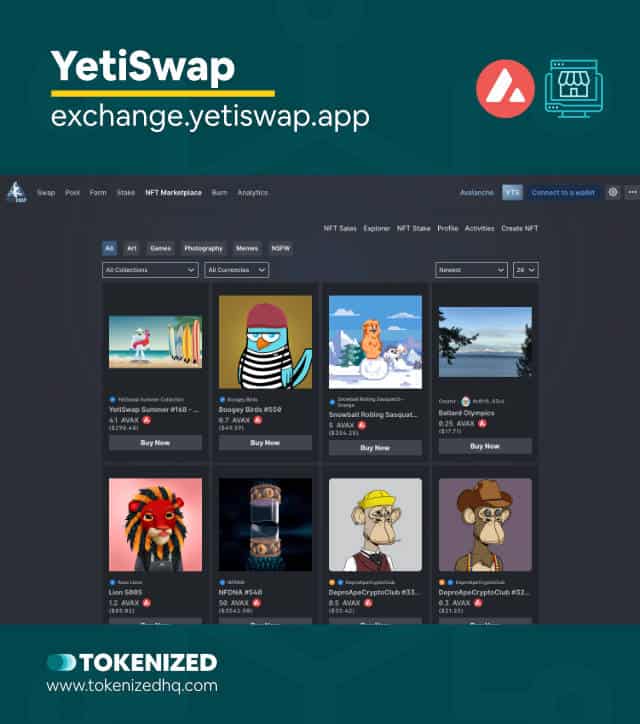 If you're familiar with decentralized exchanges such as UniSwap or SushiSwap, then you'll immediately understand what YetiSwap is.
It uses the same type of automated market-making (AMM) as other DEXs, except that it runs on the Avalance blockchain.
This allows you to quickly and easily swap native Avalanche tokens.
YetiSwap also has its own AVAX NFT marketplace and they claim they are the only platform that offers royalties on Avalanche for creators and collection owners.
There's a fair amount of NFT trading going on at YetiSwap, so you can rest assured that it's not a dead end.
YetiSwap has a service fee of 3%, which is even higher than the OpenSea fees.
Alternatively, you can just pay2% if you use their native token $YTS.
2. Kalao
Kalao is an interesting one because its vision isn't just to become a major AVAX NFT marketplace but rather an ecosystem in its own right.
Aside from offering the obvious features such as minting, buying and selling NFTs on its platform, Kalao also has a virtual gallery that provides a more realistic viewing experience.
Kalao also has its own native token $KLO that can be used for staking or paying reduced service fees (1.25% vs 2.5%) on the marketplace.
Kalao definitely has the most professional look of all the different Avalanche NFT marketplaces we've encountered.
1. NFTrade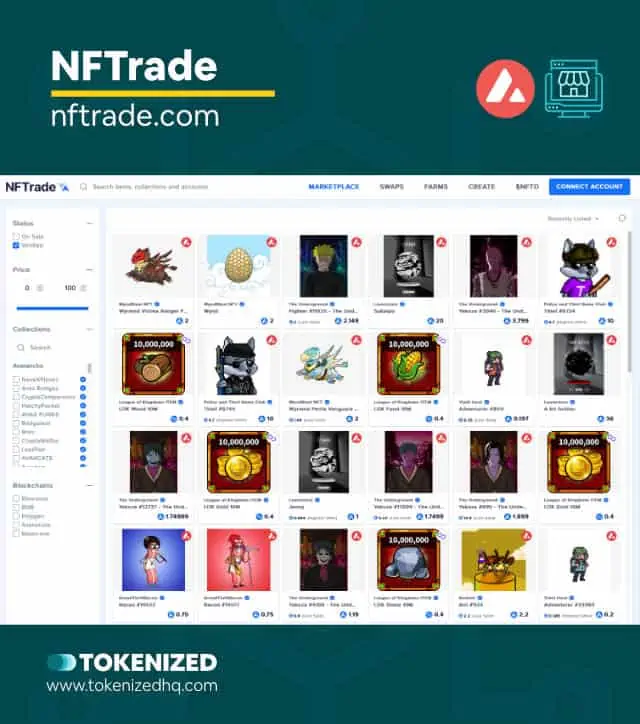 We've mentioned NFTrade before when we created a list of the most popular Polygon NFT marketplaces.
NFTrade is another cross-chain NFT platform, marketplace and aggregator and thus attracts a considerable amount of users from all over the crypto landscape.
They support Ethereum, Polygon, Binance Smart Chain and of course Avalanche.
NFTrade isn't just our personal top pick but it's also the most popular option amongst AVAX users as you can see from the tweet below.
It's even more popular than the very refined AVAX NFT marketplace Kalao.
Conclusion
While the Avalanche NFT ecosystem still isn't quite as big as that of Ethereum and Solana, viable solutions are slowly emerging.
Ethereum went through a similar evolution as well when DeFi initially took center stage, only to be dethroned by the attention-grabbing and vastly more popular NFT culture.
While we strongly advise that you focus your attention on the established NFT market around Ethereum, if you're primary objective is to help grow the AVAX ecosystem, then go for it.
The various Avalanche NFT marketplaces we've listed above will hopefully help you kick things off.
Or maybe you'd rather check out some Terra NFT marketplaces or Sol NFT marketplaces instead?
Here at Tokenized, we want to help you learn as much as possible about the coming NFT revolution. We help you navigate this fascinating new world of non-fungible tokens and show you how you can integrate tokenization into your own business.