Are you trying to find NFT marketplaces for the Polygon blockchain?
Or perhaps you're sick and tired of Ethereum's excessive gas fees and now you're looking for a cheaper alternative such as Polygon (also known as Matic)?
We totally get it because the fees associated with doing anything on Ethereum have become so high that we're essentially forced to move to layer 2 solutions.
Unfortunately, the ecosystem around blockchains such as Polygon isn't as big as that of Ethereum yet and it's not always easy to find Polygon NFT marketplaces.
In this article, we'll take a closer look at some of the best Polygon NFT marketplaces available right now.
Let's get started.
Key Points (tl;dr)
Polygon is a layer 2 scaling solution built on top of Ethereum. It's native token is MATIC, it uses proof-of-stake as a consensus mechanism and reduce gas fees by over 99% versus Ethereum.
Polygon is a good solution for NFTs because transaction speed are fast, costs are low, the network is secure and it allows for interoperability between blockchains.
Some of the best Polygon NFT marketplaces include OpenSea, Refinable, NFTrade, tofuNFT and LootEx.
Like this content? Then share it!
The 10 Best Polygon NFT Marketplaces
Here's the answer. Great article by @ChrisHeidorn right here: https://tokenizedhq.com/polygon-nft-marketplace/

www.tokenizedhq.com
What is Polygon and Matic?
Polygon was originally launched in 2019. It is a layer 2 scaling solution. It helps blockchains scale beyond their own capacity limitations. While Polygon is a blockchain in its own right, it is built on top of Ethereum. "Matic" was the original name of the network until it rebranded in 2021. It has retained MATIC as the ticker symbol for its native token.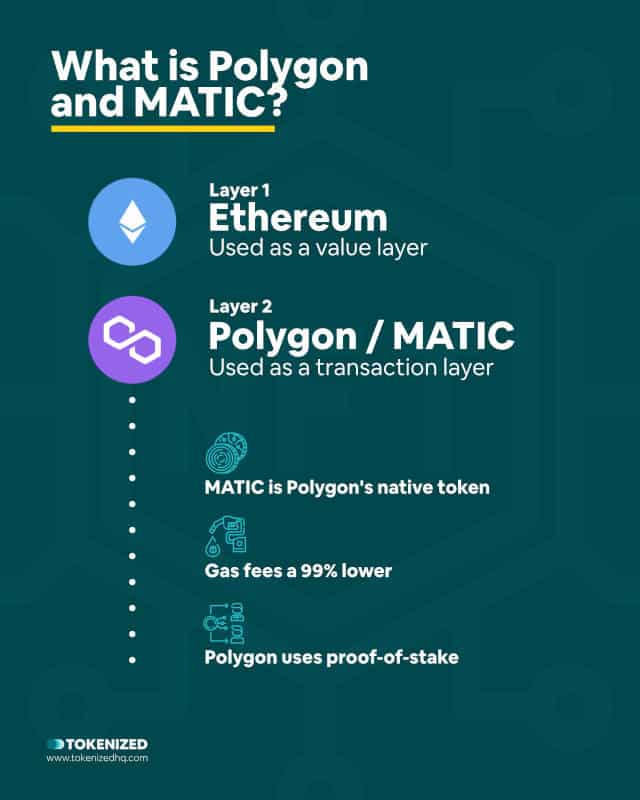 Many people who are new to Polygon and layer 2 scaling solutions in general frequently ask what they are and how Polygon and Matic differ from one another.
Ethereum is an extremely popular blockchain, however, with increasing demand for blocks, it has become too expensive for most people to directly transact on it.
In other words, Ethereum does not scale well on its own and requires so-called "layer 2" scaling solutions (Ethereum is a layer 1 blockchain).
Layer 2 solutions effectively reduce the load by taking some of the burdens off Ethereum's chest.
Ethereum remains the underlying value backbone, but vast amounts of transactions are handled on Polygon in a much more efficient way because it relies on a different consensus mechanism called Proof-of-Stake.
While Polygon isn't the only scaling solution on the market, it's the most well-known layer 2 blockchains on the market.
So you might be wondering how Polygon and Matic fit together.
Well, Matic was the original name of the blockchain when it launched in 2019.
It has since rebranded to Polygon in February 2021, but the network's token symbol is still MATIC.
In other words, MATIC is to Polygon what ETH is to Ethereum.
Is Polygon Good for NFTs?
Most dApps already require significantly more transaction capacity than regular value transactions. Minting, buying and selling NFTs requires even more throughput. If the cost of transacting is too high, adoption of the technology will stagnate or fall. That is why layer 2 scaling solutions such as Polygon as essential for the future growth of the NFT market.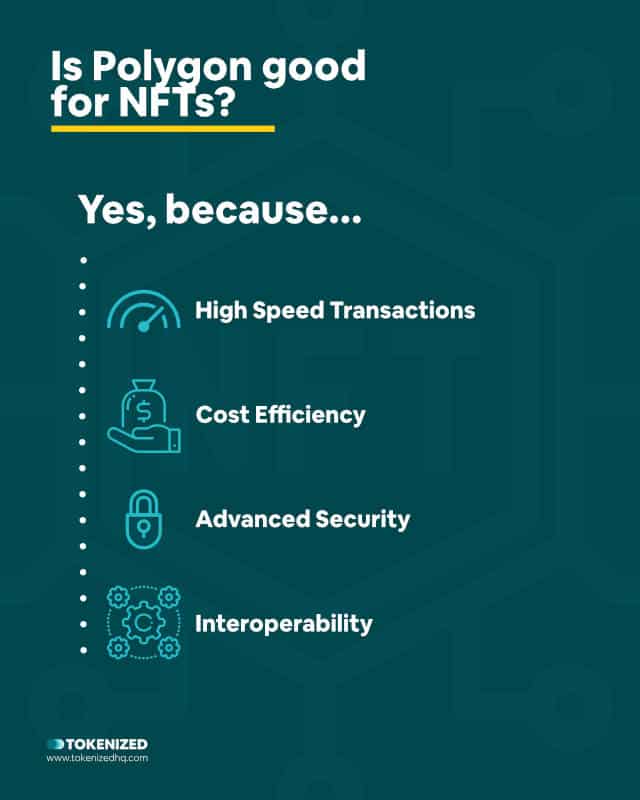 Every blockchain transaction requires a fee to be paid in order to incentivize miners or stakers to secure the network.
Since minting NFTs or buying and selling them on marketplaces requires significant amounts of transactions, you want to keep these fees as low as possible.
Given the size and popularity of the Ethereum blockchain, that's simply no longer possible on Ethereum.
Layer 2 scaling solutions can help reduce these fees by over 99% and thus significantly reduce the barrier to entry for new users.
Polygon fees will likely increase in the future as well, however, they won't be as bad as on Ethereum.
And looking at how many alternative layer 2 blockchains are being developed, we can expect the supply for transaction volume to increase even more.
The only challenge right now is that NFT projects on Ethereum as still perceived as "premium" products.
While it's unlikely that will change, most projects have an incentive to move their users to cheaper and more environmentally friendly alternatives.
The 10 Best Polygon NFT Marketplaces
The 10 best Polygon NFT marketplaces right now are:
OpenSea
Refinable
NFTrade
tofuNFT
Treasureland
NFTically
Venly Market
Zesty Market
PlayDapp Marketplace
LootEX
The overall transaction volume for Polygon-based NFTs is still relatively low.
This is partially due to the fact that Ethereum NFTs are perceived as "premium" products but also because most people are simply not familiar with using layer 2 blockchains such as Polygon.
Given how much money is potentially at stake, most users stick to what feels familiar and what feels safe to them.
And another reason is that there simply aren't that many Polygon NFT marketplaces out there yet.
But this is slowly changing and even larger marketplaces such as OpenSea have added Polygon to their supported blockchains.
Let's look at some of the best Matic NFT marketplaces out there.
1. OpenSea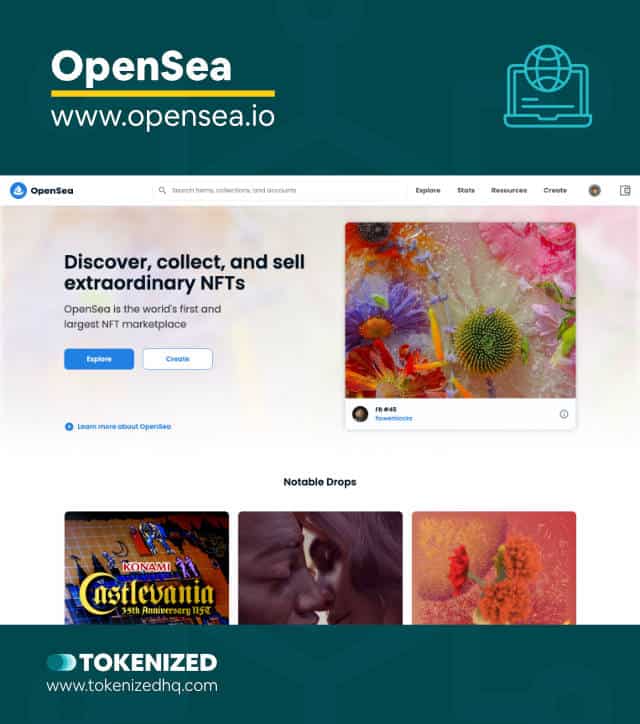 That's right. You don't really need to look all that far if you want to trade Polygon NFTs.
Since OpenSea also supports Polygon, you could technically say it's not just an Ethereum NFT marketplace, but also a Matic NFT marketplace.
OpenSea tries to make it as easy as possible to transact on Polygon and also bridge currency from Ethereum to Polygon.
I should point out that unlock currency OpenSea errors have been a common occurrence for many users, so the integration isn't quite perfect yet.
However, if you're looking for the most trading volume, then OpenSea is still your best and you won't want to deal with all those massive OpenSea gas fees anymore.
2. Refinable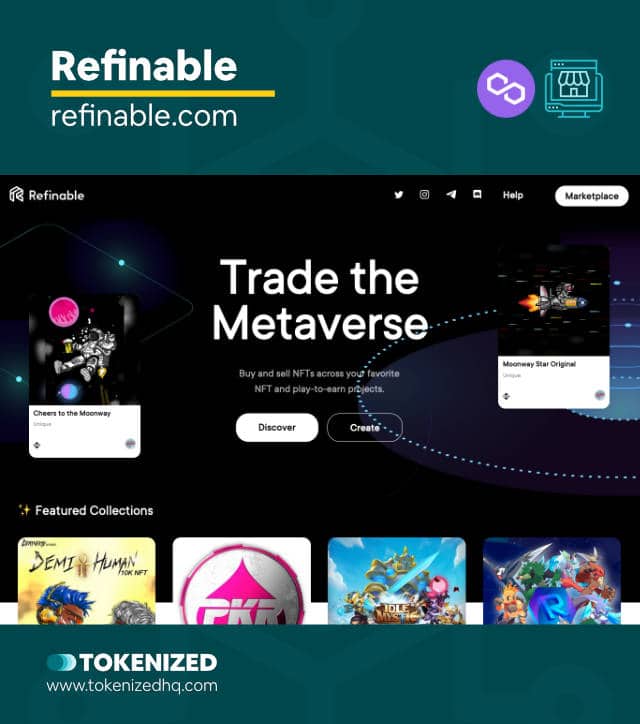 Refinable's objective is to become the definitive hub for NFTs on Binance Smart Chain.
However, the team has clearly understood that the vast majority of the action is currently happening on Ethereum.
Their NFT marketplace currently supports Ethereum, Binance Smart Chain, Polygon and Solana.
While many other Polygon NFT marketplaces haven't really invested much effort into creating a slick interface, Refinable has understood that looks do matter.
3. NFTrade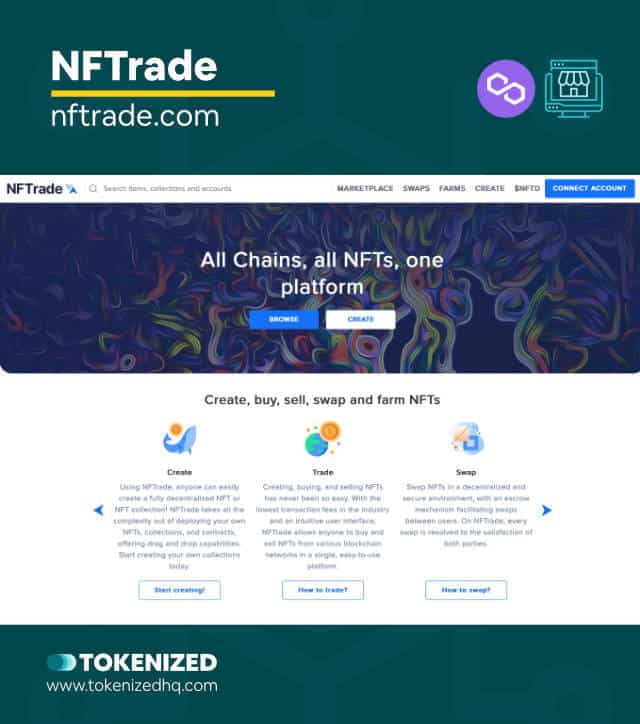 NFTrade markets itself as an all-in-one platform with support for various blockchains.
Not only can you trade or swap NFTs, but you can also create your own NFTs and collections straight from within the platform.
NFTrade is very straightforward and currently supports Ethereum, Binance Chain, Polygon, Avalance and even Moonriver (Kusama).
4. tofuNFT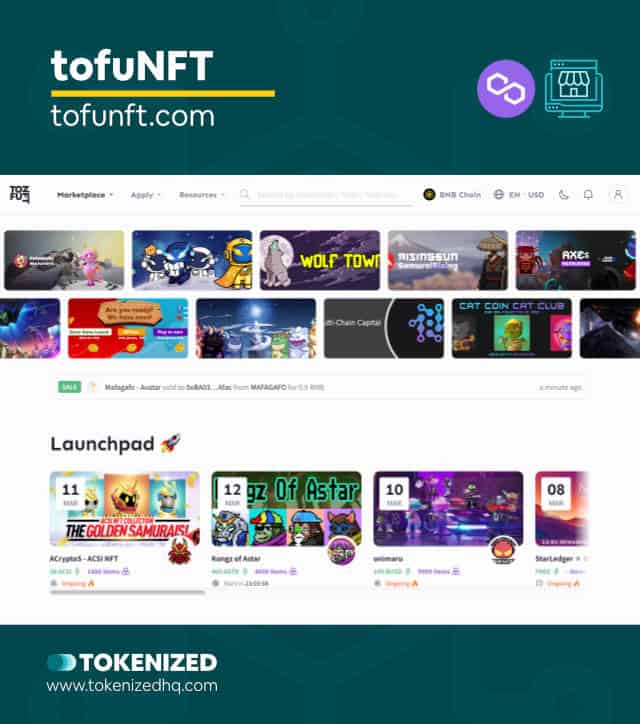 tofuNFT is an interesting one amongst the Polygon NFT marketplaces.
Not only have they done a good job at creating a clean and appealing UI design, but they also support a massive number of blockchains.
It's really quite unbelievable because we've never seen any marketplace support so many different chains.
They have support for over 20 different blockchains including BNB, Ethereum, Arbitrum, Avalanche, Polygon, Astar, Fantom, Optimism, Cronos, Klaytn, Celo and many more.
5. Treasureland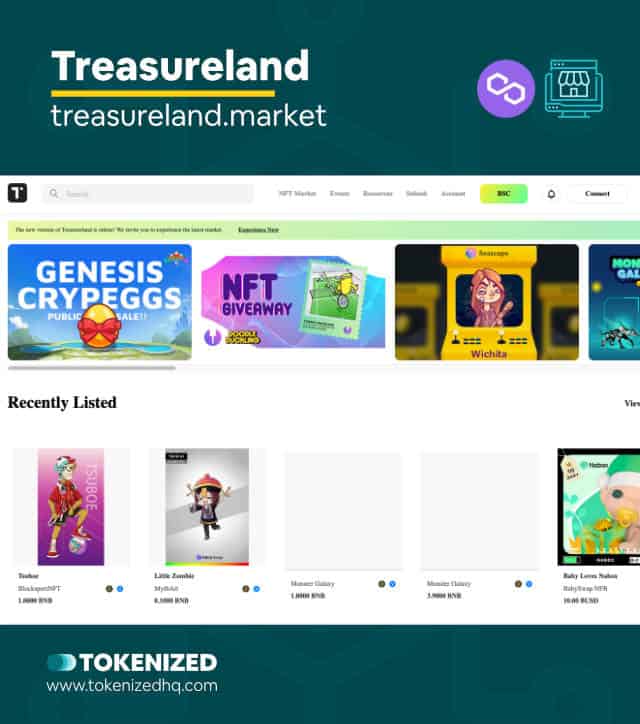 Treasureland is a multi-chain NFT aggregation protocol that supports various features to help users get started with NFTs.
Technically, since it's a multichain platform, it's not really a Polygon NFT marketplace, but I guess that doesn't really matter.
They currently support Binance Smart Chain, Ethereum, Polygon, Moonriver and even rare blockchains such as IoTeX, Moonbeam and Kcc.
6. NFTically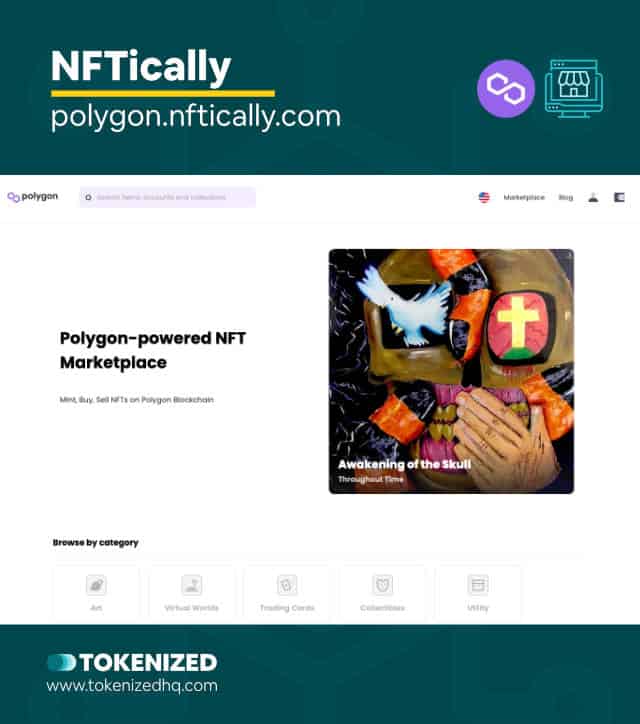 Just like Polygon itself, NFTically is an India-based company.
NFTically has developed a suite of NFT tools and solutions targeted at various different audiences, including large enterprises as well as artists and influencers.
They help you create different types of NFTs and also create your own NFT storefronts.
Although they don't really advertise it much, they also run their own Polygon NFT marketplace in the background.
7. Venly Market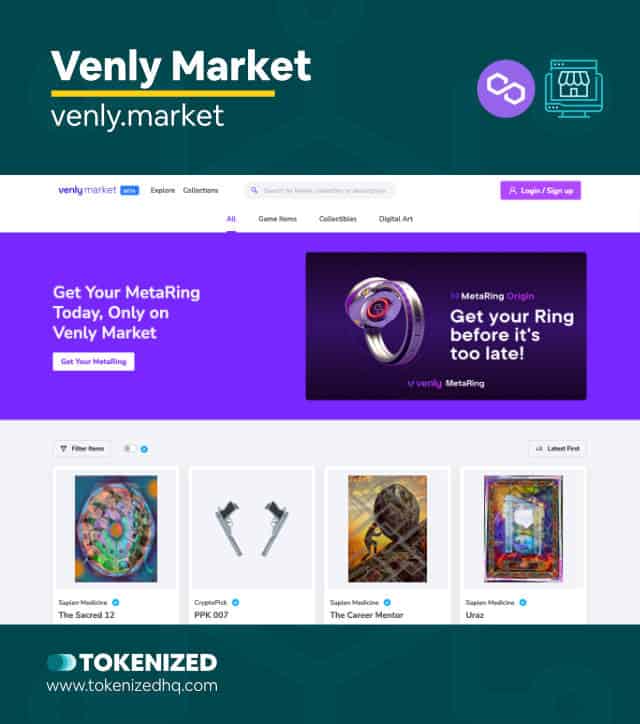 Very similar to NFTically, Venly is a full-service provider of a suite of products that facilitate the integration NFTs into existing products.
Venly also has its own Polygon NFT marketplace which is currently in beta.
It comes with all of the basic features you'd expect from an NFT marketplace, just not the massive gas fees.
Venly is also the creator of the Venly Wallet, one of the many MetaMask alternatives on the market.
8. Zesty Market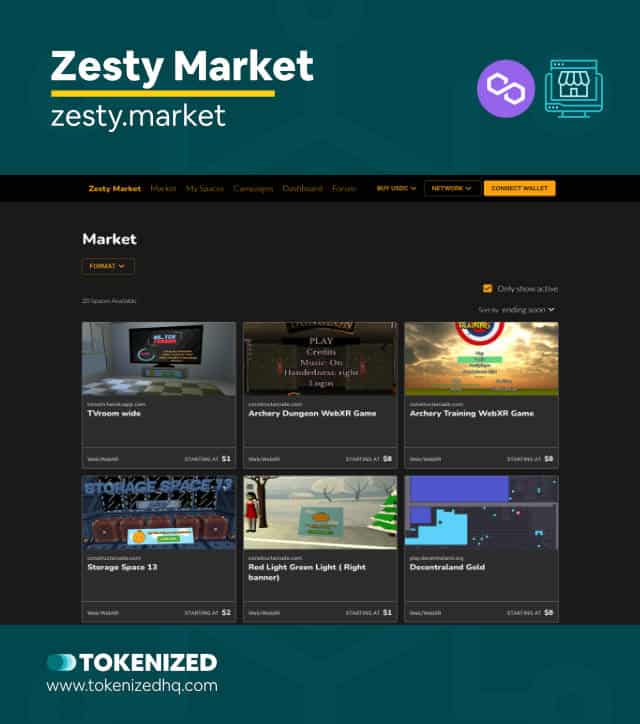 Unfortunately, since this space is still so young and primarily driven by developers, a lot of the websites have horrible UIs.
And by horrible we mean that they're just plain ugly in terms of aesthetics.
But since most users don't really notice good design until they see it, a lot of NFT marketplaces such as Zesty Market still manage to attract users.
9. PlayDapp Marketplace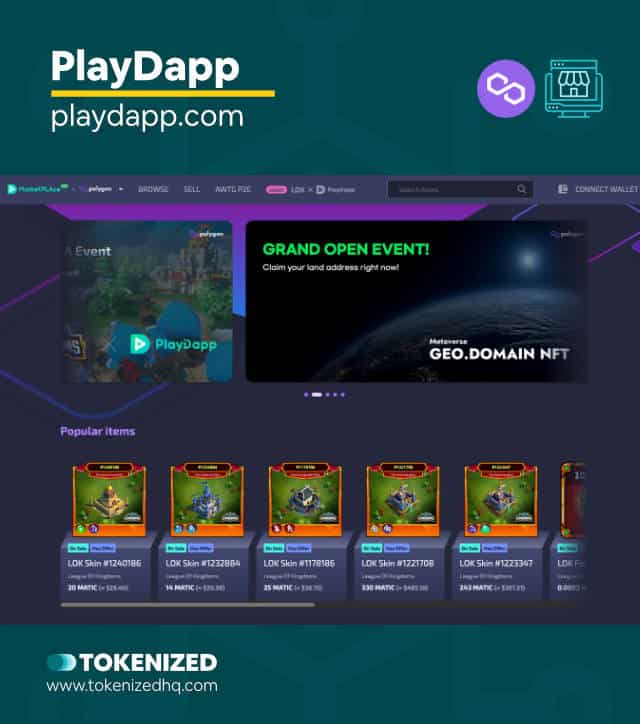 PlayDapp is essentially a blockchain gaming platform that has its own integrated NFT marketplace.
Developers can build their own games on top of PlayDapp and easily integrate NFT into their games.
While at its core it is built on top of Ethereum, PlayDapp has also implemented support for Polygon in order to reduce transaction fees.
Why you won't be able to trade just any NFT on the PlayDapp marketplace, if you're a fan of League of Kingdoms or Along with the Gods, then this is the place to be.
10. LootEX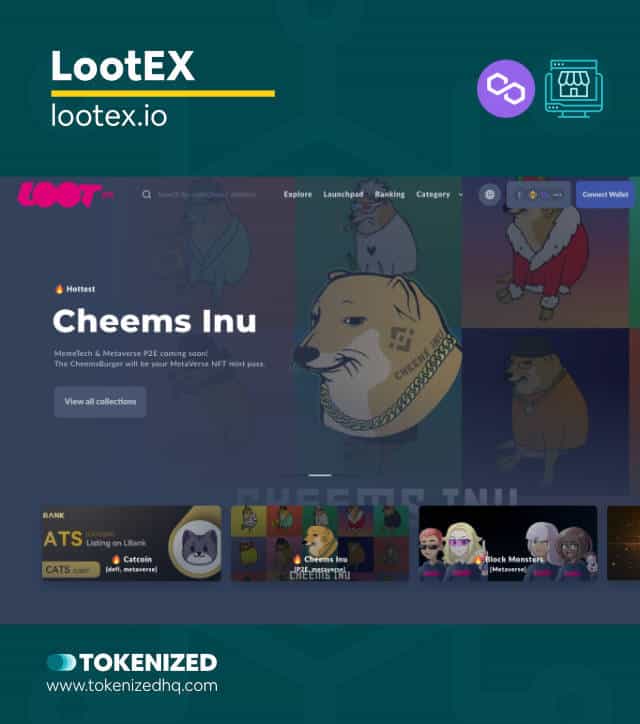 We'll finish off today's list with a very special Polygon NFT marketplace.
LootEX is a specialized GameFi asset marketplace covering various blockchains and tons of games, including the previously mentioned League of Kingdoms.
Gaming is one of the most promising use cases for NFTs and significant amounts of money have already been invested into a number of projects.
We have a very helpful article here on Tokenized that covers the best NFT games available right now.
Conclusion
The blockchain ecosystem is evolving, not just because it can but out of necessity.
As more and more users are onboarded into the crypto space and popular blockchains like Ethereum get increasingly congested, gas fees will drive users to alternatives.
Sometimes these will be completely different ecosystems but most of the time users will end up on layer 2 solutions from within the ecosystem they know and trust.
Dedicated Polygon NFT marketplaces are still quite rare and it will take time to move users onto layer 2 solutions.
Until then we hope you'll find solace in using one or more of the above Matic NFT marketplaces to buy and sell digital assets.
And if you're keen on discovering Avalanche NFT marketplaces or Terra NFT marketplaces, we've got lists for those too!
Here at Tokenized, we want to help you learn as much as possible about the coming NFT revolution. We help you navigate this fascinating new world of non-fungible tokens and show you how you can integrate tokenization into your own business.