Are you getting an Unlock Currency OpenSea error?
Or perhaps you've been confronted with the message "There was an error with your transaction. Please try again." for the very first time?
Don't worry, we've got you covered because we have done some digging and have found 4 different fixes to this annoying Unlock Currency OpenSea error.
In this guide, we'll show you step-by-step what you need to do in order to successfully unlock a currency on OpenSea and finally start trading again.
Let's get started.
Key Points (tl;dr)
If you get an error while unlocking a new currency on OpenSea, it usually means that something is wrong with the bridge to the other blockchain.
Aside from just waiting for a previous transaction to confirm, there are 4 way how to fix the unlock currency OpenSea error.

Refresh your OpenSea wallet funds
Try another browser
Turn off ad blockers
Open a support ticket
Like this content? Then share it!
Solved: How to Fix Unlock Currency OpenSea Errors
Here's the answer. Great article by @ChrisHeidorn right here: https://tokenizedhq.com/unlock-currency-opensea/

www.tokenizedhq.com
What Does Unlock Currency Mean on OpenSea?
Whenever you want to purchase an NFT on another blockchain or layer 2 scaling solution, you will need to unlock currency in your wallet. The same applies to bridging currency to Polygon.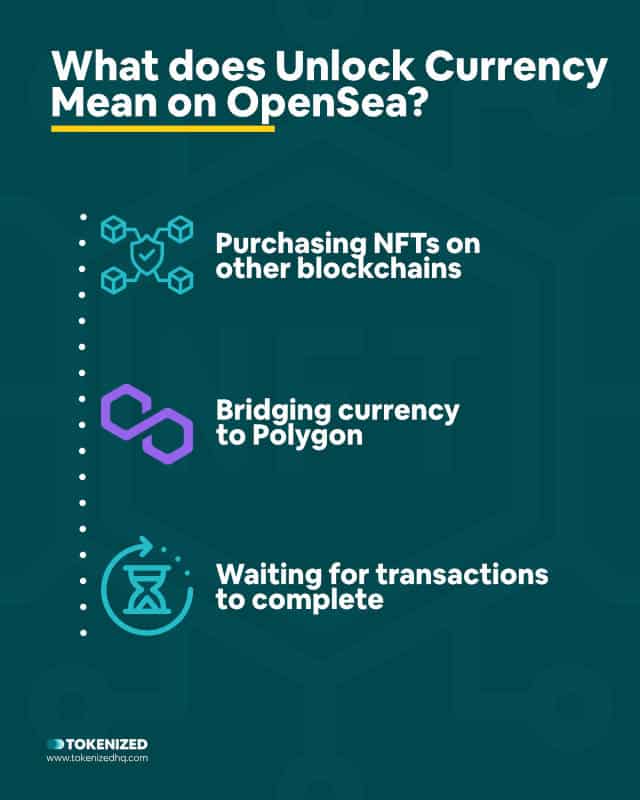 Sometimes, when you're in the middle of a purchase or listing an NFT on OpenSea, you'll be asked to unlock currency before you can proceed.
This usually happens when you interact with NFTs from a different blockchain, such as Polygon or Klaytn, and in some rare cases it can even show up for Ethereum.
In the case of Polygon, this usually either means that your wallet doesn't have MATIC in order to complete the transaction or there is a problem with OpenSea's currency bridge.
Usually, it's just a matter of waiting for your last Polygon transaction to confirm.
Nevertheless, for some people, the problem simply continues to persist and they just don't know why.
How to Fix the "Unlock Currency" OpenSea Error
There are several ways you can fix the Unlock Currency OpenSea error. They include refreshing the funds in your OpenSea wallet, trying a completely different wallet provider, turning off ad blockers, and finally, in necessary, contacting OpenSea's support team.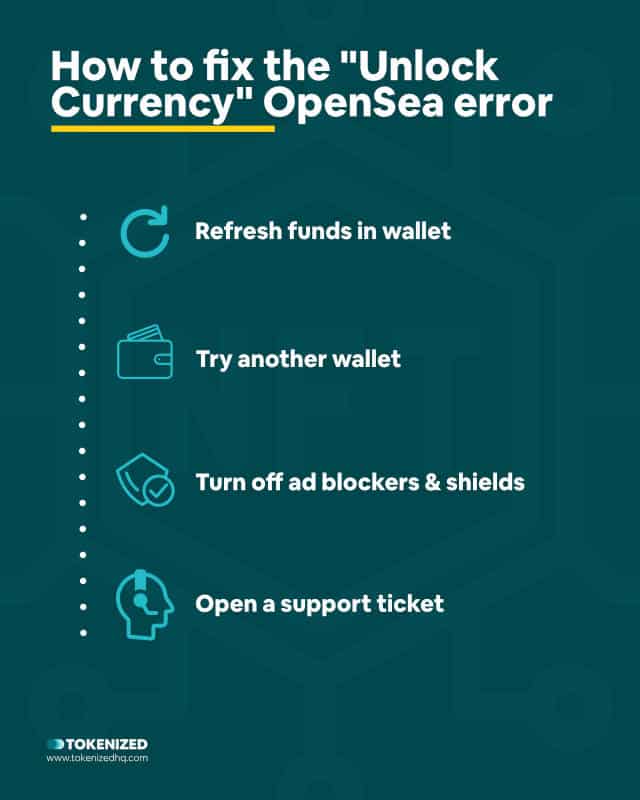 There are several possible fixes to the Unlock Currency OpenSea error.
It might be as simple as just refreshing your funds or trying it in another browser.
After all, simply refreshing is a common way of solving many cache issues, including the "Content not available Yet" error on OpenSea.
In other cases, you might have to have a closer look at your browser extensions and potentially deactivate ad blockers that you have installed.
And if all else fails, the only solution is to submit a request with OpenSea's help center and hope that they can solve it.
Anyway, before we get to that, here are 4 ways how to fix the Unlock Currency OpenSea error.
Solution 1: Refresh Funds in Wallet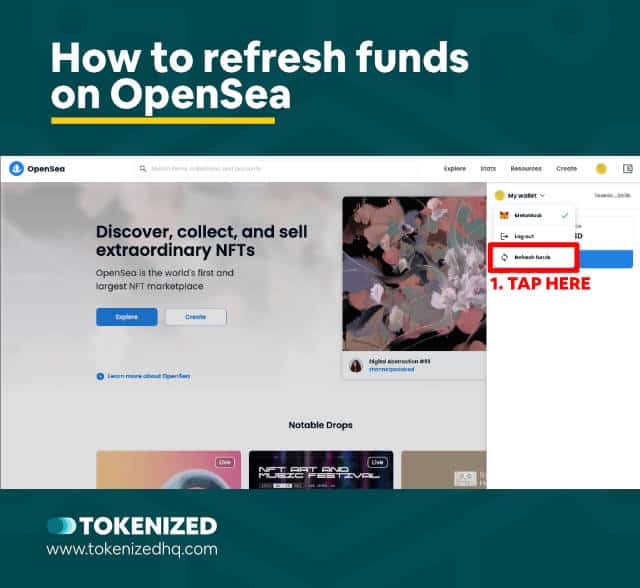 The first potential solution to this problem requires you to refresh your funds.
If you've recently bridged funds from Ethereum to Polygon or completed any other transaction on the Polygon Layer 2 blockchain, then your OpenSea wallet balance might be up-to-date.
This happens because blockchain transactions are usually only processed after a certain delay.
You can verify the correct balance of your address by connecting your wallet via the Polygon Web Wallet or checking your address directly on PolygonScan.
Alternatively, you can do the exact same thing directly on OpenSea.
Here are the steps:
Step 1: Go to the OpenSea website and connect your wallet.
Step 2: Once you've connected your wallet, click the wallet icon in the top navigation bar.
Step 3: Now click on the dropdown arrow next to your profile image. You'll see the option "Log out" and "Refresh funds".
Step 4: Click on "Refresh funds" and 10-20 seconds.
Step 5: Now go back to your transaction and try unlocking the currency again.
In most cases, this should solve the Unlock Currency OpenSea error.
Solution 2: Try Another Browser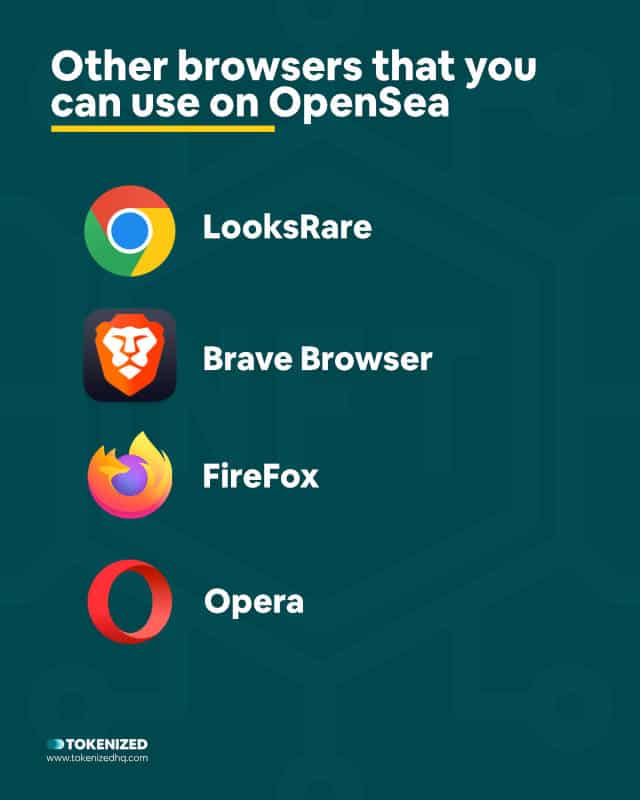 Sometimes the issue you are facing isn't because you are doing anything wrong.
Technology can be weird and sometimes the simplest fix is to just try a different browser.
If you're into cryptocurrency and data privacy, then chances are you are using Brave Browser.
In that case, we strongly urge you to give Chrome a try because we've heard of many cases where Brave has been the primary culprit due to compatibility issues.
Alternatively, you can also switch to Firefox, Edge or Safari.
In the end, it doesn't really matter which one you use, the point is to use something different than what you usually use.
If all else fails, you might as well give the OpenSea mobile app a try as well.
In some cases this has fixed the OpenSea unlock currency error.
Solution 3: Turn Off Ad Blockers & Shields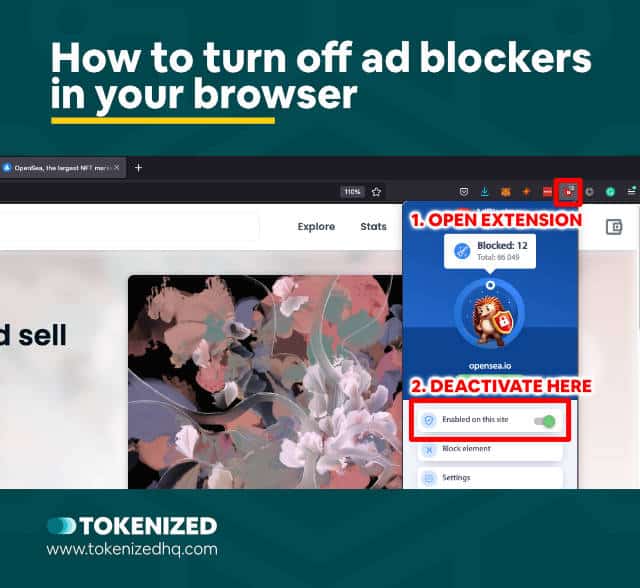 Many modern browsers, such as Brave Browser or Firefox come with an integrated shield, which is meant to block tracking scripts.
Some people also use adblockers to speed up their browsing and get rid of all those pesky ads on the screen.
The problem with these blockers is that they sometimes inadvertently block critical Javascript code that is necessary for the website to function.
Although this is rarely the root cause of the Unlock Currency OpenSea error, you might as well give it a try.
Just make sure you remember to also clear your browser's cache afterward.
Here's how you can do that on 3 different browsers:
Chrome: Enter "chrome://settings/clearBrowserData" in the address bar
Firefox: Go to Preferences > Privacy & Security > Cookies and Site Data
Brav Browser: Enter "brave://settings/clearBrowserData" in the address bar
Solution 4: Open a Support Ticket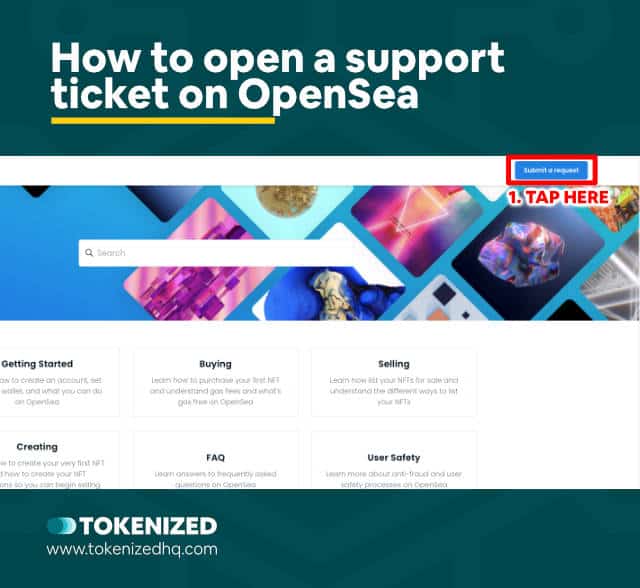 In some cases, none of the solutions listed above will work.
No matter what or how often you try, you keep getting the Unlock Currency OpenSea error.
Some problems are simply technical glitches on the platform and in those cases, you will need additional support from OpenSea to move forward.
Here's how you can submit a support request on OpenSea:
Step 1: Visit the OpenSea Help Center
Step 2: Click on the "Submit a request" button in the top navigation bar. This will open the requestion submission form.
Step 3: Select the category of the problem you are facing. So selet "Report a Bug or Error Message".
Step 4: Fill out the details related to your problem and hit the "Submit" button.
Bear in mind that OpenSea gets thousands of help requests every day, so you'll need to wait for 1 to 3 business days at the very least.
Once they get around to your request, you'll receive a response via email.
Conclusion
Just like the equally annoying OpenSea Failed to Fetch error, the Unlock Currency OpenSea error is relatively common.
It's also true that it's a particularly annoying error message since it doesn't provide a whole lot of insight into the root cause of it.
Nevertheless, most people manage to solve it by trying out one of the 4 solutions we've listed above.
Here at Tokenized, we want to help you learn as much as possible about the coming NFT revolution. We help you navigate this fascinating new world of non-fungible tokens and show you how you can integrate tokenization into your own business.