Looking for the best wallets to use on OpenSea?
Or perhaps you already have an OpenSea wallet and are just looking for better alternatives?
Wallets can be complicated for people who are new to the cryptocurrency space and sometimes confuse wallets with addresses.
In this guide, you'll learn everything there is to know about crypto wallets that are compatible with OpenSea as well as how the different alternatives stack up against each other.
Let's get right to it.
Key Points (tl;dr)
OpenSea is not a custodial wallet. YOU bring your own wallet.
You can use any of the officially supported crypto wallets or any wallet which is supported by WalletConnect.
The most popular OpenSea wallets are MetaMask, Coinbase Wallet and TrustWallet, but preferences will vary based on the features you need.
Connecting your wallet to OpenSea is a matter of a few clicks and once connected, it's very easy to find your wallet address via your OpenSea profile.
Like this content? Then share it!
OpenSea Wallets: Everything You Need to Know in 2023
Here's the answer. Great article by @ChrisHeidorn right here: https://tokenizedhq.com/opensea-wallet/

www.tokenizedhq.com
Is OpenSea a Wallet?
OpenSea is not a cryptocurrency wallet. None of your NFTs are stored on OpenSea. It is merely a window into your wallet address that you can use buy, sell, create or trade NFTs with other people's addresses.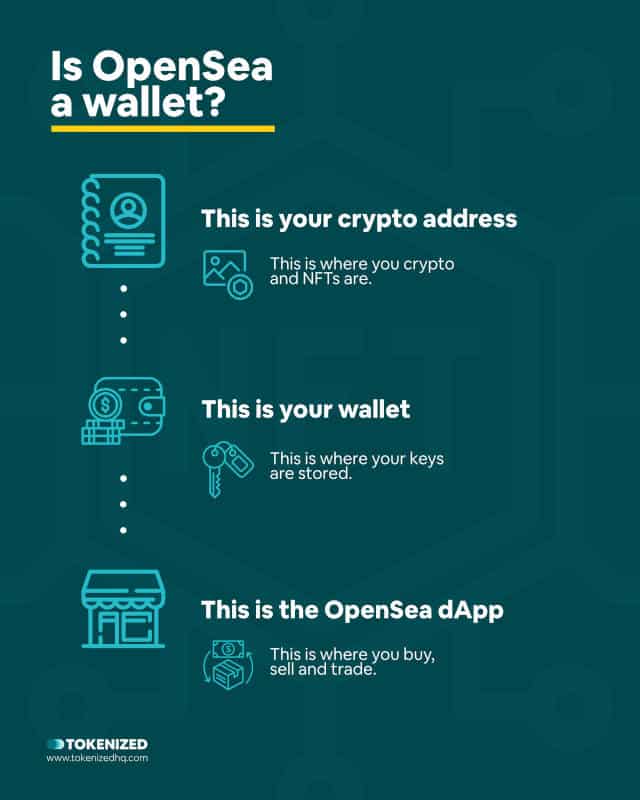 A lot of people in the NFT space have not traditionally been interested in cryptocurrency.
This creates some problems because they often do not understand all of the details behind the technology and tend to compare things with the traditional banking system.
Unlike a centralized crypto exchange or your classic brick-and-mortar bank, OpenSea does not have custody of your wallet or account (although they can facilitate crypto purchases via OpenSea Credit Card payments).
All of the cryptocurrency and NFTs that you own are not located within any particular wallet software but rather inside your address on the blockchain.
You can think of your wallet as a set of keys that give you access to an address and let you perform transactions.
OpenSea, on the other hand, is simply a window into a particular area inside your address.
It displays the NFTs that are contained inside it and you use your wallet to do things with them on OpenSea (such as listing, buying, etc).
You can easily move to an entirely different marketplace such as LooksRare and you would still be looking at the exact same address.
The only difference is that you'd be using a different platform or "window".
So if you're faced with the problem of your NFT not showing in Coinbase Wallet, then it's linked to the wallet provider you are using and not because it's missing.
However, if you do want to transfer NFT from OpenSea to Coinbase Wallet, you can easily do so via the "Transfer" button on OpenSea.
What Wallets Can I Use With OpenSea?
While OpenSea only offers direct support for about a dozen different crypto wallets, these already cover the vast majority of wallets currently in use. For all other crypto wallets, you can use the WalletConnect protocol to connect the crypto wallet of your choice.
The vast majority of people in the cryptocurrency space only use a handful of different wallets.
While MetaMask remains the most popular wallet for anyone who primarily transacts on Ethereum, more and more people are looking for good MetaMask alternatives.
One of the reasons for this is that the MetaMeta browser extension still doesn't have native support for NFTs.
We wrote an article a while back on how to add NFT to MetaMask for those who insist on seeing them directly inside their wallet.
Nevertheless, OpenSea actually supports a wide range of different crypto wallets.
Some are available for all sorts of devices while others are optimized for mobile.
They all come with different features so picking one of them primarily depends on your personal preferences.
Here is a quick rundown of the different OpenSea wallets that are supported:
MetaMask: As already mentioned, it's the by far the most popular wallet, especially amongst desktop users.
Coinbase Wallet: The Coinbase wallet has the benefit of supporting more than just Ethereum and being very user-friendly.
TrustWallet: This is a non-custodial mobile wallet stores your private key locally on the device as an extra layer of security.
Fortmagic/Magic: This is a user-friendly wallet with an innovative approach to security. It allows you to sign up with your phone number.
Portis: This technology allows you to connect dApps with an email address and password while being completely device agnostic.
Venly: All you need for this wallet is a browser and a PC. It was formerly known as Arkane.
Authereum: Believe it or not, this wallet comes with a certain amount of free transactions. A dream come true for a lot of users.
Bitski: Another easy-to-use crypto wallet that allows users to sign up with an email and password.
Dapper: Another wallet which used to market it's gas-free transactions. At the moment you are limited to a certain number of gas-free transactions per week.
OperaTouch: Opera's integrated crypto wallet work both on desktop as well as on the mobile Opera Touch browser.
Kaikas: The wallet is only relevant to you if you trade NFTs on the Klaytn network. It's available as a browser extension.
Torus: This is a wallet which uses existing authentication protocols, such as Facebook, Google and other OAuth providers.
WalletConnect: Unlike a traditional crypto wallet, WalletConnect is a protocol that is supported by many different wallets and allows you to connect to a wide range of different dApps using any of these wallets.
WalletLink: Another protocol which essentially does the same thing as WalletConnect.
What is the Best Wallet for OpenSea?
The most popular OpenSea wallets are MetaMask, Coinbase Wallet and TrustWallet. However, depending on your particular use case, some of the other supported wallet providers may be a better choice.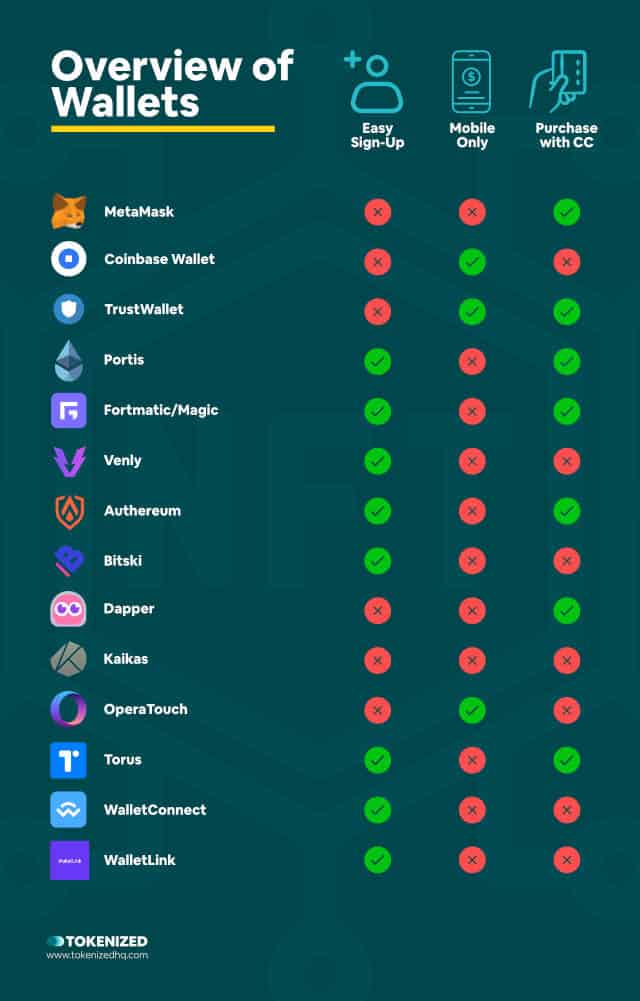 Although everything is always a question of taste and not every wallet is necessarily the right choice for everyone, most people still keep searching for the best OpenSea wallet.
And while there is no such as the best wallet for OpenSea, we can tell you that the most popular choices are still MetaMask, Coinbase Wallet and TrustWallet.
If you're specifically looking for a MetaMask alternative, then we do recommend that you have a closer look at the chart above.
It will give you a good overview of all of the wallet providers supported by OpenSea as well as how their features are different.
We are confident this will help you make the right decision for your specific needs.
And if you ever feel the need to completely rid yourself of MetaMask, there are ways how to delete MetaMask accounts from your devices completely.
How to Connect MetaMask to OpenSea
Connecting MetaMask, or any other crypto wallet for that matter, to OpenSea is very easy.
In a matter of a few clicks, you can easily connect your MetaMask wallet to OpenSea, even if you have a hardware wallet.
If your wallet is already connected, then you might be interested in knowing how to disconnect your wallet from OpenSea.
Follow these simple steps to connect MetaMask to OpenSea or check out our step-by-step guide on how to connect MetaMask to OpenSea.
Step 1: Find and click the "Connect" Button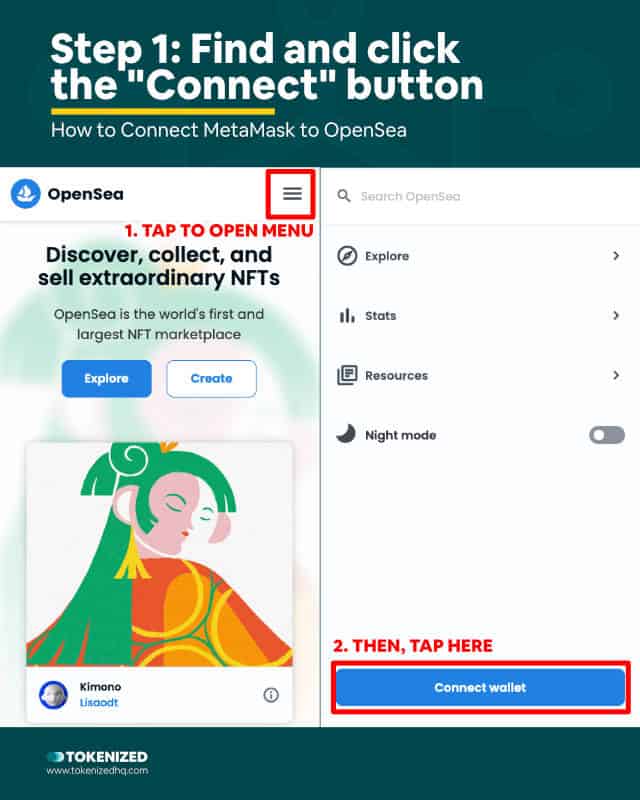 The first step is to open up the navigation menu and then tap the "Connect wallet" button.
Step 2: Select MetaMask and sign the request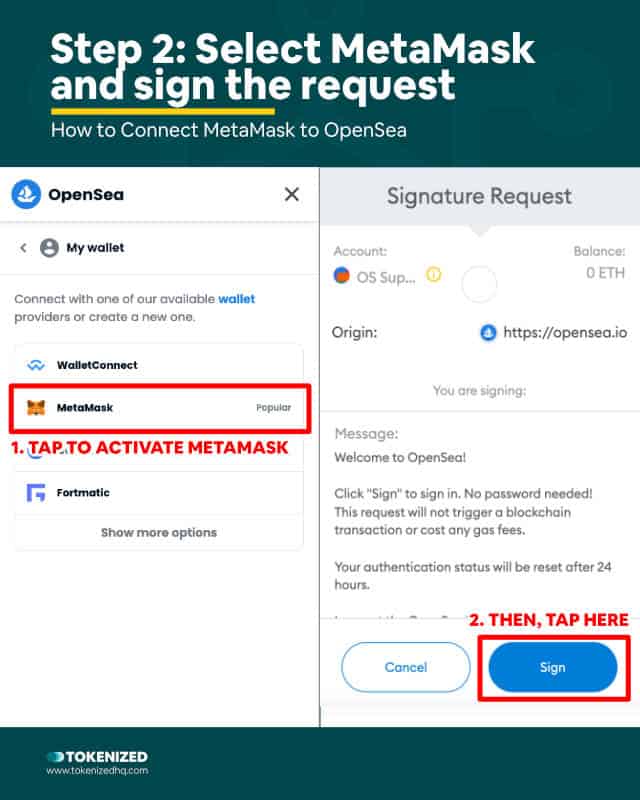 Afterward, assuming you are using MetaMask, click on the MetaMask button.
This will open up the MetaMask extension or mobile app and request a signature from you.
This confirms that you are the owner of the wallet.
How to Find Your OpenSea Wallet Address
You can find your wallet's address by either browser directly to your profile on OpenSea or by opening your wallet and copying it from there. Please remember that there is no such thing as an OpenSea wallet. Your Ethereum wallet is a non-custodial wallet that only you control.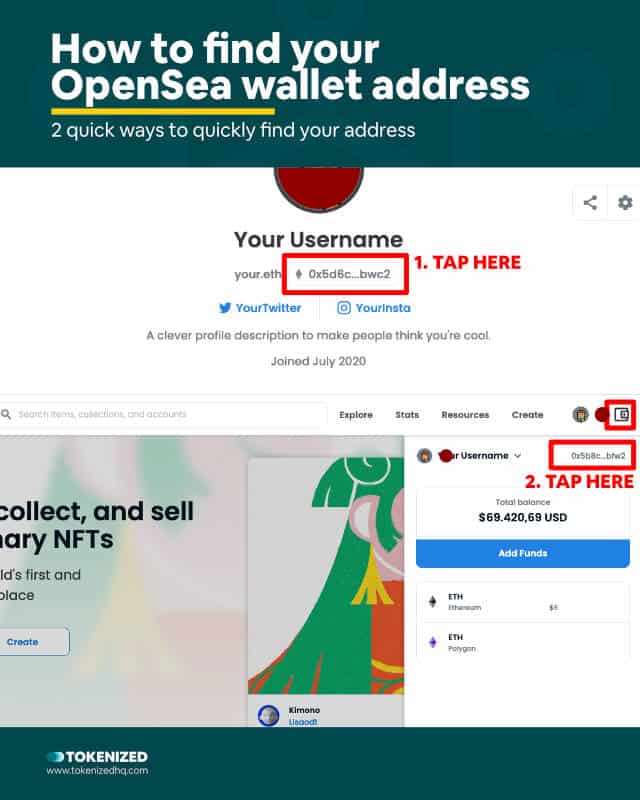 Please remember that there is no such thing as an OpenSea wallet address.
Your wallet address is 100% in your own custody and does not change when you use it on a different dApp.
However, if you are trying to find your wallet's address, there are two simple ways to do so.
Via your OpenSea profile: If you wallet is connected to OpenSea, you can simply browse to your OpenSea account profile and copy the address from there.
Via the OpenSea wallet sidebar: You can easily check your wallet's address by opening the wallet sidebar on OpenSea.
Via your wallet software: Most wallets, in this case MetaMask, make it very easy find and copy your wallet address.
Conclusion
Crypto wallets and how they work within the blockchain infrastructure continue to confuse a lot of newcomers.
Since most people are used to centralized authorities "hosting" all of their accounts and providing a certain level of warranties, the idea that you and only you are in control of your wallet address is a foreign concept for many.
As long as you have your wallet address and your private keys, you can use it with just about any wallet you like.
You can think of your wallet address as a form of universal profile that you can take along with you to literally any dApp you choose.
Which wallet you decide to use is only a matter of personal preference.
Here at Tokenized, we want to help you learn as much as possible about the coming NFT revolution. We help you navigate this fascinating new world of non-fungible tokens and show you how you can integrate tokenization into your own business.