Are you wondering whether you can pay by credit card on OpenSea?
Perhaps you've heard that OpenSea credit card payments were recently enabled thanks to the new MoonPay OpenSea integration and would like to know more about how it works.
Well, not to worry, because we've taken a closer look at the OpenSea MoonPay integration complements other OpenSea payment methods.
In this guide, you'll learn how to buy crypto and NFTs on OpenSea using your credit or debit card via MoonPay.
Let's dive right in.
Key Points (tl;dr)
OpenSea supports 3 different types of payment methods:

Native cryptocurrencies of supported blockchain networks
USDC and DAI stablecoins
Fiat currency indirectly via MoonPay integration for buying crypto

Based on tests, OpenSea seems to be charging a processing fee of $3.99 or 1% of the purchase amount (whichever is higher). This is in stark contrast to the official MoonPay fee structure which charges a 4.5% processing fee on card payments.
Adding funds with a credit card via MoonPay is a simple 5-step process:

Step 1: Access your OpenSea wallet and click "Add Funds"
Step 2: Select the "Buy ETH with card" tab and enter the amount
Step 3: Review the prices and enter your wallet address
Step 4: Set up a MoonPay account (if you are a first-time user)
Step 5: Complete the purchase and wait for confirmation.
For a step-by-step guide on how to buy crypto on OpenSea with your credit card, PLEASE READ THE FULL ARTICLE.
Like this content? Then share it!
Explained: OpenSea Credit Card Payments with MoonPay
Here's the answer. Great article by @ChrisHeidorn right here: https://tokenizedhq.com/opensea-credit-card/

www.tokenizedhq.com
What Payment Methods Does OpenSea Support?
OpenSea currently supports 3 different types of payment methods: Cryptocurrency (ETH, SOL, KLAY), Stablecoins (USDC, DAI), and fiat currency via MoonPay credit card payments.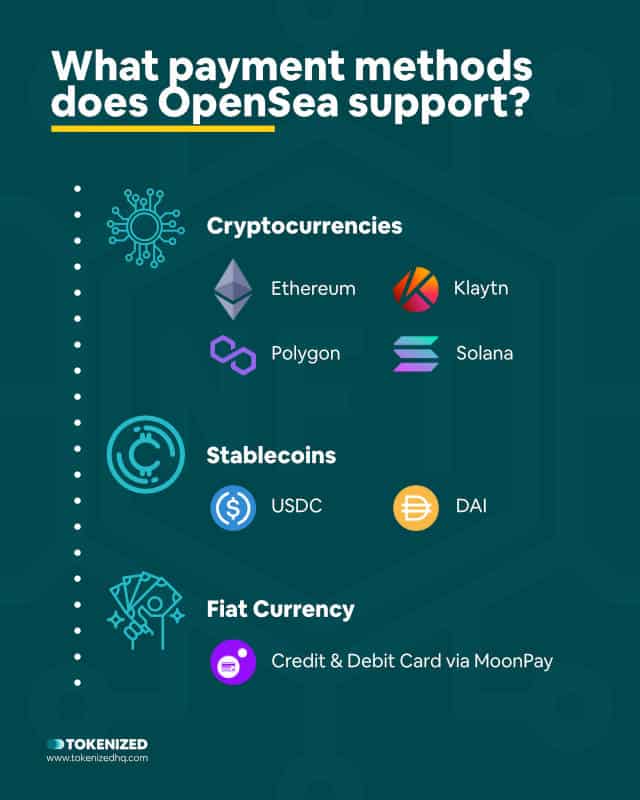 As you probably already know, OpenSea supports a number of different blockchain networks, including Ethereum, Polygon, Klaytn, and Solana.
If this is news to you, we strongly recommend that you check out our article about the different blockchains supported by OpenSea.
Anyway, as you might imagine, you can use any of the native currencies of those blockchains to purchase NFTs on OpenSea, provided that you buy NFTs that are on the relevant network.
In other words, you can use ETH to buy NFTs on Ethereum, SOL to buy items on Solana, and KLAY to buy NFTs on Klaytn.
This also includes any "wrapped" variants of these currencies that allow you to bid on auctions.
Furthermore, OpenSea also supports payment in the form of 2 different stablecoins: USDC and DAI.
And guess what, thanks to the new OpenSea-MoonPay integration, you can now use the OpenSea credit card feature to even pay with any fiat currency.
Although this may not necessarily be attractive for all users, it will definitely help lower the entry barrier for newbies in the NFT space.
How High Are OpenSea Credit Card Fees?
The minimum processing fee for OpenSea credit card payments is $3.99 and for all mounts beyond $400, it increases to 1%. The network fees are mostly dependent on the current prices gas. However, the true cost is hidden away in the exchange rate, which is usually much worse than what you would get on an exchange.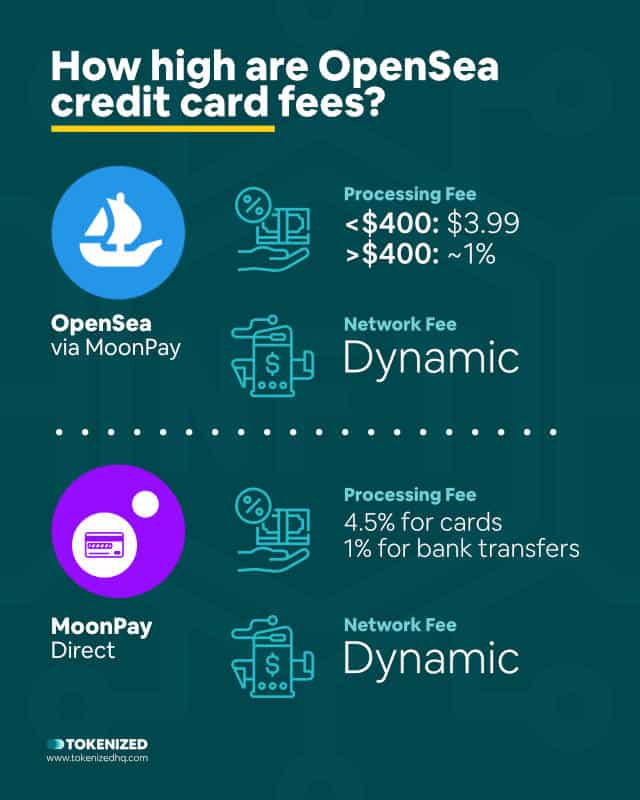 There's no simple answer to this question because it depends on a variety of different factors, including your personal definition of what constitutes a "fee".
The OpenSea MoonPay integration works a bit differently than if you were to buy Crypto directly on the MoonPay website.
For example, OpenSea allows you to display the fees for the transaction and splits them into a processing fee and a network fee.
The processing fee is effectively the commission that you are charged.
While it's not an exact percentage, it's clearly defined in brackets and scales with the amount you want to buy.
The network fee seems to be a price component that is meant to offset the gas fees required to send you the crypto to your wallet.
What's confusing is the fact that buying crypto via the OpenSea MoonPay integration seems to be cheaper than doing so straight from MoonPay.
The official MoonPay documentation mentions a 4.5% processing fee on all card payments, but on OpenSea it's actually only 1% if you buy more than $400 worth of crypto.
That being said, as with all convenience-focused exchanges, the true cost isn't in the fees but rather in the exchange rate you are getting.
Most of the money in currency exchange is made on the spread between the bid and ask prices.
If you're looking for a quick and easy way to buy more crypto, then the OpenSea credit card feature is a convenient solution.
But if you're looking to get the best deal, you're better off buying straight from an exchange.
How to Use MoonPay for OpenSea Credit Card Payments
You can use OpenSea's MoonPay integration to add cryptocurrency funds to your wallet via a credit or debit card. Simply click the "Add Funds" button from your OpenSea wallet, enter the amount and follow the instructions on-screen.
Before we get into the nitty-gritty details of how OpenSea credit card payments work, it's important that understand that you can't buy an NFT straight from the marketplace using your credit card.
Instead, you use your credit or debit card to fund the crypto wallet that you have connected to OpenSea.
This is a very important distinction that you must understand before you proceed.
It's effectively just a more convenient way of buying crypto, rather than registering with a crypto exchange and buying it there.
However, rest assured, you're paying for that convenience!
The OpenSea MoonPay integration is currently available in the European Union, United Kingdom, and the United States except for NY, TX, and LA).
If you still want to know how to complete an OpenSea credit card purchase, then follow this step-by-step guide.
Step 1: Access wallet and add funds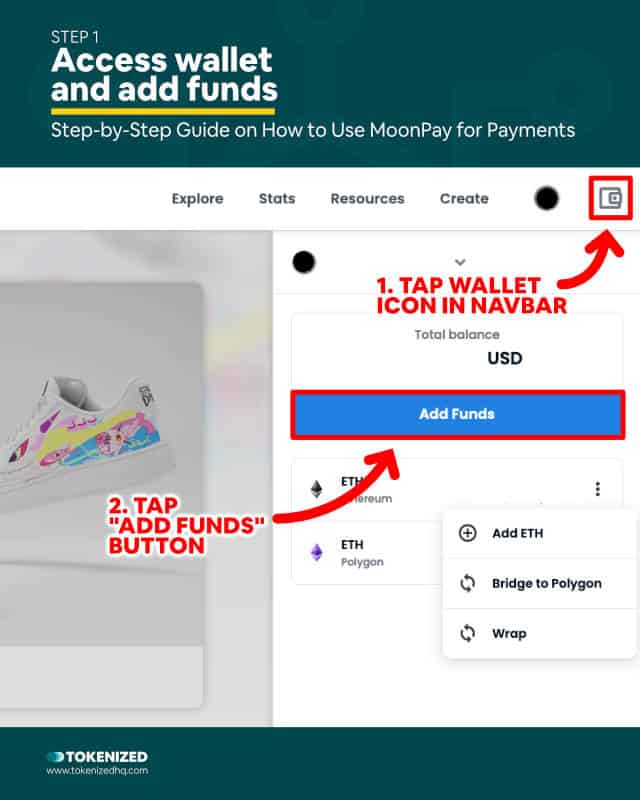 Navigate to the OpenSea website and click the wallet icon in the top right corner of the navigation bar.
Once the panel of the OpenSea wallet opens, click the blue "Add Funds" button.
Step 2: Select "Buy ETH with card" and enter amount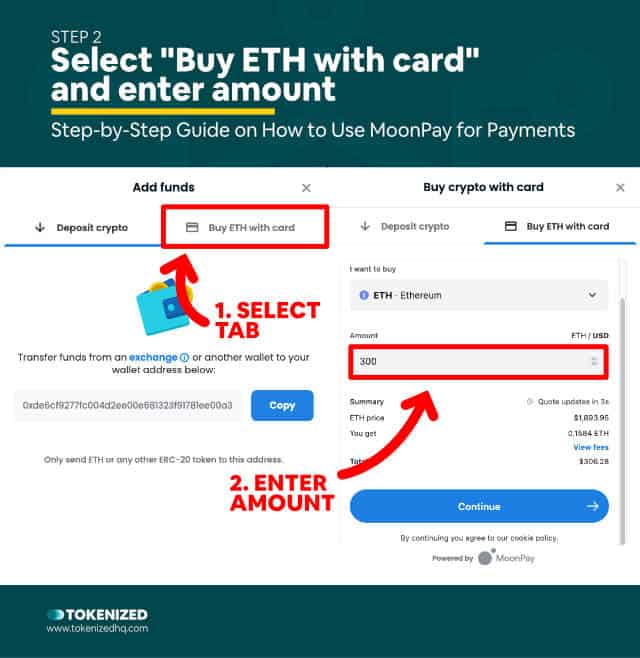 A popup window will open and give you two different options to add funds to your wallet.
Select the "Buy ETH with card" tab and then enter the amount you want to purchase.
You can enter an amount in ETH or in USD, just make sure you've set the relevant currency.
Step 3: Review prices and enter wallet address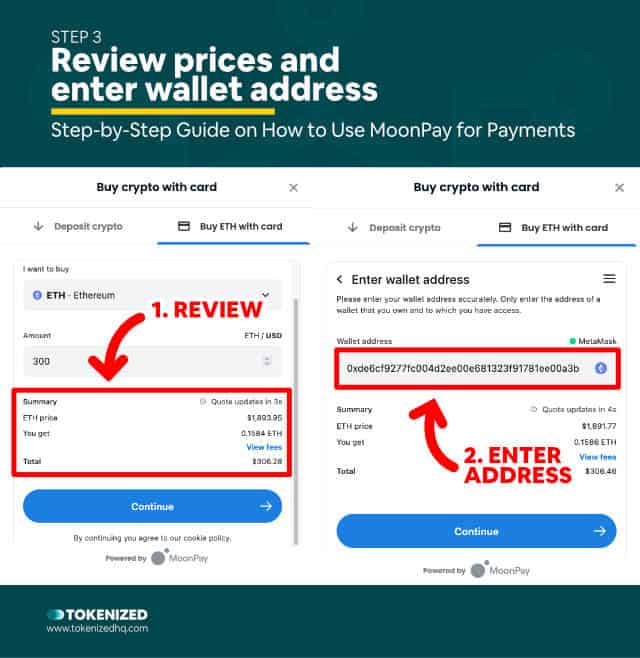 After entering the amount, the information summary at the bottom will update in real-time.
It displays how much ETH you'll receive as well as the fees that you will incur on the purchase.
If you're happy with the numbers you can click "Continue" and either enter your address manually or connect your wallet.
Step 4: Set up a MoonPay account (first-time users)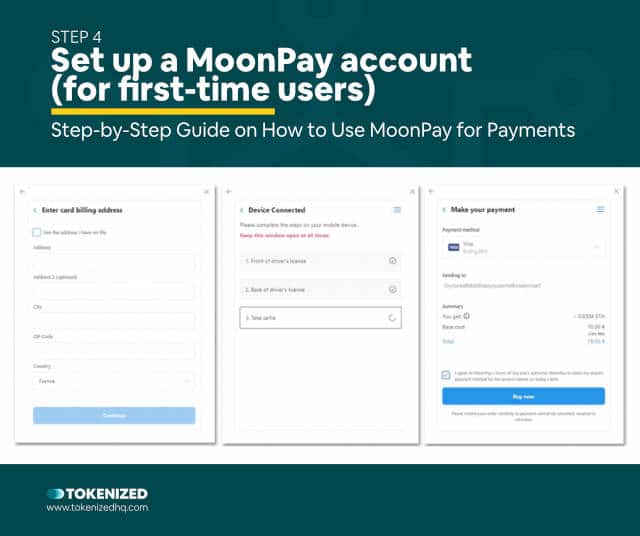 If this is your first time using MoonPay, you will have to set up an account by adding a card and verifying your personal information.
Those who already have a MoonPay account can simply enter their email address and are ready to proceed.
Step 5: Complete purchase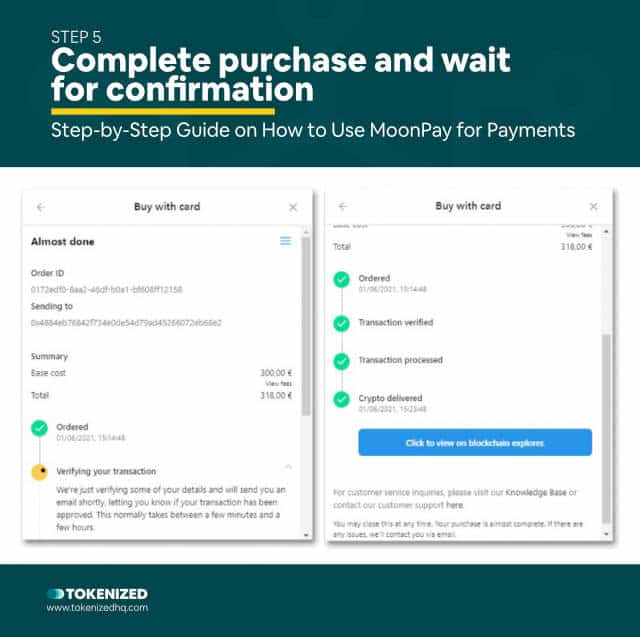 Finally, once you've reviewed everything, click the "Buy now" button and wait for your transaction to be confirmed.
As soon as the transaction confirms, you can head right to the OpenSea marketplace and buy your next NFT.
Conclusion
Unfortunately, despite many improvements over the years, buying cryptocurrency is still an overwhelming process for many people.
Many people do not feel comfortable using crypto exchanges or don't know where to go.
By integrating with MoonPay OpenSea has lowered the barrier to entry even further, allowing users to buy additional cryptocurrency straight from the OpenSea website.
Just be aware that all this convenience comes at a price!
Here at Tokenized, we want to help you learn as much as possible about the coming NFT revolution. We help you navigate this fascinating new world of non-fungible tokens and show you how you can integrate tokenization into your own business.