Are you fed up with MetaMask and many of its bugs?
Or perhaps you're just looking for a wallet that's easier to use?
MetaMask is by far the most popular crypto wallet, especially its browser extension.
However, recent issues and an influx of less tech-savvy people have resulted in lots of demand for MetaMask alternatives.
In this guide, we'll cover all of the best MetaMask alternatives and also show you how they stack up against each other.
So let's dive right into the list.
Key Points (tl;dr)
MetaMask is by far the most popular crypto wallet in the world, however it isn't necessarily user-friendly nor does it support Bitcoin.
There dozens of alternatives to MetaMask, however only a few really matter in the greater scheme of things.
We've put together a list of the 5 most popular alternatives to MetaMask, which we believe will dominate the market.
These crypto wallets are: WalletConnect, Coinbase Wallet, Trust Wallet, Brave Wallet and Magic.
Like this content? Then share it!
Top 5 MetaMask Alternatives That Really Matter
Here's the answer. Great article by @ChrisHeidorn right here: https://tokenizedhq.com/metamask-alternatives/

www.tokenizedhq.com
What is MetaMask?
MetaMask is a cryptocurrency wallet that was originally developed for the Ethereum blockchain. It is by far the most popular crypto wallet in the world. Despite being primarily conceived for Ethereum-based use cases, many competitors to Ethereum have made their ledger compatible with wallets such as MetaMask by integrating them via an Ethereum Virtual Machine (EVM).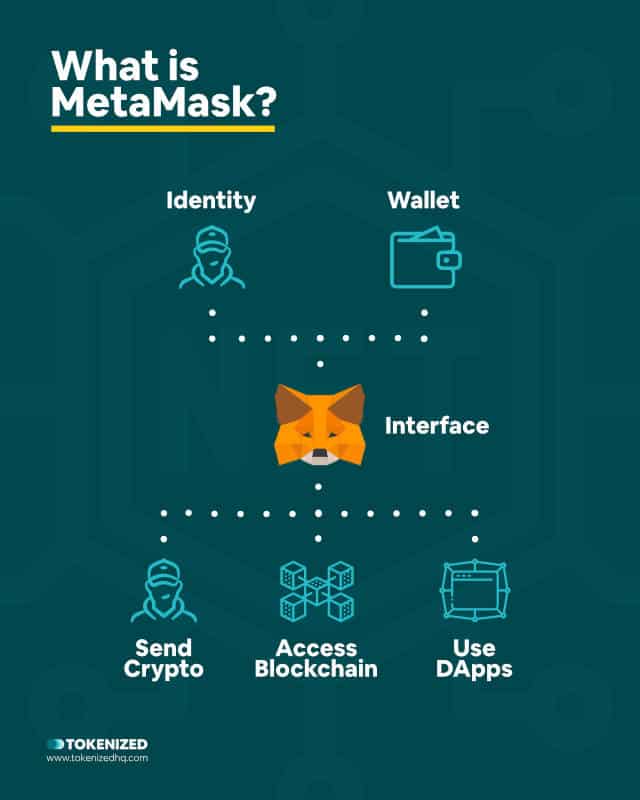 If you found your way to this article, it's safe to say that you probably already know what MetaMask is.
However, just in case you're not familiar with MetaMask, let's quickly cover the basics.
MetaMask is a cryptocurrency wallet built for the Ethereum blockchain.
It allows you to transact with Ethereum or other tokens built on top of it (also known as ERC-20 tokens).
You can buy, swap or deposit tokens into an exchange of your choice.
MetaMask Extension currently doesn't natively support NFTs, but if you'd like to learn how to add NFT to MetaMask mobile, we've got a really good guide on that.
You also need a crypto wallet in order to interact with decentralized apps (DApps).
Most of these applications will require you to connect your wallet to them, simply because using them usually requires some form of cryptocurrency from your wallet.
The most popular OpenSea wallet still is MetaMask and that's why we have a step-by-step guide on how to connect MetaMask to OpenSea.
Not everyone likes MetaMask for various reasons and over time quite a few alternatives have jumped onto the scene.
So let's have a look at them!
The Top 5 MetaMask Alternatives
These are currently the most popular MetaMask alternatives. They all have different features and functions. While most people will tend to stick with one particular wallet, as you become a more advanced user, you may have to switch to alternatives for some decentralized applications.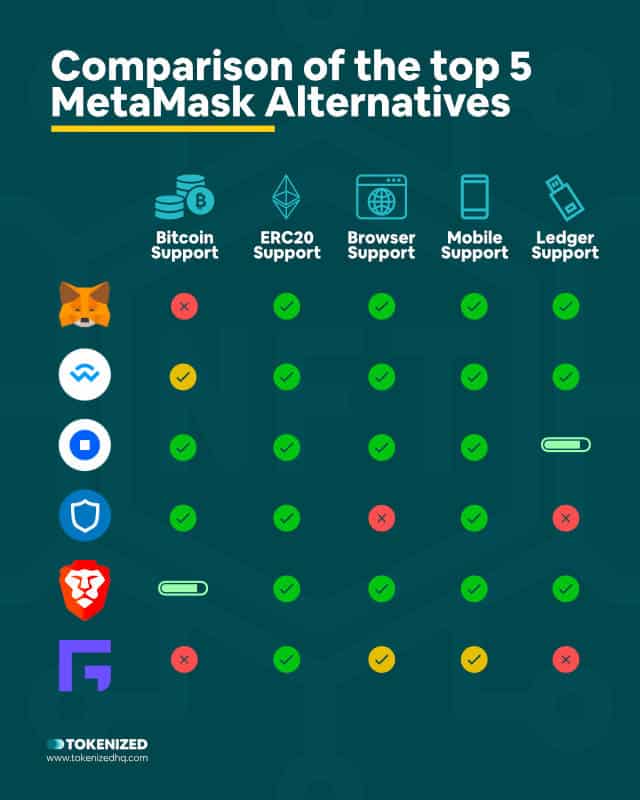 WalletConnect
WalletConnect isn't really a wallet itself but rather a piece of software that allows you to connect decentralized applications to your wallet.
It's designed to act as a link between things that aren't natively compatible.
Therefore, it technically isn't really an alternative to MetaMask in the strictest sense.
WalletConnect is multi-chain, which means that you can use it with several different blockchains and multiple different wallets which you may own.
It is available as a browser extension, on desktop, mobile and even within many gaming apps.
Coinbase Wallet
Coinbase is considered by many to be the Apple of cryptocurrency.
One of the reasons for this reputation is its focus on making the crypto experience as user-friendly and smooth as possible for its users.
That is also why it's one of the biggest on-ramps for new users into the cryptocurrency space.
Coinbase Wallet allows you to store all of cryptos and NFTs in one place.
It supports all ERC-20 tokens, Bitcoin, Litecoin and many more blockchains.
Although Coinbase Wallet is developed by Coinbase, there is no direct link to its exchange.
The wallet acts as its own piece of software and all your private keys are stored on your device.
Coinbase Wallet is available as a Chrome extension, as well as on iOS and Android.
Trust Wallet
Trust Wallet is the official crypto wallet of the cryptocurrency exchange Binance.
You can store, send and receive cryptocurrencies and other digital assets within Trust Wallet.
It's a fast and secure app, and thanks to its links to Binance, has seen widespread adoption in the market.
A benefit of Trust Wallet is that it doesn't just support Ethereum-based tokens, but also Bitcoin.
Since MetaMask doesn't support Bitcoin, any wallet that does is a true alternative to MetaMask.
There is a mobile version of the wallet for both iOS and Android devices.
Brave Wallet
If you're a fan of data privacy, ad blockers and VPNs, then there's a fair chance you're already using Brave Browser.
Brave Browser is based on the open-source Chromium project, which itself is based on Chrome.
Brave has always been a very cryptocurrency-friendly browser and even has its own token called "Basic Attention Token" (BAT).
The browser also has its fully integrated crypto wallet called Brave Wallet which is fully compatible with any DApp that supports MetaMask.
So in a way, it's just like MetaMask, just integrated into your browser in a much cleaner way.
A mobile application is also available for iOS and Android, although it's currently still in beta.
Magic (formerly Fortmatic)
Magic is another MetaMask alternative that is very easy to use.
It was formerly known as Fortmatic and rebranded to Magic after coming out of stealth mode.
Magic provides a huge boost to accessibility because it doesn't require a browser extension.
Instead, it uses a phone number or email address to connect to decentralized apps.
This is especially attractive for non-technical users who may be reluctant to enter the crypto space out of fear of making a mistake.
Other MetaMask Alternatives Worth Mentioning
We could go on forever since the list of alternatives to MetaMask is endless.
However, the vast majority of the market is converging on a number of very popular wallets.
This becomes even more apparent once you look at the list of supported wallets on sites like OpenSea.
Nevertheless, we thought it would make sense to at least list some of them here:
MathWallet
Portis
Kaikas
Torus
Authereum
Dapper
Venly
Bitski
SafePal
Coin98
TokenPocket
Binance Chain Wallet
Want to Delete Your MetaMask Account?
Although you don't necessarily have to get rid of your MetaMask account when you switch to a new wallet, some people like to do so.
It's important to understand that your wallet software and your Ethereum address are 2 separate things, so technically you can't really delete your wallet.
But if you want to get rid of the extension, we've put together a nice article explaining how to delete MetaMask accounts the right way.
Conclusion
Unlike just a few years ago, there are now dozens of MetaMask alternatives available on the market.
For most people, MetaMask will fulfill its purpose and old-school crypto fans are unlikely to switch.
However, for many new cryptocurrency users, some of these alternatives to MetaMask may prove more user-friendly.
Particularly WalletConnect and Coinbase Wallet are currently leading the way to onboard the next 1 billion users.
We hope you found this article useful and we wish you the best of luck making the right choice for your needs.
Here at Tokenized, we want to help you learn as much as possible about finance and cryptocurrency. We help you navigate the world of tech and the digitalization of our society at large, including the tokenization of assets and services.