Are you looking for Terra NFT Marketplaces?
Maybe you just got into the Terra crypto ecosystem and are curious to find out what NFT marketplaces are available on Terra?
Well, you've come to the right place because Terra and its Luna token are an exciting blockchain platform that is becoming increasingly popular, and not just in the DeFi space.
In this article, we'll show you the wide array of different Terra NFT marketplaces that have popped within the past year, both centralized and decentralized.
Let's check out the list!
Key Points (tl;dr)
Terra is an open-source blockchain platform that has gained considerable popularity and momentum in the DeFi space.
It has grown so much in recent months that it is now the 2nd largest smart contract platform behind Ethereum and a TVL that even exceeeds it.
We've put together a list of the 6 best Terra Luna NFT marketplaces on the market:

Knowhere
RandomEarth
Talis
Luart
OnePlanet
Messier.Art
Like this content? Then share it!
The 6 Best Terra NFT Marketplaces in 2023
Here's the answer. Great article by @ChrisHeidorn right here: https://tokenizedhq.com/terra-nft-marketplace/

www.tokenizedhq.com
What is Terra LUNA?
Terra is an open-source blockchain platform that is specialized in algorithmic stablecoins. It is very popular in the decentralized finance (DeFi) space and has become the second-largest smart contract platform in the world.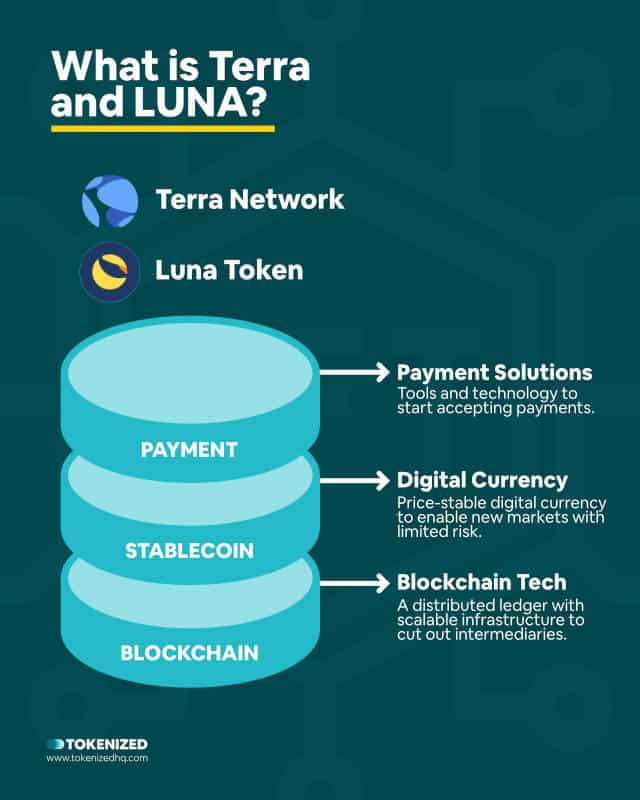 The success of Ethereum as a smart contract platform undoubtedly gave birth to a plethora of new competitors over the years.
And while Ethereum has obviously kept the crown and the single largest smart contract platform in terms of market capitalization, its massive problem with unsustainable gas fees has boosted many of its competitors.
Especially in the DeFi space that requires a lot of transactions when staking, unstaking or swapping tokens, high gas fees on Ethereum are a major pain point.
And the same applies to NFT marketplaces as well, since minting, listing, and trading require lots of transactions.
One of Ethereum's biggest and most promising competitors is Terra.
Terra is an open-source blockchain platform that was originally designed for algorithmic stablecoins that are pegged against all the regular fiat currencies you already know.
Terra's native currency is called LUNA and it's been instrumental in the project's recent success.
You see, Terra implemented a burning mechanism that is quite similar to Ethereum's EIP-1559 upgrade which first introduced deflationary effects to ETH.
And this is one of the main reasons why Terra has attracted so many new investors in recent months.
6 Terra NFT Marketplaces You Should Know
Knowhere
RandomEarth
Talis Protocol
Luart
OnePlanet
Messier.Art
Before we go into detail on each of the Terra NFT marketplaces, let's have a quick look at how they are different from one another.
It's crucial to understand these differences because it ultimately impacts how you choose the right Terra NFT marketplace for your needs.
First of all, it's important to note that there are both centralized as well as decentralized marketplaces on the Terra platform.
Centralized NFT marketplaces exert significantly more control over what can be listed on their platforms and this also means that they have the power to delist a project if they want to.
Decentralized NFT marketplaces have an entirely different governance structure that usually revolves around a decentralized autonomous organization (DAO).
In the most extreme case, a decentralized NFT marketplace might not impose any restrictions at all, basically allowing anyone to list their NFTs, even scammers.
This is one of the most fundamental differences and they are very present amongst Terra NFT marketplaces as well.
Other than that Terra Luna NFT marketplaces aren't fundamentally different from others, such as OpenSea and other OpenSea alternatives.
If you're interested in checking out some other ecosystems as well, we've got a few articles on Tezos NFT marketplaces and Harmony NFT marketplaces as well.
6. Knowhere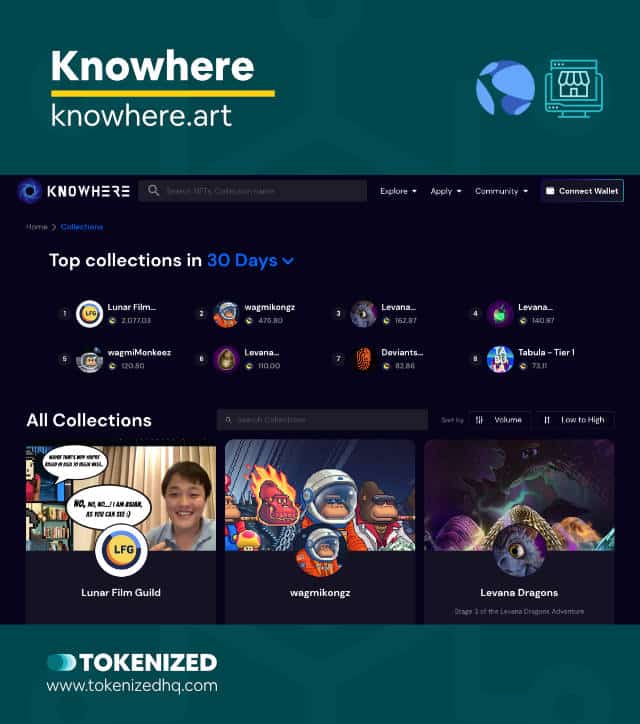 Knowhere was the very first Terra NFT marketplace to launch on the Terra blockchain.
It is a centralized marketplace and the team behind has continued to build and scale the platform.
The first-mover advantage obviously helped it entrench itself in the NFT space, however many crypto idealists have preferred to switch to decentralized alternatives.
Features include:
No-code minting
The Knowhere incubator
Various listing options
2% service fee on transactions
Creator royalties
5. RandomEarth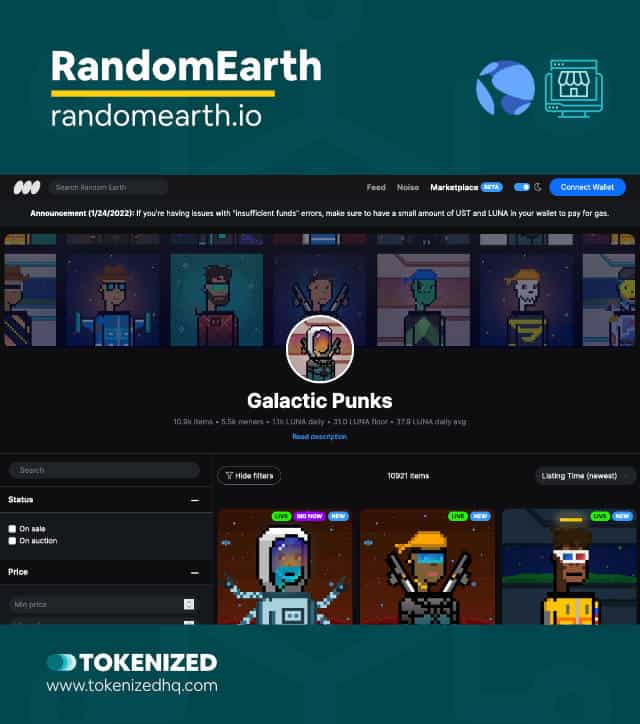 RandomEarth is another centralized Terra NFT marketplace that launched shortly after Knowhere.
Their partnership with the GalacticPunks NFT project gave them a major boost upon launch and has helped them establish themselves as the Terra NFT marketplace with the highest trading volume.
However, the lack of activity in terms of development as well as social media channels suggests that the platform may have been abandoned by its creators.
Features include:
Basic listing options
1% service fees on all trades
Creator royalties
4. Talis Protocol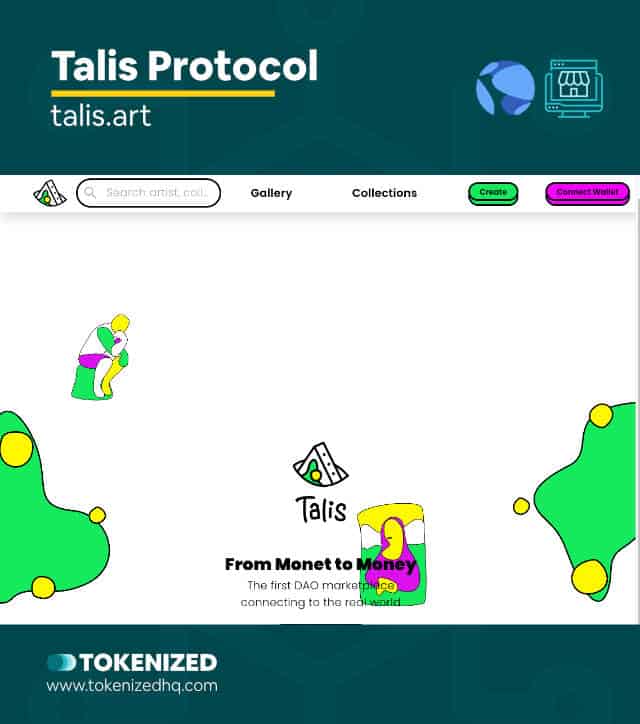 Talis Protocol is the first decentralized Terra NFT marketplace on our list.
The platform is trying to focus on providing as much freedom to artists as possible, including giving them the necessary features and tools for full creative expression.
Imagine being able to mint physical copies of NFTs or produce dedicated Merch right from within the marketplace.
The team is even working on some pretty advanced stuff like providing your NFTs as collateral for NFT loans.
It's definitely an innovative player in the NFT landscape.
Features include:
Print on Demand
Fraud protection
NFT loans
Bridge to fiat
1% trading fees
Creator royalties
Basic listing options
Native $TALIS token
3. Luart
Next up in our list of the best Terra NFT marketplaces is Luart, a platform centered around gamification where users actually compete against each other.
Luart has been on quite a growth path and is slowly capturing more and more market share in the Terra NFT space, closing in on market leader RandomEarth.
The gamification element is interesting and we are keen to see whether something as simple as that can drive user growth even higher.
Features include:
Gamification
Lossless lotteries (a form of staking)
Deflationary tokenomics
5% trading be (yep, it's high)
Creator royalties
Basic listing options
Native $LUART token
2. OnePlanet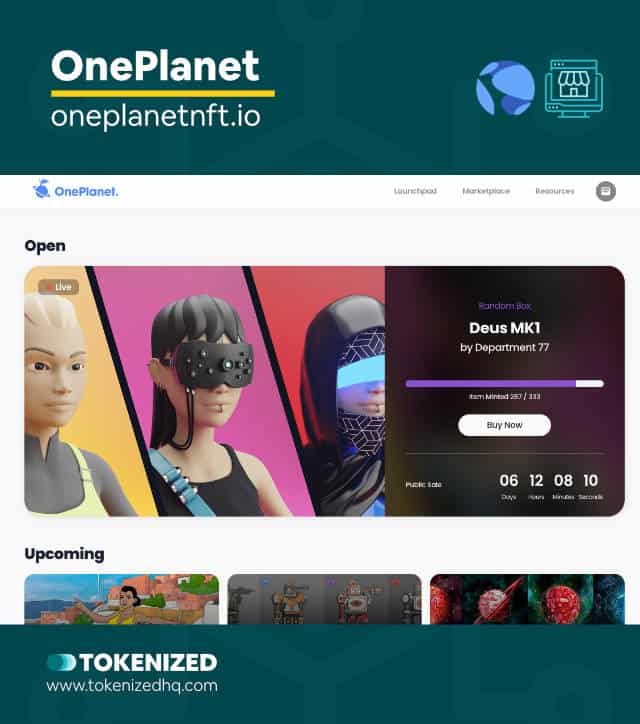 A relatively new player in the Terra NFT marketplace landscape is OnePlanet.
OnePlanet is trying to fix some of the common problems around participation in projects that involve any sort of governance token.
Using its native $OPT token, it has built mechanisms that provide users with an incentive to help push their collections up the leaderboards, gain more visibility, and hopefully also increase the price of the tokens.
It remains to be seen whether this will work well, however it's possibly a better solution than simply sweeping the floor of a project.
Features include:
Verified collections
No-code minting
Cross-chain support (via Forge Protocol)
Social features
2.5% trading fee
Creator royalties
Various listing options
Native $OPT token
1. Messier.Art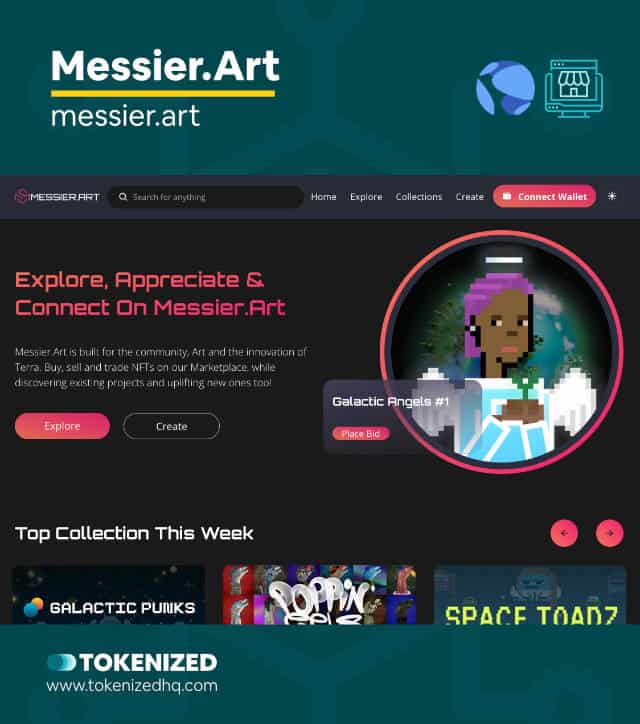 The newest addition to our list of Terra NFT marketplaces is Messier.Art, run by a CEO who used to be the Head Admin at RandomEarth.
Their objective is to onboard the next wave of NFT collectors onto the Terra blockchain ecosystem.
That is also why one of their primary concerns is the creation of a simplified user experience for creating and trading NFTs.
An interesting feature they've added is the ability to boost the visibility of your project by paying for the promotion.
An incredibly simple, but effective feature that's very common in the social media space.
Features include:
No-code minting
Improved auction features
1% trading fee split between buyer and seller
Native $MSR token
Conclusion
As you can see the Terra NFT marketplace ecosystem is flourishing and considerably bigger and more professional than anything you'll see on other so-called "Ethereum killers" such as Solana or Avalanche.
If you compare these marketplaces with some of the Avalanche NFT marketplaces, the difference is like night and day.
That being said, the ecosystem isn't as big yet as that of the SOL NFT marketplaces.
And Ethereum is obviously still miles ahead of the Terra ecosystem when it comes to sheer trading volume.
It's going to take some time for alternative blockchains to truly establish themselves in the mainstream market.
However, looking at the quality of the Terra NFT marketplaces so far, we're confident that Terra has a bright future in NFTs.
Here at Tokenized, we want to help you learn as much as possible about the coming NFT revolution. We help you navigate this fascinating new world of non-fungible tokens and show you how you can integrate tokenization into your own business.