Are you looking for the best Harmony NFT marketplaces are right now?
Perhaps you're a big fan of NFTs and have recently joined the Harmony One ecosystem in search of a more scalable and efficient alternative to Ethereum?
Well, you've come to the right place because we've done the research and have put together a list of the best Harmony One NFT marketplaces available right now.
Harmony is yet another blockchain-based platform that has identified the huge opportunity that lies within NFTs and so it's no surprise that more and more marketplaces are starting to pop up.
In this article, we'll introduce you to some of the best Harmony NFT marketplaces available to the ecosystem right now.
Let's dig in!
Key Points (tl;dr)
The Harmony blockchain is an advanced distributed ledger network that tackles the blockchain trilemma with a combination of Effective Proof of Stake and sharding.
This makes it one of the few blockchains that have already successfully implemented sharding as a form of horizontal scaling in order to reduce network load and increase efficiency.
We've put together a list of the top 4 Harmony NFT marketplaces on the market:

Metatrone
NFTKey
MAD NFT
daVinci
For detailed analysis on the top 4 NFT marketplaces for Harmony, PLEASE READ THE FULL ARTICLE.
Like this content? Then share it!
4 Harmony NFT Marketplaces You Should Know in 2023
Here's the answer. Great article by @ChrisHeidorn right here: https://tokenizedhq.com/harmony-nft-marketplace/

www.tokenizedhq.com
What is Harmony and ONE?
Harmony is a layer 1 blockchain platform that uses a combination of so-called Effective Proof of Stake and sharding in order to tackle the trilemma of decentralization, scalability, and security. Harmony's native token is $ONE.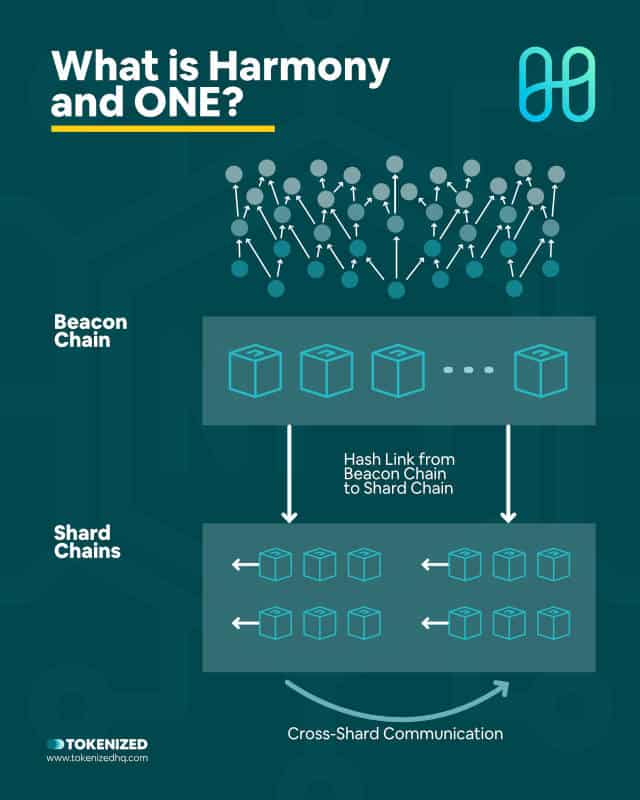 With the increased popularity of major blockchains such as Ethereum, we've also been confronted with some of the biggest challenges to adoption.
Since block space is so limited, gas fees have skyrocketed on Ethereum.
This has effectively made significant parts of the dApp ecosystem unusable or at least prohibitively expensive.
There are many projects out there that trying to solve this problem, either on the base layer or by building a scaling solution on top of Ethereum.
Harmony is a layer 1 blockchain that uses a combination of sharding and Effective Proof of Stake to achieve that.
Launched in 2019, Harmony is one of a few blockchains that have successfully implemented sharding, a concept that allows for the processing of transactions in parallel.
In other words, Harmony is more efficient because it scales horizontally by distributing the network load across various validators.
Harmony's native token is called $ONE and it is used to pay for transaction fees, governance, and staking.
Given its promise of scalability and low-cost transactions, it comes as no surprise that Harmony has attracted a fair amount of people who believe in the future of NFTs.
4 Harmony NFT Marketplaces You Should Know
Metatrone
NFTKey
MAD NFT
DaVinci
Before we go through our list of the best Harmony NFT marketplaces on the market, we'd like to say a few words about the ecosystem.
You'll quickly realize that there are far fewer Harmony NFT marketplaces than in some other ecosystems.
It's important to keep in mind that although Harmony is a very successful blockchain, it's nowhere near the size of the top 10.
That being said, the community around Harmony is passionate and strong.
Some of the best NFT-related projects have been built by true believers and early adopters and thereby helped the ecosystem evolve.
We strongly recommend that given all the listed Harmony NFT marketplaces a try before making your final verdict.
1. MAD NFT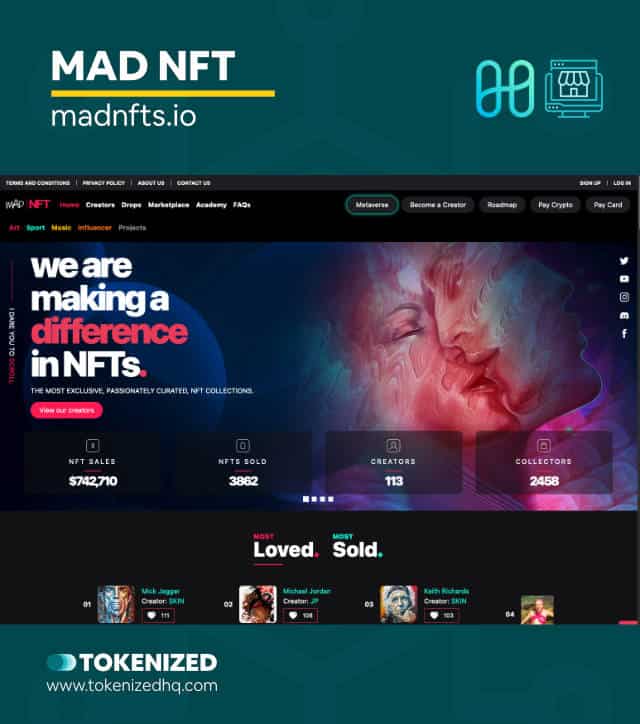 We're not entirely sure when MAD NFT entered the scene, but they are definitely doing something in the Harmony NFT marketplace scene.
MAD stands for "Make A Difference" and from what we can tell, their focus is on promoting NFTs for creators, musicians, influencers, and people from the sports world.
This approach is similar to what the guys from OneOf are doing in the Tezos NFT marketplace landscape.
The site is clean, professional, and clearly curated, which helps maintain a certain level of quality.
What surprised us a bit is that they also act as an ADA NFT marketplace.
Features include:
Various listing options
Drops calendar
Featured artists
Academy (educational content)
Pay with fiat
Metaverse world (in development)
Cardano-support (lol, what?)
10% fee on primary sales
2% service fee on secondary
2. NFTKey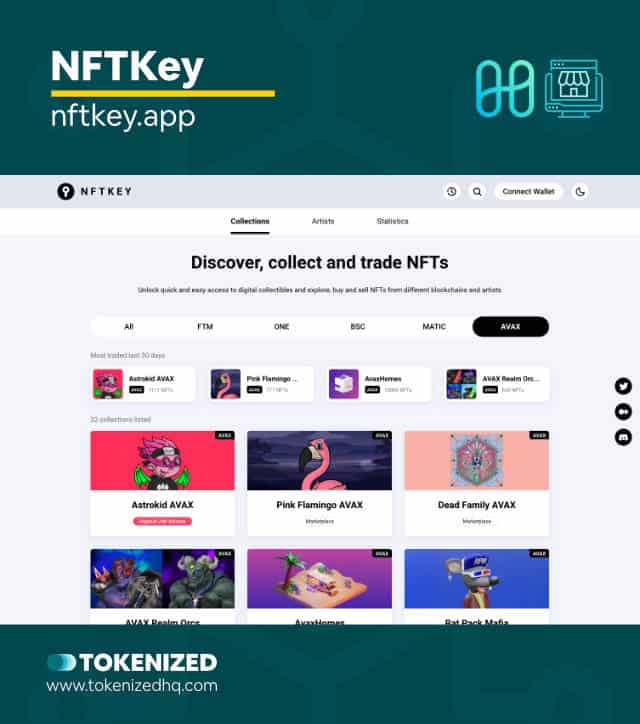 Next up is NFTKey, a Harmony NFT marketplace that you might be familiar with even if you're still new to Harmony One.
NFTKey is a multichain NFT marketplace that supports various other ecosystems such as Ethereum, Polygon, Binance Smart Chain, Avalanche, and Fantom.
We've featured it in at least 2 other articles that cover Avalanche NFT marketplaces and Fantom NFT marketplaces.
It's a solid NFT platform, especially if you're a fan of Harmony because it does seem to aggregate most of the current trading volume at the moment.
Features include:
Various listing options
Collection rankings
Rarity filters and sorting
Price history
Creator royalties
2% service fee
3. Metatrone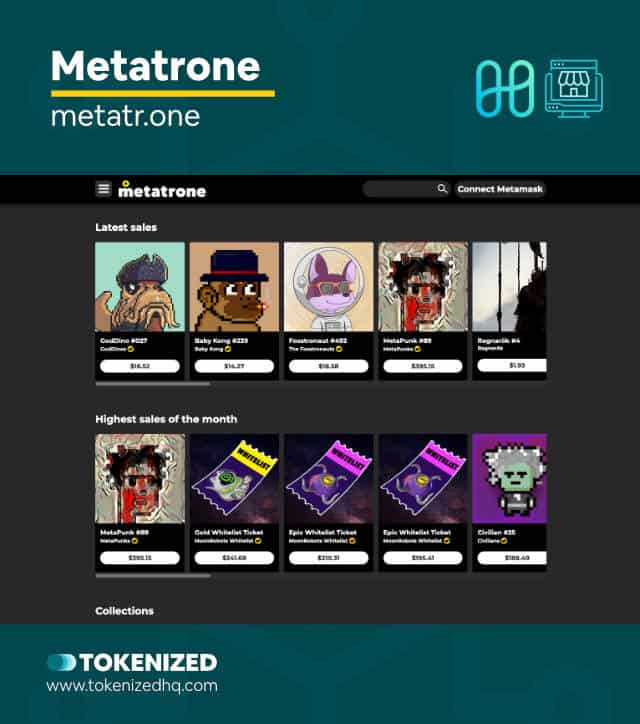 Metatrone markets itself as the world's first "DeFi NFT platform", though we're not really sure that claim is defensible.
Either way, the team's mission is to become the #1 Harmony NFT marketplace by focusing on the user experience for creators and collectors.
The is easy to use and looking at the team roadmap, the marketplace is definitely still being developed, which is a good sign.
That being said, it does seem like the recent NFT bear market has slowed things down and trading volume on Metatrone is still limited.
Features include:
Basic listing options
Minting tools
Collection profiles
Trending collections
IPFS support
Native token $MET
5% service fee with $ONE
0% service fee with $MET
4. DaVinci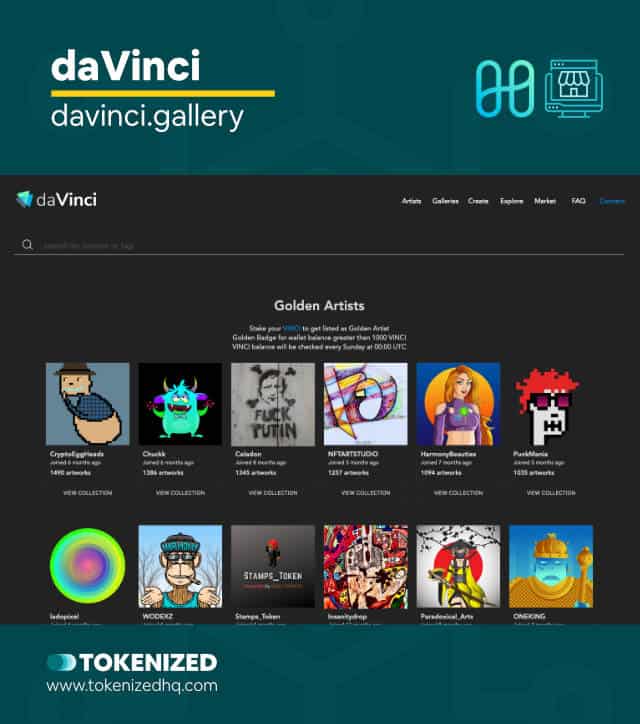 We know that daVinci is a touchy subject in the Harmony NFT marketplace landscape.
daVinci started as a project with a considerable headstart in early 2021 and many people believe it had the potential to become a top project.
Unfortunately, the founding team faced massive controversy when one of their developers went "rogue" and apparently minted tons of $VINCI tokens and repeatedly dumped them on the community.
While the marketplace itself is safe and is still being used, it's no surprise that the majority of the community has lost its faith in the team.
Features include:
Various listing options
Featured artists
Verified badges
Creator royalties
Unlockable content
Native token $VINCI
10% service fees
Conclusion
While the Harmony NFT marketplace landscape is still relatively small, it's quite clear that the community is passionate and will only grow from here.
The recent NFT bear market has slowed everything down which is why a lot of ecosystems are focusing on building rather than dropping new collections every day.
If you're looking to trade in the Harmony NFT ecosystem, we definitely recommend you stick with NFTKey for optimal liquidity.
However, if you're a creator or influencer, then you should definitely check out MAD NFT since they might provide a little more support for your project.
Here at Tokenized, we want to help you learn as much as possible about the coming NFT revolution. We help you navigate this fascinating new world of non-fungible tokens and show you how you can integrate tokenization into your own business.