Are you looking for the best ADA NFT marketplaces right now?
Perhaps you're a firm believer in Cardano and its founder Charles Hoskinson, and now you want to start minting NFTs on it as well?
Well, you've come to the right place because we've researched beyond the most obvious choices and put together a list of the best Cardano NFT marketplaces.
Cardano has an absolutely huge community of developers and so it's really no surprise that we're seeing more and more ADA NFT marketplaces pop up.
In this guide, we'll introduce you to some of the best Cardano NFT marketplaces available in the ecosystem.
Let's dive right in.
Key Points (tl;dr)
Cardano is one of the most popular smart contract blockchains in the world with an incredibly passionate community.
Like many other projects, it has often been touted as an "Ethereum-killer", although hype and reality are still somewhat out-of-sync.
We've put together a list of the 6 best ADA NFT marketplaces on the market:

JPG Store
CNFT.io
Cardahub
Galaxy of Art
Tokhun
AdaNFT
For a detailed analysis of the top 6 Cardano NFT marketplaces, PLEASE READ THE FULL ARTICLE.
Like this content? Then share it!
The 6 Best ADA NFT Marketplaces in 2023
Here's the answer. Great article by @ChrisHeidorn right here: https://tokenizedhq.com/ada-nft-marketplace/

www.tokenizedhq.com
What is Cardano and ADA?
Cardano is a third-generation layer 1 blockchain that uses decentralized Proof-of-Stake in its attempt to solve the blockchain trilemma of decentralization, scalability, and security. Its native token is $ADA.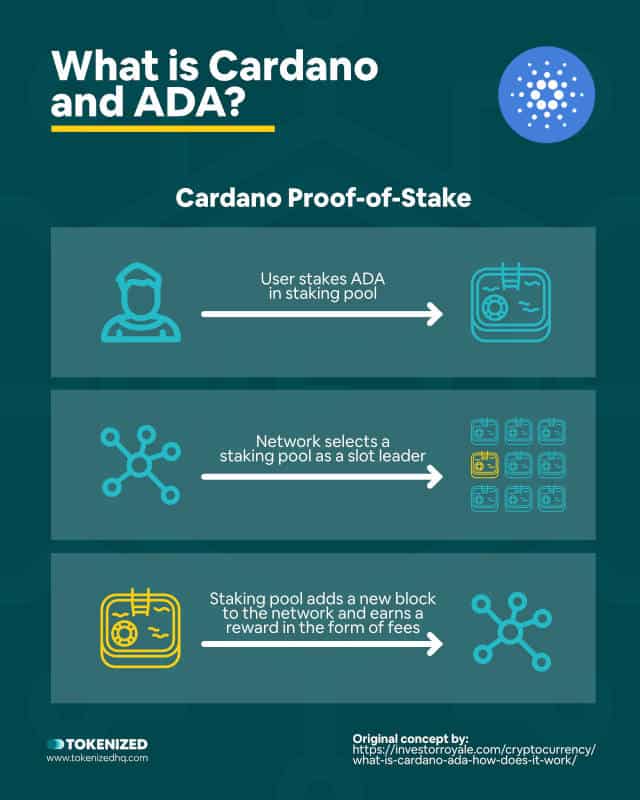 Many leading blockchain projects actually have their origins in the original founding team of Ethereum.
Charles Hoskinson, the founder of Cardano, is one of these people.
It's not unusual for founding teams to eventually part ways as disagreements about the direction of a startup start to emerge.
When Charles left the Ethereum team he decided to build Cardano, a Proof-of-Stake blockchain platform.
Its consensus mechanism is called "Ouroboros", which is an ancient symbol that is meant to represent eternal cyclic renewal.
Cardano is sometimes referred to as a third-generation blockchain that is designed to be a more efficient alternative to Proof-of-Work networks, such as Ethereum (Note: Ethereum is transitioning to Proof-of-Stake as well).
Cardano is currently being built in five distinct stages, starting with the foundation, then moving on to decentralization and smart contracts.
And once this is in place, the two final stages involve scaling and governance.
Cardano's native token is called $ADA and it is used for transaction fees, governance, and staking as well.
The Cardano community's almost ideological support for Charles Hoskinson has frequently been compared to "cult-like" behavior.
Many seasoned crypto veterans also consider Cardano to be one of the most overvalued projects, with little true progress to show for it.
That being said, such claims and criticism are common in this ultra-competitive industry.
6 ADA NFT Marketplaces You Should Know
CNFT.io
JPG Store
Galaxy of Art
AdaNFT
Cardahub
Tokhun
Before we dive into the full list of the best ADA NFT marketplaces in the market, let's say a few things about the Cardano ecosystem.
Despite a lot of criticism of Cardano and its founder, one cannot deny that it has a massive community.
As of writing, the Cardano subreddit has nearly 700,000 members, which literally makes it the 4th largest community behind Bitcoin, Ethereum, and Binance.
It's quite clear the Cardano community is extremely passionate, though the same can be said about other blockchain networks.
We've written extensively about the various Sol NFT marketplaces and AVAX NFT marketplaces.
Nevertheless, the list of numerous projects building on Cardano, including DEXs, wallet providers, DeFi, launchpads, metaverse projects, stablecoins, and of course Cardano NFT marketplaces is quite impressive.
We're really not sure where Cardano is headed in the long run but it's clear that the ecosystem is here to stay.
1. JPG Store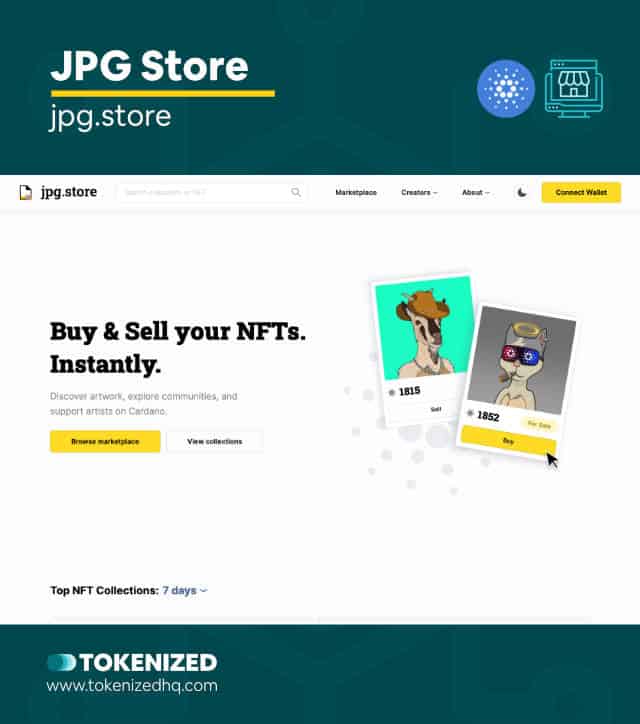 JPG Store is next up on our list of ADA NFT marketplaces.
The site has a very familiar look and feel to it, which makes navigation very quick and easy.
There seems to be quite a bit of activity on the site which is always good from a liquidity point of view.
The team markets itself as the No. 1 NFT marketplace on Cardano with more than $100 million in trading volume (this can be verified here).
Both founders, as well as the majority of the team, are doxxed, though this may not be obvious at first glance when you visit the team page.
Features include:
Various listing options
Minting tools
Collection rankings
Creator royalties
Launchpad
Collection verification
No escrow
2% service fee
2. CNFT.io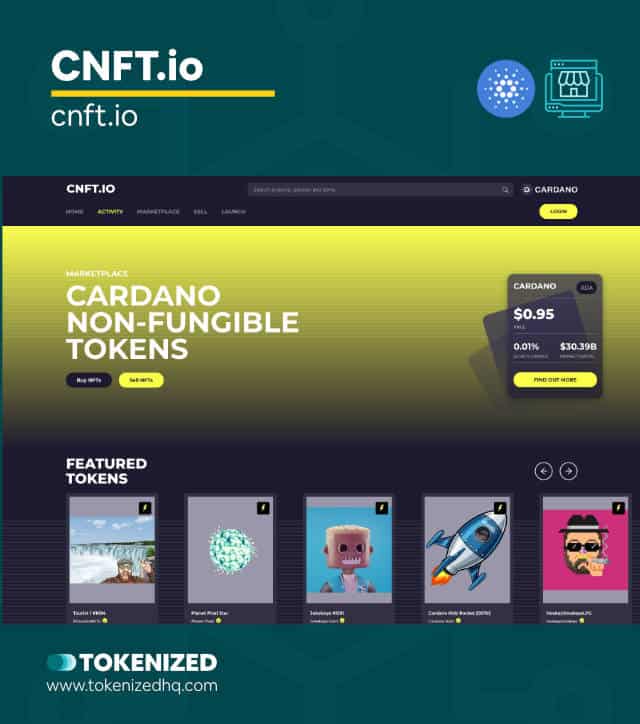 The team behind CNFT.io was clever enough to pick a name that has become synonymous with the Cardano NFT space (C-NFT).
That obviously helps push the site further up in the rankings.
The site was launched in July 2021 by a remote team from all over the world and it was the very first ADA NFT marketplace in the world.
That being said, we don't necessarily feel that they used this head start very well.
Features include:
Various listing options
Minting tools (coming soon)
Launchpad (coming soon)
Native token $CNFT
2.5% service fee
3. Cardahub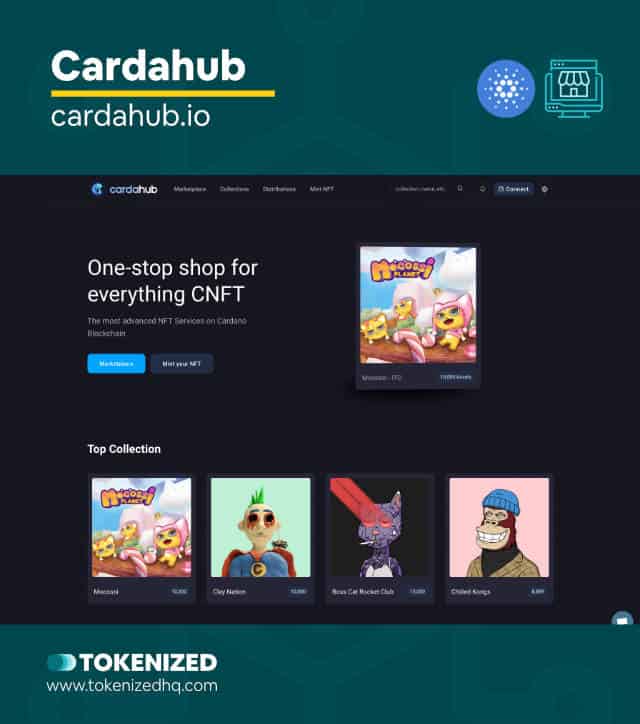 Cardahub markets itself as the "most advanced" NFT services on Cardano, though it mostly just looks like an ADA NFT marketplace.
The user interface is definitely a lot more appealing than that of Tokhun and also comes across as more user-friendly.
It's definitely a technically refined product!
What we find super interesting about this project is that it's apparently run by a team of Vietnamese crypto addicts working remotely from Switzerland, Germany, Sweden, and Vietnam.
Features include:
Various listing options
Minting tools
Collections Pages
Ongoing Drops
Launchpad
Price history (coming soon)
Trading history (coming soon)
Free and Premium minting
No info on transaction fees
4. Tokhun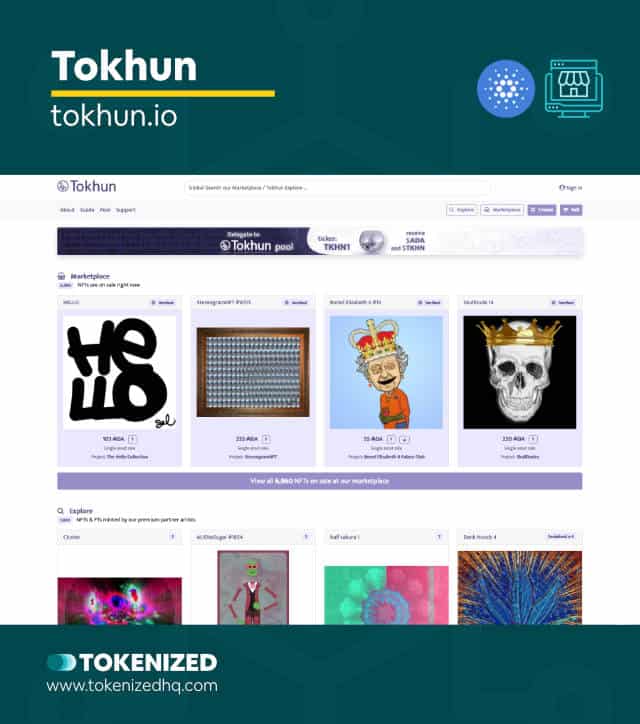 The fourth ADA NFT marketplace on our list is Tokhun.
We're going to be very honest here and say that it's definitely not the most visually appealing Cardano NFT marketplace.
That being said, they do have a decent social media following so it's fair to assume that the same applies to their active users.
The platform was launched in March 2021 and was initially designed as a minting platform but eventually evolved into a smart contract-driven marketplace.
Features include:
Various listing options
Minting tools
Serialized minting
Showcase pages
Asset burning
Authenticity validation
Creator royalties
Native token $TKHN incl. staking
Mint on Demand (coming soon)
Developer API (coming soon)
2.5% service fee
5. Galaxy of Art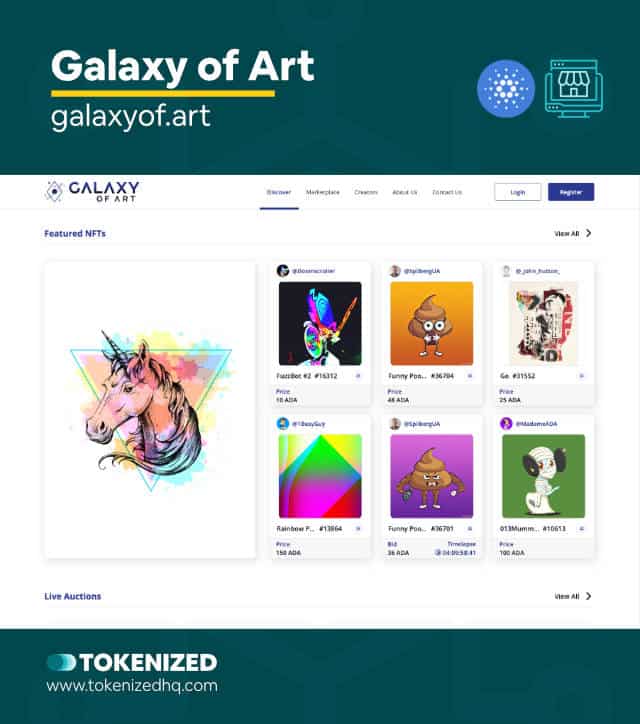 Galaxy of Art was created by a group of programmers, project managers, financial experts, and artists.
The site used to market itself as the largest ADA NFT marketplace and there definitely is a fair amount of activity going on.
Overall, while the user interface feels familiar, it's not the most appealing user experience.
Features include:
Various listing options
Timed auctions
Minting tools
Creator profiles
No info on service fees
6. AdaNFT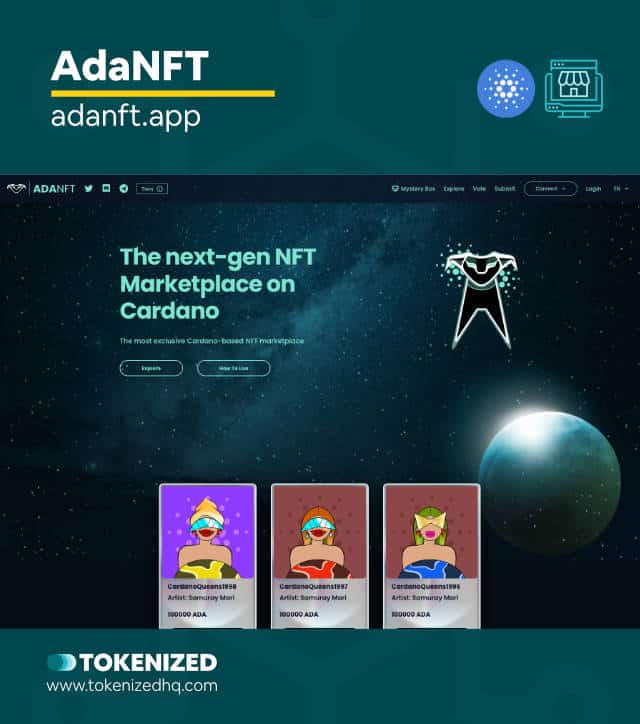 AdaNFT is the Cardano NFT marketplace of AdaSwap, the Cardano-powered DEX that essentially works just like UniSwap.
The site markets itself as the most exclusive Cardano-based NFT marketplace, which basically just means that they don't let just anyone list their NFTs.
AdaNFT has a tier system that allows users to vote on and purchase new projects and you can upgrade your tier by paying with AdaSwap tokens.
Now, to be honest, there's not really a lot on offer at AdaNFT so far, so labeling yourself as "super-exclusive" does provide a decent excuse.
Features include:
Community votes on collections
Membership tiers
Mystery box (whatever it may be…coming soon)
No info on service fees
To be honest…the site feels incomplete
Conclusion
While the Cardano ecosystem definitely has a huge community and lots of passion, we feel a bit disappointed by the overall quality of the projects.
Although we're confident that the technical expertise is there, the community seems to be lacking UX experts.
Nevertheless, if you're bullish on the Cardano NFT space you should definitely check out some of the ADA NFT marketplaces we shared with you today.
Here at Tokenized, we want to help you learn as much as possible about the coming NFT revolution. We help you navigate this fascinating new world of non-fungible tokens and show you how you can integrate tokenization into your own business.