Want to know what the best Tezos NFT marketplaces are right now?
Or perhaps you're just sick and tired of the crazy gas fees on Ethereum and now you're looking for a better alternative?
Well, if you're open to new blockchain ecosystems, then we might have just the right solution for you.
Tezos is an advanced blockchain that uses the Liquid Proof of Stake consensus mechanism (a form of delegated Proof of Stake) that is not only more efficient but also enables higher levels of self-governance.
In this article, we'll introduce you to some of the best XTZ NFT marketplaces available to the Tezos ecosystem right now.
Let's dig in!
Key Points (tl;dr)
Tezos is an advanced blockchain that uses delegated Proof-of-Stake to achieve a high level of efficiency in its network.
What makes Tezos different from other blockchains is their high level of self-governance that allows the network to quickly adapt to changing requirements rather than insisting on a dogmatic set of rules.
We've put together a list of the 10 best XTZ NFT marketplaces on the market:

Rarible
Bazaar Market
Kalamint
ArtForge
ByteBlock
FxHash
Versum
OneOf
Hic et Nunc
OBJKT
For detailed analysis on the top 3 NFT marketplaces for Tezos, PLEASE READ THE FULL ARTICLE.
Like this content? Then share it!
The 10 Best Tezos NFT Marketplaces in 2023
Here's the answer. Great article by @ChrisHeidorn right here: https://tokenizedhq.com/tezos-nft-marketplace/

www.tokenizedhq.com
What is Tezos and XTZ?
Tezos is an advanced blockchain network that uses a form of delegated Proof-of-Stake to ensure fast and efficient transactions through its ecosystem of smart contracts and dApps. It is best known for its highly democratized self-governance model. The Tezos native token is $XTZ, commonly referred to as a "tez" or "tezzie".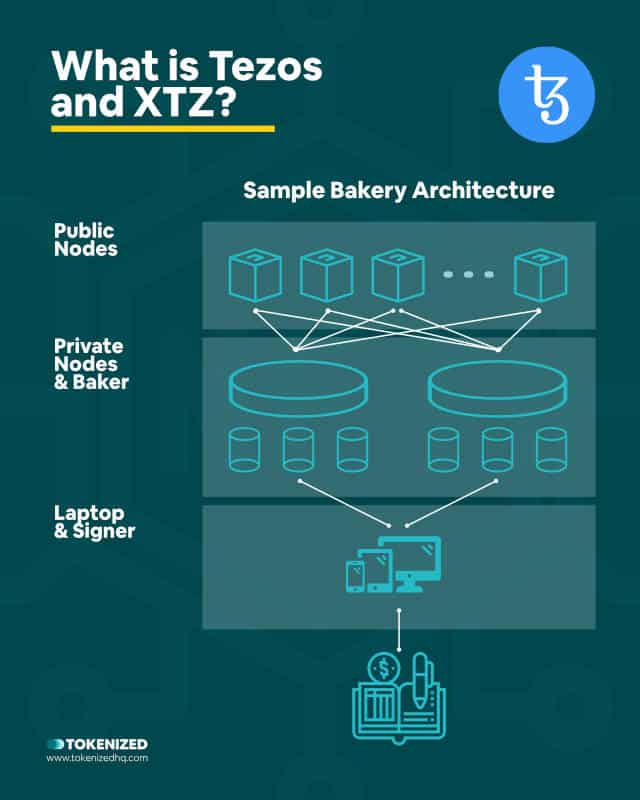 When Tezos entered the scene during the big ICO craze in 2017 it made quite a splash.
The team managed to raise $232 million, instantly making it one of the most successful ICOs in history.
The project has been described as an "Ethereum killer" many times, but then again, so have others.
Unlike Bitcoin or Ethereum, Tezos does not use Proof-of-Work as a consensus mechanism but rather opted for a form of Proof-of-Stake (PoS).
Its Liquid Proof-of-Stake mechanism falls into the category of delegated PoS, thereby not only providing significantly more efficiency but also allowing anyone to participate in the staking process.
Tezos is somewhat different from many other projects because it is set up to be a highly participatory network.
That means participants and considerably more control over the rules of the network than on other blockchains.
And this self-governance allows it to evolve and adapt more quickly to challenges than other blockchains.
This is a tremendous advantage for Tezos NFT marketplaces because it means the Tezos network is well-positioned to adapt to the market needs.
Despite losing considerable ground against many of its peers, Tezos and its native token $XTZ have proven their staying power.
Tezos is still firmly settled within the Top 50 blockchains by market cap.
Since Tezos focused many of its early efforts on smart contracts, it comes as no surprise that it also has a fairly active NFT scene.
Red Bull Racing and McLaren are amongst some of the big brands who have already partnered with Tezos in bringing new NFT-based fan experiences to Formula 1.
If you're keen to learn more about some of the possibilities in the automotive space, check out our article on car NFTs.
10 Tezos NFT Marketplaces You Should Know
Rarible
Bazaar
Kalamint
ArtForge
ByteBlock
FxHash
Versum
OneOf
Hic et Nunc
OBJKT
It's no secret that the sky-rocketing gas fees on the Ethereum blockchain have already become a significant problem.
In the world of dApps based on smart contracts, transaction speed and cost play an ever-increasing role that was evidently underestimated just a few years ago.
The incredible ascent of NFTs and the public's fascination with the possibilities of this new technology have made it crystal clear that a single blockchain cannot handle the world's demand.
The future of NFTs is clearly multichain and while some projects may stay on Ethereum forever, others will have to opt for other networks.
So it comes as no surprise that the interest in other NFT ecosystems, including Tezos NFT marketplaces, is on the rise.
The most obvious choice for those familiar with Ethereum is to look for Polygon NFT marketplaces and use Layer 2 solutions.
However, some are opting for entirely different Layer 1 blockchains and end up with Solana NFT marketplaces or AVAX NFT marketplaces.
And while those ecosystems have grown considerably thanks to massive funding, Tezos still remains one of the networks of choice for big brands.
It's really quite amazing how many projects are using the Tezos NFT platform to build marketplaces, even though Tezos has slipped in the rankings on CoinMarketCap.
Either way, today we're going to introduce you to the exciting world of Tezos NFT marketplaces.
Let's get started.
10. Rarible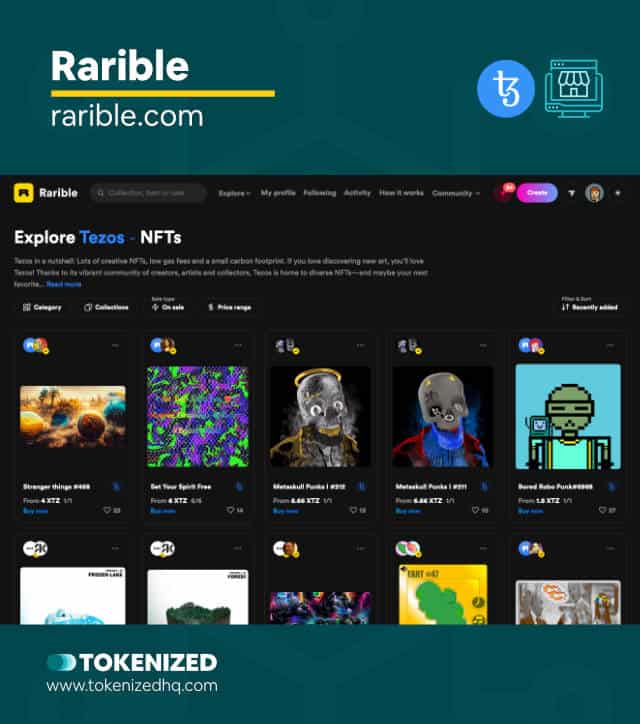 We are going to start off with Rarible today, not because it's the most relevant Tezos NFT marketplace but because it's well-known.
You see, Rarible is one of the bigger NFT marketplaces for the Ethereum ecosystem, however, they also support a number of other blockchains.
We've listed them here just so you are aware of this, but quite frankly, most of the Tezos NFT platform action is happening elsewhere.
And believe it or not, even OpenSea has already announced that they will be adding Tezos support soon.
Features include:
Various listing options
Decentralized marketplace
Activity rewarded with tokens
Native token $RARI
2.5% service fee
9. Bazaar Market
Bazaar markets itself as the world's first-ever carbon-negative Tezos NFT marketplace.
We're not entirely sure how they are achieving a negative carbon footprint and they don't really provide any information to back up this claim.
But if you wanted to know you could easily get in touch with their DAO.
Features include:
Various listing options
Community DAO
Native governance token $bDAO
Support for ByteBlock and OpenMinter NFTs
8. Kalamint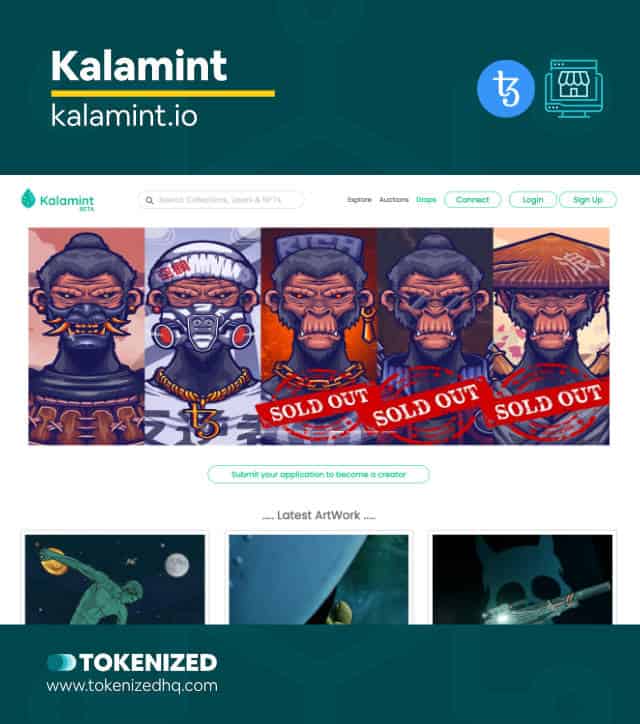 Unfortunately, it seems Kalamint has gotten some mixed reviews lately.
What we didn't like is that something as basic as their documentation page triggered a security warning in our browser.
Kalamint is one of the closed Tezos NFT marketplaces which requires artists to apply in order to be able to list.
The advantage of this is that the average quality and the variety of the artists is good.
Features include:
Various listing options
Creator royalties
No info on service fees
7. ArtForge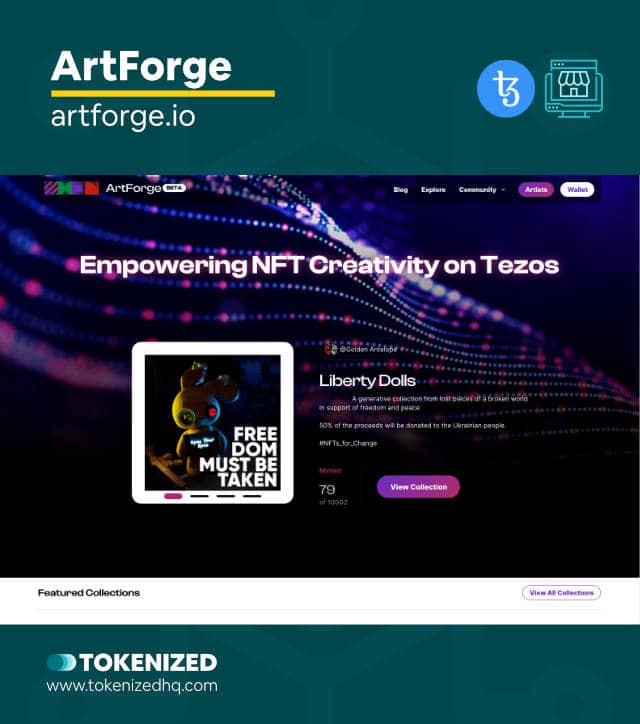 ArtForge is one of the newest Tezos NFT marketplaces to enter the scene.
The team has hit the ground running and has already introduced exciting new features such as the ability to hand out affiliate links.
This has the potential to become a very powerful feature because it incentives curators and collectors to share their favorite collections.
Another great feature is to mint unrevealed collections which normally requires you to develop a custom smart contract.
Features include:
Various listing options
Collection-based referral programs
"Reveal" feature
Curated artists
30% fee on mints
2.5% fee service on trades
6. ByteBlock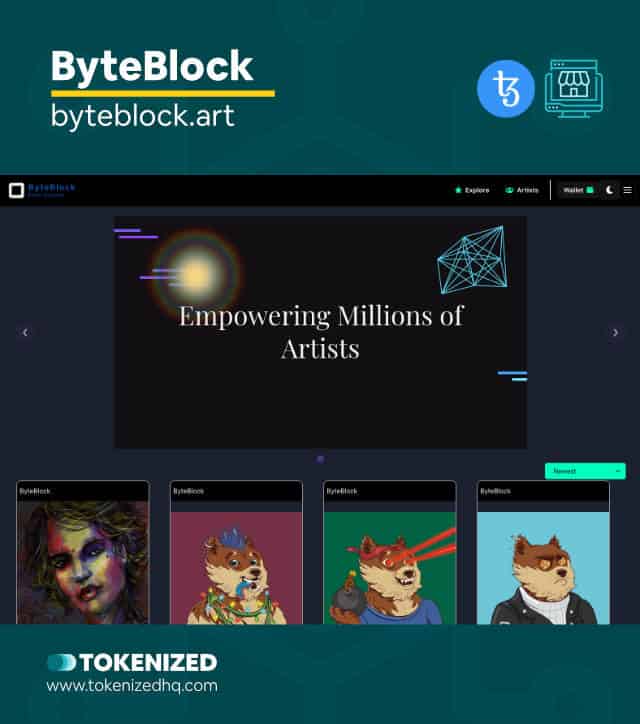 ByteBlock is an open Tezos NFT marketplace that has chosen to focus its efforts on the Indian and Southeast Asian markets.
It's an interesting approach that we haven't seen elsewhere and chances are that they'll be able to capture a sizeable chunk of the market.
The site makes it relatively easy for new artists to get started and they even hand out some free $XTZ so you can mint your first NFT for free.
Features include:
Various listing options
Curated artists
IPFS support
Creator royalties
1% service fee
5. FxHash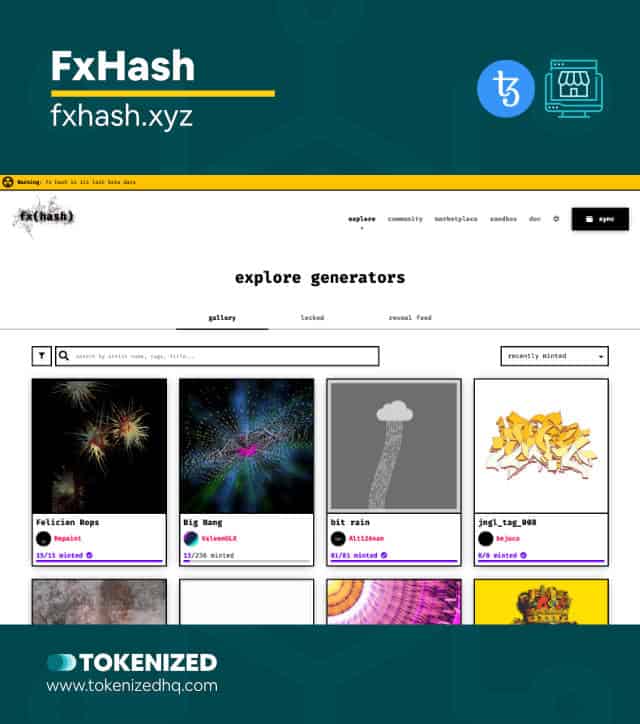 FxHash is yet another open Tezos NFT marketplace that allows anyone to create and collect their own NFTs.
However, that also means that there is absolutely no curation and some of the artwork may be perceived as lower quality.
This is also in part due to the fact that the site focuses on generative art NFTs, which isn't always to everyone's liking (unless it's from Art Blocks of course).
However, if you're into that sort of thing, FxHash is the right place for you.
Features include:
Various listing options
Collection rankings
Sandbox for testing projects
DAO (coming soon)
Native token (coming soon)
5% fee on mints
2.5% service fee on trades
4. Versum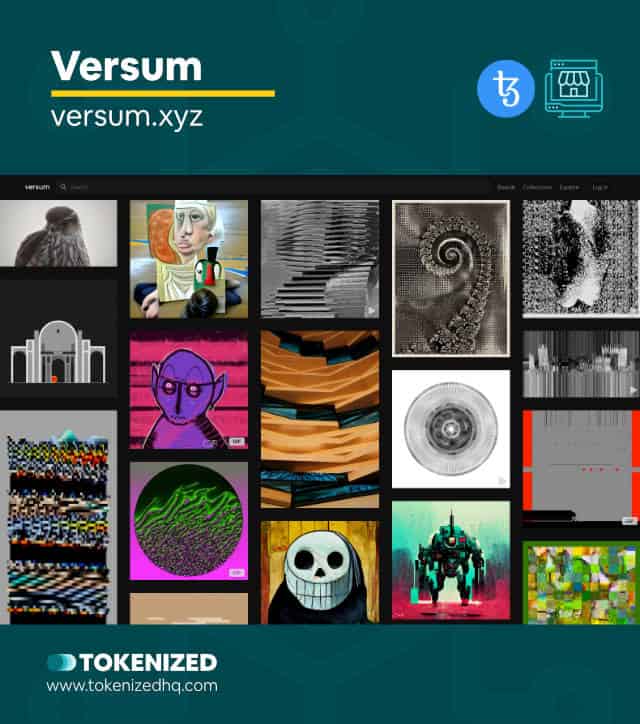 Versum is another new Tezos NFT marketplace that has taken a different approach to art discovery.
Rather than influencing users with leaderboards and rankings, their focus is on providing a more organic experience.
While the site may seem simplistic in nature, its concept of "Boards" is very similar to what Pinterest does.
It's actually a very refreshing way of discovering new NFTs and it is likely to give aspiring artists a better chance at making a sale.
Features include:
Basic listing options
Minting tools
Boards
Native token $MATERIA incl. airdrops
User verification
No info on service fees
3. OneOf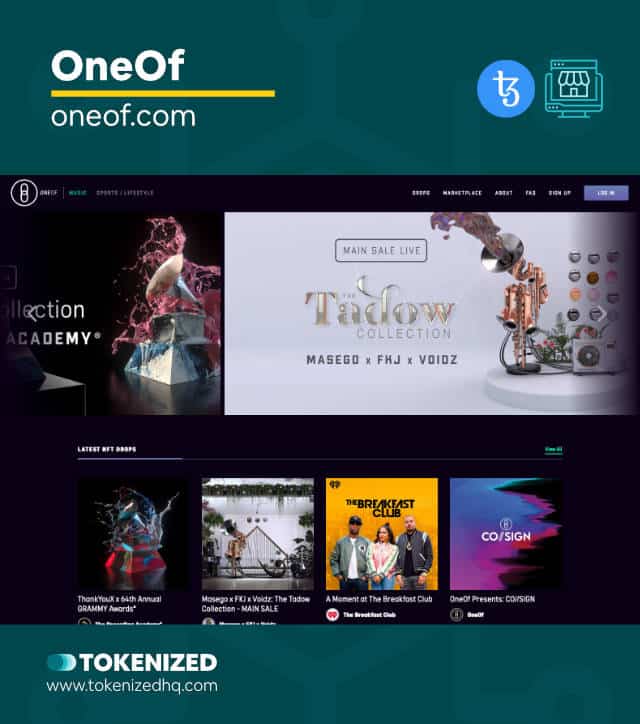 OneOf markets itself as an exclusive Tezos NFT marketplace that focuses on music and lifestyle/sports.
Their commercial focus has allowed them to strike deals with mainstream heavyweights such as the Grammy Awards and Warner Music.
While this clearly isn't the right place for indie artists, we wouldn't be surprised if OneOf becomes a leader in this space.
Music NFTs are an undervalued category in NFTs and we wouldn't be surprised if they explode fairly soon.
Features include:
Timed auction listings
Drop calendar
Strong focus on Musicians
No info on service fees
2. Hic et Nunc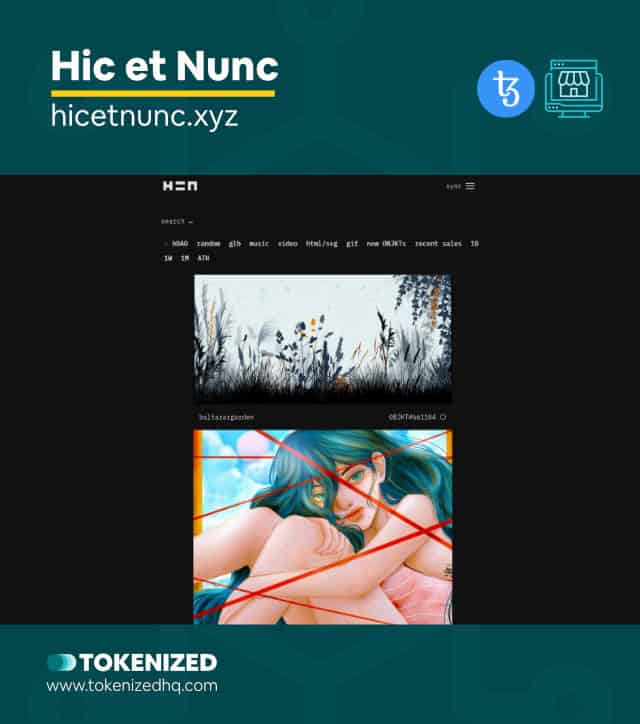 Yes, the name is odd, but Hic et Nunc has become one of the most popular Tezos NFT marketplaces within the ecosystem.
Part of its early success was due to the extremely low fees compared to other blockchains and it was an early mover in the NFT space.
However, after various issues around scalability and a horrible hack that brought down the site, the original founder finally shut down the site.
Luckily though, thanks to the power decentralization the site is back up now and is managed by its community.
Hic et Nunc remains one of the most popular places for independent artists to experiment with NFTs.
Features include:
Basic listing options
Minimalistic layout
Community DAO
IPFS support
2.5% service fees
1. OBJKT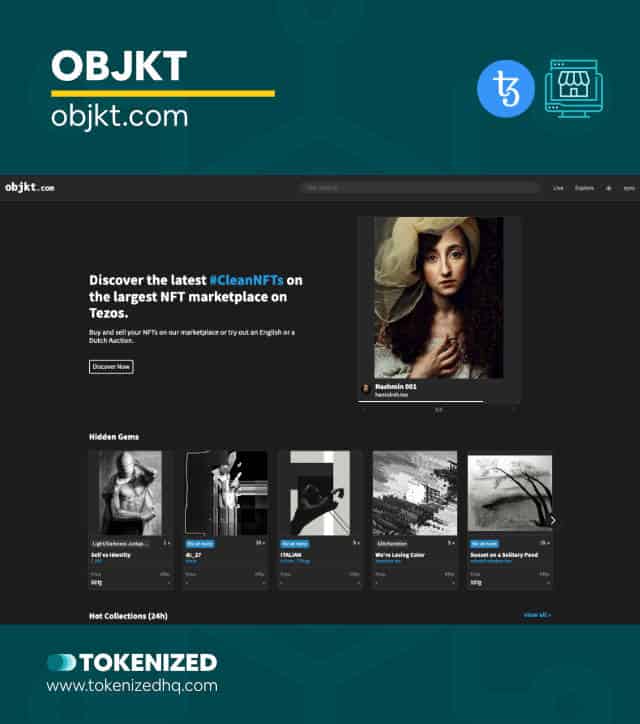 OBJKT is by far the biggest player in the Tezos NFT marketplace space, not only in terms of volume but also in terms of active users.
It was originally conceived as a Tezos NFT platform to run auctions for NFTs from Hic et Nunc but quickly grew into something bigger.
It is an open marketplace that allows you to list NFTs from other XTZ NFT marketplaces as well, incl. Hic et Nunc, FxHash, Rarible and Kalamint.
If you're a trader and need a platform with lots of liquidity then OBJKT is the right place for you.
Features include:
Various listing options
Leaderboards and rankings
Creator royalties
Split royalties
2.5% service fees
Conclusion
By now you should have realized that NFTs are on Tezos have been a thing for quite some time now.
Tezos has been able to attract a large community of artists and fans who like the low-cost environment that the Tezos blockchain provides.
But its popularity has also been boosted by notable partnerships with various large brands and this is likely to have a lasting effect.
However, if you're a trader, make sure you go with one of the more liquid XTZ NFT marketplaces because that is one of the bigger challenges with smaller platforms.
Here at Tokenized, we want to help you learn as much as possible about the coming NFT revolution. We help you navigate this fascinating new world of non-fungible tokens and show you how you can integrate tokenization into your own business.