Are you looking for the best Music NFT marketplaces?
Perhaps you're an artist who's considering getting into NFTs in order to market your music, but you're unsure where to find the best NFT marketplace for music?
Well, don't worry, because we've done the research for you and although music NFTs still have a long way to go, you'll be glad to see our results.
In this guide, you'll learn everything you need to know about the current NFT music marketplace ecosystem.
Let's get started.
Key Points (tl;dr)
If you're a musician and you're fed up with the horrible contract terms that record labels keep offering you, then it's time you consider selling your music in the form of NFTs.
Especially for those who already have a significant following on social media, selling your music as an NFT can give you considerably more creative control, increase fan engagement and also boost your share of the revenues.
Before you choose a music NFT marketplace to sell your NFTs, make sure you think about what your specific needs are. For most musicians, using a dedicated music NFT marketplace has the advantage of providing solutions tailored to your industry.
We've put together a list of 8 best NFT music marketplaces that you should know:

The Musician Marketplace
Royal
Sound
Onlymusix
Catalog
Brand Royalty
Async
NFT TONE
For a detailed overview of the top 8 music NFT marketplaces, PLEASE READ THE FULL ARTICLE.
Like this content? Then share it!
The 8 Best Music NFT Marketplaces in 2023
Here's the answer. Great article by @ChrisHeidorn right here: https://tokenizedhq.com/music-nft-marketplace/

www.tokenizedhq.com
Can I Sell Music as an NFT?
Yes, music can easily be sold as an NFT. In fact, due to how monetization works in the music industry, artists stand to gain considerable leverage, control, and an increase in royalties by embracing NFTs for their work.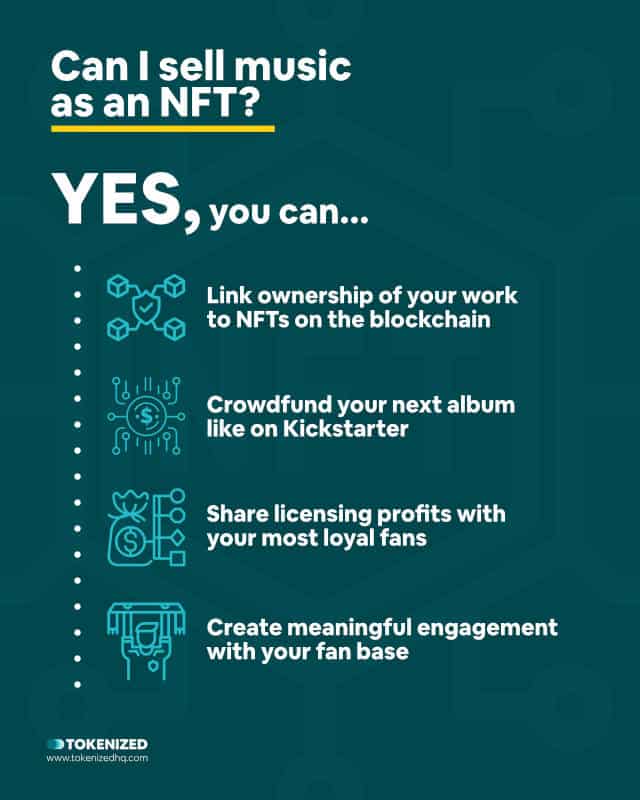 Most artists are still struggling with the whole concept of NFTs.
In fact, there is a very vocal minority that actually hates NFTs for various different reasons.
But for the most part, artists who have been looking for ways to better monetize their work and finally live a decent lifestyle, are starting to embrace the opportunities of this new technology.
That being said, while NFT-based artwork might still be relatively easy to understand, music NFTs are a slightly different story.
The primary challenge is in overcoming existing paradigms of how music should be monetized.
In the past, an artist would sign a contract with a large record label.
These labels would help promote the artist and their music, however, they would also reap the majority of the rewards.
For artists who have a significant social media following, this approach is no longer necessary.
They can easily cut out these corporate middlemen and vastly increase their earning potential, while at the same time retaining more creative control.
And the beauty of it all is the fact that your early supporters will benefit as well since the NFTs they hold are likely to increase in value over time.
But maybe I'm preaching to the choir here and you already know that you want to get into music NFTs.
The only problem is, that you don't know which music NFT marketplace is right for you.
Which NFT Marketplace Is Best for Music?
Musicians or music fans should focus on specific NFT marketplaces for music. While large marketplaces like OpenSea attract considerably more traffic, they tend to be very generic. Specialized music NFT marketplaces cater to the specific needs of musicians and fans.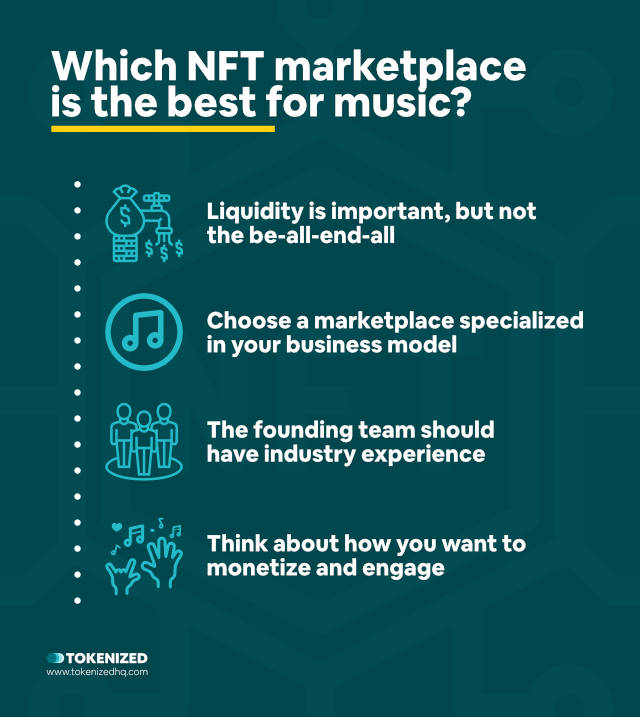 Before we get into the nitty-gritty details, I need to get something off my chest here.
There are many websites that have been talking about the best NFT marketplaces for music, but when you check the list of marketplaces they provide, nearly all of them are generic NFT marketplaces.
While I tend to agree that more liquidity is usually a good thing for trading NFTs, sending artists to sites like OpenSea, Rarible or Crypto.com is counterproductive.
Musicians who are looking to get into NFTs need marketplaces that actually understand their business model and know what their specific needs are.
Just because OpenSea currently has the most trading volume doesn't mean that your NFT will be seen by the right people.
Therefore I always strongly advise that musicians choose a music NFT marketplace that is actually specialized in their area.
While that might mean lower visibility in the short term, I'm absolutely convinced that it's probably the better deal in the long term.
So if you're ready to check out some of the best music NFT marketplaces, let's move on to the next section.
8 Music NFT Marketplaces You Should Know
The Musician Marketplace
Royal
Sound
Onlymusix
Catalog
Brand Royalty
Async
NFT TONE
The following NFT music marketplaces are not listed in any particular order.
Remember that the entire NFT industry is still in its infancy and even more so in the music NFT space.
There is no such thing as THE best music NFT marketplace.
Instead, each and every musician should think about what their specific needs are and then see which music NFT marketplace best aligns with them.
It's also important to consider the people who are running the platform and make sure they actually know what they are doing.
Does the team consist of founders with industry experience or not?
Either way, you'll have to invest some time into understanding what differentiates each music NFT marketplace from the next.
1. The Musician Marketplace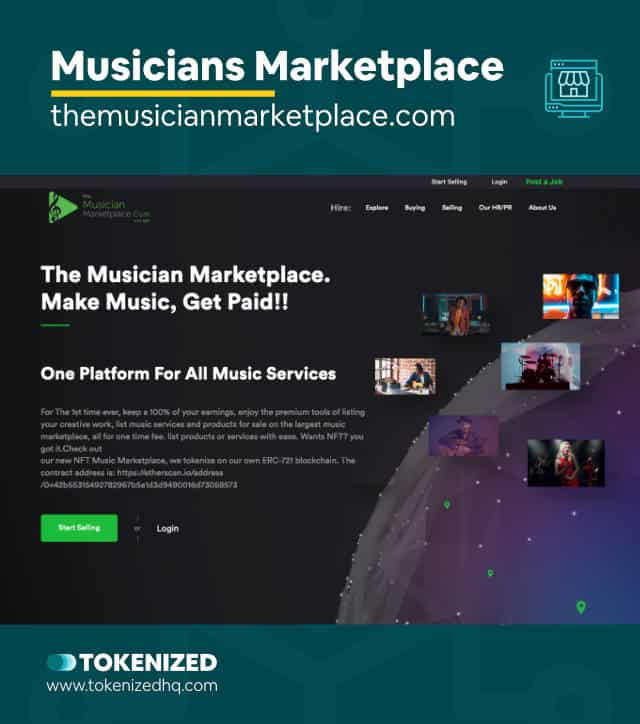 The Musician Marketplace was originally founded by Ramy Adly in 2018 as a central place for artists to list their own profiles (a bit like a social media platform).
Today, it considers itself an all-in-one platform for all music services and it even recently launched its new NFT music marketplace.
What makes the Musician Marketplace stand out from traditional NFT marketplaces is the fact that they don't charge commissions.
Instead, you get access to the full spectrum of their tooling and services with a flat subscription fee.
Features include:
Profiles and portfolios
Job listings
Search engine indexing
Optional NFT listings
One-time fees
0% commission
2. Royal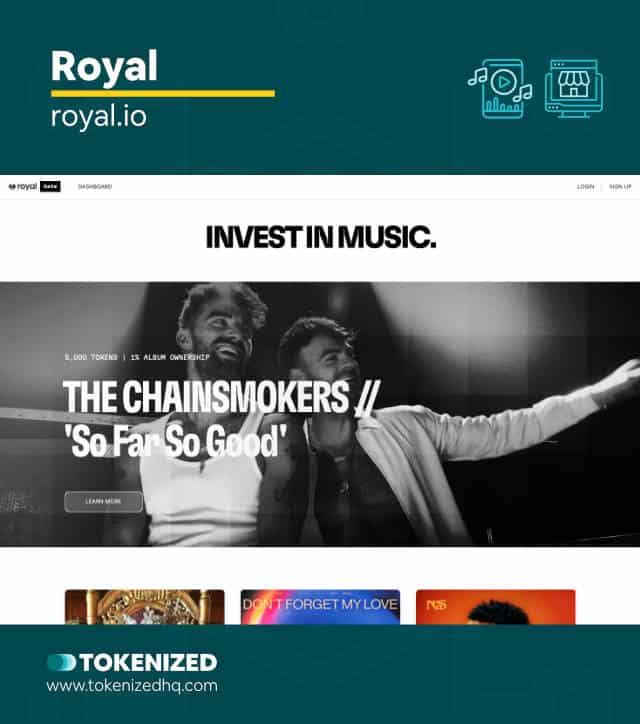 Royal takes a slightly different approach to music NFTs by strictly highlighting the investment angle.
Their website even leads with the slogan "Invest in Music" at the top of the page.
The idea is for musicians to share ownership of their work with early investors, thus providing the opportunity to earn royalties on streaming rights later on.
It's a bit like Kickstarter, except that you become a co-owner of the product that you're funding.
Features include:
Minting tools for artists
Collector/Community management tools
Co-ownership for collectors
Streaming royalties for collectors
3. Sound.xyz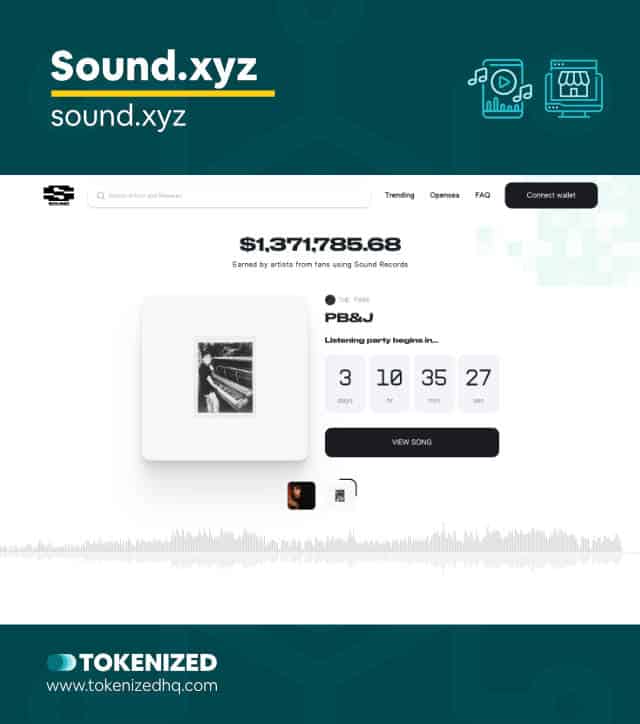 Sound is creating a platform for a more collaborative music experience.
The idea is for users to support artists they love directly and demonstrate that they were there from the very beginning.
Artists launch a listening party for a new song they're releasing with a series of limited NFTs.
Fans can then acquire these NFTs and post a public comment on the song at a given timestamp of their choice.
This comment, including the timestamp, stays public for as long as they own the NFT.
Features include:
Minting tools
Launch monetization
Community interaction
Collector vanity benefits
4. Onlymusix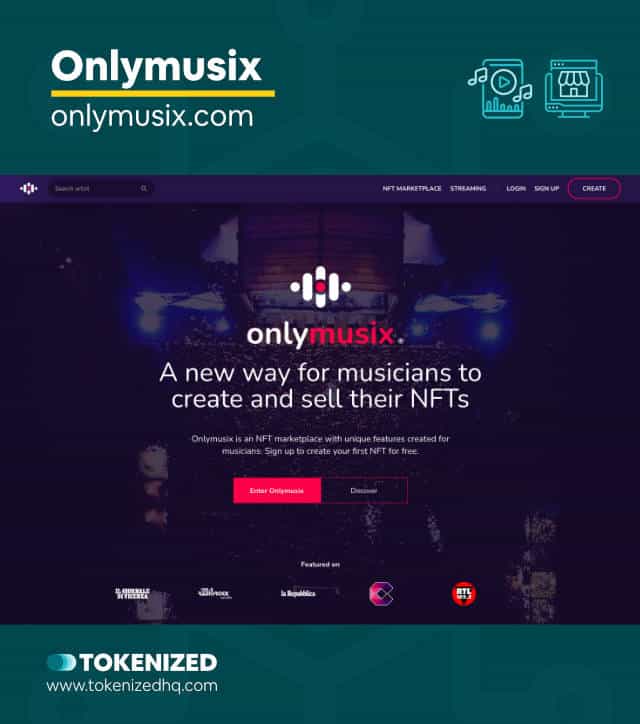 Onlymusix markets itself as a music NFT marketplace with unique features created specifically for musicians.
Their objective is it be an open platform for musicians of any level, facilitating media management as well as payment flow management.
And they even plan to provide special accounts for labels who want to manage their artists' profiles from a single dashboard.
Features include:
Minting tools
Media manamgent tools
Split payments
Built on the low-cost Polygon Blockchain
Streaming
5. Catalog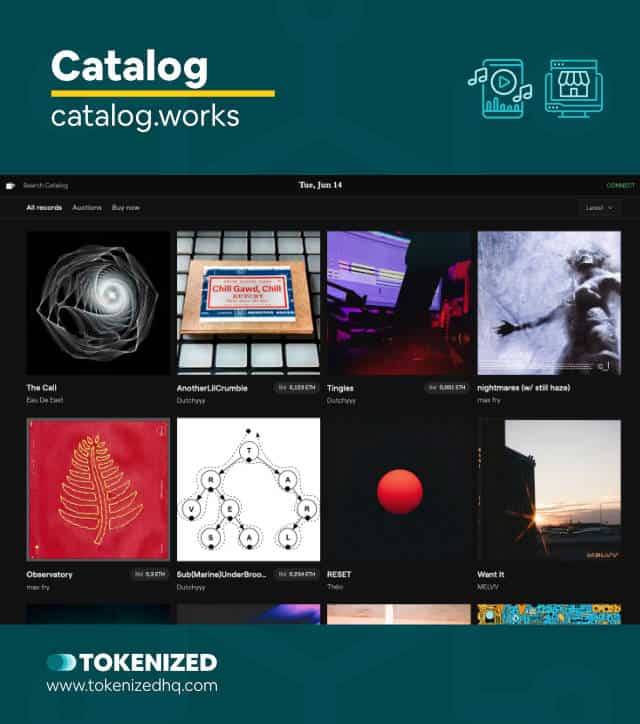 Catalog is a relatively minimalistic website that focuses on featuring artists and their music.
It allows fans to acquire one of one digital record, just like in a record shop, completely free from big tech platforms.
Features include:
Invite-only system
Various buying and selling options
Direct patronage
Creator royalties
6. Band Royalty
Band Royalty markets itself as a music NFT ecosystem that will revolutionize the current music industry.
This is one of the many music NFT projects that are still in their launch phase.
There's a roadmap, tokenomics, and lots of vision, however, there's no product that you can actually test right now.
If you're keen to learn more, we recommend you check out their Discord.
7. Async for Music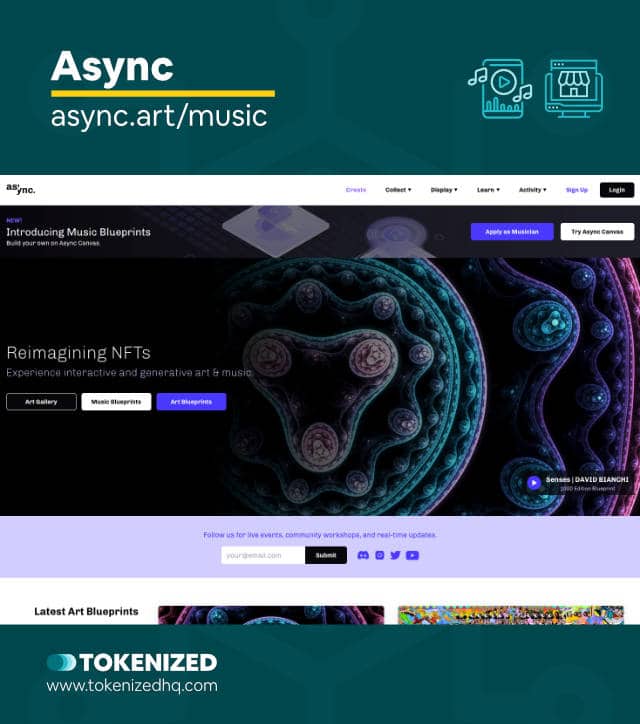 Async is not exclusively a music NFT marketplace since they focus on digital artists as well.
The way Aync's music NFTs are marketed is very similar to how most of the generic marketplaces for artwork or collectibles work.
Although buyers do have the opportunity to interact with and influence how these dynamic music tracks change over time, there is no specific monetary benefit.
This is not meant to be negative, however, it's important to understand who this marketplace is catering to.
8. NFT TONE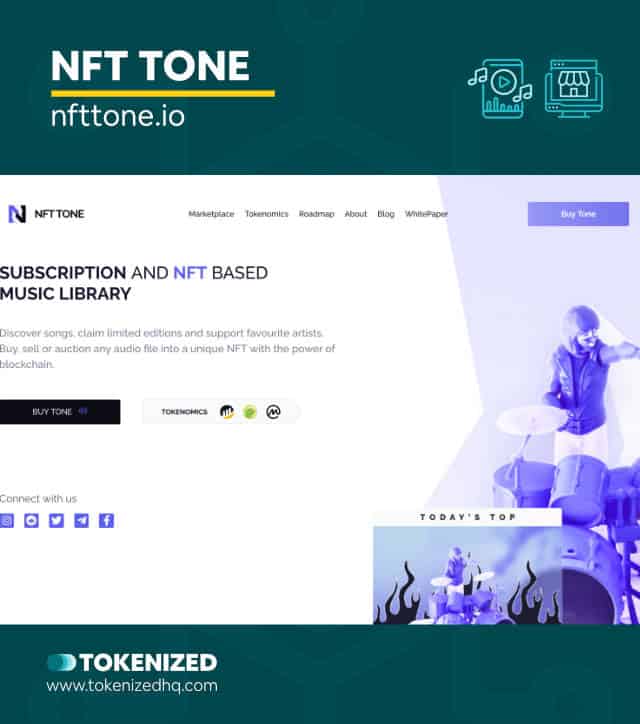 NFT Tone allows you to discover songs, claim limited editions, and support artists you love.
It should be noted that NFT Tone is another project that is still in its startup phase.
Although the music NFT marketplace is in advanced development, you can't really use it yet.
Although you can't really do much yet, we do recommend keeping an eye out for this one.
Conclusion
Let's face it, the music NFT ecosystem still has some work to do.
Most projects are still in their infancy and will need time to find their footing in this exciting new space.
However, if you're a musician, this is an ideal time for you to get started and explore how you can use NFTs to create new products for your fans and listeners.
Here at Tokenized, we want to help you learn as much as possible about the coming NFT revolution. We help you navigate this fascinating new world of non-fungible tokens and show you how you can integrate tokenization into your own business.