Are you looking for dedicated NFT photography marketplaces?
Perhaps you've come to realize that OpenSea isn't necessarily the best place for NFT photography and now you're looking for marketplaces that focus exclusively on photography?
Well, you've come to the right place because we fully understand that you're tired of seeing blog posts touting the same old NFT marketplaces that everyone already knows.
In this article, you'll get to know 5 dedicated NFT photography marketplaces that will make photography aficionados smile.
Let's check them out.
Key Points (tl;dr)
While most of the limelight in NFTs has been given to digital artwork and PFP collectibles, photography NFTs and the photo NFT markteplaces that comes with them are starting to gain traction.
Anyone can sell their photography as NFTs, as long as they make sure they choose the best NFT marketplace for photographers of their particular category.
As with most markets, 80% of the revenue is concentrated on 20% of the market players and photo NFT marketplaces are no different. You can expect high very earnings if you are a top creators, however, the average will end up with significantly lower earning potential.
We've put together a list of the top 5 photography NFT marketplaces on the market:

Focus Market
Ephimera
Photocentra
Quantum
Sloika
For detailed analysis on the 5 best NFT marketplaces for photography, PLEASE READ THE FULL ARTICLE.
Like this content? Then share it!
5 NFT Photography Marketplaces You Should Know in 2023
Here's the answer. Great article by @ChrisHeidorn right here: https://tokenizedhq.com/nft-photography-marketplace/

www.tokenizedhq.com
In NFT Photography a Thing Now?
So far most of the attention in the NFT industry has been centered around collectibles and digital artwork. However, notable photo artists are starting to gain considerable attention from the great public and more NFT marketplaces for photography are popping up every month. It's only a matter of time before NFT photography goes mainstream.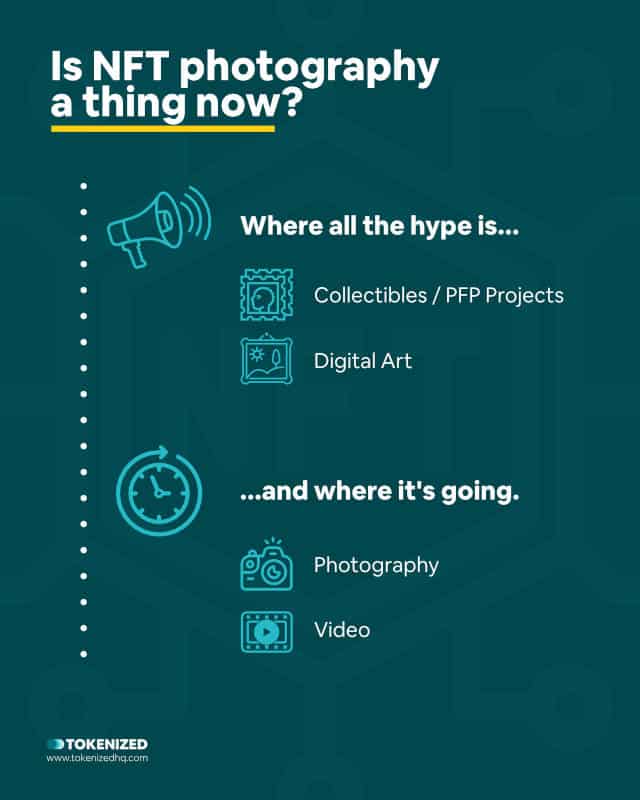 If you've arrived at the blog post, I think it's safe to assume that you already know what NFTs are.
So we're not going to bore you with the absolute basics surrounding NFTs and how they might impact our daily lives within the next 5-10 years.
But if you've been following NFTs for a while now then you've also realized that most of the hype has been around collectibles.
Sure, there have been extremely high-value sales of notable artwork as well, but the masses have primarily flocked to so-called PFP projects.
The root cause for this is a combination of internet culture, funding mechanisms, and pure speculation.
Avatars are a great way to flex in online social networks and 10k PFP projects are also a great funding mechanism for founding teams (akin to the ICO crazy of 2017).
So a lot of people have been pouring vasts amounts of capital into these strange JPEG collections.
Most people, however, have little experience actually collecting real artwork.
And while digital artwork has become increasingly popular over the years, photography is often perceived as a bit of a commodity.
It's an inevitable consequence of the proliferation of stock photography.
However, NFTs present a new opportunity for artistic photography to regain the spotlight.
There are millions of talented photographers out there who believe that NFTs are a unique opportunity for them to build something special.
And we strongly agree.
We've been listening to the pundits and many of them believe that NFT photography might blow up in the summer of 2022.
If you've been paying attention you may have noticed that VeeFriends Gift Goat holders recently received a pair of exclusive Vans.
And these Vans were featured in a special collaboration between GaryVee and DrifterShoots, called "Where My Goats Go".
Who knows, this latest NFT drop might just kick off the summer wave of 2022!
Can I Sell Photography as NFT?
Yes, of course, can sell your photography as an NFT. However, make sure you've done the necessary homework to understand how NFTs work, how the market derives value from them, and what the best NFT marketplace for photography is.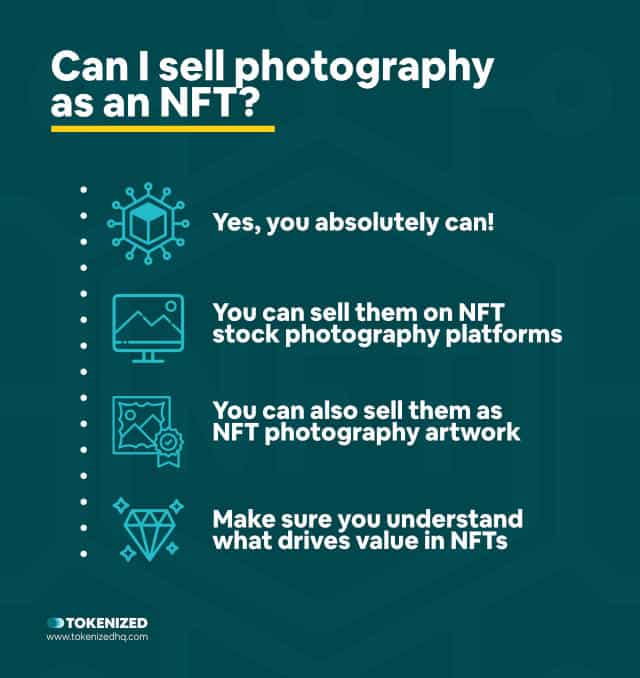 You might be asking yourself right now: "Should I sell my photography as NFTs as well?"
The answer to that question isn't necessarily that simple.
You see, it all depends on what sort of photography you do and where your overall skills are.
If you consider yourself mostly a hobby photographer or perhaps someone who produces photos that target the mass market, then NFTs might not be the right choice for your right now (unless you try out Photocentra).
However, if you're a professional artist who doesn't just for run-of-the-mill clients and has time to explore new concepts, then you might want to give it a shot.
Remember, creating the artwork is just one piece of the puzzle.
You'll need to understand how to promote yourself on social media as well.
How Much Do NFT Photographers Make?
In 2021 the average NFT photographer selling landscape photography made about $5,000, while the top earners made 10x that amount. Your success will vary depending on a combination of factors, including your skills, the effort you put in as well as uncontrollable external influences. NFTs are still very new. Do not judge its future potential solely based on the last 18 months.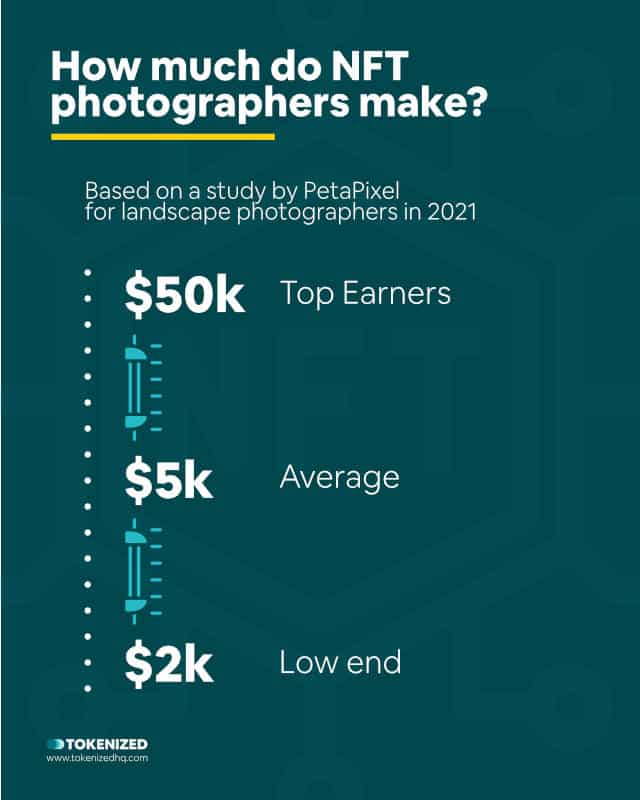 There is no standard answer to that question, simply because the top earners in the space are not representative of the average artist.
It's also important to understand that unlike much of today's photography, the NFT world mainly derives value from scarcity.
So, while in the past you may have sold a particular shot hundreds or thousands of times, this may not necessarily work with NFTs.
You'll have to think of new concepts which allow you to monetize your artwork via limited editions and perhaps some enhanced utility via token-gated content.
Remember, primary sales revenue is one thing, but royalties from secondary sales should NOT be underestimated.
NFTs are all about aligning incentives.
Your customers and collectors indirectly become your promoters, however, you also need to make sure you continue to provide value to them.
Otherwise, your royalties from secondary sales won't amount to much.
PetaPixel did some analysis in 2021 and found that the top earners from NFT photography on Foundation made roughly $50,000, while the average only made about $5,000.
Bear in mind that NFTs are still very new and these numbers will likely grow, but this should give you an initial idea.
5 NFT Photography Marketplaces You Should Know
Focurs Market
Ephimera
Photocentra
Quantum
Sloika
Before we go through our list of dedicated NFT photography marketplaces, let's clarify a few things.
You will need to manage your expectations a little bit, simply because these marketplaces are nowhere near as big as the market leaders.
OpenSea is obviously a behemoth with tons of liquidity, but you won't find too many photography collectors there.
Foundation and SuperRare are obviously great places to be if you're a real artist, but since they are invitation-only, this isn't an option for everyone.
That's why we've put together this list of dedicated NFT photography marketplaces that are tailoring the user experience to that target audience.
Photography is a huge market, so it's not a matter of "if" these marketplaces will grow in size, but rather "when".
So let's check them out.
5. Focus Market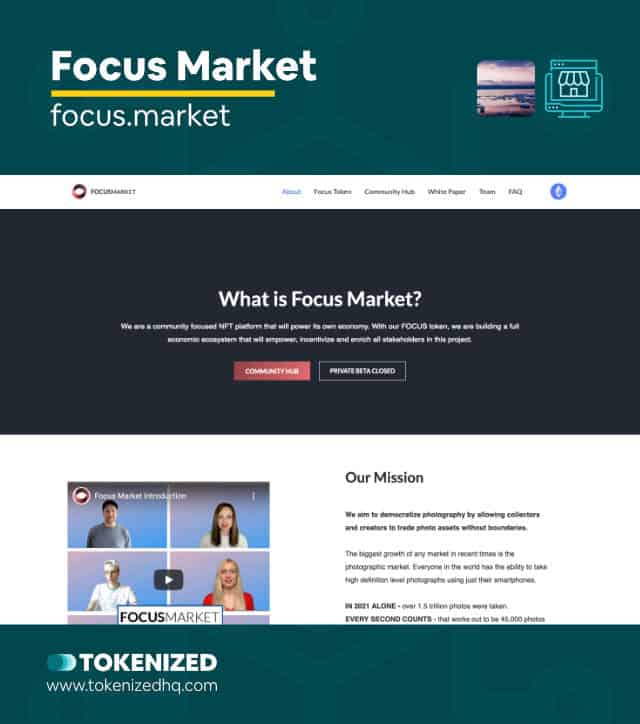 Focus Market is a community-focused NFT platform that is aiming to democratize photography.
The team wants collectors and creators to trade photo assets without any boundaries.
This relatively new NFT photography marketplace has been in private beta testing since Q3/Q4 2021.
The public beta launch is scheduled for Q2 2022 and the team has quite an ambitious roadmap ahead of them.
Features will include:
Native token $FOCUS incl. staking (Q2 2022)
Curated sections (Q3 2022)
Stock photos section (Q3 2022)
Community Hub "Metaverse" (Q4 2022)
4. Ephimera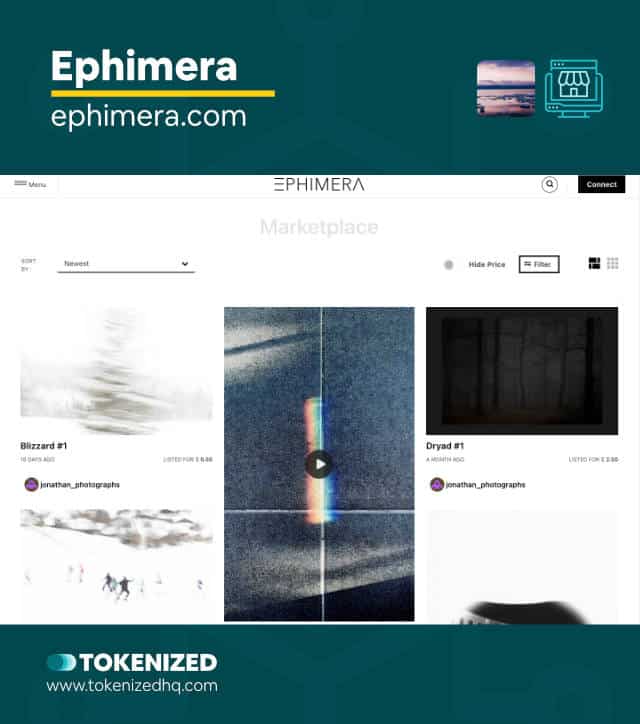 Ephimera advertises itself as the world's first NFT photography marketplace.
The platform supports photography and video art, is built on Ethereum, and only supports 1-of-1 art pieces.
Unfortunately, Ephimera isn't an open marketplace and does require you to apply before you can list your artwork.
Features include:
Various listing options
Minting tools
Galleries
Drop calendar
Leaderboard
Magazine
10% creator royalty
10% fee on primary sales
5% fee on secondary sales
3. Photocentra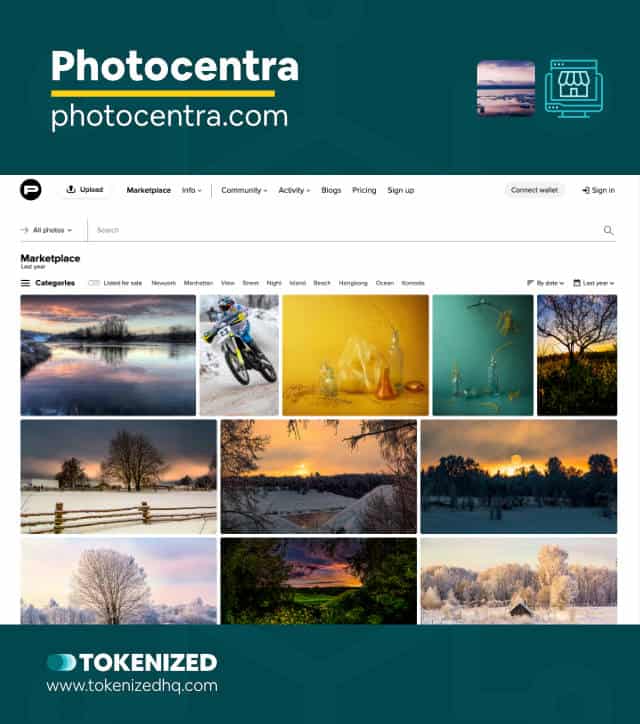 Photocentra is taking a slightly different approach to NFT photography marketplaces.
They are clearly positioning themselves as an alternative to existing stock photography platforms.
Their strategy is to promise photographers 100% of their photo sales, rather than just miserable percentages they would usually get from stock platforms.
This is meant to incentives photographers to upload their artwork to the platform and also get rewarded in their native $PHOTO token.
The approach is interesting and is likely to find lots of supporters amongst the mass market photographers.
Features include:
Native $PHOTO token (fixed supply)
Photocentra DAO
Built on layer 2 (Immutable X)
Featured authors
Leaderboards
4.9% platform fees for buyers
2. Quantum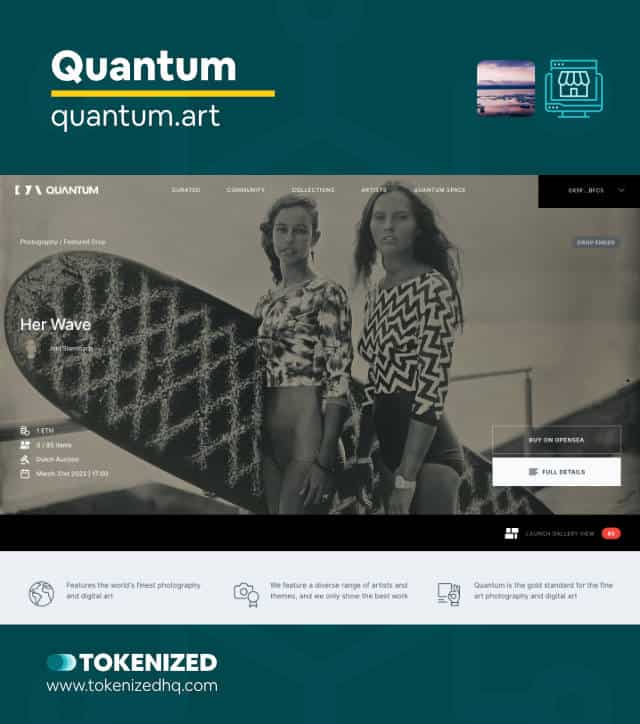 Quantum is currently one of the most professional NFT photography marketplaces we've come across.
That being said, Quantum primary focus is on curating and dropping NFT collections and making NFT photography easily accessible.
From what we can tell, all of the trading actually happens on OpenSea and not on Quantum itself.
This is a smart approach because instead of trying to re-invent the wheel and compete with the top dogs, Quantum is carving out a niche that's far easier to manage.
Features include:
Drop calendar
Collections
Featured artists
Community votes
Quantum Key NFT with unlockable content and perks
1. Sloika
We end this list with Sloika, yet another interesting concept around highly curated NFT photography marketplaces.
If you're a fan of photography then you're most likely also familiar with 500px.
Sloika was created by the founding team behind 500px, so you know there's a strong and professional group of people working on it.
Features include:
Various listing options
Minting & reveal tools
Creator royalties
Creator collectives (royalty sharing)
Verification collections/authors
Custom tokens for each collection
Native $GACHA token
Other NFT Marketplaces with Photography
Obviously the NFT photography marketplaces we listed above are not the only places where you can buy photo art.
There are numerous platforms that either have significantly more liquidity or that cater to high-end artists.
Because these factors play a role as well, we've decided to list some of these other NFT marketplaces for photography.
Conclusion
The current NFT scene is still primarily dominated by speculative buying of NFT collectibles and high-end digital art.
However, from a macro perspective, NFT photography has considerably more market potential given its accessibility.
We believe that as more photo artists gain the attention of the great public, photo NFT marketplaces will start to move into the mainstream's field of view.
If you are a photographer and want to be part of this disruption, make sure you get started as soon as possible.
Here at Tokenized, we want to help you learn as much as possible about the coming NFT revolution. We help you navigate this fascinating new world of non-fungible tokens and show you how you can integrate tokenization into your own business.