So you're looking for the best WAX NFT marketplaces right now?
Perhaps you recently discovered the WAX blockchain while exploring the blockchain gaming scene and now you'd like to know more about whether WAX supports NFTs as well?
Well, we've got good news for you, because we've put together a list of resources that will help you get started in the WAX NFT ecosystem.
In this guide, we'll introduce you to some of the best WAX NFT marketplaces on the market right now.
Let's get started!
Key Points (tl;dr)
WAX is a highly efficient blockchain platform that is particularly popular in the Play-to-Earn gaming industry.
Thanks to its delegated Proof-of-Stake consensus mechanism, WAX is able to achieve faster, more efficient, and secure transactions that are necessary for gaming.
WAX has also received a Carbon Neutral Certification from Climate Care.
We've put together a list of the 4 best WAX NFT marketplaces on the market:

AtomicHub
NeftyBlocks
NFT Hive
Simple Market
For a detailed overview of the top 4 WAX NFT marketplaces, PLEASE READ THE FULL ARTICLE.
Like this content? Then share it!
The 4 Best WAX NFT Marketplaces in 2023
Here's the answer. Great article by @ChrisHeidorn right here: https://tokenizedhq.com/wax-nft-marketplace/

www.tokenizedhq.com
What is WAX and How Does it Work?
WAX is a blockchain network that uses delegated Proof-of-Stake to achieve faster and more energy-efficient transactions in order to cater to the specific needs of the gaming industry. WAX's platform was built to enable the decentralized exchange of various forms of in-game assets.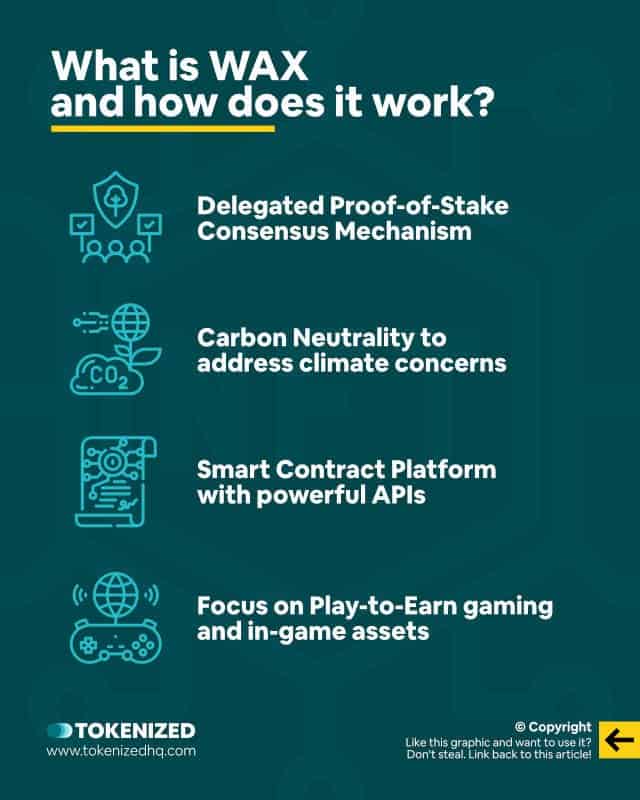 The WAX blockchain was originally launched in 2017 with the intention of facilitating faster, easier, and more secure eCommerce transactions.
WAX actually stands for "Worldwide Asset eXchange" and it uses delegated Proof-of-Stake (DPoS) as its consensus mechanism.
WAX claims that its DPoS mechanism is 125,000x more efficient and uses less than 0.00001% of the energy of Proof-of-Work chains, such as Bitcoin.
In 2021 WAX even received a Carbon Neutral Certification from Climate Care.
That being said, comparing yourself to Bitcoin in terms of energy consumption is a bit too simplistic.
There are hundreds of other Proof-of-Stake blockchains that achieve the exact same energy efficiency or even better numbers.
WAX's primary objective is to build a decentralized exchange platform for in-game items from all sorts of online-based games.
It's not uncommon for players of games to buy, sell and exchange items from their games.
These usually include in-game currencies, virtual objects, or skins.
Since many gaming studios are actively working on NFT-based games, it's no surprise that WAX would support this type of infrastructure as well.
WAX offers a wide selection of tools that support developers in building dApps, WAX NFT marketplaces, and of course NFTs as well.
4 WAX NFT Marketplaces You Should Know
Atomic Market
NeftyBlocks
NFT Hive
Simple Market
The WAX NFT ecosystem is clearly more focused on gaming than on collectibles or artwork.
Although you'll see PFP projects or trading cards here and there, it's quite obvious that its primary purpose is to enable Play-to-Earn gaming.
If you're new to Play-to-Earn, we highly recommend you check out our guide on the best NFT games.
What's interesting is that WAX seems to have successfully partnered with a lot of consumer brands.
It's not uncommon to find officially licensed NFT from brands such as Marvel, DC Comics, Hasbro, Topps, and Mattel.
The WAX NFT marketplace ecosystem may look smaller and simpler than what you're used to from big chains like Ethereum or Solana.
But it's quite evident that it's worth taking them seriously in their niche market.
Anyway, let's have a look at the best WAX NFT marketplaces right now.
1. AtomicHub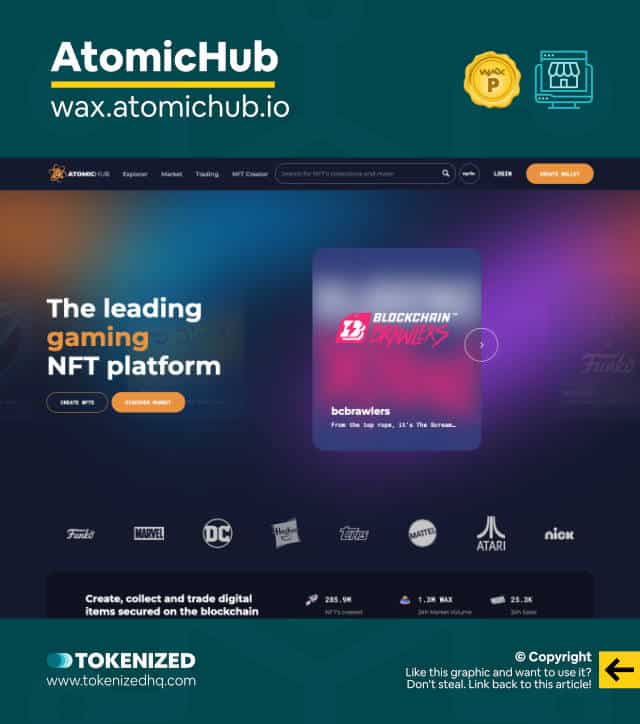 AtomicHub is the biggest and most professional WAX NFT marketplace that you'll currently find.
As of today, more than 285 million NFTs have been created via their platform and 24h trading volume is more than 1.3 million WAX.
If you're looking for lots of liquidity, then this is the place to be on WAX.
Features include:
Various listing options
Minting tools
Various media formats
Big brand partners
Collection rankings
Creator royalties
Whitelisting/verification
2% service fee
2. NeftyBlocks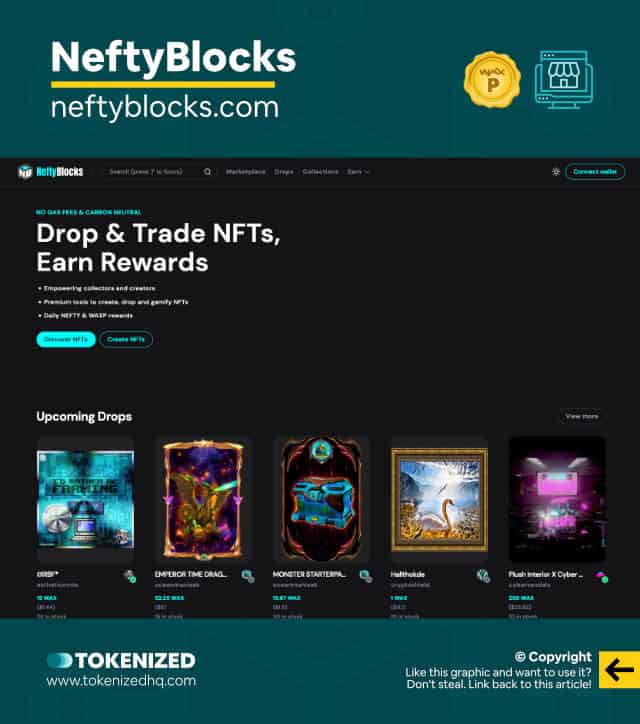 NeftyBlocks is the next WAX NFT marketplace on our list today.
While NeftyBlocks can't boast the same amount of brand partners as AtomicHub, it's still a very good alternative for anyone interested in this ecosystem.
If you're keen on token rewards and other DeFi features, then this is the right marketplace for you.
Features include:
Various listing options
Minting tools
Collection pages
Trading competition (NeftyQuest)
Native $NEFTY token incl. staking
2% service fee
3. NFT Hive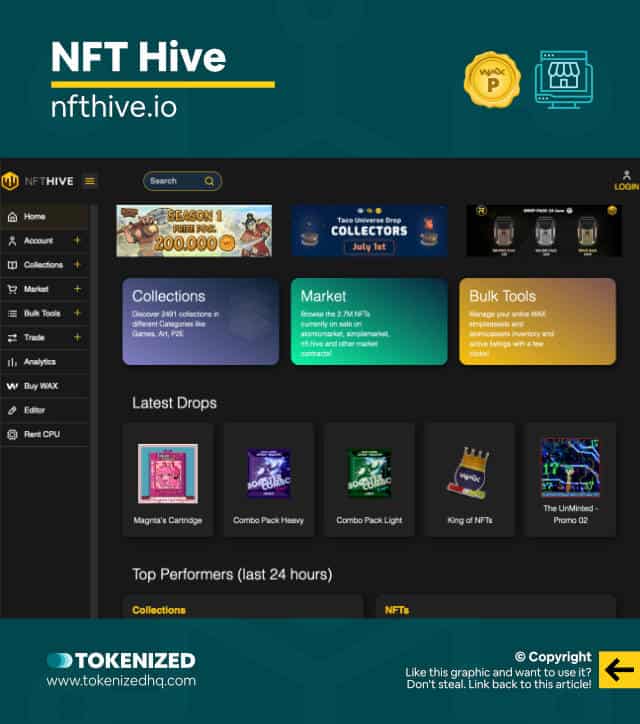 Next up is NFT Hive, a WAX NFT marketplace that we'd probably best describe as a "no frills" experience.
That's not meant to be negative, especially since it has a fair amount of trading activity on its platform.
However, purely from a visual standpoint, it's simply not as appealing as some of the bigger competitors.
That being said, it's got everything you'd expect from a marketplace.
Features include:
Various listing options
Minting tools
Bulk tools
Collection royalties
Collection pages
Analytics
2% service fee
4. Simple Market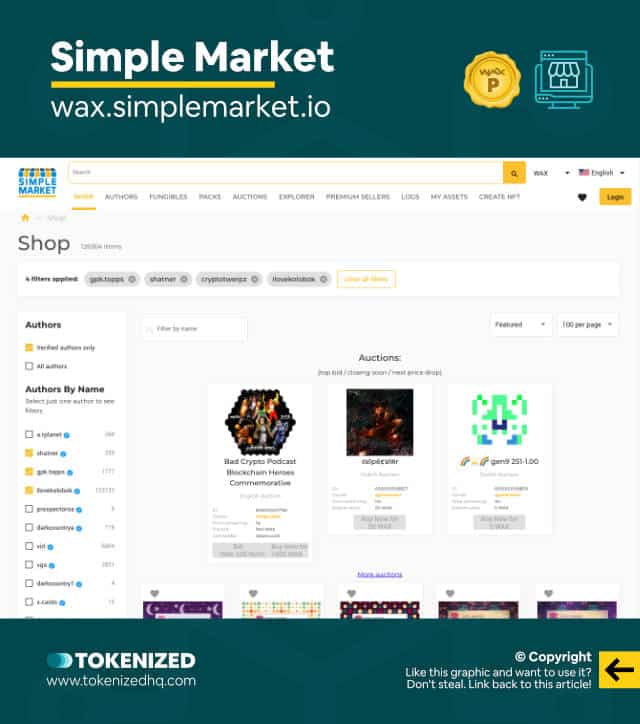 Simple Market is exactly what it says, another no-frills experience in the WAX NFT marketplace landscape.
However, what makes Simple Market great is the fact that it really is quite simple.
While some NFT marketplaces can be confusing with different terminology and layouts, Simple Market looks just like any other online store.
Features include:
Various listing options
Minting tools
Activity log
Creator profiles
Support for EOS, Telos, and Jungle3
No info on service fees
Conclusion
Although most people like to think that all of the NFT action is happening on Ethereum and Solana, you'd be surprised by the level of activity on other blockchains.
Especially those that have specialized in niche applications and that have built a large fan base, are much bigger than you might think.
If you're into Play-to-Earn games, then WAX NFT marketplaces definitely should be on your watchlist.
Here at Tokenized, we want to help you learn as much as possible about the coming NFT revolution. We help you navigate this fascinating new world of non-fungible tokens and show you how you can integrate tokenization into your own business.