Looking for a list of NFT analytics tools?
Or perhaps you want to learn how you can improve your NFT trading game with the help of some premium NFT tools?
If you've been investing in NFTs for a while then surely you've noticed that every time you buy an NFT the floor drops and every time you sell an NFT, it tends to go to the moon.
While most of this is due to your biased perception, you're probably also not the most skilled trader. In fact, most people aren't.
In this guide, we'll introduce you to some of the best NFT analytics tools that are used by whales and skilled traders in order to gain an unfair advantage over small fish like you.
Let's check them out.
Key Points (tl;dr)
NFT analytics tools allow you to harness all the public data on the blockchain and gain insights into what is trending, who is trading something and where the opportunities for good trades are.
We've put together a list of the 10 best analytics tools on the market:

Icy Tools
Nansen
NonFungible
Moby
Ayzd
NFT Charts
NFTGO
OG
NFSea
HelloMoon
Like this content? Then share it!
10 NFT Analytics Tools to Boost Your Profits
Here's the answer. Great article by @ChrisHeidorn right here: https://tokenizedhq.com/nft-analytics/

www.tokenizedhq.com
What Are NFT Analytics Tools?
NFT Analytics tools provide users with valuable data and insights about the market as well as specific NFT projects. This allows them to make more informed decisions and potentially improve their overall trading strategy rather than acting on emotions and perceptions.
Ever since the dawn of the information age, it's become increasingly obvious that data is tremendously valuable.
Data is information and if you have better information than others, then you can profit from this advantage.
Analytics tools, which are often referred to as research tools, have become one of the most popular ways to gain an edge in whatever market you are in.
And the NFT space is no different.
In fact, given how young, unregulated and relatively inefficient the market is, NFT analytics tools give users a massive competitive advantage over other NFT investors.
NFT analytics tools allow you to notice trends earlier, discover patterns more reliably and identify arbitrage opportunities in ways that wouldn't be possible if you were to do so manually.
Given how lucrative the NFT space is, it's no surprise that there are dozens of NFT analytics tools and even more portfolio managing tools in development.
If you're wondering where these tools are getting all the data from, then you'll be interested to know that most of them are using an OpenSea API key to fetch data.
If you're a creator, you should consider having your project listed on these sites as well, because they're an effective way how to get views on OpenSea.
In this article, we're going to focus solely on the NFT analytics tools that are currently available in the market.
We are also going to have a look at their features and attempt to create a fair comparison of everything they have to offer.
The 10 Best NFT Analytics Tools
The following list of NFT analytics tools is not exhaustive, however, we believe that we've picked the best ones that are currently on the market.
Some of them already provide great value based on the free features that they offer, while others only unleash their full potential with a paid subscription.
We've done our best to summarize their features in the most efficient way possible and have also put together a nice little chart that should help you pick the ones that you're most keen on trying out.
1. Icy Tools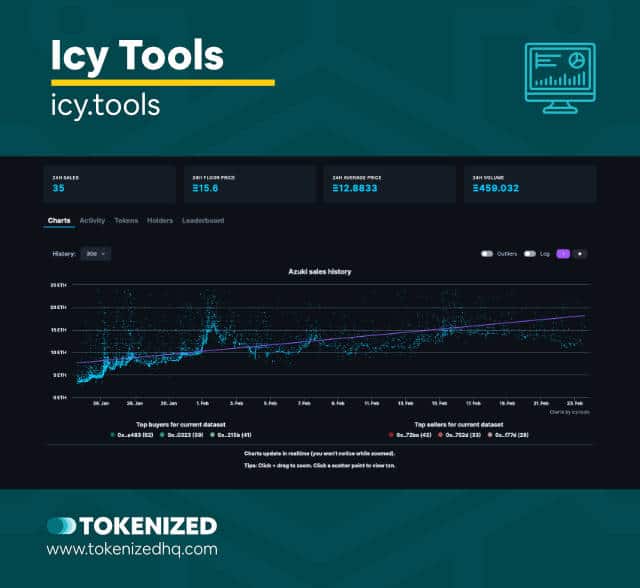 Icy Tools is one of the most popular NFT market analytics tools out there since it's been around for such a long time already.
The creators pride themselves on creating an NFT tool that gives you everything you need to decide on your next buy, sell, or mint.
The premium subscription to Ice Tooly costs $75/month.
Features include:
Real-Time Data: Floor, Volume, and sales trends on a real-time basis.
Wallet Analysis: Full mint, buy and sell history of any wallet.
Token Breakdown: Snipe rare NFTs by breaking down projects into traits and rarities.
Charts: Visualizing floor price movements help make better investment decisions.
Custom Alerts: Set up a browser, Telegram, Discord, and SMS alert for projects and wallets.
Curated Feeds: See what projects are being minted and keep up with your favorite wallets.
Smart Labels: Separate the alpha from the noise and get better visibility of blockchain activity.
2. Nansen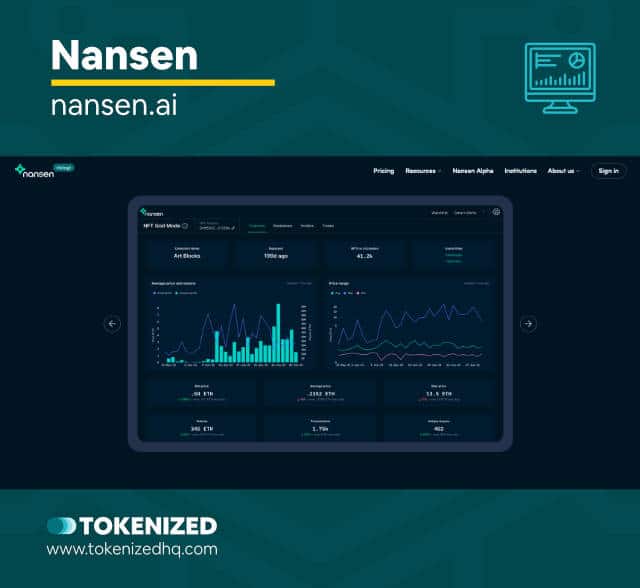 Nansen is one of the biggest and most professional tools out there, with a strong focus on institutional investors as well.
This is in part due to its origins within the DeFi space and the team has since expanded into other areas such as NFT as well.
Nansen's standard subscription starts at $399/quarter, so roughly $130/month, making it a tool that will primarily find interest amongst the whales out there.
You can pay both with fiat or crypto.
Features include:
Mint Master: A dashboard that displays the latest NFT projects based on the FOMO level.
Smart Alerts: Receive notifications when profitable traders are minting or purchasing NFTs.
Rarity Data: Detailed insights into trait distributions and NFT rarity rankings of any projects.
Bluechip Index: An index of the 20 largest NFT projects in a given quarter.
Smart Money Tracker: Displays the latest transactions made by NFT smart money wallets.
Paradise: A consolidated new of the top performing wallets in the NFT space.
God Mode: This allows you to analyze various different aspects of NFT projects.
Wallet Profiler: A core feature that helps you understand how big players are investing.
3. NonFungible.com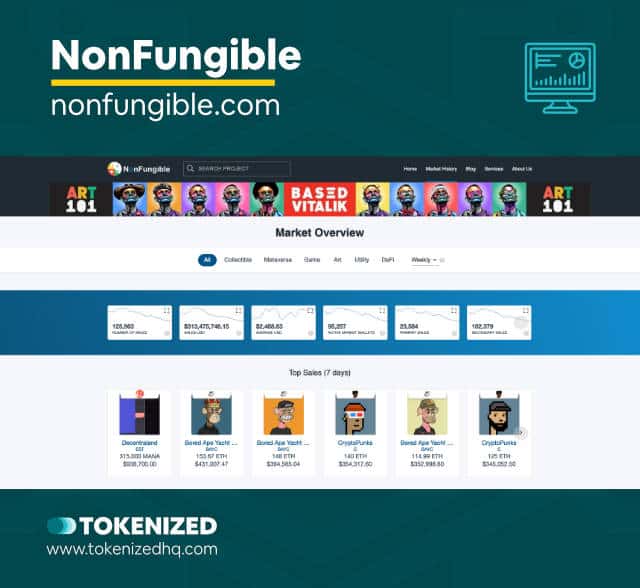 While it's beyond a doubt that NonFungible is quite possibly one of the least visually appealing sites in the space, it's still immensely popular.
The website provides a wealth of data on hundreds of projects and everything is absolutely for free.
NonFungible.com does offer paid services, however, they primarily fall into the area of consulting and are targeted at founders and institutions.
Features include:
Market Overview: Rank projects by volume, sales, and value.
Performance Map: Quick assessments of major projects by trade volume, asset value, community, and retention.
Project View: Sales history and top sales for a given timeframe.
4. Moby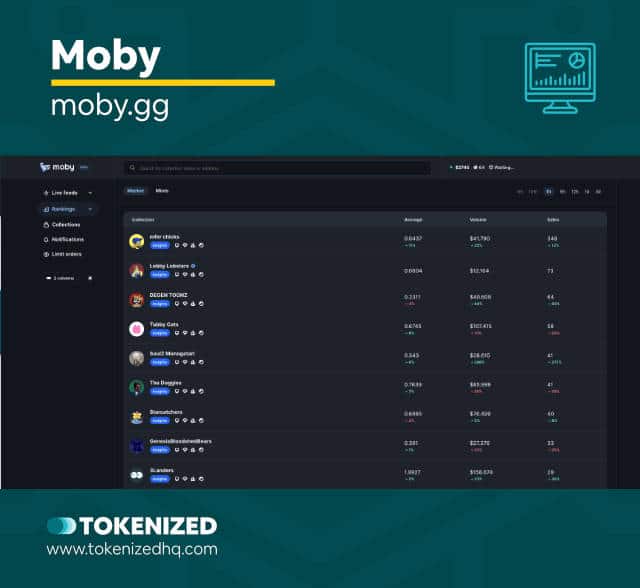 There are a number of very similar "feed-like" NFT analytics dashboards that have popped up over time, however the most well-known amongst them is Moby.
In an obviously subtle nod to the "whales" in the NFT game, Moby has focused on creating a simple, but effective tool with a very clean design.
The fans of slick UI design will absolutely love this tool, despite its limitations.
Moby's Pro subscription currently costs 0.1 ETH for 6 months, so roughly $40-50 per month.
Features include:
Live Feed: Highlight relevant events for mints, sales, whales, and other wallets.
Rankings: Sorts trending projects as well as new mints by sales and volume.
Collection Insights: Pro subscribers get access to historical collection data and visualizations.
Notifications: Set up alerts for various communication channels.
Limit Orders: This allows you to set up automated buy orders for OpenSea that fit specific criteria.
Gas Tracker: This shows you the current gas fees price in real-time.
5. Ayzd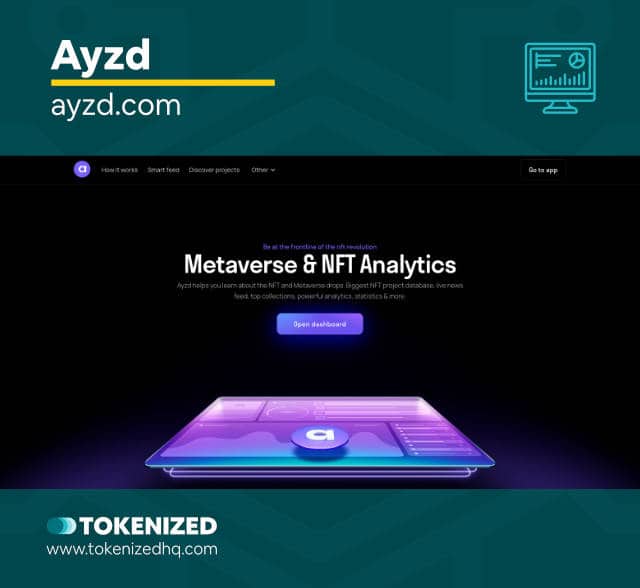 If you're wondering what Ayzd stands for, welcome to the club, we still haven't figured it out.
Nevertheless, the team behind this metaverse and NFT analytics tool has put together a fine product that helps you navigate at the frontline of the NFT revolution.
The dashboard app is currently free of charge.
Features include:
Dashboard: All of the key info regarding news, top collections, and trending projects in one place.
Project Pages: Detailed stats and custom project scores for a quick assessment of its viability.
Rankings: The best and the biggest projects by sales and volume by day, month, and all-time.
Drop & IGO Calendar: Never miss a project again with the help of Ayzd's drop calendar.
6. NFT Charts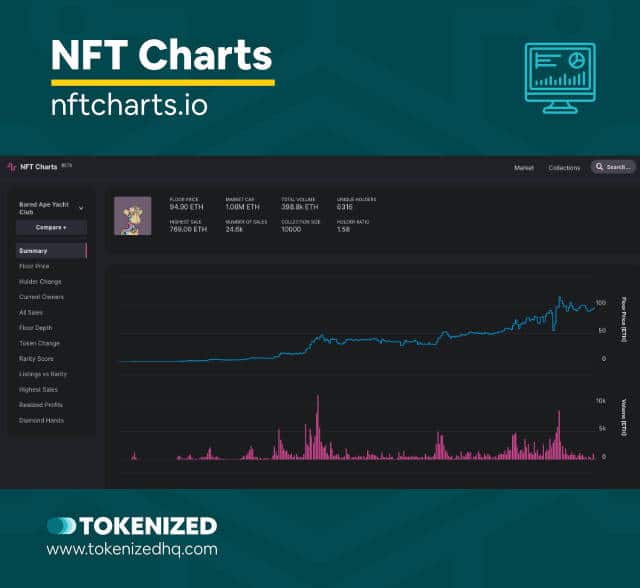 NFT Charts is a really neat new NFT analytics tool that focuses on the bare essentials of what most of us really need.
Its mission is to track the pulse of the NFT market by visualizing project growth and trends.
The app is still in beta and 100% for free, without any indication of whether they plan to move to paid plans or not.
Features include:
Cross-Holdings Chart: This shows you what other projects are held by the owners of a particular project.
Floor Price: Visualize price trends for a given collection.
Holder Change: Analyze holder distribution through time.
Floor Depth: Understand what price levels act as support or resistance.
Diamond Hands: This analyzes the number of diamond hand holders in the project.
7. NFTGO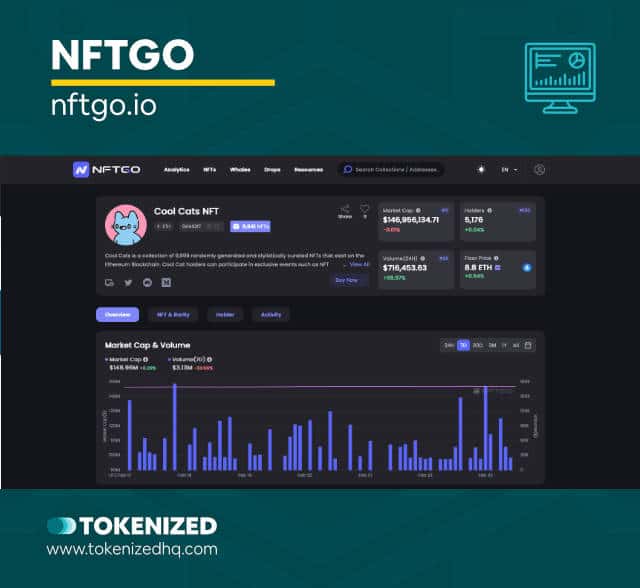 What's interesting about NFTGO is that they've essentially built a free tool that contains nearly all of the features that you'd find in other paid tools.
However, the tricky thing with NFT analytics tools is that there is a very fine line between too much information and just the right amount.
The best data is irrelevant if it's not packaged in a way that gives it meaning.
Features include:
Raw Stats
Visualizations
Rarity
Whales Tracking
Collection Profiles
Drops
8. OG (formerly NFT Terminal)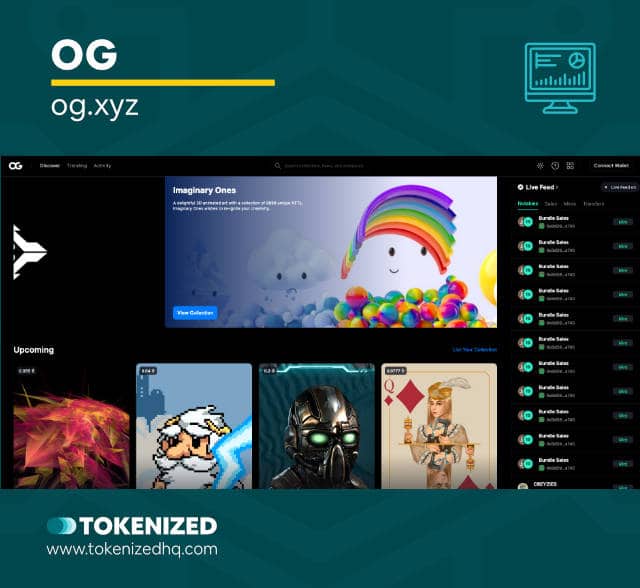 NFT Terminal recently rebranded to OG.xyz is yet another NFT analytics tool that is very similar to Moby, though currently still in beta.
Its features are still limited to the live feed as well as trending projects, however, we suspect they have a number of other features in the works already.
OG also has an all-in-one Discord bot that is currently still free to use.
Features include:
Rarity
Mint Events
OpenSea Sales
OpenSea Listing/Delisting
OpenSea Trading Volume
Floor Price
Gas Tracker
9. NFSea.tools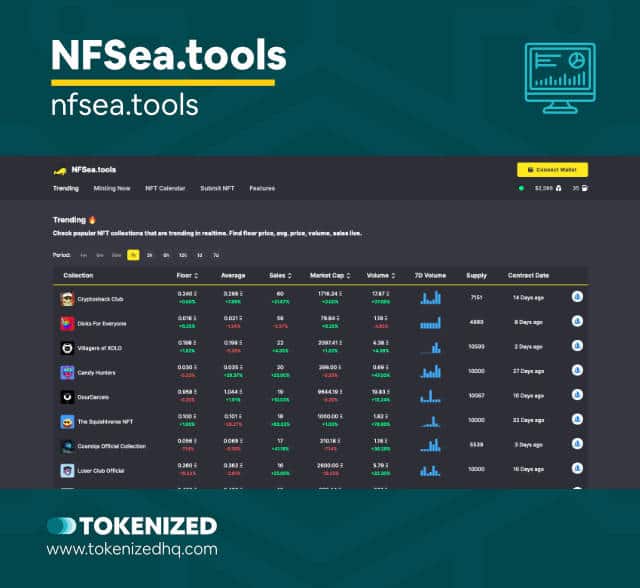 NFSea.tools is a relatively new analytics tool, also sometimes referred to as NFT Deal Finder.
While many of the features it offers may seem familiar to other tools, the site does stand out with its sheer speed.
The team prides itself on its real-time data, own blockchain node, and generally its goal to do things a bit differently than the rest of the bunch.
Features include:
Trending NFTs
Minting Now
Real-Time Prices
Custom Alerts (coming soon)
Watch List (coming soon)
Rarity Ranks (coming soon)
Buy Ranks (coming soon)
Price Charts (coming soon)
10. HelloMoon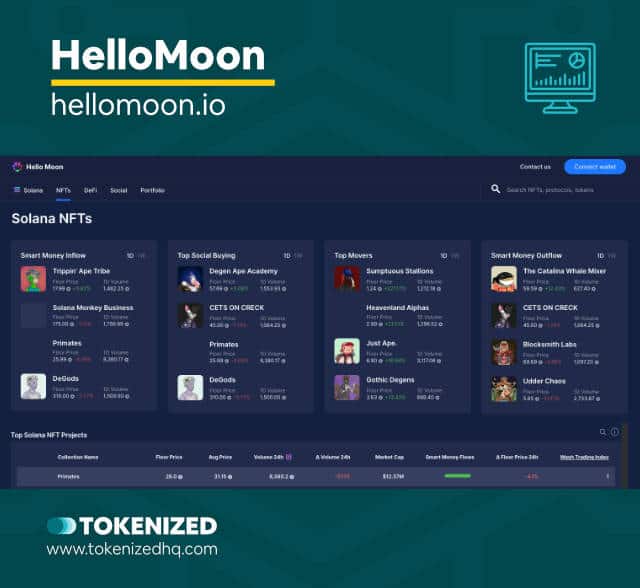 HelloMoon is a fairly new analytics tool that came out of stealth mode earlier this year and to my knowledge, it's the only one that focuses solely on Solana.
The platform's mission is to empower enthusiasts, investors, and others with actionable on-chain data, so they can make informed decisions.
I especially like their wash trading analysis features as it allows you to detect fraudulent behavior in certain projects, a problem that's become quite pervasive recently.
HelloMoon tries to cover the full spectrum of the Solana ecosystem, not only NFTs but also DeFi.
Features include:
Wash Trading: Data to gauge the level of fraud
Social Feed: Shows who is buying, selling, listing, and delisting collections
Floor Price: Trends with notable buying/selling activity
Portfolio feature to track your portfolio's value
Marketplace volume charts to track overall volume
DeFi tokens leaderboard to track the hottest tokens
Conclusion
Most people are horrible traders because they are blinded by emotions and end up making decisions not based on data and facts, but rather on fear and greed.
NFT analytics tools can help you improve your game by gathering more information about a project before diving in.
However, not all tools are created equal and many of them cost quite a bit of money.
If you'd prefer to stick to free tools for now, please make sure you understand what makes a good NFT project before making any rash decisions.
Nevertheless, there are many free options out there that provide more than enough data for you to make an informed decision.
Here at Tokenized, we want to help you learn as much as possible about the coming NFT revolution. We help you navigate this fascinating new world of non-fungible tokens and show you how you can integrate tokenization into your own business.