Are you looking for the best Arbitrum NFT marketplaces?
Perhaps you recently discovered the world of layer 2 solutions for Ethereum and have decided that optimistic rollups such as Arbitrum are the way to go for NFTs?
Well, we've done some research and despite the fact that the Abitrum NFT scene is still in its infancy, you'll be keen to see our results.
In this guide, you'll learn everything you need to know about the current state of the Arbitrum NFT marketplace ecosystem.
Let's get started.
Key Points (tl;dr)
There are many different types of layer 2 scaling solutions that are working towards easing the capacity restriction on the Ethereum blockchain.
Amongst the four main types are the so-called "optimistic rollups" which process transactions outside layer 1 and use a complex dispute resolution mechanism to maintain security on the network.
The main advtange of optmistic rollups is that they are EVM compatible allow for quick and easy porting of existing smart contracts to the Arbitrum network.
While the Arbitrum NFT ecosystem is still small, it is growing considerably thanks to the efforts of the NFT Alliance, a collective of many different Arbitrum projects working towards common goals for the ecosystem.
We've put together a list of 7 best Arbitrum NFT marketplaces that you should know:

Stratos
tofuNFT
Agora
Fraktal
Arbazaar
xNFT
TreasureDAO
For a detailed analysis of the top 7 Arbitrum NFT marketplaces, PLEASE READ THE FULL ARTICLE.
Like this content? Then share it!
The 7 Best Arbitrum NFT Marketplaces in 2023
Here's the answer. Great article by @ChrisHeidorn right here: https://tokenizedhq.com/arbitrum-nft-marketplace/

www.tokenizedhq.com
What is Arbitrum?
Arbitrum is a layer 2 scaling solution for the Ethereum blockchain. Arbitrum falls into the category of "optimistic" rollups that initially assume transactions to be valid. It uses a complex dispute resolution process to ensure the final validity of the transactions.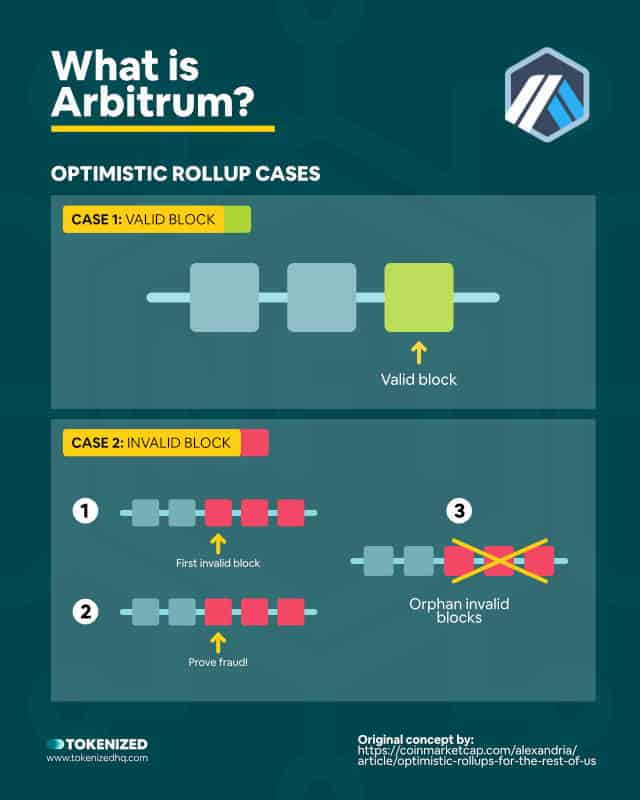 Although it's fair to assume that you already know what Arbitrum is, we've still put together a quick summary.
You're most likely aware of the current limitations of the Ethereum blockchain.
Demand for Ethereum's block capacity has surged so much that gas fees have largely become unviable.
This is a problem for Ethereum's ongoing growth and that is why it is in the process of transitioning from Proof-of-Work to Proof-of-Stake.
However, we already know that this will not be enough and additional layer 2 scaling solutions will be necessary to handle all of the transactions.
There are various different types of scaling solutions for Ethereum, however, two of the most prominent approaches are optimistic rollups and ZK-rollups.
We won't go into all the nitty-gritty details here, but let's just say that while ZK-rollups are the faster solution, optimistic rollups have the benefits of being considerably easier to implement.
Ease of implementation is crucial for existing and battle-tested DeFi protocols that require stability rather than speed.
Abitrum is such an "optimistic" rollup and it has become incredibly popular in the DeFi scene.
And now Abitrum's NFT Alliance is trying to build Arbitrum NFT marketplaces as well.
What is the NFT Alliance?
The NFT Alliance is an industry working group dedicated to furthering the interests of NFT-related projects on the Arbitrum platform.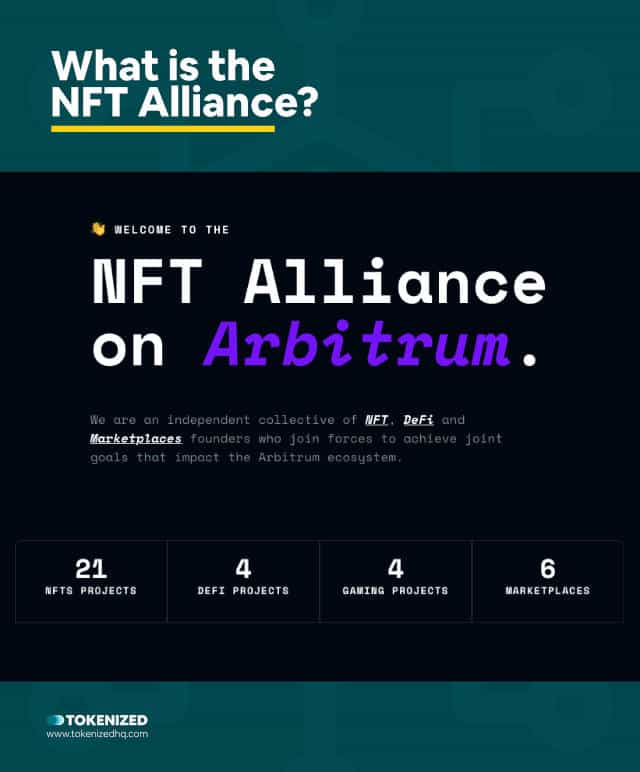 The NFT Alliance on Arbitrum was founded by an independent collective of NFT, DeFi, and marketplace founders pursuing joint objectives that help grow the Arbitrum ecosystem.
It is not a single project but rather a large working group that is formed by various different NFT projects.
Working groups are a common phenomenon in many industries that help generate consensus on industry standards that ultimately help further the goals of all involved parties.
As of today (25 April 2022), the NFT Alliance consists of 21 NFT projects, 4 DeFi projects, 4 gaming projects, and 6 Arbitrum NFT marketplaces.
10 Arbitrum NFT Marketplaces You Should Know
Stratos
tofuNFT
Agora
Fraktal
Arbazaar
xNFT
TreasureDAO
Arbitrum's NFT ecosystem is still small and that's why you won't necessarily find tons of Arbitrum NFT marketplaces yet.
It's important to bear in mind that there are many different Ethereum scaling solutions that are competing for market share.
One of the main drawbacks of optimistic rollups such as Arbitrum is the fact that withdrawing your funds can take a very long time.
We're not just talking about a few hours but literally days and it's not clear yet whether this is something that the NFT scene is willing to tolerate.
Nevertheless, Arbitrum NFT marketplaces and auction houses are starting to pop up and only time will tell whether NFTs are meant to be on Arbitrum or not.
1. Stratos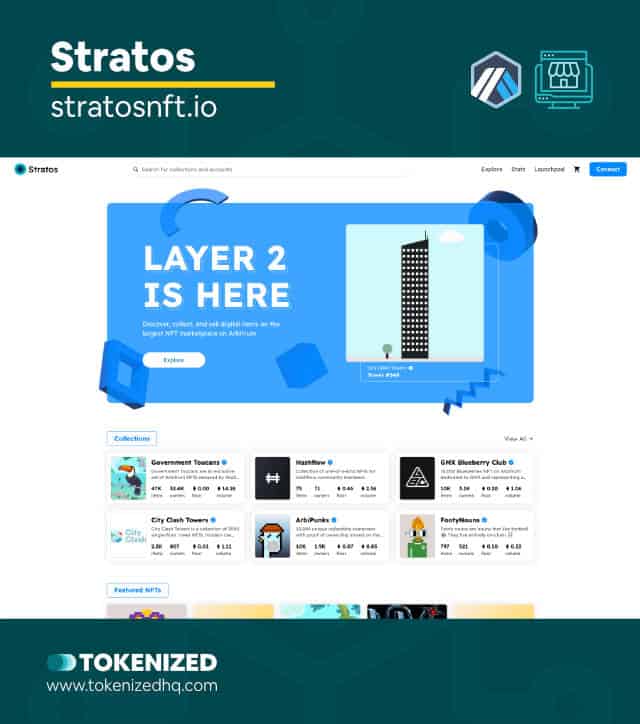 Stratos is currently by far the largest Arbitrum NFT marketplace out there.
It also boasts the most professional look and widest range of features overall.
Those familiar with the Quixotic NFT marketplaces on Optimism will surely have already noticed the similarities.
That's because they effectively sister websites with the exact same codebase, except that one is for Arbitrum and the other is for Optimism, another optimistic rollup.
Features include:
Various listing options
Minting tools
Collection rnakings
Rarity rankings
Launchpad
Developer API
2.5% service fees
2. tofuNFT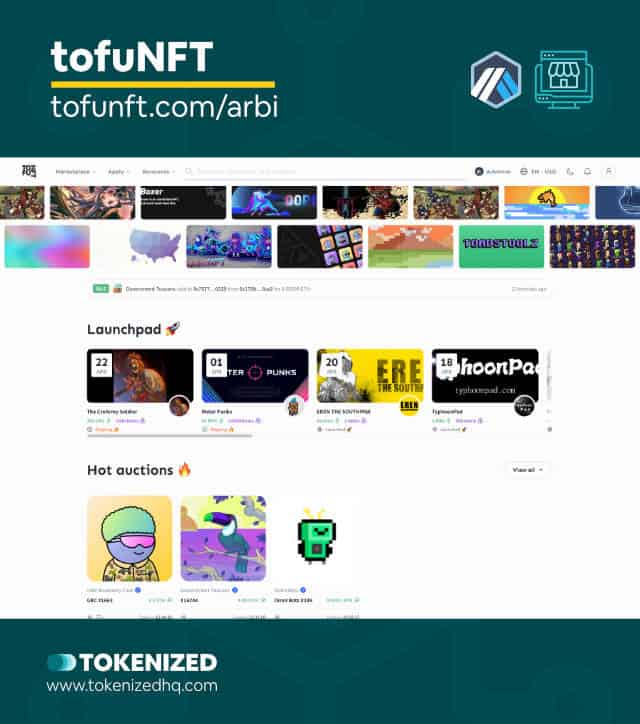 We've written about tofuNFT many times already, mainly because it's the NFT marketplace that supports the most diverse list of blockchain networks.
tofuNFT isn't an Arbitrum NFT marketplace per se, however, its multichain approach makes it a popular choice for a wide range of NFT aficionados.
That's also why it isn't only listed here, but also in our guides on the best Binance Smart Chain NFT marketplaces and Polygon NFT marketplaces.
We've said it before and we'll say it again: We really like the overall package that tofuNFT has to offer.
Features include:
Various listing options
Collection rankings
NFT verification
Launchpad
Diverse multichain offering
Tiered fee structure (0-5%)
3. Agora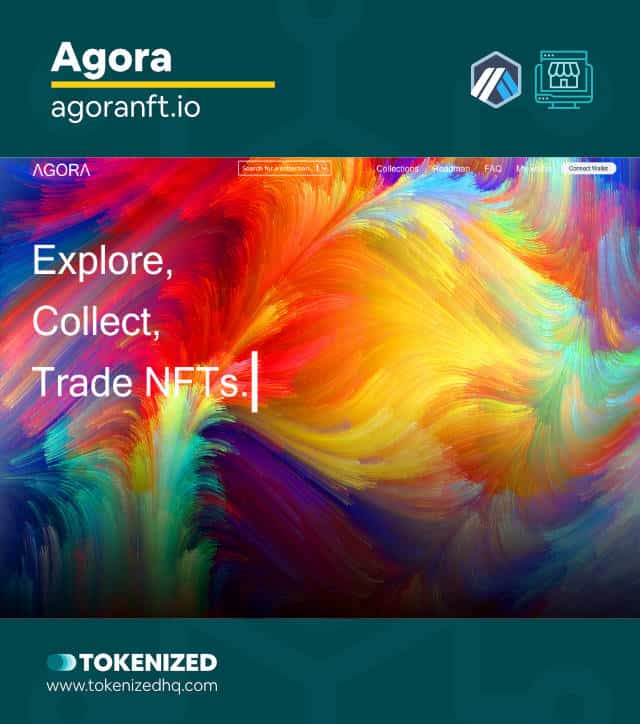 Next on our list of Arbitrum NFT marketplaces is Agora.
Agora is still largely in development, although most of the critical marketplace features have been built now.
The overall list of collections is still limited though and they will definitely have to work on increasing the supply of NFTs on their site.
You can check out their roadmap to get an idea of what's in store for the coming months.
Features include:
Various listing options
Curated marketplace concept
DAO via $AGO token
Open marketplace (coming soon)
Private sales (coming soon)
2.5% service fee
4. Fraktal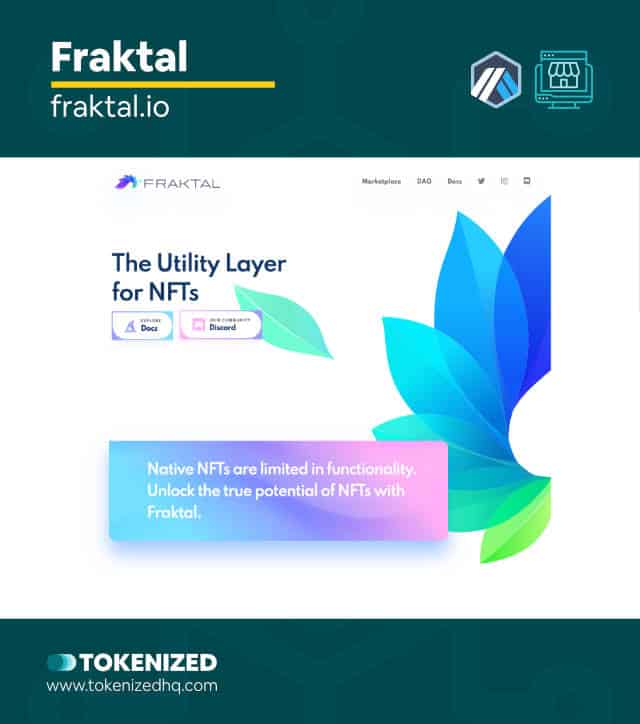 Fraktal markets itself as a community-first project with a mission to empower artists to be in complete control of their work.
This is a fairly new Arbitrum NFT marketplace that has joined the NFT Alliance as well.
From what we understand, the business model is to allow users to not only sell their NFTs but also sell fractions of them.
Unfortunately, the browsing experience is particularly great which makes it difficult to say how big the marketplace's supply and demand is.
Features include:
Various listing options
Minting tools
Buy and sell fractions of NFTs
Full NFT buyout feature
Native token $FRAK incl. staking
DAO
5% service fee (distributed to stakers)
5. Arbazaar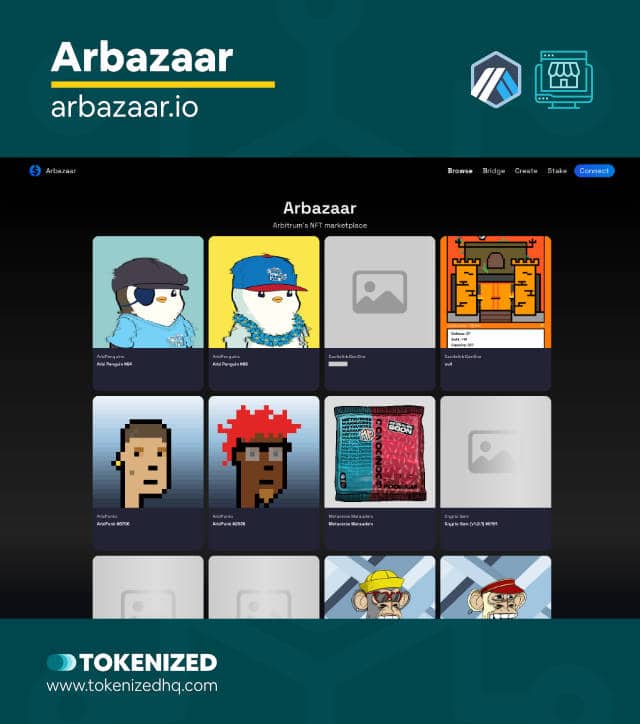 Arbazaar is yet another Arbitrum NFT marketplace and looks like it's a fully decentralized one as well.
The user interface isn't the prettiest and also not the fastest either (we issue loading images), which makes the user experience a bit disappointing.
Nevertheless, it's a valuable addition to the growing Arbitrum NFT ecosystem.
Features include:
Basic listing options
Simple minting tools
Integrated NFT bridge
Native token $BUCK incl. staking
No info on service fees
6. xNFT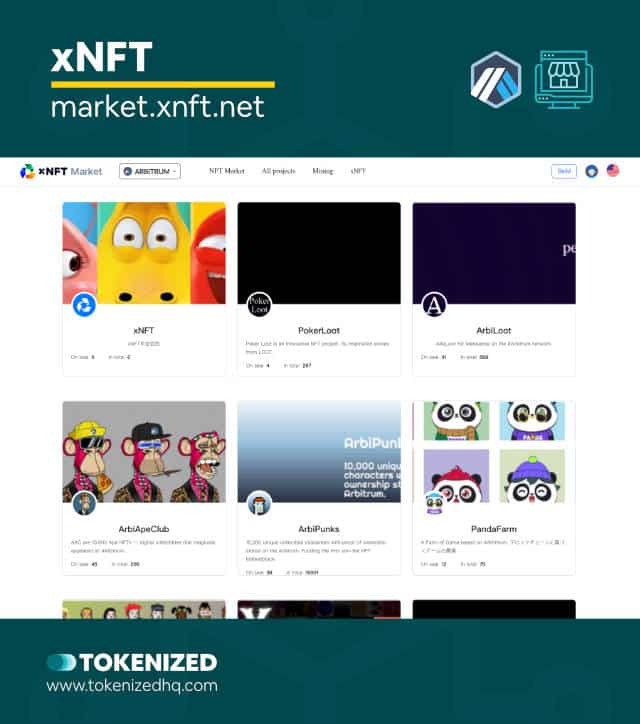 xNFT is not only an Arbitrum NFT marketplace but also a multichain marketplace that supports various networks such as Ethereum, Polygon, and Binance Smart Chain.
Although the user interface is a bit simple and bland, you can tell that there's a fair amount of activity going on.
As far as we can tell, the team behind the marketplace is primarily from China
Features include:
Basic listing options
Minting tools
Native token $XNP incl. staking
Multichain platform
No info on service fees
7. TreasureDAO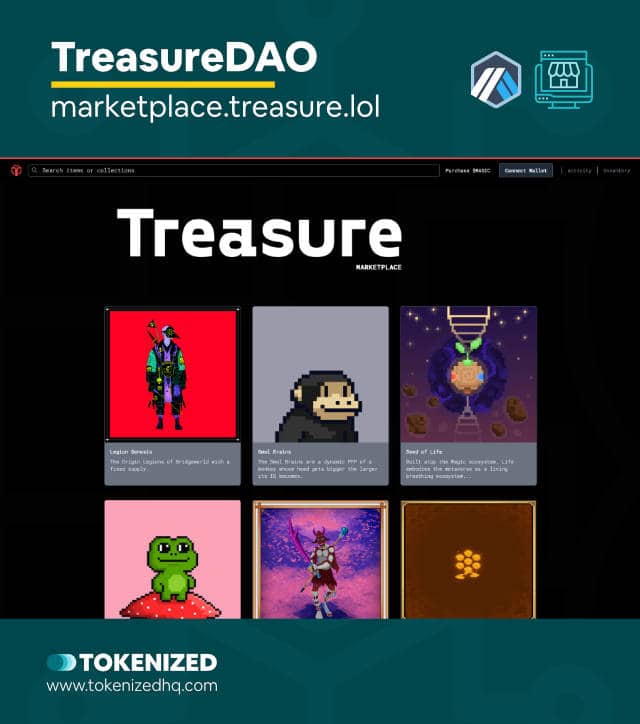 We going to finish off our list of the Arbitrum NFT marketplaces with TreasureDAO.
You may have heard of TreasureDAO before since they made headlines in early March 2022, when their marketplace was hacked.
The attackers were able to exploit a bug in the protocol which enabled them to mint NFTs for free.
While the team handled the exploit very well and all NFTs were returned to their holders, security breaches of this magnitude always tend to have ripple effects in terms of faith amongst users.
TreasureDAO's incident is a reminder to everyone that exploits can happen anywhere and at any time, so always be cautious.
Conclusion
As Ethereum's popularity continues to grow more and more, layer 2 solutions will become critical to Ethereum's survival.
Unfortunately, layer 2 solutions still come with a fair amount of friction for anyone who is used to transacting on layer 1.
Nevertheless, we believe that if the ecosystem continues to focus on the building then it's only a matter of time until the user experience improves.
Here at Tokenized, we want to help you learn as much as possible about the coming NFT revolution. We help you navigate this fascinating new world of non-fungible tokens and show you how you can integrate tokenization into your own business.