Are you looking for the best Theta NFT marketplaces in 2022?
Perhaps you recently discovered Theta and are fascinated by the endless possibilities that it opens up in video delivery, including video NFTs.
Well, we've done some digging and brushed up our knowledge on this relative niche application of a blockchain, so that you can benefit from our insights.
In this guide, we'll introduce you to the 2 best Theta NFT marketplaces in the market right now.
Let's dive right in!
Key Points (tl;dr)
Theta Network is one of the few blockchain projects in the market with a very concrete use case and also a working product.
Theta's mission is to become the world's largest decentralized video delivery platform, allowing developers to build dApps on top of the network.
Through its peer-to-peer video delivery network, it believes it will eventually be able to provide better and cheaper streaming services than existing centralized solutions.
We've put together a list of the 2 best Theta NFT marketplaces on the market:
For a detailed overview of the top 2 Thea NFT marketplaces, PLEASE READ THE FULL ARTICLE.
Like this content? Then share it!
The Top Theta NFT Marketplaces in 2023
Here's the answer. Great article by @ChrisHeidorn right here: https://tokenizedhq.com/theta-nft-marketplace/

www.tokenizedhq.com
What is the Theta Network and the THETA token?
Theta Network is a peer-to-peer video delivery platform that is powered by blockchain technology. Its objective is to become the world's largest decentralized video streaming platform. It uses the $TFUEL token to reward its users and $THETA to govern the ongoing development of the platform.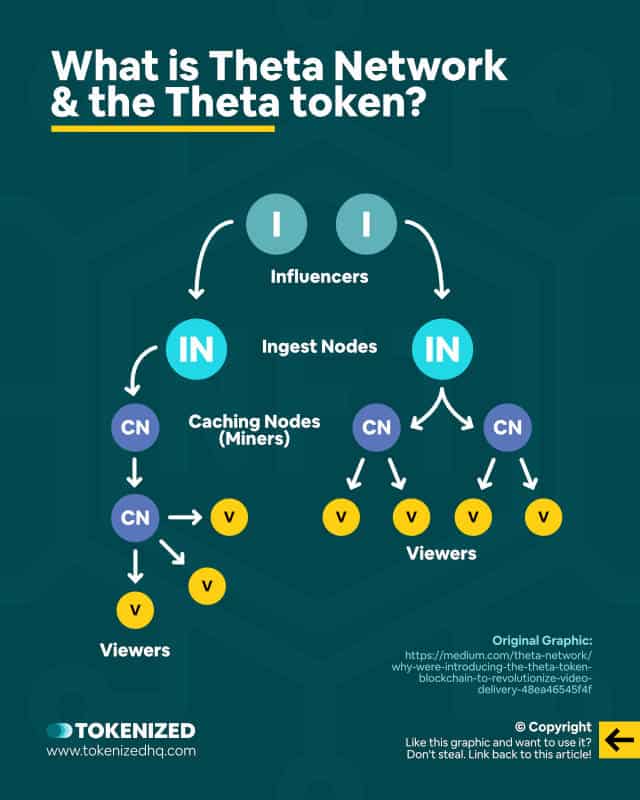 Most of the time, when you hear about some new blockchain launching, they usually just talk about how they're trying to compete with Ethereum.
Everyone is gunning for the market leader, trying to do the exact same thing, just better.
And that's why Theta Network is such a breath of fresh air.
Theta has an actual specific use case for which they've built their blockchain.
At its core, Theta is a peer-to-peer video delivery network that is powered by underlying blockchain technology.
Its objective is to provide a faster and cheaper video streaming infrastructure than existing centralized platforms can.
The network is powered by its users who provide their unused computing power and bandwidth in return for tokens.
In the long run, Theta wants to become the world's largest decentralized video streaming platform.
Looking at the current state of its platform, which feels like a creative blend of YouTube and Twitch, it's not surprising that 2 members of the board are executives of those two companies.
Theta actually has 2 separate tokens: THETA and TFUEL.
$THETA is effectively the network's governance token that is designed to help manage the blockchain itself and vote on future developments.
It has a fixed supply of 1 billion tokens and is therefore similar to the ownership of shares.
Theta's utility token $TFUEL is used to reward users within the network for streaming data.
Top Theta NFT Marketplaces that You Should KNow
Although video NFTs have yet to really catch on amongst users, we believe they are going to play a much bigger role in the future than most people think.
NBA Top Shots is an excellent example of how video NFTs can provide tremendous value to true sports fans by capturing historic moments in time.
It's no secret that nearly every sports brand is exploring the possibilities of video NFTs.
Not only are NFTs a new potential source of revenue for them, but they are also an excellent way to increase fan engagement.
Given some time, we're convinced that we'll see more and more sports leagues launch their own NFT collections on various different blockchains.
Whether this will happen on Theta NFT marketplaces or elsewhere, is something that only time will tell.
But now let's take a closer look at the 2 biggest Theta NFT marketplaces in the market.
1. ThetaDrop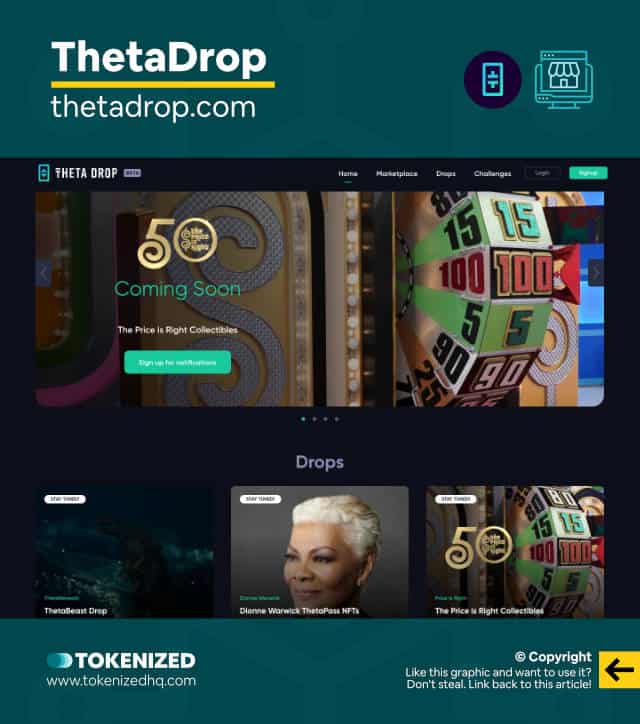 ThetaDrop is the official Theta NFT marketplace by Theta Labs, the company running the Theta network.
It comes with all the features that you'd expect from a marketplace and fits well into Theta's overall visual identity.
More recently Theta also announced that they've developed NFT-based digital rights management and we expect that to be integrated into the marketplace at some point as well.
Features include:
Various listing options
Minting tool (coming soon)
Drops page
Challenges
No info on service fees
2. OpenTheta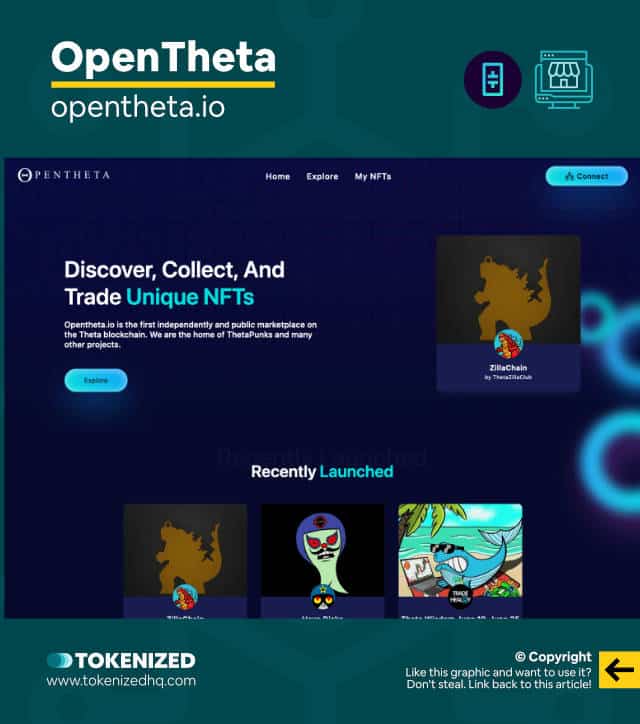 OpenTheta is the second Theta NFT marketplace currently available within the ecosystem.
It is also the first independent and public marketplace and home to the ThetaPunks NFT project.
OpenTheta is still relatively young, so we'll see where they take the project.
However, what seemed a bit odd was that all of the NFTs listed on their marketplace are static images.
Maybe we're missing something, but we were expecting a lot more video, considering the whole idea behind the Theta network.
Features include:
Basic buy/sell functionality
Explore section
Collection pages
Must apply to list
Arweave support
No info on service fees
Conclusion
Although the Theta NFT ecosystem is still quite small, we're keen to see how far the community can take things.
We truly believe that artists who want to build Theta should not restrict themselves to existing concepts of NFTs.
Instead, they should truly harness the opportunities that video NFTs can create.
Here at Tokenized, we want to help you learn as much as possible about the coming NFT revolution. We help you navigate this fascinating new world of non-fungible tokens and show you how you can integrate tokenization into your own business.