Are you wondering how much it costs to create an NFT?
Or maybe you're even considering making your own and need to understand what costs are involved.
The costs associated with creating or minting an NFT can vary significantly.
And in many most cases, it depends on which platform you are using.
For many, this makes the process of creating an NFT confusing and unpredictable.
In this guide, you'll learn how much it can cost to create an NFT, what factors influence the cost, and how you can effectively reduce them.
So the next time someone asks you "how much does it cost to create an NFT?", you'll be prepared to give them a great answer.
Key Points (tl;dr)
Minting an NFT is the process of registering a unit of data on the blockchain and thereby making it unchangeable.
There are costs associated with minting an NFT in the first place and every subsequent trade of an NFT will also incur transaction fees.
On the most popular blockchain for NFTs (Ethereum) gas fees for a single transaction can go as high as several hundred dollars in moments of peak demand.
You can reduce gas fees by simply avoiding times of high demand. This is usually during weekends or when a new NFT project launches.
For a detailed overview of the cost to make an NFT, PLEASE READ THE FULL ARTICLE.
Like this content? Then share it!
How Much Does It Cost to Create an NFT?
Here's the answer. Great article by @ChrisHeidorn right here: https://tokenizedhq.com/how-much-does-it-cost-to-create-an-nft/

www.tokenizedhq.com
What Is NFT Minting?
Minting NFTs is the process of creating a permanent entry for an asset on the blockchain or another distributed ledger. Once you've mint an NFT it can no longer be changed and becomes an "ownable" asset. This asset can be traded or sold to another buyer.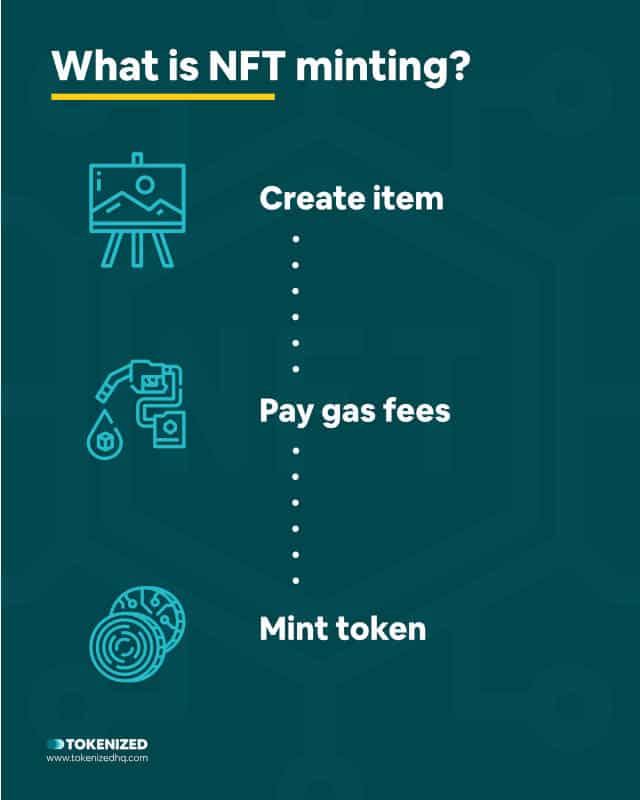 Let's first talk about some NFT basics.
Creating an NFT is often referred to as "minting".
If you're interested in learning more about what it means to mint an NFT, check out our detailed guide on "What Is NFT Minting?"
However, before you can mint something, you first need something that you plan to turn into an NFT.
Technically this can be anything.
An image, a book, a piece of art, songs, videos, tickets, or even something as simple as a tweet.
Nearly anything can be turned into an NFT.
Your only limit is your imagination.
Nevertheless, selecting your "item" is only part of the process.
The item isn't an NFT until you've "minted" it on a blockchain (or another distributed ledger) of your choice.
Minting is the process of creating an element on the blockchain that is linked to the item.
The blockchain serves as a public ledger that proves that a particular person is the owner of the item.
Just as a reminder: For a more detailed guide on what happens when you mint an NFT, please refer to our "What Is NFT Minting?"
Almost everything one can do on a blockchain requires some form of transaction fee (sometimes referred to as "gas").
This is also why you need a crypto wallet in order to create an NFT.
The fees for the transaction will usually (but not always) come out of your wallet.
Therefore you will need to purchase some cryptocurrency.
There are many different blockchains you can use.
Currently, the most popular blockchain for NFTs is Ethereum.
However, this popularity also comes at a price.
High network activity can quickly increase the cost of a transaction.
And that is why there is no simple answer to your original question.
Let's look at the factors which influence the overall cost.
What Are the Costs Associated With NFTs?
Creating an NFT comes at a cost. You will have to pay transaction fees (also known as gas fees) for various actions, including account setup on the marketplace of your choice, minting the NFT itself as well as listing fees if you plan to sell it. High network congestion will usually lead to significantly higher fees.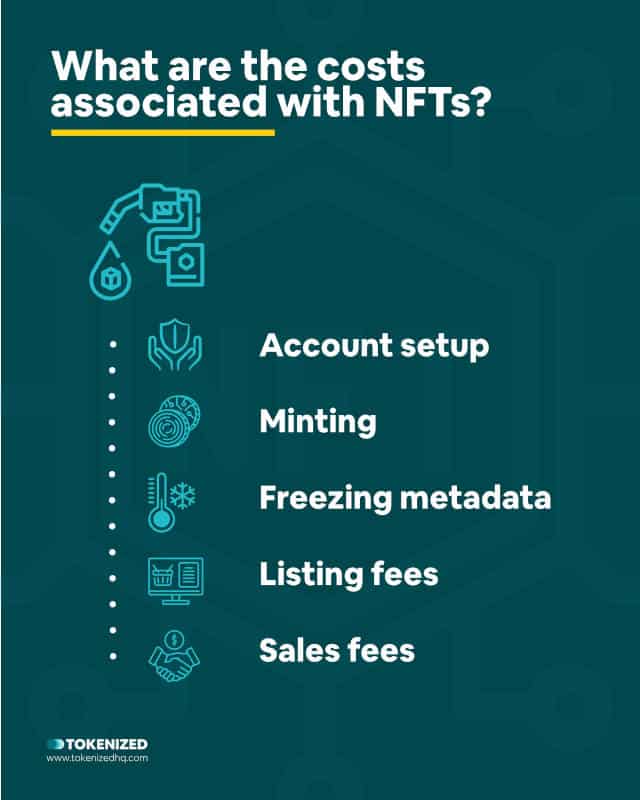 Creating and selling an NFT will usually involve a number of transactions.
These all add up to the cost of creating an NFT.
Some of these transaction costs include:
Set up fees: Most marketplaces require you to set up your account before listing. Some of the most popular ones are OpenSea and Rarible. Make sure to check out our guide on the best NFT websites in 2022 if you're keen to find some more.
Minting the NFT: The process of eternalizing your NFT on the blockchain.
Freezing metadata: This is relevant if your NFT requires files or information to be stored in a decentralized and tamper-proof way.
Listing the NFT for sale: Listing fees may vary depending on its price and type of listing (fixed-price vs. auction).
Sale fees: In some cases, tokens can be minted for free. But usually, you'll have to pay service fees.
Not all of these OpenSea fees always will apply to your particular situation.
Nevertheless, this is why transaction fees are such a big deal in the crypto space.
High gas fees can quickly become a major deterrent and disincentivize people from using the blockchain.
Depending on the current activity in the market, the cost to make an NFT or the cumulative cost of creating an NFT for an entire collection can be quite staggering.
Rarible Analytics is a really useful website that actually shows you all of the Rarible gas fees associated with different actions on the site.
We are not aware of any comparable site for OpenSea, but we'd assume that the numbers will be similar.
If you're creating a 10k project you may also need to use some type of NFT generator in order to randomize all the different traits.
It will make your life considerably easier once your start translating everything into NFT properties OpenSea supports.
How High Can Gas Fees Get and Why Is That?
Gas fees can get quite high, especially on the Ethereum blockchain. Due to its popularity, there is a significant supply and demand imbalance, which often leads to network congestion. Since everyone is competing for the same capacity, bidding wars can easily lead to gas fees of several hundred dollars for a single transaction.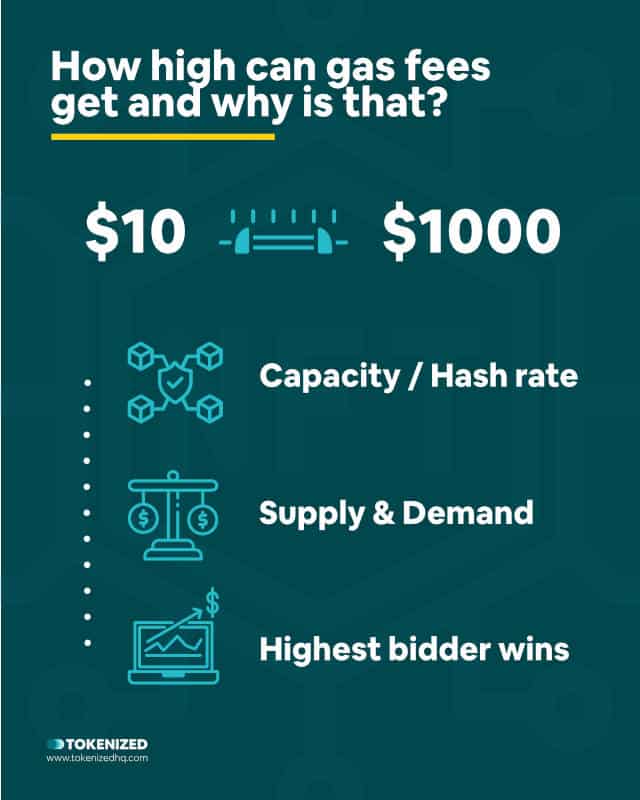 "Gas" is a term that was coined by the Ethereum blockchain.
It has become a default term for transaction fees on many other blockchains as well.
Nearly all cryptocurrencies have some form of transaction fees.
They are a form of compensation for the people who provide the necessary computational power to secure the network.
You've surely heard of so-called "miners" before.
They are the ones who secure the network.
The available capacity (hash rate), as well as demand for transactions, can vary significantly.
Everyone using the blockchain is competing for "space" in the next block.
If demand outpaces supply, then gas fees will usually go up.
And that also means that the cost to make an NFT goes up.
If someone urgently wants to do a very important and valuable transaction, they will likely bid more than you.
This also makes the gas price go up even further.
It's literally a race.
This is also why a lot of project teams now use an NFT whitelist approach, which allows early supporters to mint before the greater public and avoid nasty gas fees.
So you can see how the activity and priorities of other people quickly impact the cost of creating an NFT.
There are still other factors that influence gas fees such as sloppy, inefficient code in smart contracts.
However, that's not something that can really be changed once a smart contract has been set up.
A few years back, transactions were still very cheap and the cost to make an NFT would have been a joke.
We're talking about cents or a couple of dollars at best.
However, ever since Ethereum has become such a popular platform, fees have gotten out of control a few times.
Today, on a good day, you'll most likely pay between $10-$40 per transaction.
I'd say that's a relatively low cost to create an NFT.
But on an average day, it may already be as expensive as $100-150 dollars.
And on extreme occasions transaction fees can go up to $500 or even much higher.
Imagine minting under those conditions and dealing with such a cost to make an NFT just for your personal pleasure.
On average, you can expect something about $70 though.
That sounds like a lot. It really is!
And that is why many people are starting to move away from Ethereum onto cheaper and more efficient blockchains where the cost of creating an NFT is much lower.
How Can You Reduce Gas Fees When Creating an NFT?
You can reduce gas fees by following simple guidelines. These include limiting transactions to off-peak times, avoiding the weekend and simply being more patient. Lazy minting can reduce your minting costs if you are a creator. And finally, using a more efficient blockchain such as Polygon or Solana can reduce your gas fees to almost nothing.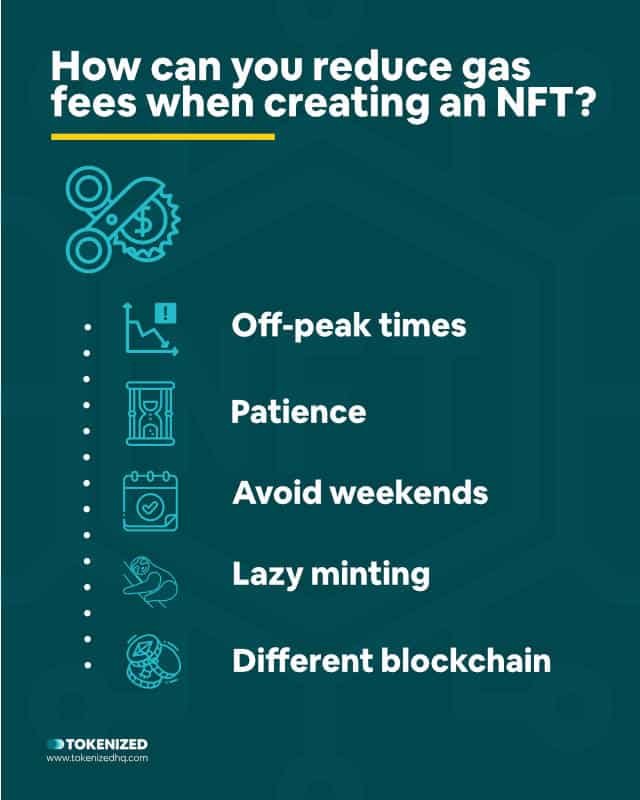 If you're in a hurry, then there's not much you can do.
The importance of minting right at that moment may outweigh the cost to make an NFT on the blockchain.
However, if you have time, you can follow these tips on how to reduce the amount you need to pay:
Wait for times of low demand: If you transact during peak hours, you will have trouble reducing your fees. Your best bet is to focus on timeframes when most people around the world are asleep. Or, at the very least, when North America is asleep.
Learn to be patient: Resist the urge to push through your transaction. If fees are high, wait for them to cool down.
Avoid weekends: More people have spare time on the weekend, so demand tends to be higher.
Lazy minting: If can save some costs by deferring the fees to the time of sale. In other words, whoever buys your NFT will pay for the minting process.
Choose a different blockchain: Unless your project requires the additional exposure of being on the Ethereum blockchain, consider using a different one, such as Polygon, Solana or one of the many others out there.
If you follow the guidelines listed above, you'll usually get "reasonable" fees.
Nevertheless, you won't actually know how much you need to pay until you try to process the transaction.
The good news is, that these are the early days
Things are likely to improve over time as the technology becomes more widely adopted.
Alternatively, you can also mint your NFTs one of the many layer 2 scaling solutions such as Polygon.
The ecosystem is still young, but there are already a number of dedicated Polygon NFT marketplaces out there.
Frequently Asked Questions (FAQ)
Before we wrap up, let's quickly address a few frequently asked questions that many people have in relation to the cost to create an NFT.
How much does it cost to make an NFT?

The cost of minting an NFT depends on the blockchain network that you want to use as well as the price of the transaction costs required for the minting process. Creating NFTs on Ethereum is widely considered to be very expensive, whereas most proof-of-stake blockchains are very affordable.

Can you create an NFT for free?

Yes, you can create an NFT for free on many NFT marketplaces, such as OpenSea. This is called "lazy minting" and effectively transfers the cost of "minting" the NFT to the person who buys it. That being said, many next-generation blockchains have such low transaction fees that the cost of creating an NFT is negligible.

Does minting an NFT cost money?

Yes, in most cases, you will have to pay for the associated transaction fees associated with minting an NFT. Transaction fees are usually paid in the blockchain's native cryptocurrency. However, many next-generation blockchains have very low transaction fees.

How much does it cost to create 10,000 NFTs?

There is no simple answer to this question because it depends on a variety of factors. To create a 10k NFT collection you will have to hire an artist for the artwork and can use a paid tool to create and deploy your collection's smart contract. You will also have to pay gas for deploying the contract on the blockchain. Depending on the scope of your project, the cost can range anywhere from a few hundred dollars to thousands of dollars. Bear in mind that in most cases, your initial buyers will pay for minting the NFTs.
Conclusion
If you are a professional artist and already have a following, exploring NFTs should be well worth the initial cost of experimenting.
Your chances of becoming a successful early adopter are significantly more valuable than the cost you'll have to bear.
The same applies to people who are pursuing a commercial project that involves NFTs beyond the artwork.
However, if you have little to no previous experience with cryptocurrencies and don't necessarily consider yourself an artist, I would recommend you shy away from expensive platforms such as Ethereum.
You will be much better off learning the ropes in a low-cost environment on Polygon or Solana.
Here at Tokenized, we want to help you learn as much as possible about the coming NFT revolution. We help you navigate this fascinating new world of non-fungible tokens and show you how you can integrate tokenization into your own business.