Do the NFT properties OpenSea uses seem confusing to you?
Would you like someone to explain the OpenSea properties, levels, and stats to you as if you were 5 years old?
Not to worry, because we've come to realize that the various OpenSea trait options are causing a lot of confusion amongst creators.
The main problem with the different types of NFT properties OpenSea has introduced is that many people struggle with the concepts behind them and no one has ever given them a decent template to work with.
In this article, you'll exactly what the different OpenSea NFT properties are meant for as well as guidance on which ones may or may not be relevant to your project.
So let's dive right in!
Key Points (tl;dr)
In many of the most popular NFT collections traits and their various combinations are what determines the rarity of an NFT as well as it value.
There are 4 different types of NFT properties OpenSea supports and while creators are only bound by the limits of their own imagination, these traits are the tools at their disposal.
Properties are textual traits and they are the most common type of trait used in 10k PFP collections.
Levels, Stats and Boosts are all numerical traits that only differ in the way they are displayed on the OpenSea interface.
For a full explanation of the 4 NFT properties OpenSea uses, PLEASE READ THE FULL ARTICLE.
Like this content? Then share it!
Explained: The 4 NFT Properties OpenSea Supports
Here's the answer. Great article by @ChrisHeidorn right here: https://tokenizedhq.com/nft-properties-opensea/

www.tokenizedhq.com
What Are NFT Traits?
Traits are the specific properties of an NFT collection that differentiate each token from the other. NFTs with common traits will usually be less valuable within a collection than those which ultra-rare traits. NFT traits establish a hierarchy of rarity and relative value.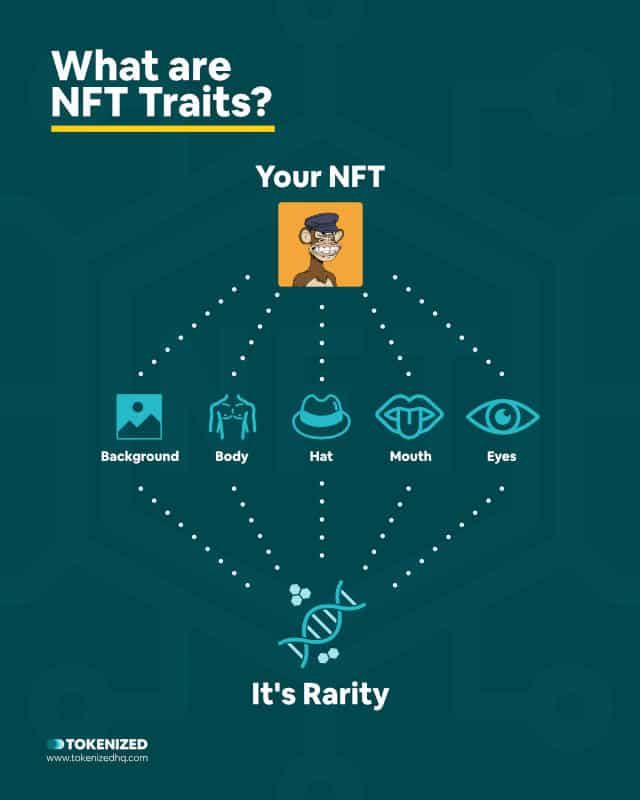 Even if you're still relatively new to the world of NFTs, you've surely realized that one of the main things that drive their value is rarity or scarcity.
The rarer a particular token is, the more likely it will be considered more valuable than other NFTs from an artist or collection.
While rarity is relatively easy to determine for an artist who only creates 1/1 NFTs (i.e. each one is absolutely unique), it's a lot more difficult for a 10k PFP project that was created with an NFT generator.
So how do you inject different levels of "rarity" into a collection of 10,000 similar NFTs?
Well, you create various different traits and distribute them randomly and in varying amounts across the entire collection.
In some cases, particular traits will hold more value and in other cases, specific combinations of multiple traits may be very rare.
Traits help establish a hierarchy within a large collection of otherwise barely distinguishable NFTs.
If you need some guidance creating your own PFP project, make sure to check out our guides on how to craft an effective NFT traits strategy as well as our comprehensive NFT traits list showcasing top collections.
The 4 NFT Properties OpenSea Supports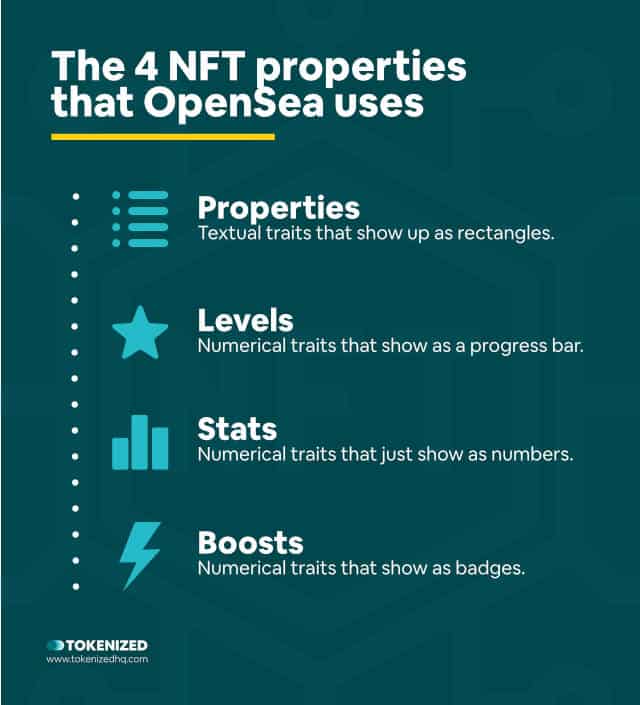 NFT properties were originally introduced when the first generative NFT projects were launched.
These 10k projects weren't just popular because they were novel but they also effectively gave founders a new way to raise funds, similar to an ICO.
Over time OpenSea started to adapt to this new prevailing business model and introduced different types of traits that creators could add to the metadata of their NFTs.
The NFT properties OpenSea supports are:
Properties
Levels
Stats
Boosts (not available via the UI at this time)
OpenSea created these different types of traits because they wanted to give creators as much freedom as possible.
Unfortunately, more choice often leads to confusion and "choice paralysis".
Because some of the terms almost seem synonymous and because most people tend to overthink things, it has led to various debates on the meaning of the different NFT properties OpenSea has created.
In the end, it's all up to your own imagination.
The primary difference of these traits is usually the type of data they contain (e.g. words vs. numbers) and the way they are displayed on the OpenSea interface.
Let's take a closer look at what each one of these OpenSea NFT properties is meant for.
The PROPERTIES Trait
"Properties" are textual traits that are usually used to describe elements or parts of the object or character in the NFTs image. Examples of such parts would be the background, heady, body, clothes, eyes, and so on.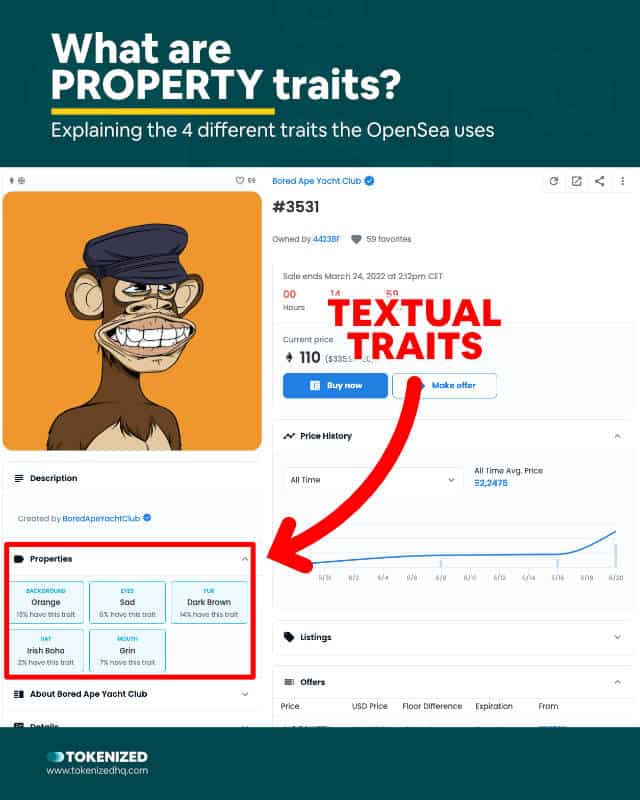 The most common type of NFT trait is called "Properties" within the OpenSea terminology.
Let's say you were creating a project similar to the Bored Ape Yacht Club.
So essentially a 10,000 PFP project with avatars generated from different body parts or facial attributes.
Here's a concrete example of such traits:
Background (Blue, Yellow, etc)
Clothes (Striped Tee, Sailor Shirt, etc)
Earring (Silver Hoop, Gold Stud, etc)
Eyes (Bored, Sleepy, etc)
Fur (Brown, Black, etc)
Hat (Beanie, Fez, etc)
Mouth (Grin, Bored Cigarette, etc)
Each one of these properties will have a specific value and each value is used a different number of times throughout the entire collection.
The specific rarity of each property as well as special combinations is what helps determine the overall rarity of the NFT.
Evaluating rarity is complex and that's why there are rarity tools NFT investors use to take care of the heavy lifting.
The LEVELS Trait
"Levels" are a numerical trait used in NFT collections and usually represent the strength or impact of a given trait. They are also displayed as progress bars on the OpenSea interface. Examples would be rank, power, maturity, or anything else with a defined range of values.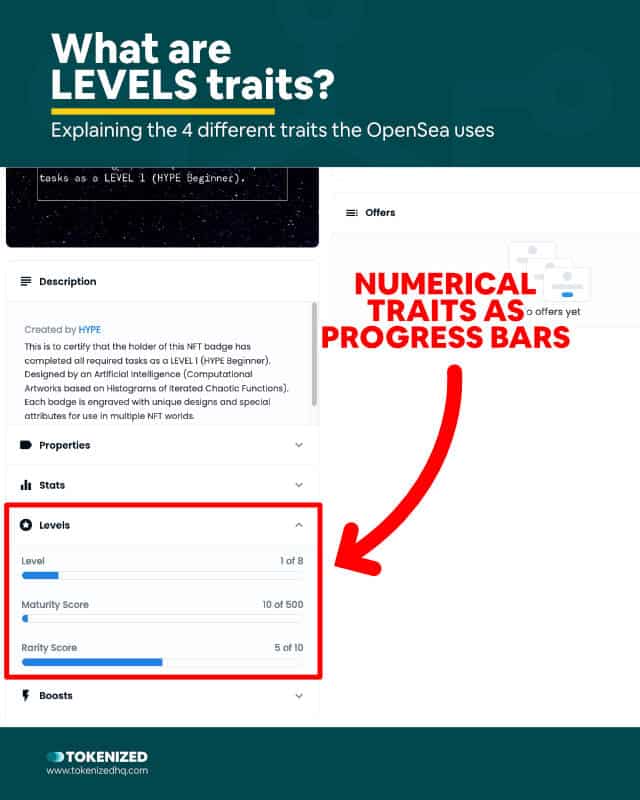 So what exactly are "Levels" in the context of OpenSea's terminology?
Well, first of all, the OpenSea Levels are numerical traits rather than textual traits.
Hypothetically you could also use numbers within textual "Properties", however they would not be displayed on OpenSea's interface in the same way.
"Levels" are displayed in the form of a progress bar.
Using "Levels" makes the most sense when your NFT has a particular trait whose strength, power, or impact is determined by a number within a defined range.
So, for example, if you create a trait called "Rank" and there are a maximum of 10 different ranks, then it might make sense to use levels for this.
You also might have a trait that is determined by a special mathematical formula.
Well, in that case, levels might be a good fit.
The big difference to "Properties" is that "Levels" allow you to filter a collection based on a specific numerical range (e.g. from 10 to 25).
The STATS Trait
"Stats" are a numerical trait used in NFT collections and usually represent the strength, impact, or rank of a given trait. Unlike "Levels" they are simply displayed with their numerical value and nothing else. Examples would be numbers of editions and similar numerical traits.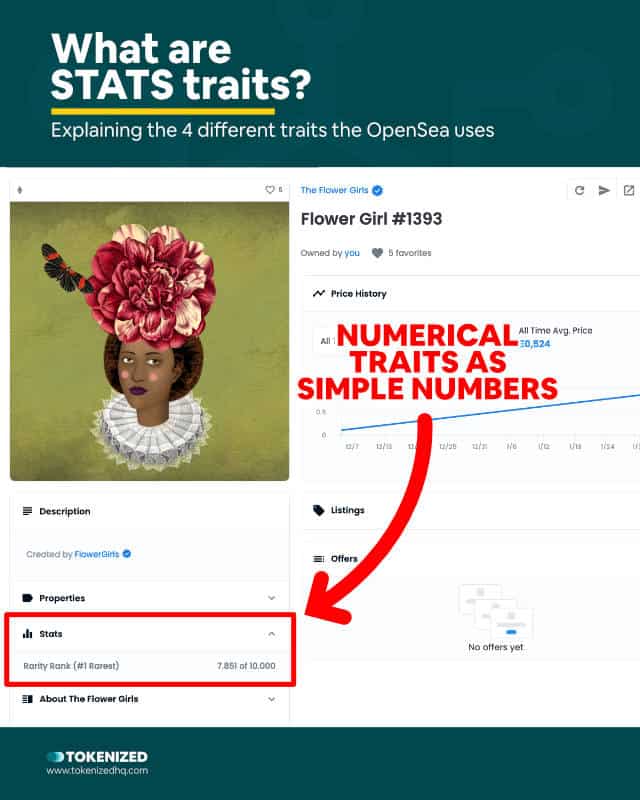 "Stats" are essentially the same type of trait as "Levels", but they are displayed differently on the front-end.
Instead of showing the value in the form of a progress bar, stats just display the raw number.
There's no particular difference between the two and the best choice ultimately depends on your personal taste.
The BOOSTS Trait
"Boosts" are a numerical trait used in NFT collections, similar to "Levels" and "Stats". Boosts function the same way as other numerical traits, however, they are displayed on OpenSea's interface in a "power-up" style. Boosts are best used for in-game items in NFT games. Boosts are only available via OpenSea's API tools.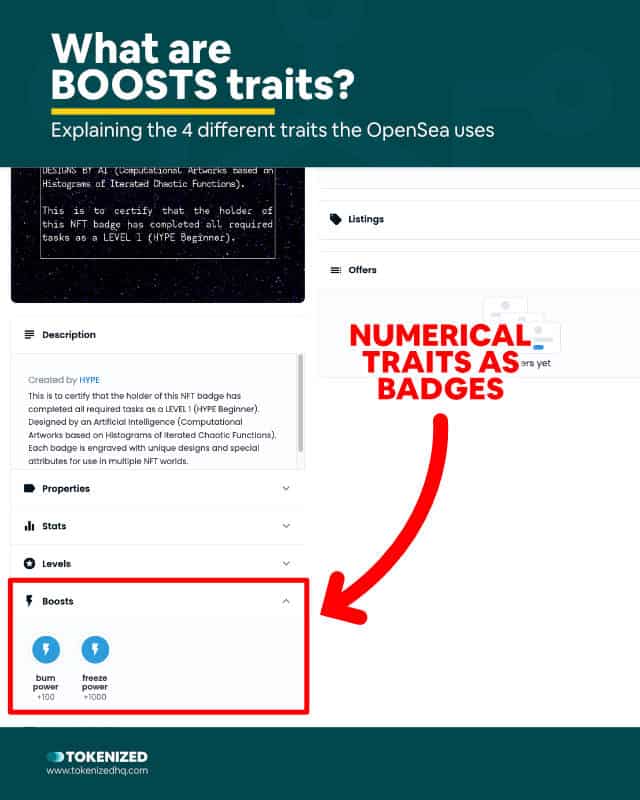 The last one the NFT properties OpenSea supports is "Boosts".
Boosts are currently not available for creators that use OpenSea's simplified tools on the main website.
This special property is only accessible to projects that are using the OpenSea API suite of tools in order to create highly customized collections.
However, from what we can tell, boosts are nothing but another variant of numerical traits.
The only difference is how they are displayed on the front-end interface.
Given the "Power-Up"-style badge look they've been given on the interface, we suspect that they are primarily meant to be used for in-game items of NFT-based games.
Conclusion
We understand that there is a considerable amount of confusion amongst creators regarding the different concepts of OpenSea's traits.
Properties, Levels, Stats, and Boosts all sound quite similar and it's not really clear what the difference is between all of them.
In the end, it's all up to your imagination and whether you want to add textual or numerical traits to your NFTs.
Here at Tokenized, we want to help you learn as much as possible about the coming NFT revolution. We help you navigate this fascinating new world of non-fungible tokens and show you how you can integrate tokenization into your own business.