Are you looking for inspiration and need an NFT traits list?
Perhaps you're working on your first NFT project and need some guidance on how to craft the best NFT trait strategy?
Well, we've got good news for you, because we've put together an overview of the most common traits amongst NFT collections and their trait strategies.
In this article, you'll gain access to an extensive NFT traits list that will provide you with tons of trait ideas and trait examples for your next PFP project
Let's dive right in.
Key Points (tl;dr)
Traits are specific properties that each NFT within a collection has. Traits are NOT distributed evenly amongst the tokens of the collection and therefore come with varying levels of rarity.
The most common NFT traits usually revolve around body parts and facial features of the characters they represent. Some of these include: Body, Hair, Eyes, Mouth, Clothing and also Accesories.
If you're building your own NFT project then you're probably looking for inspiration, because coming up with original and innovative ideas is challenging.
That's where our Ultimate NFT Trait List comes in to play. Our PDF guide provides a detailed overview of 10 top NFT projects including examples of their traits.
For our detailed PDF guide on the NFT traits lists of 10 top NFT projects, PLEASE READ THE FULL ARTICLE.
Like this content? Then share it!
The Ultimate NFT Traits List: Ideas for Your Next Project
Here's the answer. Great article by @ChrisHeidorn right here: https://tokenizedhq.com/nft-traits-list/

www.tokenizedhq.com
What Are NFT Traits?
Traits are a core element within the NFT collections of nearly all PFP projects. While trait groups are best described as the building blocks of a PFP project, sub-traits determine what these building blocks look like. In practice, traits aren't actually blocks, they are graphical design elements that are layered on top of each other to create an NFT image in its final form.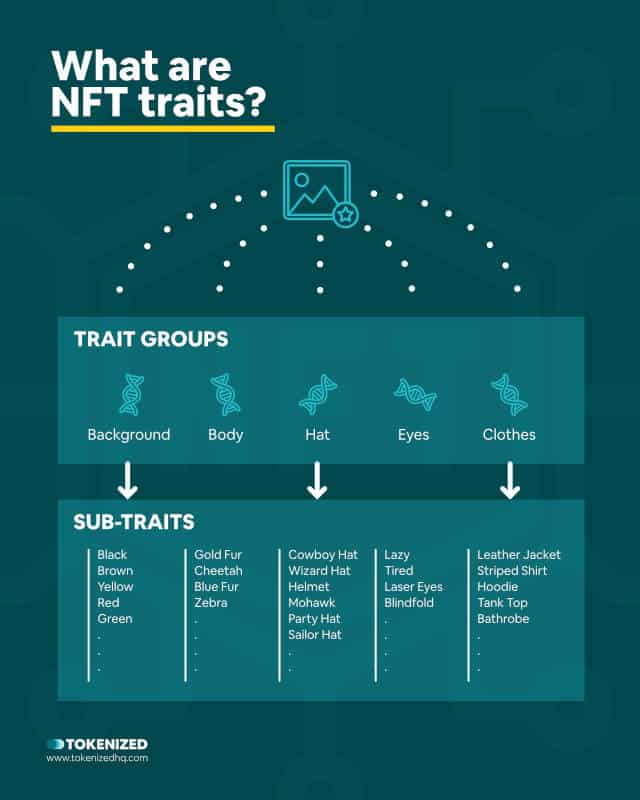 If you've been into NFTs for longer than 5 minutes then I probably don't need to explain to you what NFT traits are.
Traits are also sometimes referred to as properties, just like the 4 different NFT properties OpenSea supports via their minting tools.
Nevertheless, let me provide a very quick overview of what they are and why using an NFT traits list to build a successful trait strategy is important.
Traits are not necessarily relevant for all NFTs, especially not those that are exclusively meant for art.
However, it's hard to deny that most of the recent hype around NFTs has come from collectibles and more specifically PFP projects.
Traits are used to create real and perceived rarity amongst the tokens within a collection.
In other words, the idea is to make sure that not all NFTs have the same value and that the highest value is concentrated on a very small number of tokens.
NFT traits can also play an important role in defining different levels of utility for holders since they can be used to craft multi-level hierarchies of access and exclusivity.
Superficially though, an NFT traits list simply describes the different trait groups that organize the multitude of sub-traits that make up the final NFT image.
Many new NFT project founders understand that they need an effective trait strategy and that's why we've created a specific guide on how to create an excellent NFT traits strategy.
However, in practice, a lot of them just want to have a full overview of all of the traits that other collections are using.
Why? Because they are looking for inspiration and trait ideas.
What Are the Most Common NFT Traits?
The most common NFT traits amongst PFP projects all revolve around basic character properties and their image: Background, Body, Skin Tone, Clothing, Hair, Eyes, Mouth, Head Gear, and more are all relatively common items that you'll find on nearly all NFT traits list of popular projects.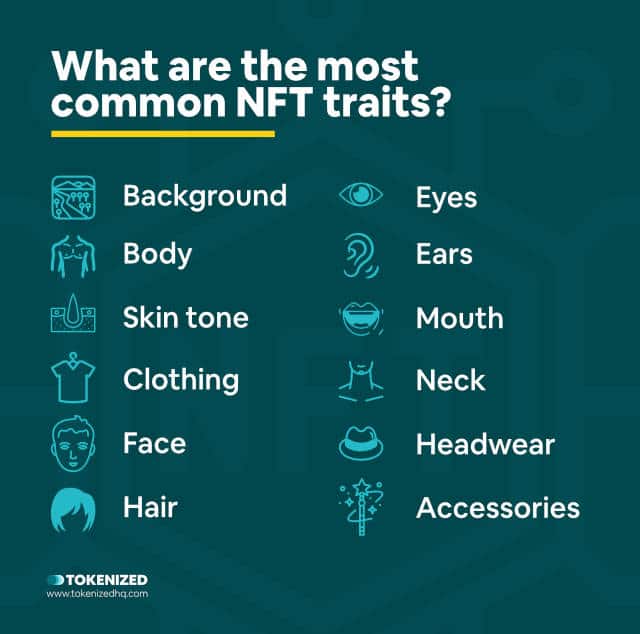 So you might be wondering what the most common items on our NFT traits list are.
Some of the NFT trait ideas won't surprise you, given that PFP projects usually depict some form of an avatar.
After all, there's only so much variation that you can give a picture of a character.
Either way, after analyzing many of the top NFT projects of the past year, we've identified the following traits as the most common items you'll find in any NFT traits list:
Background
Body
Skin Tone/Facial Features
Clothes/Clothing/Shirt
Face
Hair/Hairstyle
Eyes
Ears
Mouth/Lips
Neck/Necklace
Earring/Piercing
Hat/Head Gear
Accessories
Granted, some of these are variations and in other cases, some traits might be combined into a single trait elsewhere.
However, the vast majority of successful projects use between 5 and 10 different trait groups.
Some of the less common traits are:
Special
Offhand
Type
Tier
Name
Custom
These traits are usually highly specific to the collection in question and are frequently not even visible in the character's image.
Nevertheless, they can be quite important since they often represent rare traits.
Our NFT Traits List with Ideas & Examples
We totally understand that some of you need more inspiration and a simple list of the most common traits won't necessarily help you.
Considering how many new projects are launching every day, it's crucial that founders innovate and create something original.
Otherwise, it's going to be very difficult to stand out from the crowd.
That's why we've put together a fully-fledged PDF guide that contains an NFT traits list of all of the traits of 10 top NFT projects.
And we've gone a lot further than just listing the different traits.
We've added concrete examples of these traits to our NFT traits list so that you get a better of what sort of trait ideas you can integrate into your own project.
Our Ultimate NFT Traits List covers the following top PFP projects: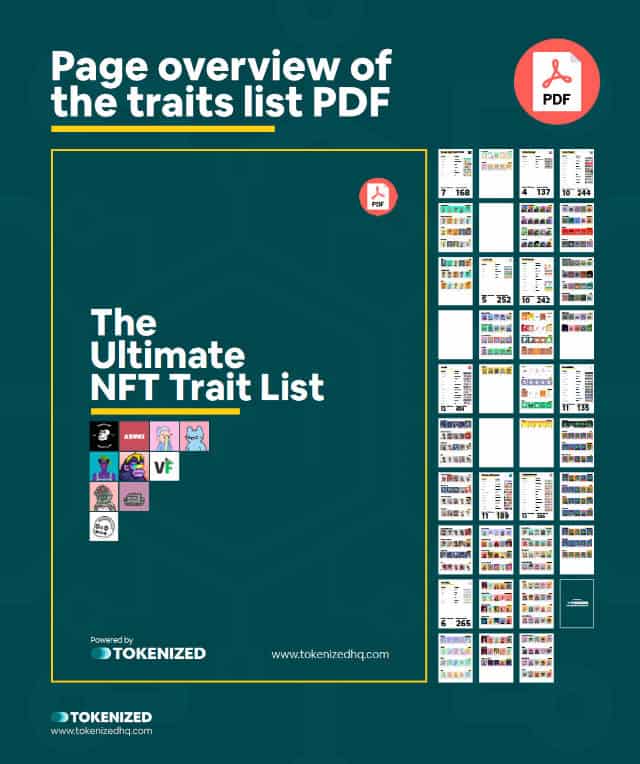 Conclusion
Launching a successful PFP project for NFTs is a lot harder than many people think.
Not only does it take lots of hard work, time, and dedication to build a team that can drive forward an original idea.
You also need to invest a lot of time into crafting an effective and exciting trait strategy for your NFT collection.
And that's where The Ultimate NFT Traits List by Tokenized comes into play.
Use our PDF guide as a reference but also as a source of inspiration to create your own original and innovative ideas.
Here at Tokenized, we want to help you learn as much as possible about the coming NFT revolution. We help you navigate this fascinating new world of non-fungible tokens and show you how you can integrate tokenization into your own business.