Want to know what the current gas fees are on Rarible?
Or are you trying to find out when the gas price tends to be historically low?
Well, you've come to the right place, because we understand your pain and have collected some of the best resources that will help you save as much as possible on gas fees.
In this guide, we'll show you the best source for live data on Rarible gas fees as well as charts that show you what days of the week and what time tend to be the cheapest.
Anyway, let's not waste time and get right to it.
Key Points (tl;dr)
Rarible Analytics is a website which shows live data on the gas fees associated with various different actions on Rarible.
You can find more general stats on Ethereum gas fees on various other websites such as Ethereum Gas Tracker or ETH Gas Station.
The price of gas on Ethereum is primarily determined by supply of and demand for blocks on the blockchain.
You can avoid high gas fees by limiting your transactions to off-peak times such as when most people around the world are sleeping and avoiding weekends.
Like this content? Then share it!
24h Live Data: Rarible Gas Fees
Here's the answer. Great article by @ChrisHeidorn right here: https://tokenizedhq.com/rarible-gas-fees/

www.tokenizedhq.com
How High Are Rarible Gas Fees Right Now?
The website Rarible Analytics shows you live data on the current Rarible gas fees. It also lists the most common fee-based actions on Rarible with the associated fees that you should expect. The data updates every 10 seconds and also displays all values in fiat currency, such as Dollars and Euros.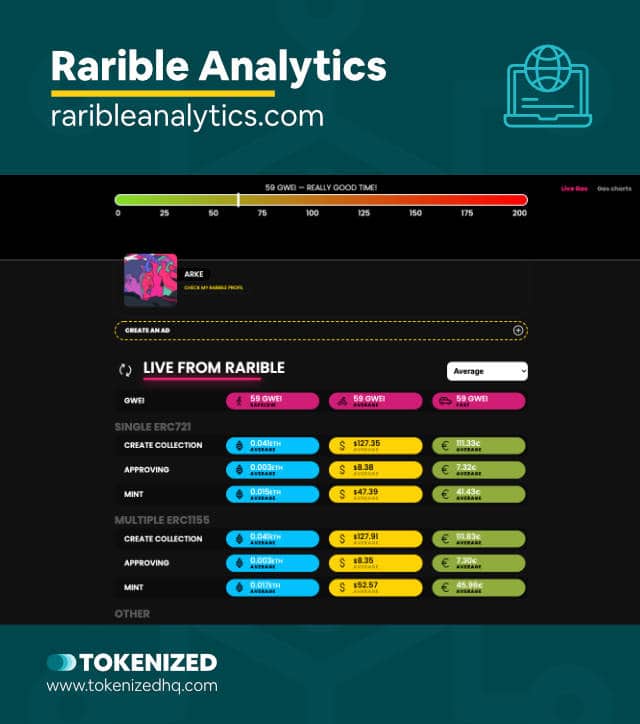 An excellent website that you can use to find out what the current Rarible gas fees are is Rarible Analytics.
It's not exactly a Rarible gas fee calculator like many other tools, but it's actually even more helpful.
Not only does it show you the current gas price (in Gwei) on a gradient color scale from green to red.
It also shows you exactly what different actions on Rarible would cost you right now.
Whether you want to know how much it costs to create an NFT collection or simply to accept a bid, Rarible Analytics shows you the precise Rarible gas fees at that point in time.
The page updates any 10 seconds or so and also displays all the fees not only in ETH but also in Dollars and Euros.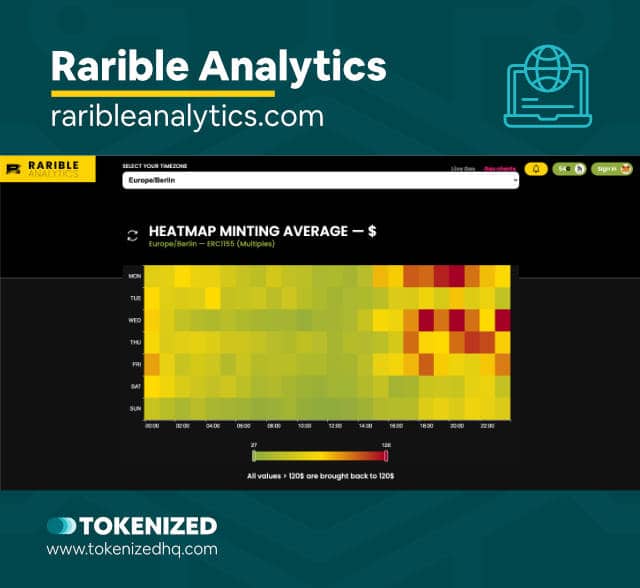 An added bonus is the gas charts which provide some historical context to gas prices.
They allow you to select your timezone and then identify the historically cheapest day of the week as well as the time of day to conduct your business on the Ethereum blockchain.
For most people, gas fees are a fairly abstract concept.
Sure, they understand what they are and why they fluctuate, in principle.
However, only a few people actually know what Gwei is and how it truly relates to Ethereum's price.
Another problem is that most people assess value in their native currency, so mostly Dollars or Euros.
So when you see prices denominated in ETH, it messes with your head.
Things can actually seem cheap, simply because of the fact that they are denominated in ETH.
Once people see the dollar amount, they might actually change their minds.
Where Can Find the Latest Gas Prices?
Up-to-date gas prices are available on various websites, such as Etherscan or Crypto.com. However, this does not translate directly into specific actions on Rarible. For more detailed information on Rarible Gas Fees for specific transactions, we recommend using Rarible Analytics.
Rarible Analytics isn't the only website that gives you up-to-date information on Ethereum gas prices.
Some of the most popular websites for information on gas prices are:
While all of the sites will provide you with insight into the current gas price, translating this into the actual total cost of specific transactions on a platform is a bit more difficult.
That's why Rarible Analytics is such a useful tool.
It tells you exactly how much your particular type of transaction will cost you.
We are currently not aware of any tool that provides the same information for OpenSea fees.
However, it's very likely the numbers shown will be similar for OpenSee gas fees.
What Influences the Price of Rarible Gas Fees?
The Ethereum gas price is a function of supply and demand for mined blocks. Network hash rate (capacity) represents the supply and the number of transactions represents demand. If demand outpaces supply, then network congestion occurs and gas prices will increase.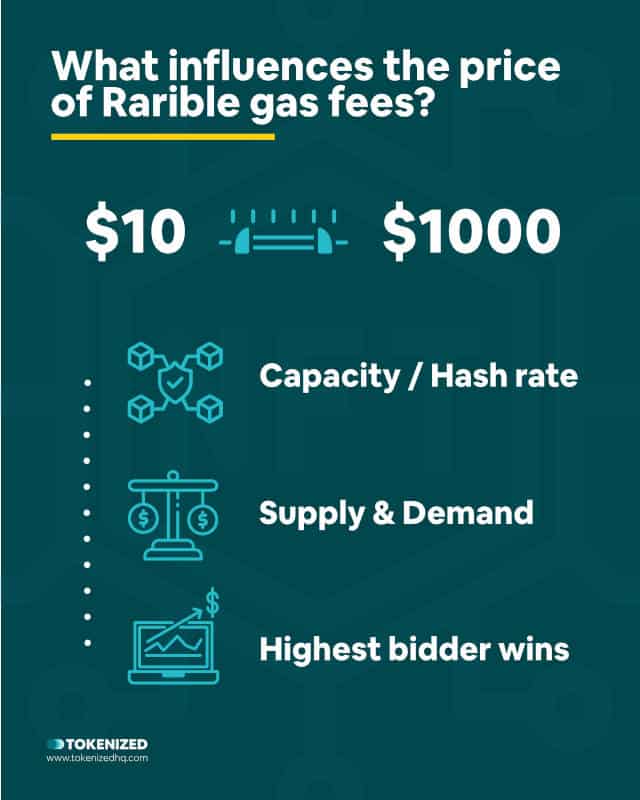 As you probably already know, Ethereum gas fees change all the time depending on how congested the network is.
Network congestion depends on various factors but they are primarily driven by the current hash rate (supply) and the number of transactions (demand) that users are trying to complete.
This will vary throughout the day as well as throughout the week, depending on which parts of the world are currently awake.
That's why it always makes sense to think about how urgent a transaction really is and whether or not you can afford to wait.
How to Avoid High Gas Fees
The best way to avoid high gas fees is to transact during times when demand is low. Historically this is when the majority of the people in the world are asleep, or at least when North America is asleep. You can also use scaling solutions such as Polygon or switch to another, more efficient blockchain altogether.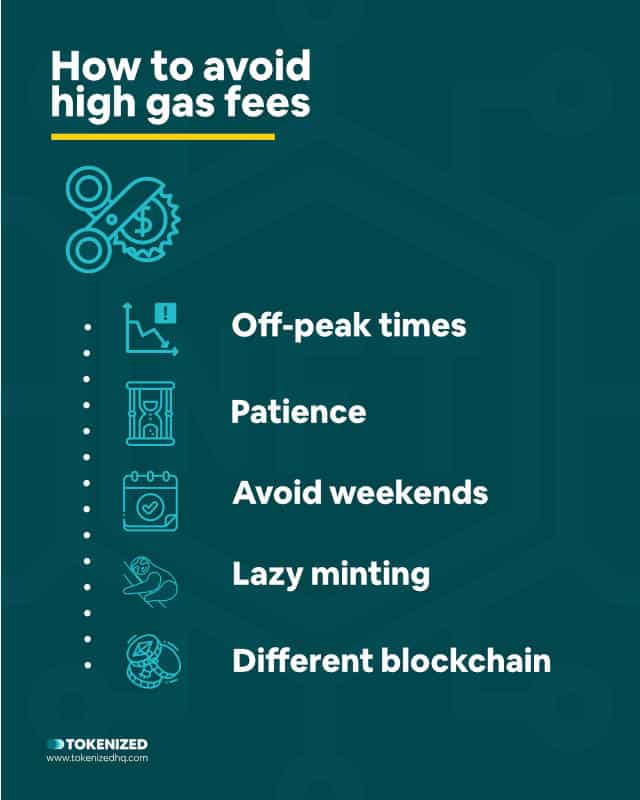 You can only avoid gas fees to a certain point.
If you want to transact on the Ethereum blockchain, you will need to accept that this is the cost of doing business on it.
Your best chance at reducing your exposure to gas fees is to limit your actions to certain times of the day and avoid days of the week that have historically high gas prices (e.g. weekends).
Alternatively, if you don't necessarily need to use Ethereum, you can easily use one of its multiple Layer 2 scaling solutions, which will reduce your fees down to minuscule amounts.
Or just switch to an entirely different blockchain ecosystem such as Solana, Fantom, or Avalanche.
We even have an article on the top Fantom NFT marketplaces right here on Tokenized.
There are literally dozens of relatively mainstream alternatives available today.
Conclusion
Ethereum gas fees are already an abstract and often frustrating part of blockchains.
Figuring out how they translate into the actual cost of doing business on one of the many NFT marketplaces is even more challenging.
Luckily there are sites like Rarible Analytics that help you along the way.
You check all the relevant Rarible gas fees live on the site and they are updated every 10 seconds.
So next time you want to mint an NFT, make sure you check the gas price first.
Here at Tokenized, we want to help you learn as much as possible about the coming NFT revolution. We help you navigate this fascinating new world of non-fungible tokens and show you how you can integrate tokenization into your own business.