Are you looking for a simple and straightforward STEPN Guide?
Maybe you really want to get started with STEPN but it all feels a bit overwhelming to you?
Well, don't worry, because we understand how complex STEPN's game system can be and that's why we've put together this STEPN guide for beginners.
In this guide, you'll learn everything you need to know about how STEPN works and all of the details and tricks that no one else will explain to you properly.
Let's get started!
Like this content? Then share it!
The Ultimate STEPN Guide & Tutorial for Beginners
Here's the answer. Great article by @ChrisHeidorn right here: https://tokenizedhq.com/stepn-guide-tutorial/

www.tokenizedhq.com
What is STEPN?
STEPN is a revolutionary new blockchain project that combines traditional gameplay elements with real-life physical activity. Players are rewarded with STEPN's native token GST for walking or running for a certain amount of time each day.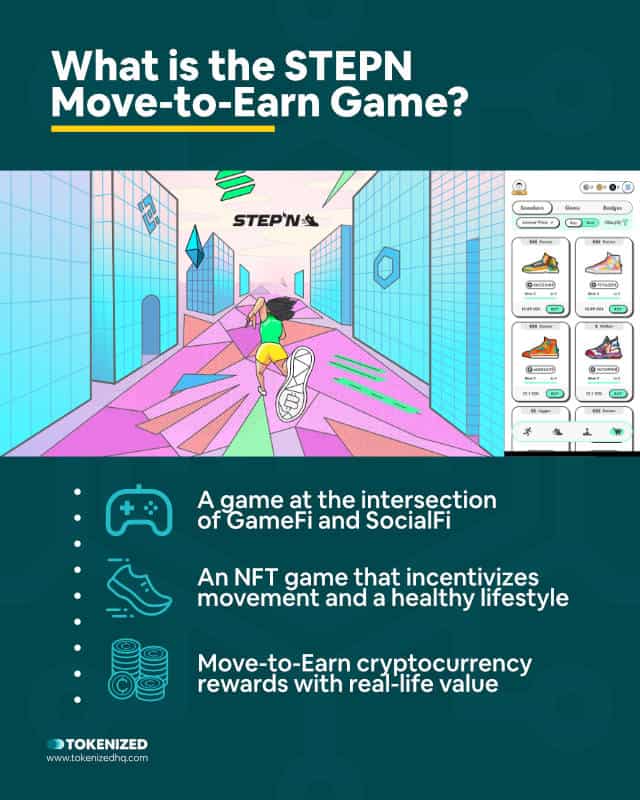 So, before we start, let's quickly get some basics out of the way.
STEPN is a revolutionary new type of blockchain-based Play-to-Earn game.
In fact, STEPN invented an entirely new category of games that we now refer to as Move-to-Earn.
That's right, STEPN is a competitive fitness game that rewards you for moving outside on a regular basis.
It blends classic game elements with real-life activity to create a unique gaming experience, unlike anything the world has ever seen.
However, due to the economic incentives built into the game, it's very important that STEPN's token economy achieves a healthy balance.
That's why the underlying game system has so many different elements to it.
For beginners, this can feel overwhelming and most of the information available online is patchy or outdated.
That's why we've put together this incredibly detailed STEPN guide that goes through all of the most important aspects of the game.
STEPN Guide Overview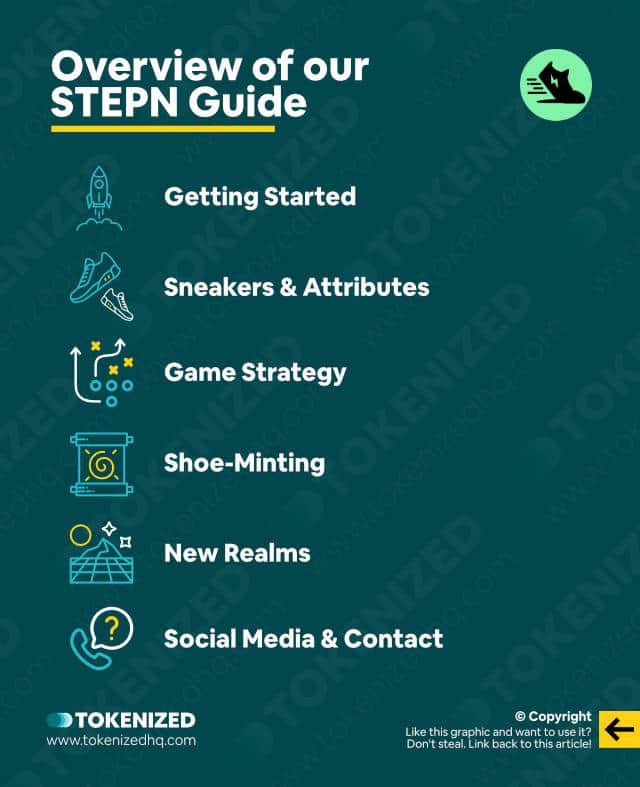 We've broken down this STEPN guide into several chapters that address related topics.
It's recommended that you go through them in the defined order, simply because certain topics do not become relevant until later in the game.
Getting Started
Before you can do anything within the STEPN game, you first need to download the app, set everything up and get an activation code.
You should start off by learning about the following topics:
Sneakers & Attributes
Once you've set up your account, it's time to go buy your first Sneaker NFT.
However, it's important that you understand what the different types of shoes are and how their attributes come into play.
Luckily, our STEPN guide and tutorial have you covered:
Game Strategy
As soon as you get your hands on your first Sneaker NFT, it's time to start playing the game.
However, there are still some other elements of the game mechanics that you should understand before you kick things off.
And while you may be tempted to check the official STEPN whitepaper, we strongly advise you stick with our STEPN guide.
Shoe-Minting
While some people primarily want to earn GST and eventually also GMT in order to convert it to other cryptocurrencies, others prefer to flip sneakers.
Shoe-minting is a popular way of making money on STEPN by minting entirely new shoes that you can sell on the marketplace.
However, it's not as simple as it used to be and it's important that you understand the requirements for minting new STEPN Sneakers.
New Realms
Unlike most other blockchain-based games that take place within a single blockchain ecosystem, STEPN has multiple different "Realms".
Realms are effectively copies of the same game, running on another server or blockchain with its own "local" economy.
While you don't actually need to use more than one Realm, it's good to know what they are and how they work.
Social Media & Contact
No matter whether you have a simple question or you just want to connect with like-minded STEPNers, it's always a good idea to know where to look.
Here's a list of ways how you can contact STEPN and follow all the latest developments via the social media platform of your choice.
Conclusion
We sincerely hope you found this quick STEPN guide for beginners useful.
It's never easy getting into a new game without some help along the way.
Here at Tokenized, we want to help you learn as much as possible about the coming NFT revolution. We help you navigate this fascinating new world of non-fungible tokens and show you how you can integrate tokenization into your own business.