Are you looking for a guide on how to play STEPN?
Perhaps you've recently heard about STEPN and its new move-to-earn concept, and now you really want to give it a try.
Well, we've got good news for you, because we've installed the app, activated our account, and had a look around in order to fully understand how STEPN works.
In this guide, you'll learn step-by-step how to get started with STEPN, how to play STEPN, and what you need to look out for.
Let's dive right into our STEPN guide.
Key Points (tl;dr)
STEPN is a revolutionary new game concept that blends our real-world fitness activity with digital world gamification and blockchain-based Play-to-Earn gaming.
The objective of STEPN is to incentivize movement and a generally healthier lifestyle by paying real rewards for physical activity.
Its gamification elements help create a virtuous cycle where walking, jogging, and running aren't just good for you but are also super fun.
Here's a how to play STEPN in 7 easy steps:

Step 1: Install the STEPN app
Step 2: Create a STEPN account
Step 3: Enter your STEPN activation code
Step 4: Choose a suitable sneaker type
Step 5: Buy a sneaker NFT
Step 6: Start moving and earn rewards
Step 7: Burn or swap rewards for upgrades or crypto
For a detailed STEPN guide on how to play STEPN, PLEASE READ THE FULL ARTICLE.
Like this content? Then share it!
Explained: How to Play STEPN the Right Way
Here's the answer. Great article by @ChrisHeidorn right here: https://tokenizedhq.com/how-to-play-stepn/

www.tokenizedhq.com
What is STEPN Move-to-Earn?
STEPN is an exciting new app that uses real-life activity and Web3 technology and the blockchain to create an interactive and gamified fitness experience that not only promotes a healthy lifestyle but also allows its users to earn while they're moving.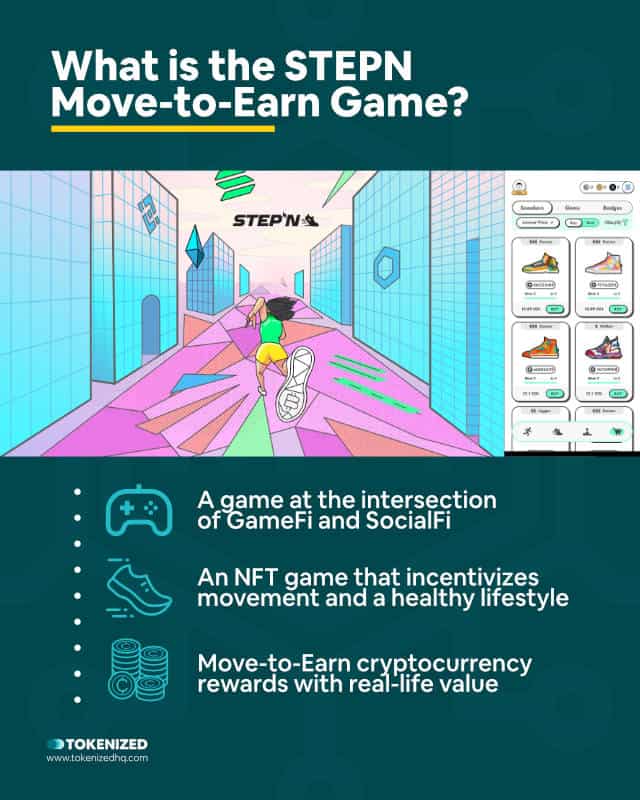 I'm not going to waste too much time explaining what STEPN is because you most likely already have a basic idea of what it is.
Nonetheless, I'll try to give you a broad overview of the concept behind this new and exciting Move-to-Earn game.
At its core, STEPN is an app that combines elements of GameFi and SocialFi to incentivize users to live healthier lifestyles.
The primary objective is to get people to move a lot more than they do now, by either walking, jogging, or running.
You might think of it as a Play-to-Earn version of Strava that tracks how much you move each day.
Installing the app isn't enough to play the game though.
In true Web3 fashion, you need to buy a suitable NFT sneaker first.
The only way to earn rewards via STEPN is if you combine your preferred type of movement with the right NFT sneaker.
While this isn't what most people think of when they hear the term "metaverse", we actually think that STEPN is a far more realistic example of what a near-future metaverse might look like.
An augmented version of reality where the real world and your digital world start to blend together.
You can only earn rewards in STEPN if you actually exercise in real life and you need to do so consistently.
Does all this sound exciting to you and do you want to give it a try?
Great, then let's move on to our step-by-step guide on how to play STEPN.
STEPN Guide: How to Play STEPN in 7 Easy Steps
In order to play STEPN, you must first install the mobile app, register your account and get an activation code for STEPN. Once you've done this, you can acquire a sneaker NFT that suits your level of fitness and start moving outside. The more your move, the more rewards you'll earn.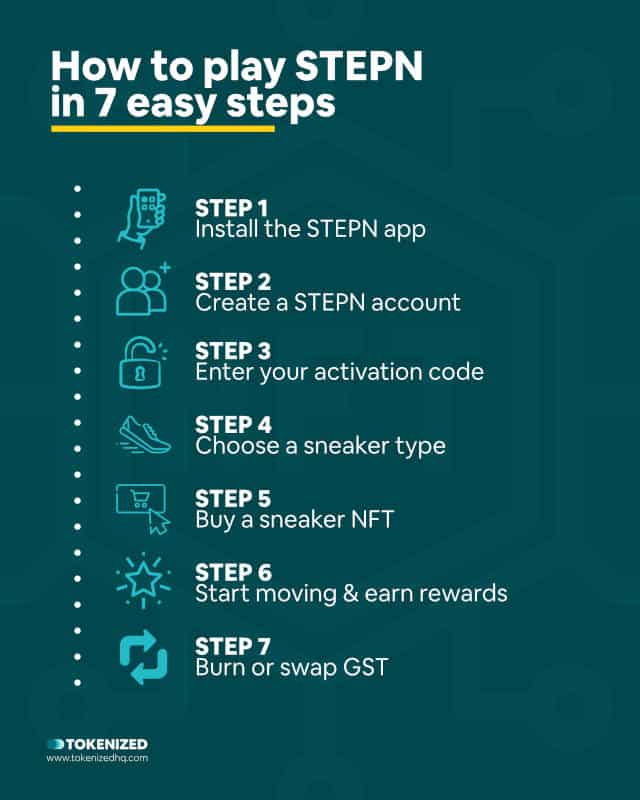 Since STEPN is such a new concept and NFTs are still new for many people, it's not always obvious how the game actually works.
Bear in mind that this is not a game that you can just play for free right now.
Since you'll need to acquire an NFT sneaker, the monetary threshold to get started is actually fairly high for a lot of people.
That being said, don't let this turn you off.
STEPN is working a mechanism where those without a sneaker can rent one from those who have one and their earnings are then split (this feature is coming soon).
And given the recent implosion of the Terra UST stablecoin, the entire crypto market is now in full bear market mode and we suspect that sneaker NFTs will be a lot cheaper soon.
Here are 7 easy steps on how to play STEPN.
Step 1: Install the STEPN App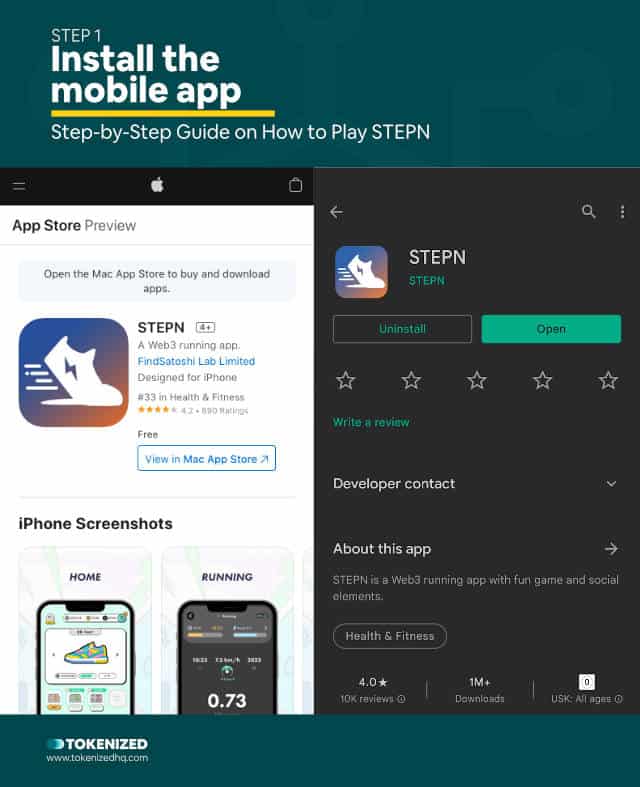 Before you do anything else, head over to the iOS App Store or the Android Play Store to grab the right version of the app for your phone.
You should find both apps quite easily and they are free to install.
Step 2: Create a STEPN Account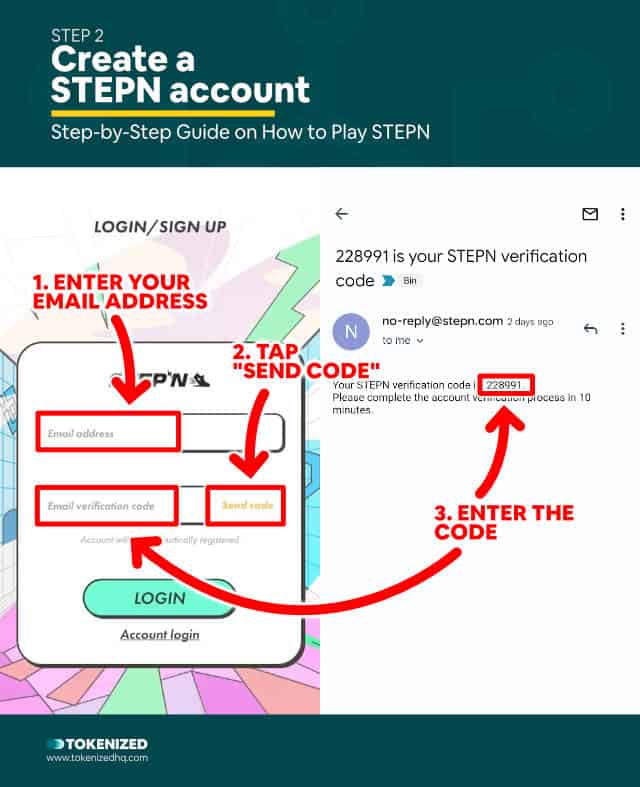 Next, you need to create a STEPN account via the app by entering your email address and tapping the "Send Code" button.
You should receive an email with a verification code within a minute or so.
Paste it into the app and log into the app.
Step 3: Enter Your STEPN Activation Code
The next step might be a bit frustrating at first, especially if you don't have a lot of time on your hands.
Due to the overwhelming demand, the STEPN team has had to implement some heavy restrictions on activation codes.
This was necessary in order to avoid network overload and force a more sustainable user growth.
STEPN only releases roughly 2,000 new activation codes per day via their Discord and Telegram servers, so activation codes are quite rare nowadays.
That being said, it only took us about 20 minutes to successfully grab one and get started.
And there are also other ways to get your hands on one, which we've outlined in our guide on how to get STEPN activation codes easily.
Step 4: Choose a Sneaker Type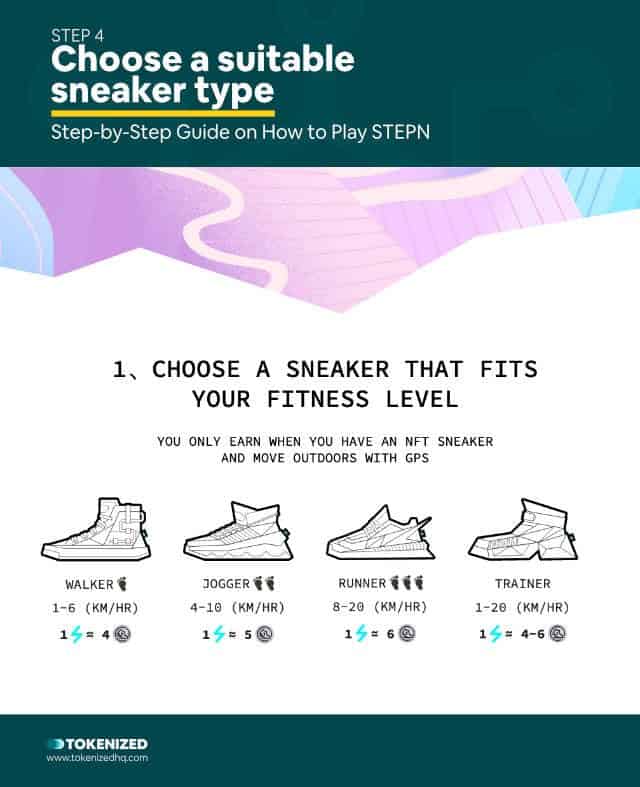 Once you've successfully activated your STEPN account, you can start to set up your activity goals.
This is where it's important that you understand how to play STEPN.
Depending on your fitness level or preferred form of movement, choose between 1 of 4 different types of NFT sneakers.
There are 4 types of STEPN sneakers:
Walkers (1-6 km/h)
Joggers (4-10 km/h)
Runners (8-20 km/h)
Trainers (1-20 km/h)
Each sneaker NFT is optimized for a certain type of movement and will only earn you Energy (a type of unit) if you move within that speed range.
Each Energy earned also comes with a different amount of Green Satoshi Token (GST), which is STEPN's utility token.
We'll talk more about tokenomics later in this article.
Step 5: Buy a Sneaker NFT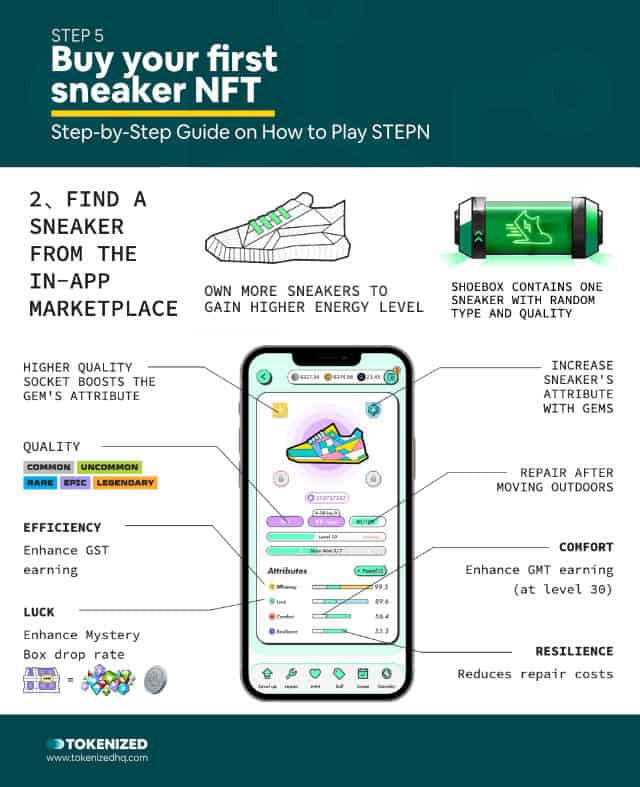 Before you decide on a specific sneaker NFT to buy, make sure you've fully understood all the different factors that influence their effectiveness.
You also need to know how to transfer Solana to STEPN so that you'll actually be able to pay for the sneaker.
If you want to keep it really simple you can just buy a Shoebox and receive a random sneaker, but you might get one that's not ideal for your fitness level.
That's why I personally would recommend that you select one from the marketplace.
Every sneaker comes with a whole bunch of different properties that either make it special or more effective during gameplay.
So, for example, each sneaker NFT has a "Quality" that defines how rare a particular sneaker is (Common, Uncommon, Rare, Epic, and Legendary).
Sneakers also have a limited lifetime until they require repair.
And there are 4 different attributes that are crucial for gameplay:
Efficiency: Enhances GST earning
Comfort: Enhances GMT earning (from level 30 onwards)
Luck: Enhances Mystery Box drop rate (check out our guide on STEPN Luck)
Resilience: Reduce repair costs
So, as you can see, having a good sneaker that really pays off in the long run if you're planning on playing STEPN a lot.
If you're still new to it all, we recommend that you don't overthink it too much and just get started.
Figuring out how to play STEPN is a learning process.
You can still sell your sneaker later and buy a new one that's better.
Step 6: Start Moving & Earn Rewards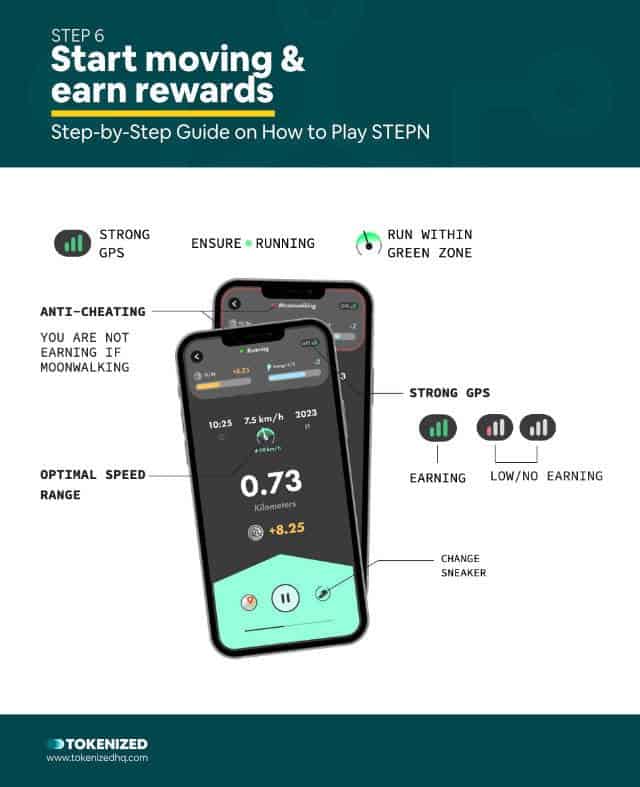 Once you've selected your preferred sneaker, it's time to start learning how to play STEPN in real life and get moving!
You'll notice that there are two different caps that impact how much Energy and GST/GMT you can earn per day.
Make sure you have a strong GPS signal, otherwise you won't earn anything for your movement.
It's also important to stay within your defined speed or else your earning effectiveness will drop.
And for the really clever ones amongst you, don't even try to cheat.
The STEPN app has a built-in anti-cheating feature that detects if you're not actually running or walking like a real human.
STEPN's gameplay, while generally easy to understand, is still quite complex due to all the different in-game elements and how they work together.
That's why we strongly encourage everyone to check out our STEPN guide provides a good introduction to everything you should know about how STEPN works.
Step 7: Burn or Swap GST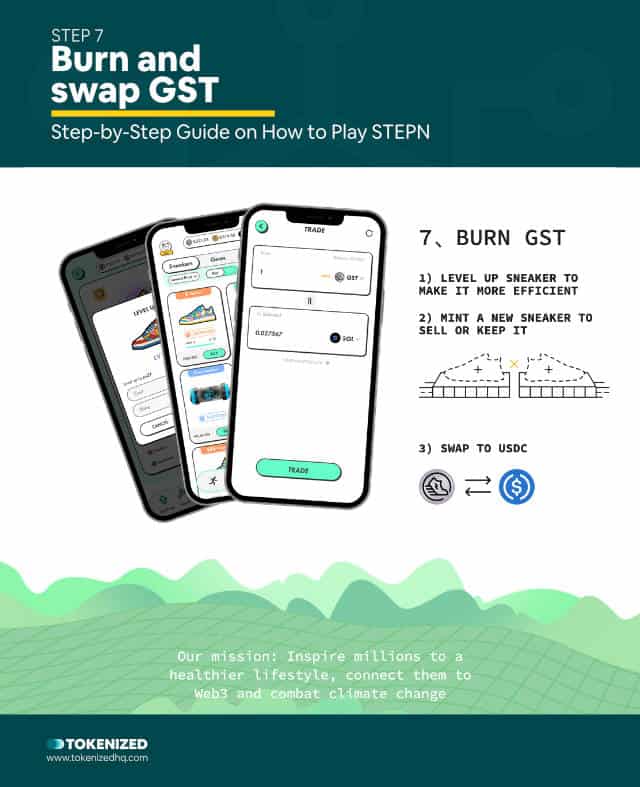 As you move more and more and on a consistent basis, you'll start to earn rewards in the form of Green Satoshi Token (GST) or Green Metaverse Token (GMT).
Your GST can be used to do a variety of things within the STEPN app, including repairing your sneaker, leveling up your STEPN sneaker, or minting a new shoe.
You can also swap your GST for USDC, a stablecoin pegged to the US Dollar that you can convert to fiat as well.
And that's the basic idea of how to play STEPN.
How do STEPN's Tokenomics Work?
STEPN's tokenomics are based on 2 separate tokens. Green Satoshi Token (GST) is a pure utility token with an unlimited supply and Green Metaverse Token (GMT) is a governance token with a fixed supply that can also be used for utility-based actions.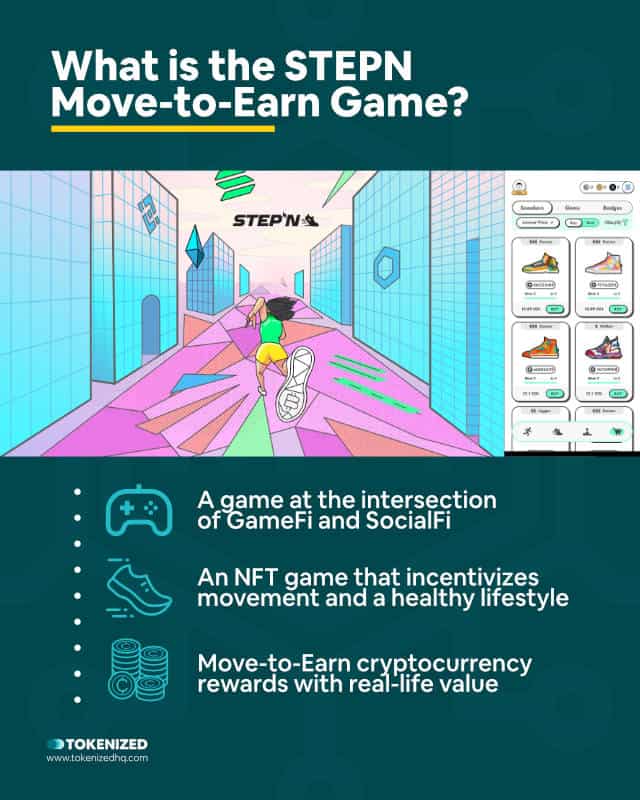 We don't want to bore you with all the minute details about STEPN's tokenomics at such an early stage, mainly because they're not super important for understanding how to play STEPN
But let us at least give you a quick overview and we'll go into much more detail in a separate STEPN guide on tokenomics very soon.
There are 2 tokens in the STEPN ecosystem:
Green Satoshi Token (GST): A utility token with an unlimited supply.
Green Metaverse Token (GMT): A governance token with a total supply of 6 billion.
GST can be earned immediately, while GMT requires you to reach a level of at least 30.
Both GST and GMT can be used to buy sneakers as well.
Renting sneakers is also possible for someone who doesn't own a sneaker, in which case the earnings are split 70/30 in favor of the owner.
GST can be burned for many basic improvements in the game, while GMT is required for a lot of the higher value upgrades.
You might be wondering why someone would burn their tokens within the game and not swap them for USDC.
Well, the more you upgrade, the more you can improve your earning potential later on.
You can think of it as an investment where you defer gratification for a higher future reward.
Some people prefer one and some prefer the other.
Conclusion
STEPN only started building in August 2021 and it's not even a year old.
We believe there is so much potential in STEPN that a lot of people don't even see yet, which is why we hope you enjoyed this STEPN guide.
Not only is STEPN potentially a great way to be rewarded financially for living a healthier lifestyle.
It's also an incredibly attractive value proposition for health insurance companies and countries that want to improve the well-being of their customers and population.
Here at Tokenized, we want to help you learn as much as possible about the coming NFT revolution. We help you navigate this fascinating new world of non-fungible tokens and show you how you can integrate tokenization into your own business.