Are you looking for a guide on how to buy STEPN sneakers?
Maybe you've recently discovered STEPN and after doing some research on how the game works, you now want to know how to get your first STEPN shoe?
Well, look no further because we've put together the quickest and simplest step-by-step guide on how to buy sneakers on STEPN.
In this guide, you'll learn exactly how to buy your first Sneaker NFT and what it will cost you.
Let's get started!
Key Points (tl;dr)
Assuming that you already have cryptocurrency (either SOL or BNB) in your STEPN Wallet, buying STEPN sneakers is actually very easy to do.
The following 5-step process will show you how to buy sneakers on STEPN:

Step 1: Transfer SOL from your Wallet to the Spending Account
Step 2: Browse the marketplace for your first sneaker
Step 3: Select a sneaker that you like
Step 4: Tap the "Buy" button and confirm your purchase
Step 5: Switch to "Running" mode and start moving

Sneaker prices fluctuate based on supply and demand, therefore the cost of buying a Sneaker NFT is always changing. At the time of writing the cheapest Sneakers were available for 2 SOL.
Sneakers are a complex element of the game. We therefore recommend reading through our Sneaker Guide in order to understand all of the different characteristics and how they impact gameplay.
For a detailed step-by-step guide on how to buy STEPN sneakers, PLEASE READ THE FULL ARTICLE.
Like this content? Then share it!
Explained: How to Buy STEPN Sneakers
Here's the answer. Great article by @ChrisHeidorn right here: https://tokenizedhq.com/buy-stepn-sneakers/

www.tokenizedhq.com
How to Buy STEPN Sneakers
A Sneaker NFT is your ticket into the exciting world of STEPN.
Every player must own at least one STEPN Sneaker in order to be able to play the game.
This may change once STEPN eventually introduces its Sneaker Rental System, but for the time being, you'll need to know how to buy STEPN Sneakers.
For many, this process feels overwhelming at first, and that's exactly why we've put together this step-by-step guide with tons of useful screenshots.
Buying Sneakers on STEPN is a very simple 5-step process.
Step 1: Transfer SOL from Wallet to Spending Account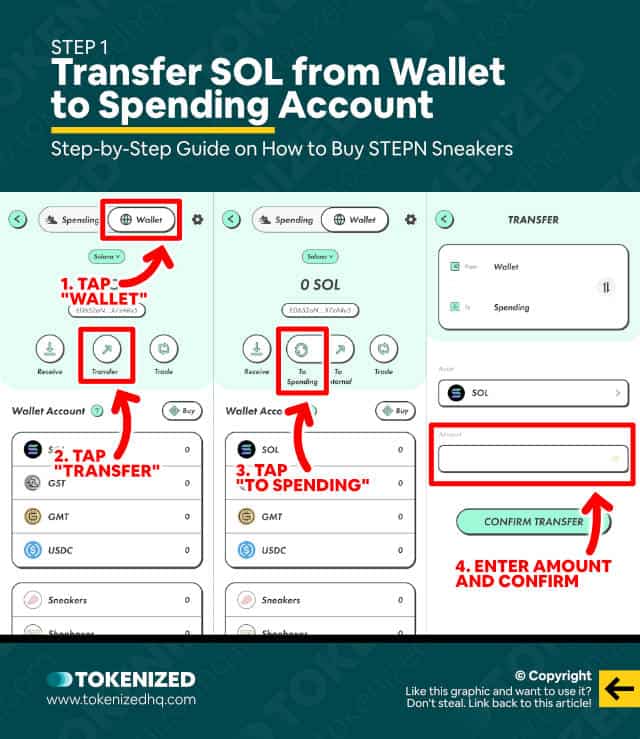 Before you can actually buy STEPN sneakers, you need to make sure you have enough SOL (or BNB) in your Spending Account.
Remember that your Spending Account is different from your STEPN Wallet.
If you already do, then feel free to skip this step and move on to Step #2.
However, if you do not have any crypto yet, we recommend that you check out our guide on how to transfer Solana to STEPN first.
It will show exactly how to buy SOL or BNB and then transfer it into your Wallet.
Now, assuming that you have crypto in your STEPN Wallet already, it's time to transfer it into your Spending Account.
Your Spending Account is the actual in-game wallet that is used for gameplay.
Step 2: Browse the STEPN Marketplace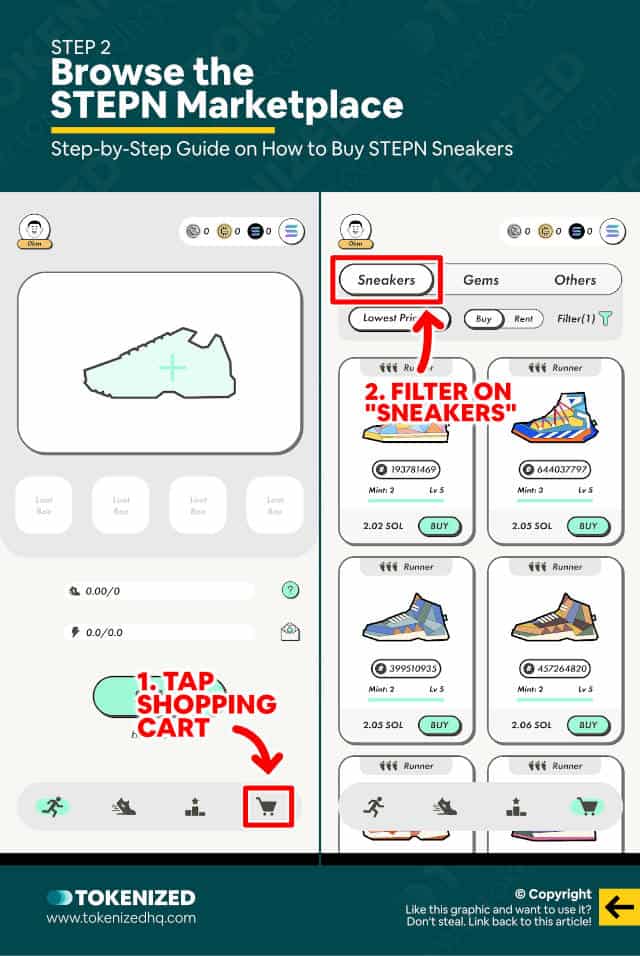 Once you've successfully transferred SOL from your STEPN Wallet into the Spending Account, you're ready to buy STEPN Sneakers.
The STEPN app has an in-app marketplace that can be accessed by tapping the shopping cart button in the bottom right corner of the screen.
The marketplace allows players to buy and sell all sorts of in-game items, including Gems, Minting Scrolls, and of course Sneakers.
Step 3: Choose a Sneaker NFT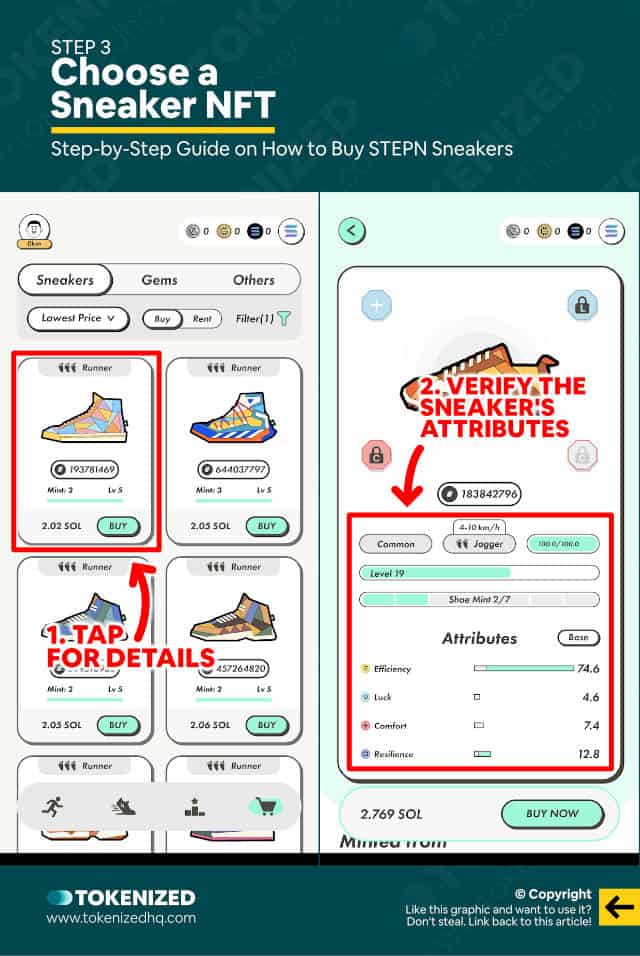 This is usually the part where most people are completely overwhelmed by the massive selection of Sneaker NFTs that are available for purchase.
Most people start wondering what sort of Sneaker they should buy, which attributes are best, and whether Levels are important or not.
If you want to know how to choose the right Sneaker for you, we strongly recommend that you look at our STEPN Sneaker Guide.
Although a strong STEPN Sneaker strategy isn't too important at the beginning, it's good to know how to avoid some common pitfalls.
The easiest approach is to simply select a Sneaker at the current floor price (i.e. the cheapest available).
Step 4: Buy the Shoe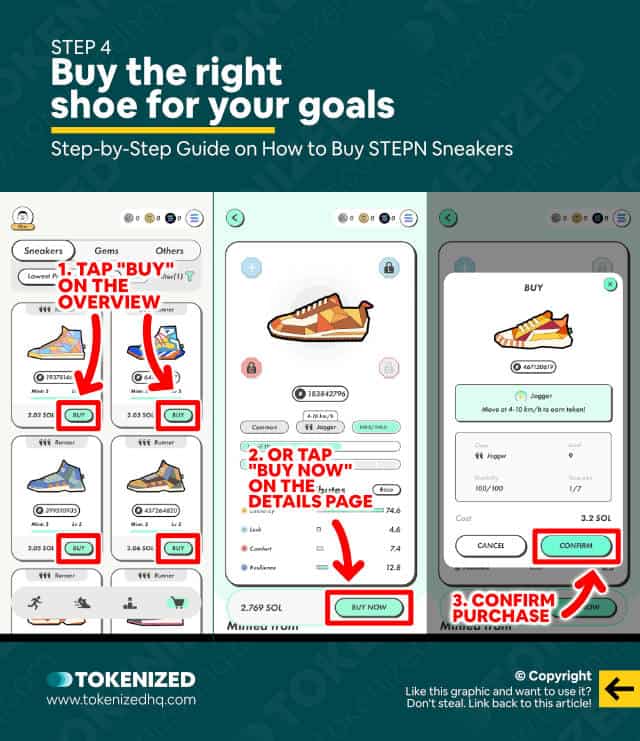 Once you've decided which Sneaker you'd like to buy, there are 2 ways to initiate the purchase.
You can either tap the "Buy" button directly in the overview of Sneakers or you can first open the Sneaker's detail page and then tap the "Buy Now" button.
In both cases, you'll be able to review the Sneaker's main features and price before confirming the purchase.
Opening the detail page makes sense if you're looking for a very particular type of shoe with certain attributes.
If you want to learn more about Sneaker attributes, feel free to check out our guide dedicated to the 4 attributes of STEPN Sneakers.
Step 5: Start Moving & Earning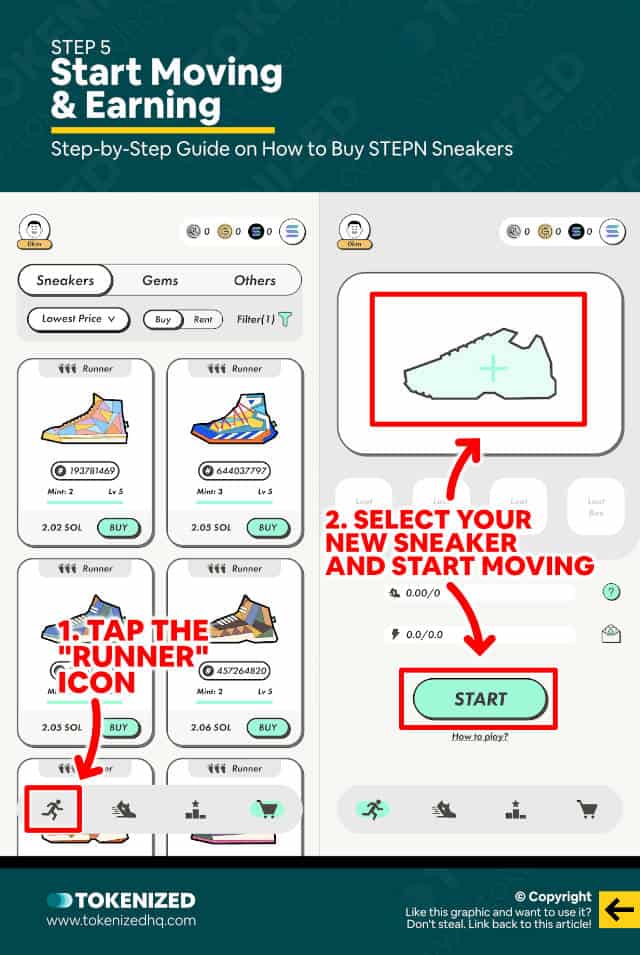 Now that you've learned how to buy STEPN sneakers and actually acquire your first shoe, it's time to get moving.
Tap the runner icon in the bottom left corner of your screen to access the primary game mode.
Select your new Sneaker and start earning GST by moving outside at the optimal speed range of your shoe.
How Much Does a STEPN Sneaker Cost?
The price of Sneaker NFTs fluctuates based on supply and demand, as well as overall crypto market sentiment. As of July 12th, 2022, the cheapest "Runner" sneakers were available at a price of just over 2 SOL, which is about $66.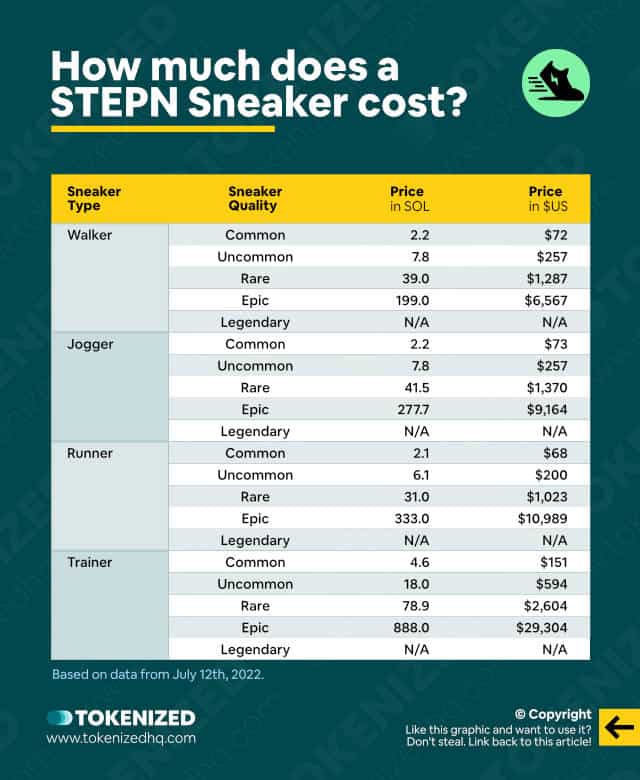 Since Sneaker NFTs are tradable game items, there's no fixed price for STEPN Sneakers, even if you're just a beginner.
All prices are determined by supply and demand as well as by the price of SOL and BNB.
Prices fluctuate on a daily basis, therefore it's difficult to give you a clear-cut answer.
The table below will give you an indication of the minimum price of different Sneaker NFTs (as of July 12, 2022):
| Sneaker Type | Sneaker Quality | Price in SOL | Price in $US |
| --- | --- | --- | --- |
| Walker | Common | 2.2 | $72 |
| Walker | Uncommon | 7.8 | $257 |
| Walker | Rare | 39.0 | $1,287 |
| Walker | Epic | 199.0 | $6,567 |
| Walker | Legendary | N/A | N/A |
| Jogger | Common | 2.2 | $73 |
| Jogger | Uncommon | 7.8 | $257 |
| Jogger | Rare | 41.5 | $1,370 |
| Jogger | Epic | 277.7 | $9,164 |
| Jogger | Legendary | N/A | N/A |
| Runner | Common | 2.1 | $68 |
| Runner | Uncommon | 6.1 | $200 |
| Runner | Rare | 31.0 | $1,023 |
| Runner | Epic | 333.0 | $10,989 |
| Runner | Legendary | N/A | N/A |
| Trainer | Common | 4.6 | $151 |
| Trainer | Uncommon | 18.0 | $594 |
| Trainer | Rare | 78.9 | $2,604 |
| Trainer | Epic | 888.0 | $29,304 |
| Trainer | Legendary | N/A | N/A |
Table showing the cost of STEPN sneakers by type and quality on July 12th, 2022.
How Do STEPN Sneakers Work?
Every Sneaker in STEPN is different and not every player necessarily needs the same type of shoe. Depending on a wide variety of factors, such as the sneaker type, quality, attributes, and many more, your Sneaker will heavily influence your success in the game.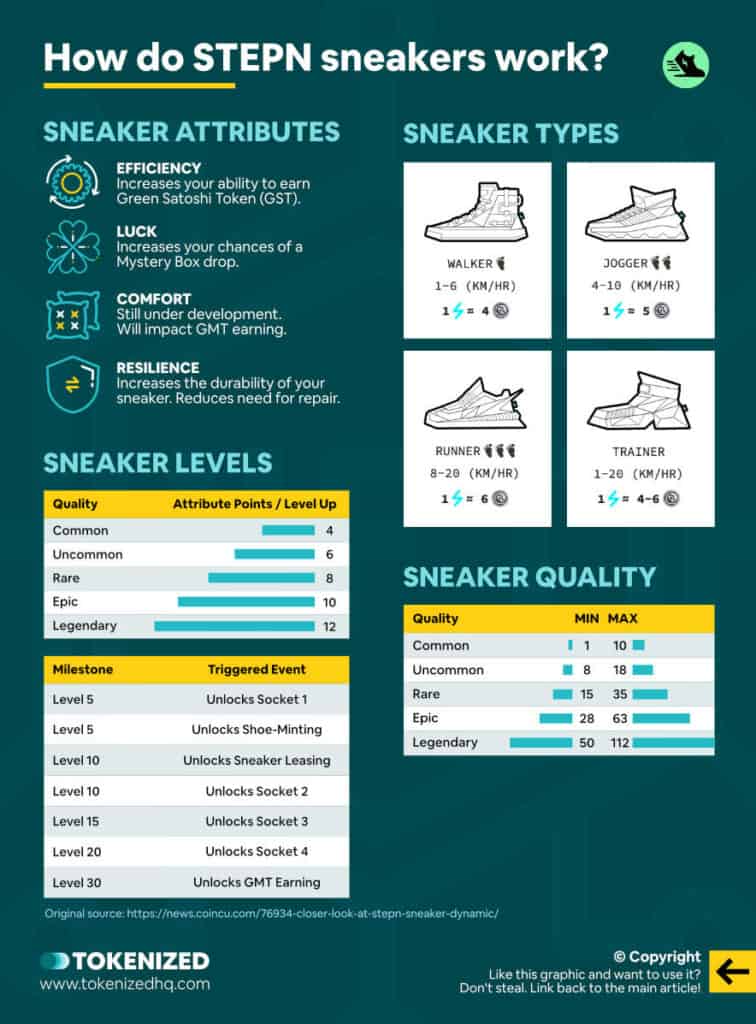 STEPN Sneakers are a crucial element of the game, however, they can also overwhelm many people due to the complex nature of all their characteristics.
Here are some of the different characteristics to look out for:
Sneaker Type (Walker, Jogger, Runner, Trainer)
Sneaker Quality
Sneaker Level
Number of Shoe Mints
Base Attributes (Efficiency, Luck, Comfort, Resilience)
Total Attribute Points
Durability
Unlocked Sockets
Original Vintage Sneakers
So, as you can see, there are a lot of factors that play a role and they can be different depending on what your goals are.
That's why we strongly urge everyone to have closer look at our STEPN Sneaker guide if you want to make a more informed buying decision.
How to Get Free Sneakers on STEPN
If someone tells you that you can get free Sneakers in STEPN, then they are lying to you. In order to acquire a new Sneaker, you will always have to invest something, whether it is a cryptocurrency, GST, or time and effort.
Let's start off by clarifying that it's actually impossible to get a STEPN Sneaker 100% for free.
That might change once STEPN allows users to rent sneakers because then you could work your way up with no up-front cost.
However, for the time being, you'll always have to purchase your first Sneaker NFT, unless someone simply gifts you a shoe.
Technically, once you own 2 Sneakers, you could work towards minting new Sneakers for "free".
However, even then, you'll have to put in a lot of work and ultimately invest a part of your STEPN earnings.
So even that cannot really be considered "free".
Conclusion
Anyone who wants to play the game will ultimately have to learn how to buy STEPN Sneakers at some point.
Your Sneaker NFT is your ticket to the game and as long as the Sneaker renting system hasn't launched, this won't change.
But as you can see, it's really not as complicated as some people think.
Here at Tokenized, we want to help you learn as much as possible about the coming NFT revolution. We help you navigate this fascinating new world of non-fungible tokens and show you how you can integrate tokenization into your own business.