Are you looking for the best way to contact STEPN?
Maybe you're experiencing problems with the STEPN app or have a more general question about the company itself?
Well, don't worry, we've checked all the different communication channels and have put together a nice list of ways how you can contact STEPN as easily as possible.
In this guide, you'll learn how you can contact the STEPN team directly as well as how you can get support from the STEPN community.
Let's get right to it!
Key Points (tl;dr)
If you have general inquiries, work for the press, or are having technical problems with the STEPN app, you may want to get in touch with the team or the STEPN community.
There are 6 effective ways to get reasonable fast responses to all your questions:

Method 1: Contact STEPN via their website
Method 2: Contact STEPN through email
Method 3: Raise an issue on Twitter
Method 4: Connect with the Discord community
Method 5: Discover the STEPN subreddit on Reddit
Method 6: Mingle with STEPNers on Strava
For a detailed overview of ways how you can contact STEPN and its community, PLEASE READ THE FULL ARTICLE.
Like this content? Then share it!
Solved: How to Contact STEPN Easily
Here's the answer. Great article by @ChrisHeidorn right here: https://tokenizedhq.com/contact-stepn/

www.tokenizedhq.com
Why Contact STEPN in the First Place?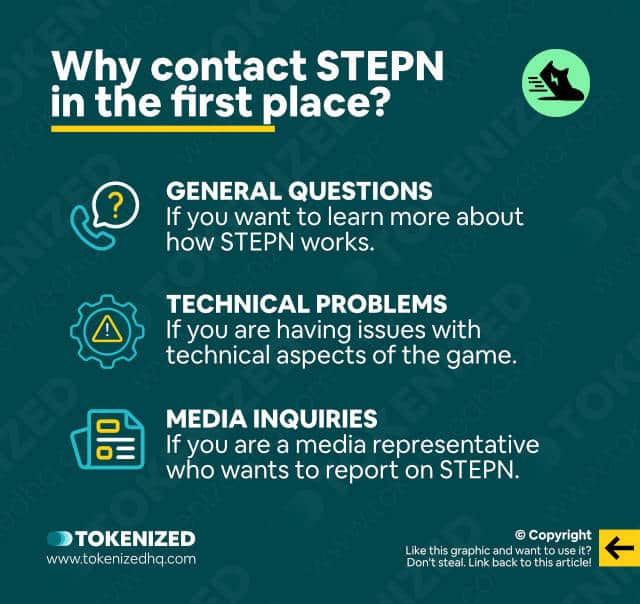 Although STEPN might be all the rage within the Move-to-Earn space, that doesn't mean that everything always works out perfectly.
In fact, because STEPN is still so new, you are bound to run into problems at some point.
Some of the problems can easily be fixed with a quick search on Google or via some of the well-known community websites.
However, in some instances, the problem might be very new or there may not be an obvious reason for it.
That's when you should seriously consider either contacting the STEPN team directly or looking for help in one of the many community channels.
In this guide, we're going to look at 6 effective ways how you can contact STEPN directly or at least other members of the community who may be able to help you out as well.
6 Ways How to Contact STEPN for Fast Support
Please bear in mind that not all of these methods give you direct access to a STEPN team member.
Each method may also come with different waiting times.
So, for example, if you look for help on Reddit or Discord, you are much more likely to get a quick response from someone else in the community.
However, if you insist on talking to STEPN's customer support, you're going to have to be a little more patient.
How to Contact STEPN Through Their Website
The contact form on STEPN's official website no longer exists. Instead, you can contact the STEPN team via email.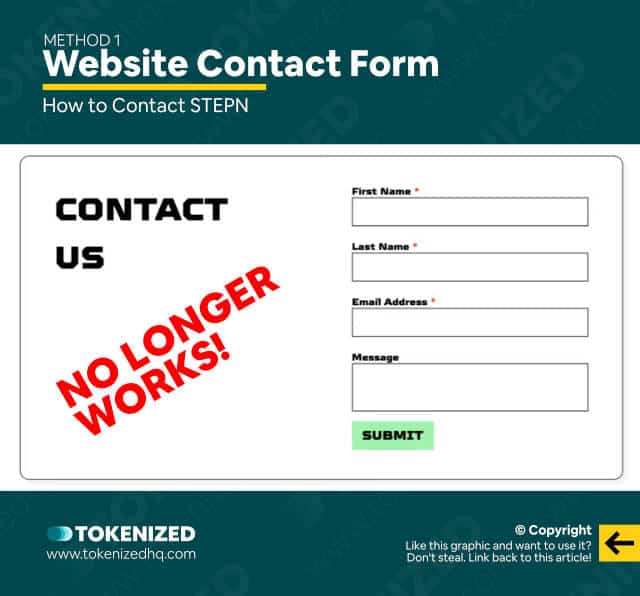 The first method in our list involves visiting the official STEPN website.
The front page was actually revamped recently and looks really slick now.
However, it seems like STEPN also removed the official contact form on their website.
Unfortunately, that means you'll have to use a different contact method, such as Email or Twitter.
How to Contact STEPN Through Email
The official email address of STEPN is [email protected]. If you need support or have a general inquiry, send them a message and they will respond as soon as they can.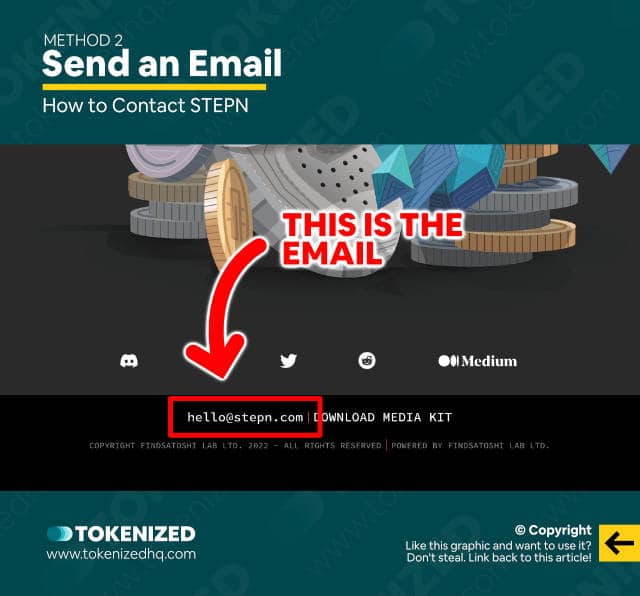 The good news is that STEPN still lists its primary contact email address on the website.
It's hidden all the way at the very bottom of the front page but it's still there and that means you can send them an email there at any time.
Unfortunately, I don't know what their response times are.
Usually, most support teams try to get back to you within 24-48 hours.
However, it's entirely possible that you'll have to wait a little longer if the support load is high.
How to Raise an Issue with STEPN Through Twitter
You can raise issues in a very public manner by addressing a tweet at the official Twitter account of the STEPN team. STEPN's Twitter handle is @Stepnofficial.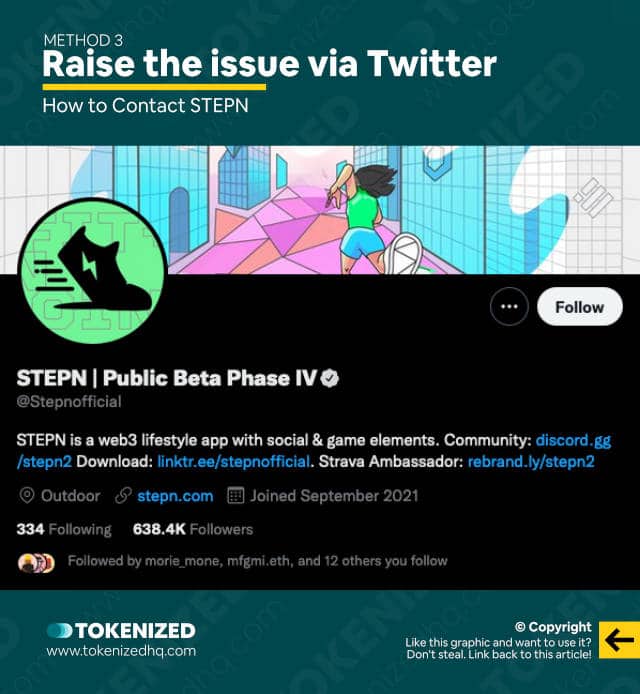 If you're not a big fan of email and prefer to use social media, then the STEPN Twitter profile might be a good option for you.
Twitter is especially useful when you want to highlight bigger issues in public.
The fact that everyone can read the tweet can sometimes compel a company to respond much quicker than usual.
The public nature of the conversation can also reduce the load on the support team because it doesn't require them to interact with every single person directly.
How to Connect with STEPNers Through Discord
The official STEPN Discord server is an excellent place to connect with other players of the game from around the world and share achievements and insights.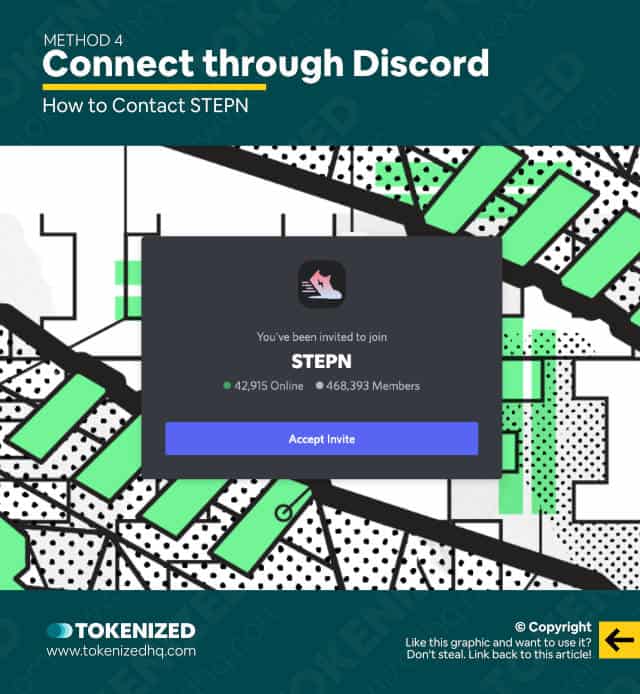 Generally, we do not recommend contacting STEPN directly if you are only dealing with a minor issue or just have a general question.
In most cases, you are better off looking for like-minded people on one of the many community platforms.
One of the most common places to go is the STEPN Discord server.
It's essentially a big chat server with various different rooms that are called "channels".
In all likelihood, you'll find someone who will be willing and able to help you out.
How to Connect with STEPNers Through Reddit
The STEPN Subreddit is a good place to discuss gameplay tactics and other insights into how different elements of the game impact each other. The atmosphere on Reddit tends to be slightly more negative than on Discord as it is popular amongst many trolls.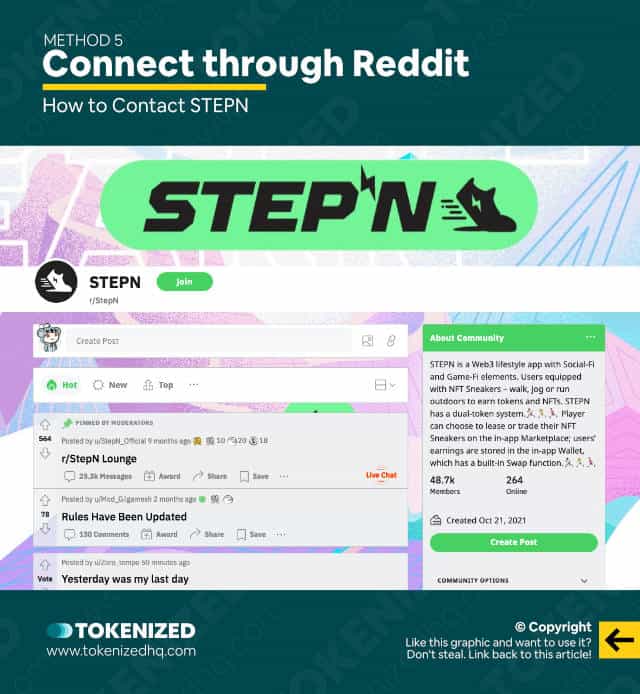 Not everyone likes Discord, mainly because it feels like Slack or Microsoft Teams on steroids.
Others aren't big fans of the company due to the fact that they are partially owned by Tencent and are known to monetize the data of their users.
If you're more of an old-school person that enjoys internet forums and bulletin boards, then the STEPN Subreddit is the right place for you.
While you can essentially ask all of the same questions on Reddit as on Discord, based on our experience the overall atmosphere on Reddit is a little less positive.
Reddit tends to attract more trolls and generally negative people.
We have no idea why that is but it seems to be the case for nearly all communities on Reddit.
How to Connect with STEPNers Through Strava
Strava is one of the world's leading fitness tracking apps and also has a special community club dedicated to STEPN. You can follow other like-minded runners, post messages, and compete on the club's leaderboard.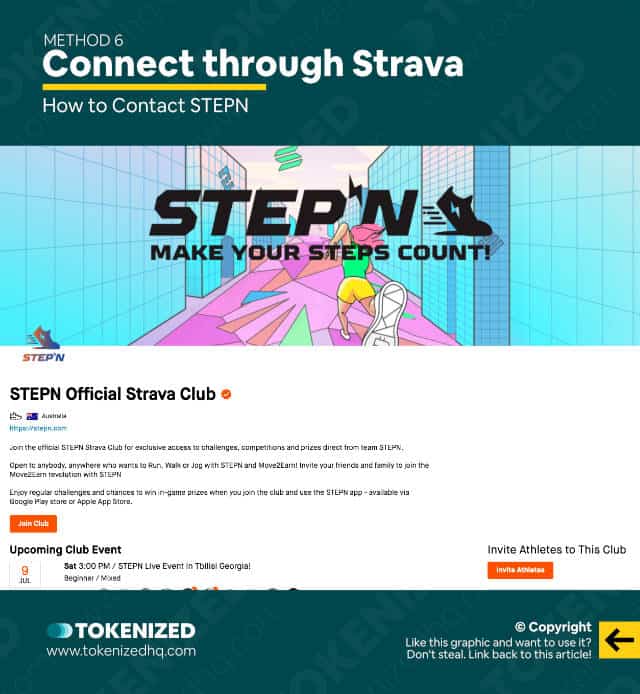 The last community platform on our list is Strava.
If you weren't particularly active before you discovered STEPN, then you've probably never heard of Strava.
Strava is a mobile app that was originally created for triathletes but quickly morphed into one of the most popular fitness platforms in the world.
It is incredibly popular amongst runners and has gained more and more social features over the years.
There is an official STEPN Strava Club that shows other members' recent activities including leaderboards and more.
You can also post questions or share achievements and others can comment on them.
Conclusion
No matter what the reason may be, there are many different ways how to contact STEPN.
In most cases, however, you won't actually need to talk to STEPN staff directly because most of the community is very helpful.
We recommend that you mingle with other STEPNers via one of the various social media channels and make new friends along the way.
Here at Tokenized, we want to help you learn as much as possible about the coming NFT revolution. We help you navigate this fascinating new world of non-fungible tokens and show you how you can integrate tokenization into your own business.