Are you looking for the best STEPN calculators?
Perhaps you've really started to enjoy playing the STEPN Move-to-Earn game and now you want to simulate what you need to do in order to achieve your goals?
Well, don't worry, because we've researched all the different STEPN simulators that are currently available and have put together a nice little list for you.
In this guide, we'll introduce you to all sorts of STEPN calculators that help to estimate your earnings, ROI, minting costs and so much more.
Let's get right to it!
Key Points (tl;dr)
STEPN's game system is incredibly complex and contains so many different variables that it's very difficult for most people to keep track of what's going on.
One could argue that it's necessary to have so many elements that influence each other in order to properly balance out the underlying token economy.
Nevertheless, many people still need some sort of guidance that will help them determine the right strategy for their goals.
Several members of the STEPN community have developed tools that help you simulate specific scenarios and also calculate the ROI of a particular strategy.
Today, we're going to introduce you to 7 of the best simulation tools for STEPN:

STEPN Guide
STEPN Simulator
STEPN Love
STEPN Assist
STEPN Calculator @ Netlify
STEPN Calculator @ Coda
WorkItWallet
For a detailed overview of the top 7 STEPN calculators in the market, PLEASE READ THE FULL ARTICLE.
Like this content? Then share it!
The 7 Best STEPN Calculators You Should Know in 2023
Here's the answer. Great article by @ChrisHeidorn right here: https://tokenizedhq.com/stepn-calculator/

www.tokenizedhq.com
What is a STEPN Calculator?
STEPN calculators help simplify the complexities of the STEPN gaming system. By simulating different input factors and scenarios, users can make better decisions regarding their game strategy and also estimate the ROI on certain activities.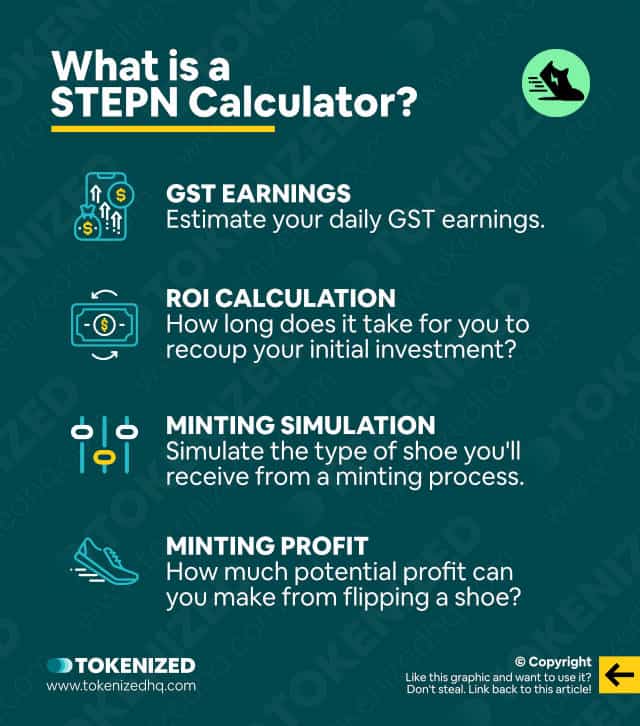 If you've already started playing STEPN for a while, then most likely you've already realized how complex the game can become.
Even though the fundamental idea behind STEPN is fairly simple and all you really need to do is go for a walk or run, the devil is in the details.
You see, you need to understand how all the different elements of the game work and influence each other.
It already starts becoming complicated the moment you decide to buy a sneaker NFT, because how are you supposed to choose the right one?
How does the Luck attribute influence your chances of receiving a Mystery Box or what will the Comfort attribute eventually be used for?
As with most games that are challenging, the deeper a player dives into the rules of the game, the more strategic they become in their approach.
STEPN's whitepaper provides a fair amount of information on how different elements of the game work and how they influence each other.
However, the most critical parts are obviously kept a secret by the development team.
It also must be said that the whitepaper isn't particularly well written and can be fairly confusing at times simply because the information is so fragmented.
That's where STEPN calculators come into play.
Numerous members of the STEPN community have poured their heart and soul into developing free STEPN calculators that other STEPNers can use as guidance.
Not all of them are the same.
Some of them focus more on estimating your earnings and determining an ROI while others are tailored towards people who want to mint and flip sneakers.
Some are more complex than others, trying to put everything on one page, while others break everything down into specific objectives, each with its own STEPN simulator.
However, as useful as all of these calculators and simulators are, they're simply not a replacement for a good understanding of all elements of the game.
That's why we strongly recommend that you go through our entire STEPN guide and read up on everything you need to know.
The Top 7 STEPN Calculators You Should Know
STEPN Guide
STEPN Simulator
STEPN Love
STEPN Assist
STEPN Calculator @ Netlify
STEPN Calculator @ Coda
WorkItWallet
There's really no perfect simulator and you'll most likely have to try out a few of them until you find the right fit for your needs.
That being said, some of them definitely have better UIs than others.
We've put together this list of the top 7 STEPN calculators that we are aware of and also share our personal take on each one of them.
1. STEPN Guide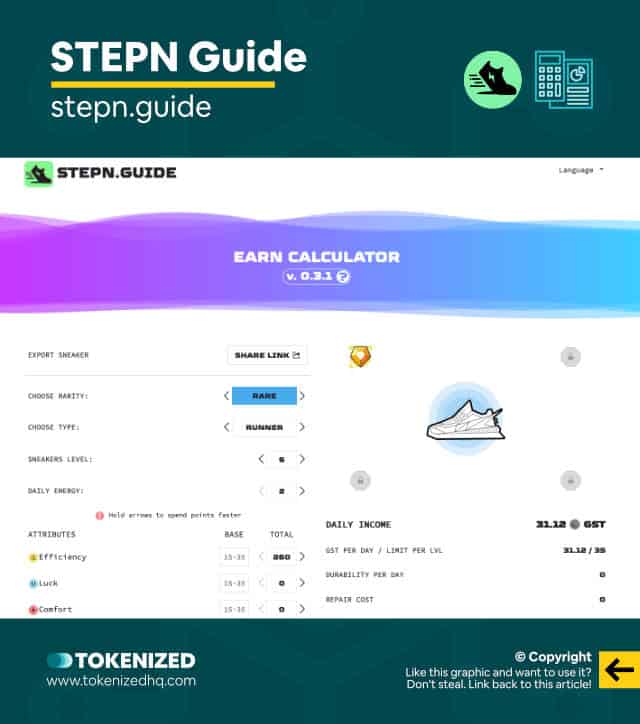 From what we know, the STEPN Earn Calculator is by far the most popular STEPN calculator on the market.
We can't really say that it does anything that most of the other simulators don't do.
But it seems that the branding has been quite effective and we're pretty sure it gets between 1-2 million visitors every month.
Features include:
Sneaker input data incl. gems
Attribute optimization
Estimated daily income
Estimated durability and repair cost
Mystery Boxes (outdated)
Earnings calculator
Languages: English, Russian, Chinese
2. STEPN Simulator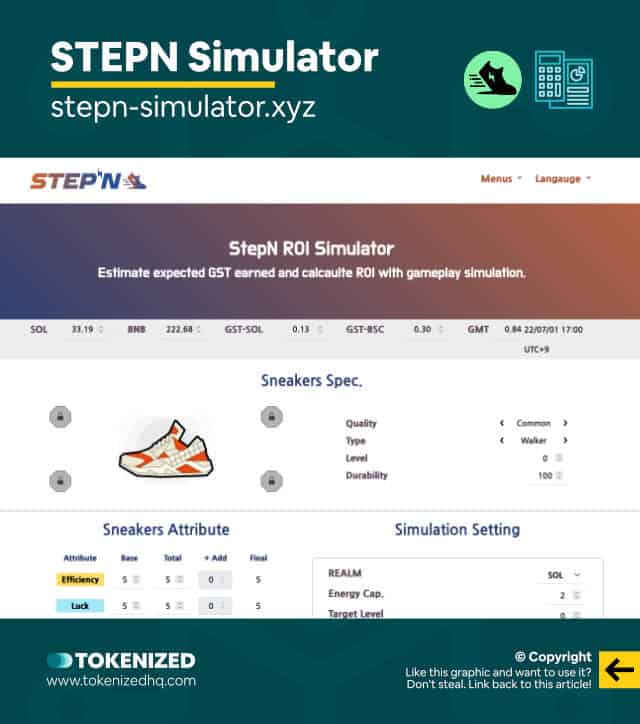 Next up is STEPN Simulator which markets itself specifically as a STEPN calculator for ROI estimates.
It covers most of the same elements that STEPN Guide does, albeit in a slightly less visually appealing way.
However, what makes this STEPN calculator particularly nice is the ROI assessment.
You see, it not only takes into account all of the different token prices.
It also asks you specifically what you already have and what you want to achieve.
At the very end, it produces a nice little graph.
Features include:
Sneaker input data incl. gems
Earnings calculator
Estimated daily income
ROI calculation
Visualization of simulation results
Minting optimization
Minting profit calculator
Languages: English, Korean
3. STEPN Love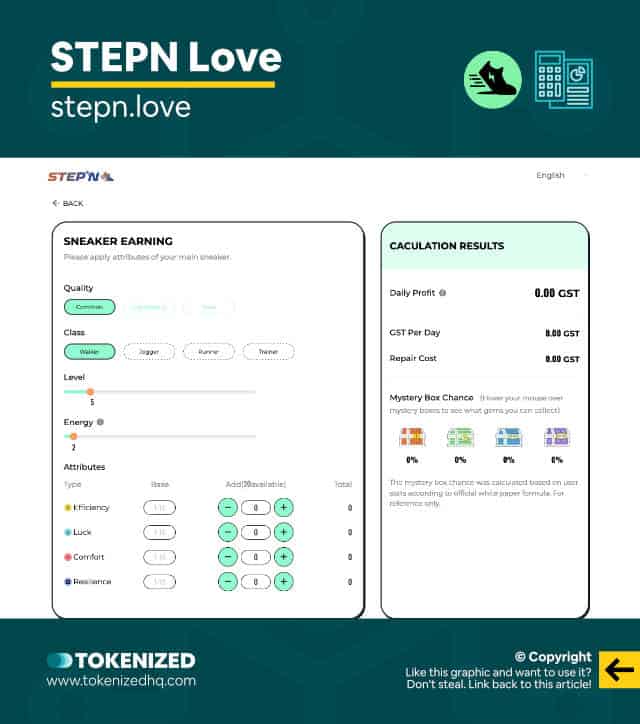 STEPN Love is the third calculator on our list.
Instead of stuffing everything into a single user interface, STEPN Tools uses a different approach.
They've broken down all the different calculations you might want to do into specific objectives.
It's a little bit like using various different mini-tools.
Features include:
Live token prices
Sneaker earnings
Payback period
Sneaker rating
Mint profit calculator
Energy calculation
Upgrade cost estimator
Languages: English, Chinese, Japanese
4. STEPN Assist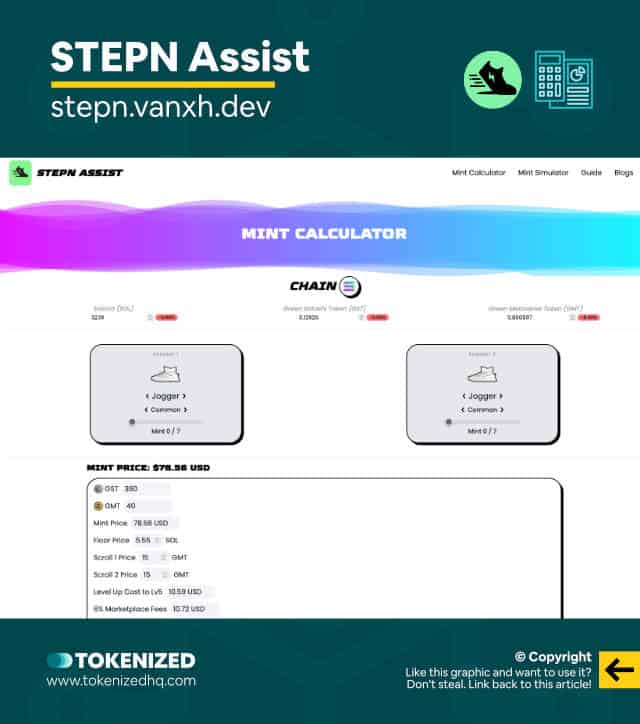 STEPN Assist has decided to ignore GST earning completely and instead just focus on minting.
The site effectively has 2 different tools: A mint calculator and a mint simulator.
The mint simulator provides you with an estimate of the type of sneakers you'd get from a specific sneaker combination.
The mint calculator is meant to help you estimate the potential ROI of flipping a newly minted sneaker.
Features include:
Live token prices
Shoe minting simulator
Show mint calculator incl. ROI
5. STEPN Calculator @ Netlify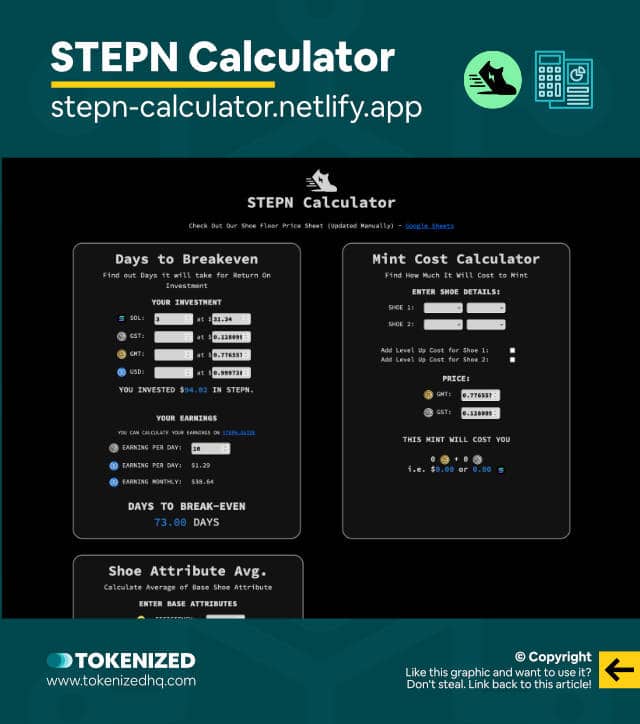 The next simulator on our list is simply called "STEPN Calculator" and it is hosted on Netlify.
It's a bit simpler than all of the other tools but gets the job done.
What's nice is how they estimate how long it will take you to break even based on your investment.
Features include:
Breakeven calculator
Mint cost calculator
Shoe attribute rating
6. STEPN Calculator @ Coda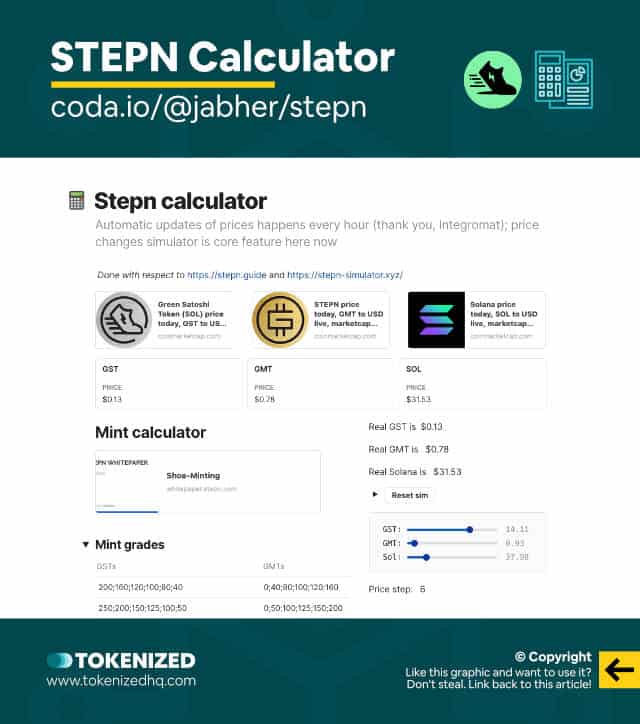 The next simulator is mainly interesting because it's the very first tool of its kind that I've seen built on Coda.io.
It also uses Integromat to update the prices on a regular basis.
That in itself is interesting to me, even though it's fact that's completely unrelated to STEPN itself.
The tool is fairly simplistic, so you're probably better off with the others for now.
7. WorkItWallet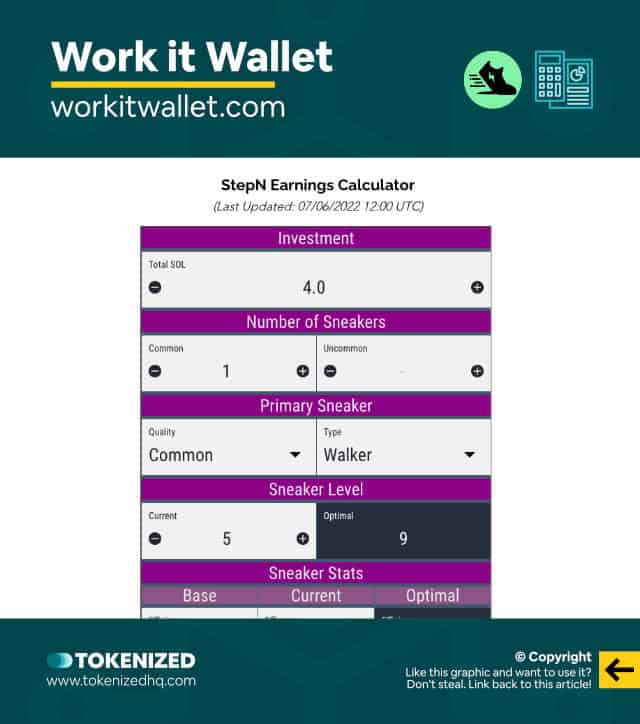 The final calculator on our list today is from a site called WorkItWallet.
It's essentially a blog dedicated to providing knowledge and tools that get people to go outside more.
That means that the author will not only be focusing on STEPN but also on other Move-to-Earn games as they evolve.
The site has 5 separate tools and although it's not the prettiest site, the various calculators are actually quite user-friendly.
Features include:
Sneaker pricing tool
Earnings calculator
Level up tool
Minting tool
Shoebox pricing tool
Conclusion
Although you can easily play STEPN by simply winging it and just being active, it's a lot more fun when you actually know how to achieve certain goals.
STEPN calculators help you simulate various aspects of the game in advance so that you can determine the best strategy for your objective.
We highly recommend you give all of the tools a try and don't just focus on what looks the prettiest!
Here at Tokenized, we want to help you learn as much as possible about the coming NFT revolution. We help you navigate this fascinating new world of non-fungible tokens and show you how you can integrate tokenization into your own business.