Are you looking for lists of NFT jobs that you can apply for?
Perhaps you've decided that you want to join a major NFT project but don't really know where to start looking?
Well, we've got you covered, because we've been hearing about how more and more people are looking for NFT jobs and are completely overwhelmed by all the different job boards you'll find online.
In this guide, you'll not only discover some of the best NFT job lists in the crypto scene but also what sort of skills you'll need in order to start a career in NFTs.
Let's dive right in.
Key Points (tl;dr)
NFT jobs are essentially like any other job in a tech startup or corporation, except that the primary focus is on building a product that is tailored toward the NFT industry. There are many different types of jobs within the NFT space, both part-time and full-time.
Depending on the specific department that you want to work in, you'll have to demonstrate prior experience and expertise for some job positions. This is especially true for technical roles. However, there are many entry-level positions as well.
There are 2 ways to start a career in NFTs. One is to simply apply for an open position. The other requires that you get involved in a project's community Discord and get acquainted with the project founders. Very often staff is hired from within a project's own community.
Here's a list of the top 10+ NFT jobs lists you should know:

Natives of Web3
Niftjobs
The Metaverse Jobs

CryptoJobList
Cryptocurrency Jobs
NFT Gigs
NFT Jobs on SeaLaunch
NFT Jobs on LinkedIn
NFT Jobs on Remote OK
Web3 Jobs
Remote3
For a detailed list of the top 10+ NFT jobs boards, PLEASE READ THE FULL ARTICLE.
Like this content? Then share it!
The Top 10+ NFT Jobs Lists to Jumpstart Your Crypto Career
Here's the answer. Great article by @ChrisHeidorn right here: https://tokenizedhq.com/nft-jobs/

www.tokenizedhq.com
What Are NFT Jobs?
NFT jobs are usually positions within a team that manages a larger NFT project. As NFT projects grow, they become complex and cannot be run by a single person. Some examples of NFT jobs are executive positions, blockchain developers, marketing managers, community managers, and more.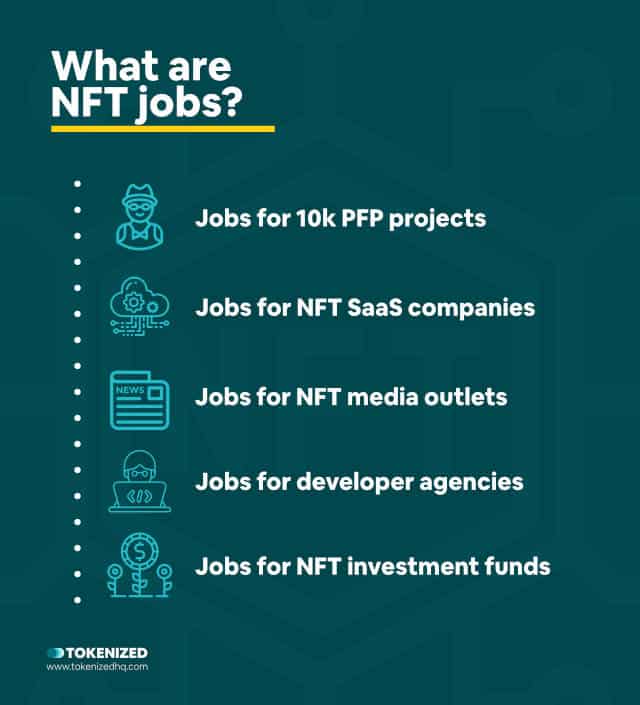 Just like in the general crypto scene, the vast majority of people tend to go solo in NFTs.
The main reason for this is that most people who invest in NFTs already have a full-time job and investing in NFTs is just a hobby for them.
And the ones that make money from NFTs full-time are very often just day traders, who are trying to turn a profit by flipping them.
However, the real NFT jobs are those that are either directly involved with an NFT project or a company that provides some form of service or tools that are used in the NFT space.
So, what is an NFT job?
Something that a lot of people struggle with is the idea of working for a 10k PFP project team.
They don't really understand what sort of NFT job titles they have and what the day-to-day job might look like.
And what's even stranger for a lot of them is the fact that they might be paid in crypto rather than in fiat.
But rest assured, most of the NFT jobs that you can apply for are not fundamentally different from other jobs, no matter whether inside our outside the crypto job market.
NFT projects, just like regular startups, need managers, NFT developers, marketers, NFT project managers, support staff, and many other types of skills.
Can NFTs Be a Full-Time Job?
There are many full-time job positions in NFTs that are very similar to other remote jobs in other industries. NFT projects are not fundamentally different from other startups and need a wide range of skillsets in order to execute the project's vision.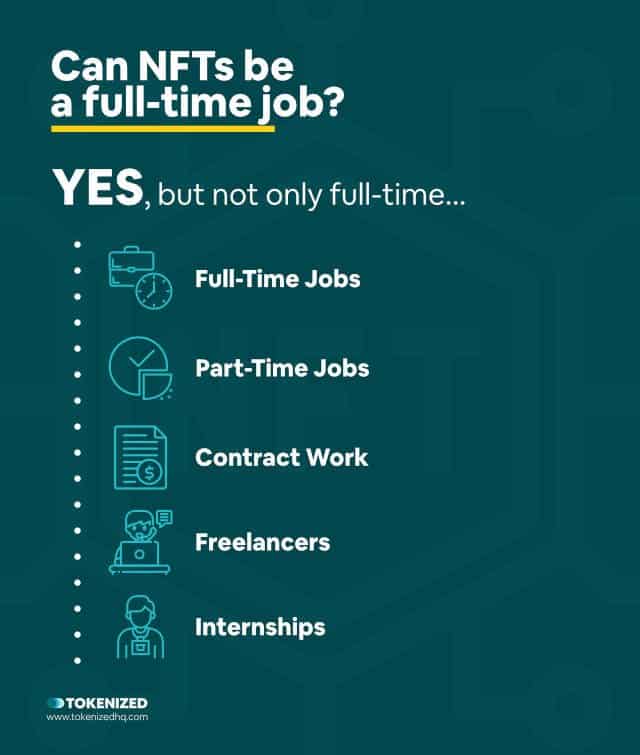 Let's ignore those who are self-employed for a minute because these are people who obviously already make a living from NFTs.
But believe it or not, there are many full-time jobs available in the NFT space.
Professional NFT projects will hire using clearly defined job descriptions and they will also have hiring processes that a very similar to other startups.
Will everything be exactly like in a big corporation that is listed on the S&P 500? Of course not.
But you can bet they'll be quite similar to other startups.
The only thing that might be a bit different is that you'll find significantly more teams that are 100% remote and scattered throughout the world.
But that doesn't change the fact that you can easily land full-time NFT jobs.
What Skills Are Needed for NFT Jobs?
Jobs for NFT projects come with similar skill requirements as those in other tech startups. Employers will expect a minimum level of technical literacy, no matter how non-technical the position is. It is important that you can demonstrate notable experience in the field of expertise that the relevant position requires.
NFT projects are no different from any other startup.
Sure, there might be a few job roles that are very specific to the NFT space, such as a community Discord manager or NFT developer jobs that require smart contract experience.
But other than that you'll find most of the same types of jobs that you'd expect in other online-based startups.
The key thing to remember is that these are all tech companies at their core, so you'll have to have a decent amount of fluency in all things related to online marketing and tech.
That being said, some NFT jobs are more technical than others and if you're looking for a job in customer support, you obviously won't need to know how to code.
Here are just a few examples of typical NFT jobs:
Blockchain Engineer
Solidity Developer
Front-End Developer
Fullstack Developer
System Administrator
UI/Web Designer
Art Director
Creative Producer
Product Manager
Community Manager
Operations Manager
Accountant
If you're keen to know what sort of job openings are available at one of the biggest NFT startups in the world, go check out our guide on OpenSea careers.
Or, if you're an illustrator, you may want to learn more about NFT artist jobs that you can potentially apply for.
How Do I Start a Career in NFTs?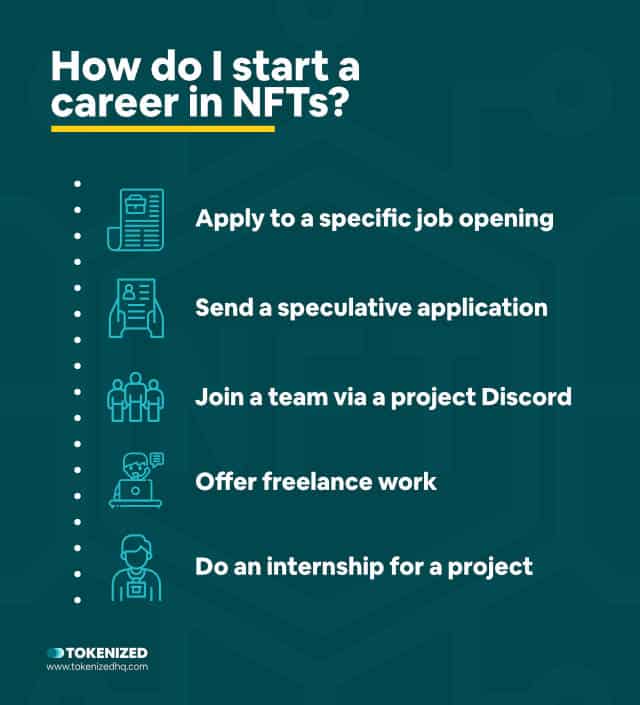 If you have previous experience or are a seasoned professional in a particular field of expertise, you can find suitable positions from the various listed job openings and simply apply. If you do not have any prior experience, it is recommended that you spend time in the Discord of a project you like and ask the project leadership whether they have positions available (even if unpaid).
There are different ways to go about starting a career in NFTs.
If you have previous experience in a particular field that is required in NFTs then the best way to start is to apply for a specific job opening and take it from there.
Maybe you're even a seasoned professional in this space, in which case you already have strong credentials and you could approach a project that you like on a hunch.
You'd be surprised how many NFT projects are having difficulties filling their NFT jobs and if real talent knocks on their door, they'll make things happen.
However, if you don't have a ton of experience in crypto or NFTs and are just starting out, then you essentially have 2 options.
Your first option is to seek out NFT analyst positions and just apply to those like everyone else does.
You'll go through a hiring process and if you're a good fit, you'll get started quite soon.
The second option is to hang out in the Discord of an NFT project that you really like a lot.
Spend a lot of time there and try to help as many people as possible, so that the project team starts to notice you.
When the time is right, you can try reaching out to the founders and ask them whether they have any job openings.
These don't necessarily need to be full-time jobs, even a part-time job can help you learn a lot in this space.
And most importantly, pay shouldn't be your primary concern.
Remember, this industry is super young and there is still so much to learn, so that's definitely something you should factor in.
An internship with low pay at a top-tier NFT project just might end up becoming one of the best NFT jobs you could ever do and will look great on your resume.
The Top 10 NFT Jobs Lists You Should Know
Web3 Natives
Niftjobs
The Metaverse Jobs
Web3 Jobs
CryptoJobList
Cryptocurrency Jobs
NFT Gigs
NFT Jobs on SeaLaunch
NFT Jobs on LinkedIn
NFT Jobs on Remote OK
Remote3
There are so many NFT job boards and other crypto job lists out there that its kind of difficult to keep track of all of them.
One of the challenges for those looking to apply for a job is that the NFT job listings are scattered all over the place.
You never know which one is up to date or whether they've already been filled.
So you inevitably end up browsing all sorts of different NFT job sites.
And while that's not something we can easily fix for you, we can at least do our best to put together a list of the best career websites to find NFT jobs.
So here they are, the top 10 NFT jobs lists that you should.
1. Web3 Natives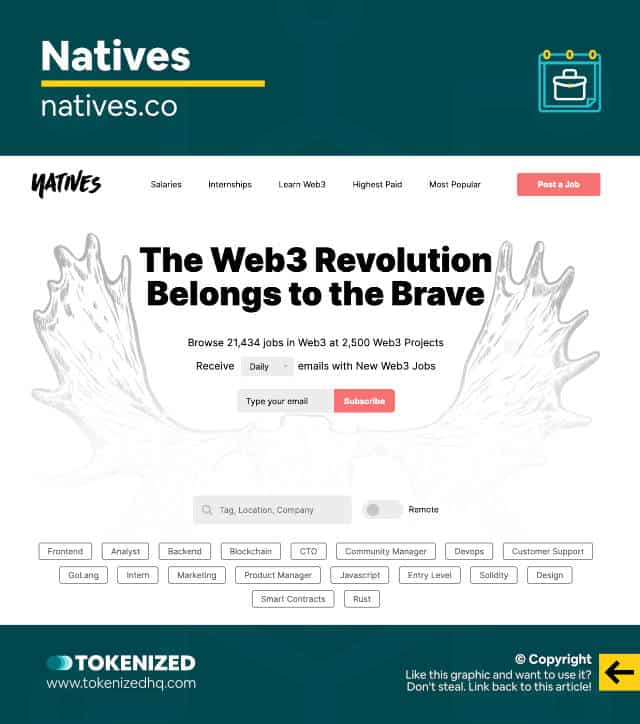 Natives is a Web3 job board that we are partnering with to build the most cost-effective recruiting platform for Web3, blockchain, and NFTs.
The site hasn't launched yet, but you can sign up for their mailing list in order to get notified when it launches.
Features will include:
Filter by tag, location, company, and remote
Email digest
Covers the full Web3 space
Affordable paid listings with variable pricing based on demand
Recruiting tools
And much more
2. Niftyjobs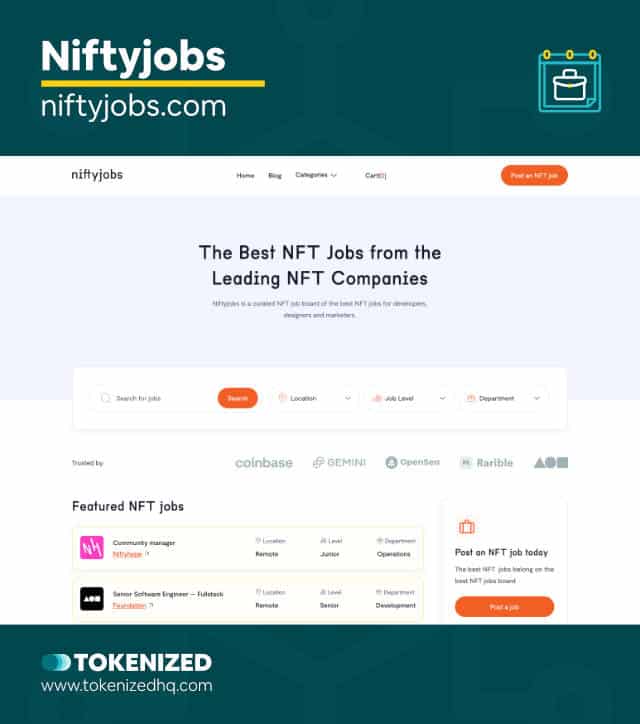 Niftyjobs is a site dedicated to listing NFT jobs for those who specifically want to pursue an NFT career.
They have a curated job board of the best NFT jobs for developers, designers, and marketers.
Features include:
Filter by location, job level, and department
Email digest
Companies can list jobs for free
Featured job listings for a fee
3. The Metaverse Jobs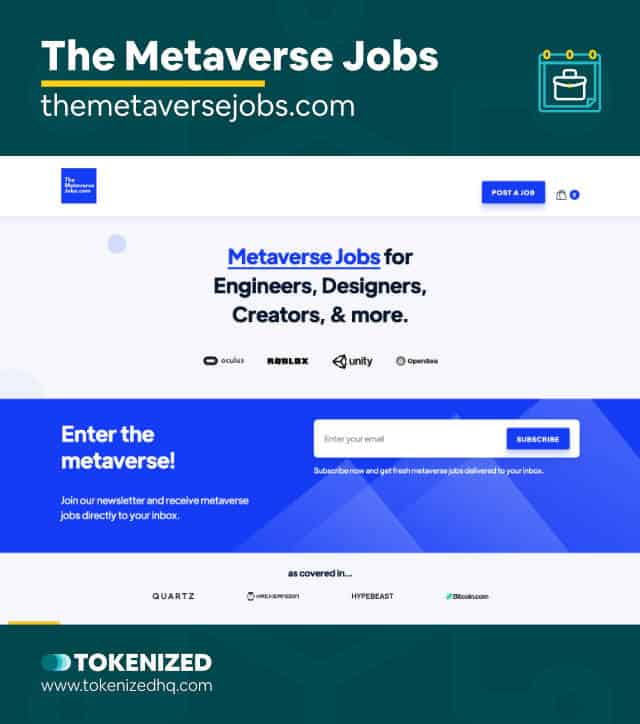 The Metaverse Jobs takes a broader approach to jobs in the crypto scene and they cover a far greater range of areas than just NFTs.
Nevertheless, they've got a good stock of NFT-related jobs which will surely only grow over time.
Features include:
Filter by industry segment, department, and remote
Email digest
Covers the full crypto scene
Only paid listings starting at $89 per listing
4. NFT Gigs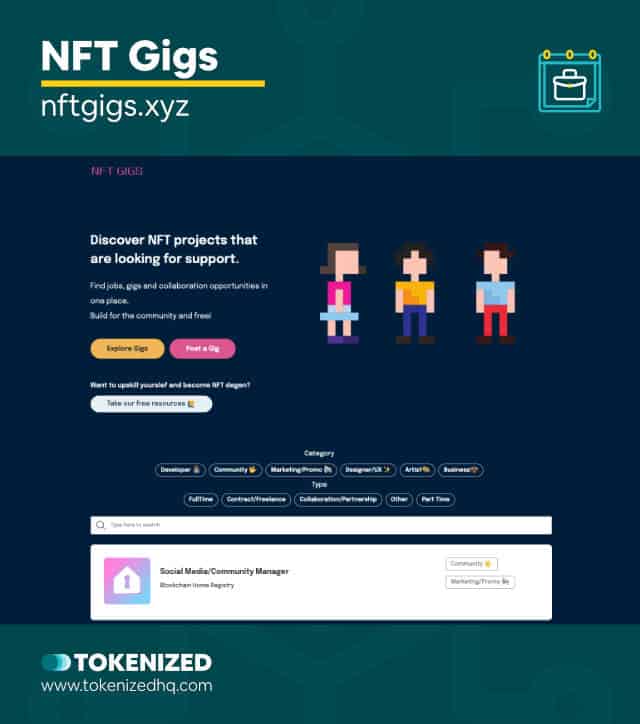 NFT Gigs is a much smaller outfit compared to some of the others, however, the good thing is that they've decided to niche down into NFT jobs.
Although the site is small, it's a community-built product that is 100% free to use for everyone.
Features include:
Filter by category and tag
100% free to use and list
5. CryptoJobList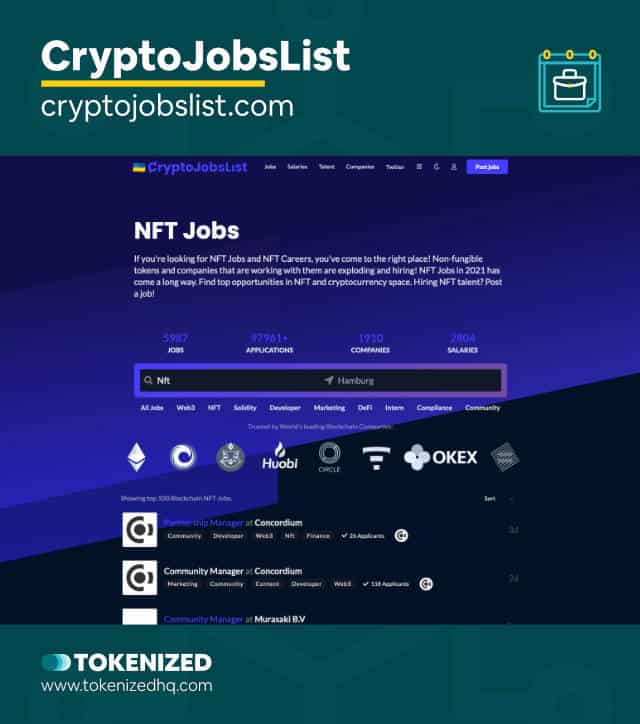 As the name already states, CryptoJobsList is a jobs site dedicated to the entire crypto space and it advertises itself as the biggest list of crypto-related jobs.
They also have a specific NFT section with over 6,000 NFT jobs listed right now for various different activities.
Features include:
Filter by department, location, and more.
Email digest
Covers the entire crypto scene
Only paid listing starting at $69 per listing
6. Cryptocurrency Jobs
Cryptocurrency Jobs is another site that's very similar to CryptoJobList since it covers the entire crypto industry and NFTs are merely one of many categories.
They have a very clean site with new job openings coming in almost on a daily basis.
Features include:
Filter by department or location
Covers the entire crypto industry
Email digest
Only paid listings starting at $299
7. NFT Jobs on SeaLaunch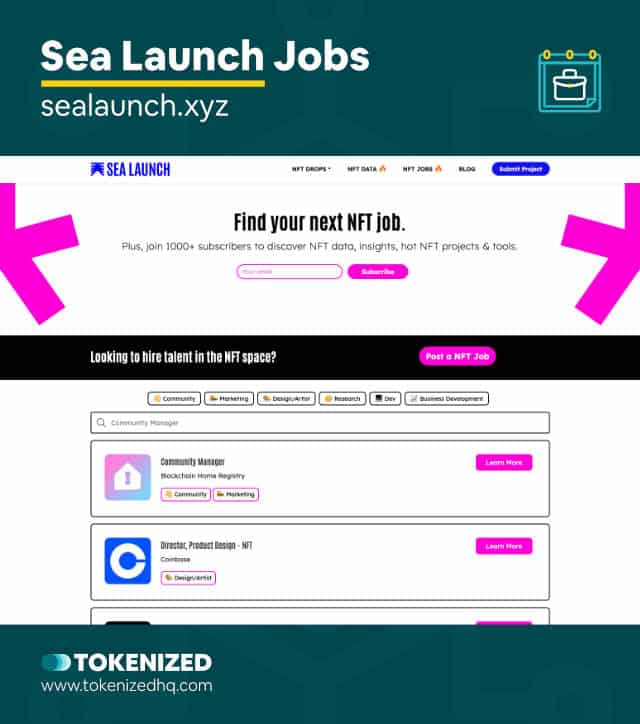 SeaLaunch is normally a site dedicated to providing the latest data on NFT data, insights, and new projects.
However, they've recently added their own jobs section and we believe this could prove very useful for a lot of people who want to pursue a career in NFTs.
Features include:
Filter by category/department
Specialized in NFT jobs
Currently free to list (normally starts at $50)
8. NFT Jobs on LinkedIn
Although this might seem like a bit of a no-brainer, you'd be surprised how many people underestimate the power of LinkedIn.
While it might not be the place where most of the Web3 scene hangs out, it's still a highly effective platform for hiring people for various management positions.
Features include:
Massive reach
Best for management positions and non-technical roles
Provides initial data on candidates
Paid listings starting at $600
9. NFT Jobs on Remote OK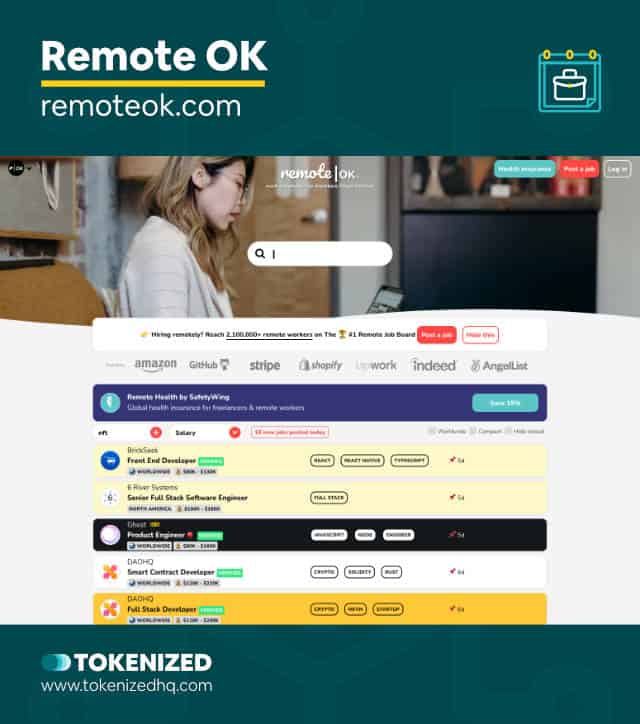 Remote OK is very popular and well-known amongst the Indie Hacker scene, mainly because it's effectively a carbon copy of Nomad List.
Nomad List was founded by Pieter Levels, one of the best-known digital nomads in the Indie Hacker scene and the site isn't just a job list but also a full-blown community.
Pieter has no employees and the entire site is run by just a handful of people who, you guessed it, work remotely.
Features include:
Filter by tags, salary, and worldwide
Ideal for people looking to work remotely
Only paid listings starting at $449
10. Web3 Jobs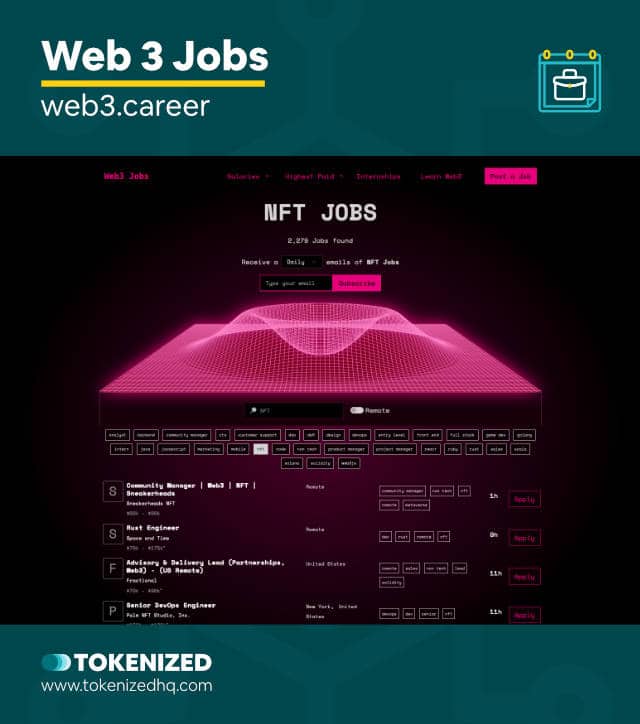 Web3 Jobs is another jobs site that has decided to take a broader approach, yet specifically targeting an audience that wants to get into Web 3.
They currently list more than 18,000 jobs from over 2,000 different projects.
Features include:
Filter by tag, location, company, and remote
Email digest
Covers the full Web3 space
Only paid listings starting at $299 per listing
11. Remote3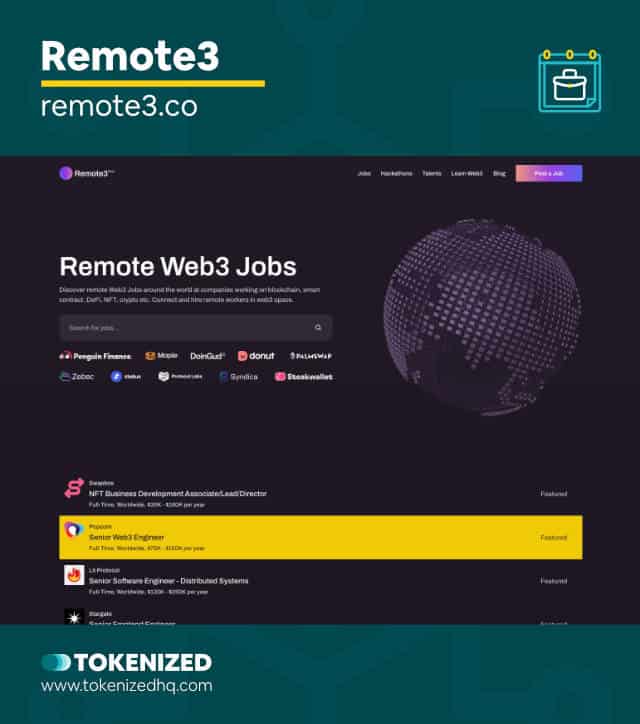 The last job board on our list is Remote3, another project started by an Indie Hacker who is building in public and trying to specialize in the niche for remote Web3 jobs.
Features include:
Filter by tag, salary, job type, remote, pay in crypto
Specifically optimized for the Web3 space
Only paid listings starting at $299
Conclusion
It's getting tougher and tougher for companies to find strong talent that will help support their growth journeys.
At the same time, remote work is becoming increasingly widespread and the labor market is globalizing more than ever.
Job boards and career platforms play a vital role, both for those looking to start a career in NFTs as well as the project that want to hire the best of the best.
Here at Tokenized, we want to help you learn as much as possible about the coming NFT revolution. We help you navigate this fascinating new world of non-fungible tokens and show you how you can integrate tokenization into your own business.