Are you looking for NFT Social Media Manager jobs to apply for?
Maybe you've been considering starting a career in NFTs for some time now but don't have any of the specific artistic or technical skills that are often required in certain NFT jobs?
Well, the good news is that not all NFT jobs require blockchain-specific skills and there are a whole bunch of jobs that are just as important in NFTs as they are in other industries.
In this guide, you'll learn everything you need to know about the role and responsibilities, as well as the average salary of typical NFT Social Media Manager jobs.
Key Points (tl;dr)
NFT Social Media Managers are responsible for managing a company's social media presence across a wide array of different platforms, including Facebook, Twitter, and Instagram.
Social Media has become a critical interface between companies and their customers, effectively turning them into points of first contact. Not only are social media a cost-effective way to promote the business, but they also enable genuine interaction with loyal fans.
Although compensation is above average in the NFT industry, that does necessarily apply to all job categories. Social media jobs do not rank among the highest paying jobs, since these are primarily technical in nature.
Nearly all Web3 and NFT jobs are available for remote work, although some may require you to be based within the US.
With the advent of Web3, niche job platforms are gaining traction because they tend to provide a much higher return on investment for companies and it's much easier for job seekers to find relevant positions for themselves. One of these new platforms is Natives, which is set to launch in the late summer of 2022.
For a detailed overview of popular NFT Social Media Manager jobs and their requirements, PLEASE READ THE FULL ARTICLE.
Like this content? Then share it!
The Truth About NFT Social Media Manager Jobs in 2023
Here's the answer. Great article by @ChrisHeidorn right here: https://tokenizedhq.com/nft-social-media-manager-jobs/

www.tokenizedhq.com
What does an NFT Social Media Manager do?
An NFT Social Media Manager is responsible for managing the online presence of a company or brand on various social networking platforms, such as Twitter, Facebook, or Instagram.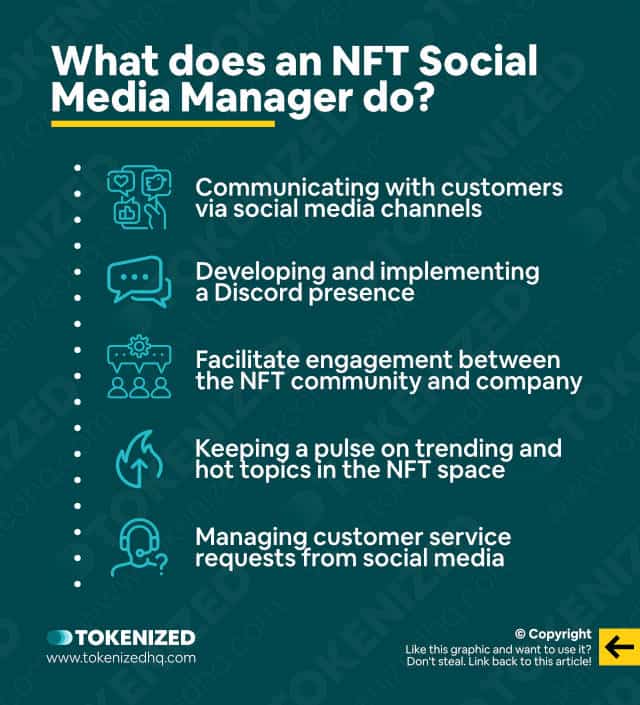 So you might be wondering how the job of a Social Media Manager in NFTs differs from the same type of job in a traditional business.
Well, the truth is they don't really differ all that much in terms of the actual work they entail.
The primary job of an NFT Social Media Manager is to communicate with customers and fans of the company or brand via all sorts of social networking channels.
Traditionally these would be Facebook, Twitter, Instagram, Snapchat, and the more recently relevant TikTok.
However, both Twitter and Discord play a very special role within NFTs because that is where the majority of the scene spends their time.
Discord has effectively replaced Facebook Groups as the primary meeting ground for communities within the crypto industry.
And the reason people often talk about "NFT Twitter" or "Crypto Twitter" (CT) is simply that these are very real "bubbles" within Twitter where most of the public interaction takes place.
So, depending on what the hiring company does, an NFT Social Media Manager may have to put considerably more emphasis on these channels than they are used to.
That being said, you can expect a lot of big brands to start hiring specific NFT Social Media Managers for their dedicated NFT collections.
A good example is Budweiser and Pepsi which have both launched their own fan NFT collections and communicating with these audiences requires a slightly different tone.
As a rule, aspiring NFT Social Media Managers need to be in touch with NFT culture, its dominant themes, and most of all, its inclusiveness.
Typical Requirements & Responsibilities of NFT Social Media Manager Jobs
People looking to apply for a position as NFT Social Media Manager should not only have a deep understanding of NFT culture but also a strong track record of community engagement in the crypto scene.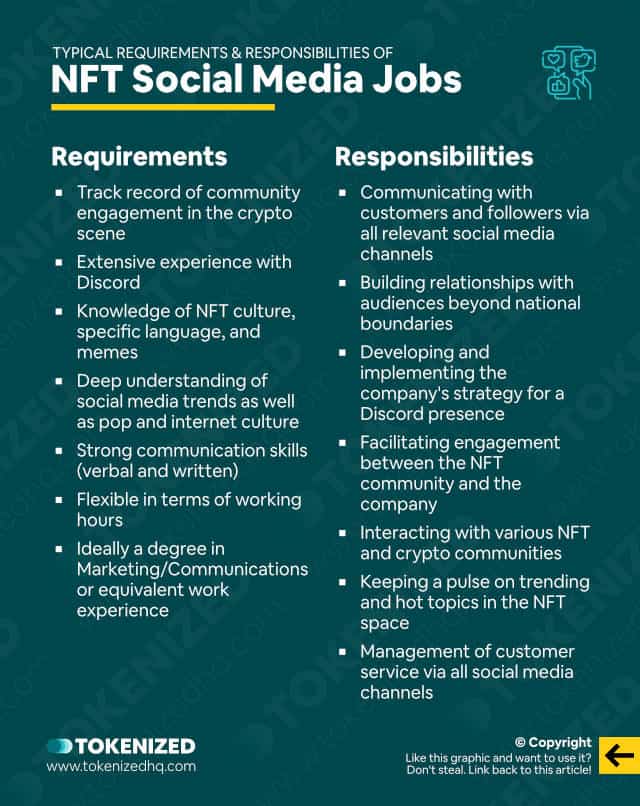 Obviously not every NFT Social Media Manager position will be the same since brands and communities in all parts of the world are different.
However, there are a number of things that candidates will have to bring to the table in order to succeed.
Social media may seem like something that anyone can do but in reality, talent goes a long way in this particular job.
Having your finger on the pulse of the consumer is not something that many people can claim and it is very difficult to learn.
Let's have a look at some of the requirements that you'll commonly encounter in NFT jobs for social media professionals.
Common Requirements & Skills:
Track record of community engagement in the crypto scene
Extensive experience with Discord
Knowledge of NFT culture, specific language, and memes
Deep understanding of social media trends as well as pop and internet culture
Strong communication skills (verbal and written)
Flexible in terms of working hours
Ideally a degree in Marketing/Communications or equivalent work experience
Common Responsibilities:
Communicating with customers and followers via all relevant social media channels
Building relationships with audiences beyond national boundaries
Developing and implementing the company's strategy for a Discord presence
Facilitating engagement between the NFT community and the company
Interacting with various NFT and crypto communities
Keeping a pulse on trending and hot topics in the NFT space
Management of customer service via all social media channels
Common NFT job titles include:
Social Media & Content Manager
Web3 & NFT Community and Social Media Manager
Social Media Manager
Social Media Specialist for Web3
Web3 Social Media Manager
Digital Marketing Manager
What is the Average Salary of NFT Social Media Manager Jobs?
Salaries for Social Media Managers in NFTs vary a lot based on where employers are located. However, minimum pay tends to be around $30k per year and the average salary is about $55k per year.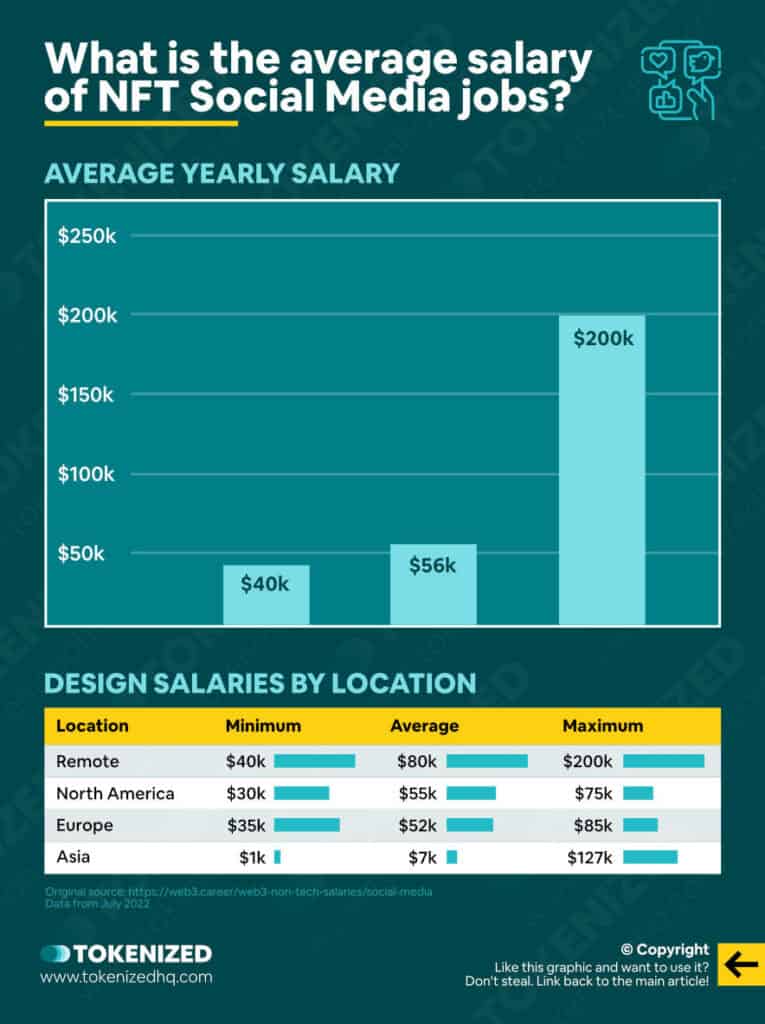 While salaries in the NFT space as a whole tend to be above the usual average, this does not necessarily apply to all types of jobs.
It's important to understand that the numbers are skewed by a high proportion of technical jobs that have big compensation packages.
The big difference is easily explained by the fact that technical roles often require extensive education or experience and the mere fact that demand outpaces supply by a wide margin.
At the same time, jobs in social media are very popular and often perceived by the market as less demanding.
This is made worse by the fact that there is an overwhelming supply of candidates from around the world who, at least on paper, are capable of doing the job.
That is why the salary for Web3 Social Media Managers ranges from as low as $7,000 per year in parts of Asia to a whopping $200,000 for certain remote jobs.
It's important to note that the highest paid jobs tend to be for US-based roles and sometimes the roles also include community management.
Therefore it's difficult to classify all the different job opportunities and pinpoint the exact salary for an NFT Social Media Manager.
Are NFT Jobs for Social Media Managers Remote OK?
The vast majority of Social Media Manager jobs in NFTs are available on a "Remote" basis. However, these terms may still require you to be based within the United States.
Social media management jobs are among the most digital jobs out there.
The mere fact that they revolve around communications and networking platforms that are overwhelmingly used via phones already says a lot.
Therefore it's fair to assume that most social media jobs will be "Remote OK".
This is especially true for NFT Social Media Manager jobs, where nearly everyone works from home or at least remotely.
That being said, bear in mind that "remote" does not necessarily imply that a job is open to worldwide candidates.
Many of the highest paying positions are for companies located in the United States and it's not uncommon for them to require candidates to be based in the US.
Where Can I Find NFT Social Media Manager Jobs?
People looking to work in a very specific industry should focus their efforts on niche job boards that are popular within that industry rather than searching major platforms because niche job boards tend to be considerably more effective.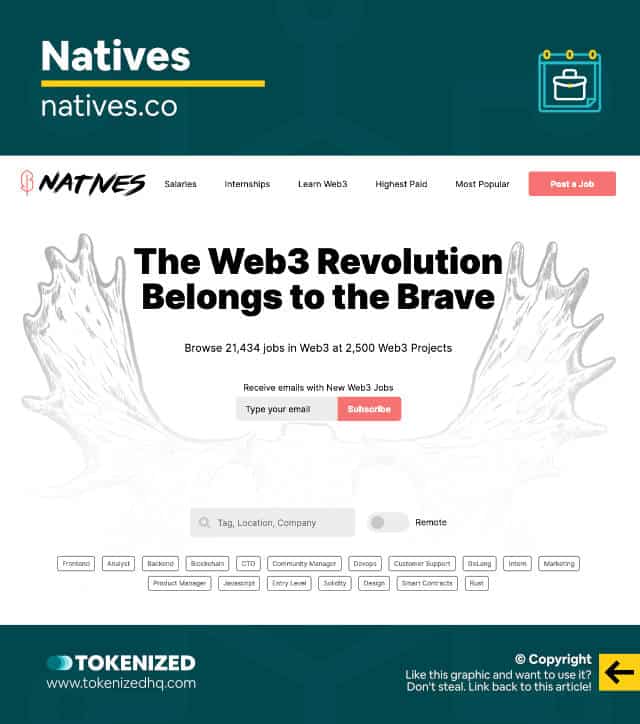 The world is facing a major shortage of skilled workers and it's increasingly becoming a problem.
The Great Resignation has triggered an exodus from traditional jobs and large industrial corporations.
At the same time, the digitalization of our world is beginning to accelerate and nascent industries are fighting for talent as well.
And while that may sound great if you're looking for work, the major job platforms have mostly become useless because it's too difficult to separate the wheat from the chaff.
Increasingly, companies and workers alike will be much better off focusing their efforts on specific niche job platforms that cater to their individual needs.
One of these niche Web3 job boards is "Natives", an up-and-coming career platform that puts Web3, crypto, and NFTs front and center.
Not only is it considerably cheaper for companies, but it's also more effective for everyone.
Conclusion
Although social media positions may not pay as much as an engineering job, there are still tons of opportunities in the NFTs for social media managers.
People who have a deep understanding of NFT culture and are effective communicators will always be among the most sought-after candidates in this space.
The important thing is to focus your efforts on job boards that actually cater to the specific needs of that industry.
Here at Tokenized, we want to help you learn as much as possible about the coming NFT revolution. We help you navigate this fascinating new world of non-fungible tokens and show you how you can integrate tokenization into your own business.