Are you looking to start a career in NFTs?
Maybe you've recently decided that you want to look for opportunities in Web3 but don't know where to find the best NFT careers.
Well, we've got good news for you because the number of places where you can find exciting new job opportunities in NFTs is growing by the day.
In this guide, you'll learn how to work towards a career in NFTs as well as which sites you should be checking for new NFT career opportunities.
Let's get started!
Key Points (tl;dr)
NFTs are a technology first and foremost. Therefore, when people talk about the "NFT industry" they usually mean the people who are actively building products and solutions that utilize NFTs.
Although the blockchain still feels daunting to a lot of people, the vast majority of job opportunities in this field require relatively little technical expertise.
Marketing managers are hired for their expertise in marketing. An illustrator is hired to create artwork. And a Discord moderator is expected to do one thing: Be a moderator.
Don't think about NFT careers as something esoteric that requires a whole new set of skills. Ask yourself whether you understand why NFTs have potential and if you're willing to spend the next 10-20 years obsessing about them.
Given the small nature of these job markets, we strongly recommend that you look for opportunities on some of the more specialized job boards, such as the Web3 jobs platform Natives.
For a detailed list of the top 5 NFT careers websites, PLEASE READ THE FULL ARTICLE.
Like this content? Then share it!
The 5 Best Job Boards for NFT Careers
Here's the answer. Great article by @ChrisHeidorn right here: https://tokenizedhq.com/nft-careers/

www.tokenizedhq.com
What Do NFT Careers Look Like?
A career in NFTs can take many shapes or forms. If you're an artist, you may want to build a following that will support you through your NFTs. If you're a developer, then you may want to expand your skill set to smart contracts. And if you're expertise lies elsewhere, you may just want to work in an industry that is guaranteed to grow in the next 10 years.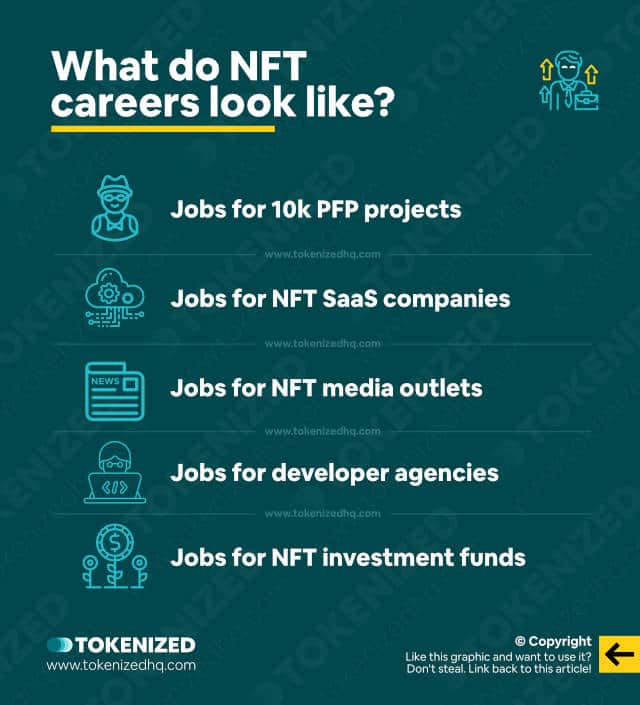 Web3 is still an emerging industry and NFTs, in particular, have their origins in an art movement.
That's also why you'll see a lot of people go it alone in NFTs.
After all, if they are artists so they don't necessarily need an organization in order to pursue their career in NFTs.
And the others, the ones who are just here to flip some NFTs and make a quick buck, are not looking for a true NFT career in the first place.
So what exactly do NFT careers look like?
Well, as with every new technology, the entrepreneurs amongst the early adopters usually see lots of opportunities.
They go on to build products, services, and sometimes even the underlying infrastructure of an entire subsection of the industry.
Sometimes they are startups, sometimes they are existing businesses who want to invest in the space.
Either way, they are the future employers that you should be looking out for.
Of course, since we're talking about the tech industry here, a lot of the important NFT-related jobs will be in engineering.
Smart contract developers are obviously in demand, but they are not the only type of career you can pursue in NFTs.
In fact, we'd even argue that there are considerably more non-technical job opportunities in NFTs than there are NFT developer jobs.
The reason for this is that any growing organization will ultimately need support in various non-technical fields as well.
So don't necessarily think of NFT careers as an entirely new form of work.
Instead, look at them as opportunities in a new, growing industry.
Are There Any Full-Time NFT Careers?
Yes, the majority of jobs in NFTs will be listed as full-time positions. However, there will also be part-time roles and opportunities for freelancers as well. The NFT job market isn't fundamentally different from any other job market.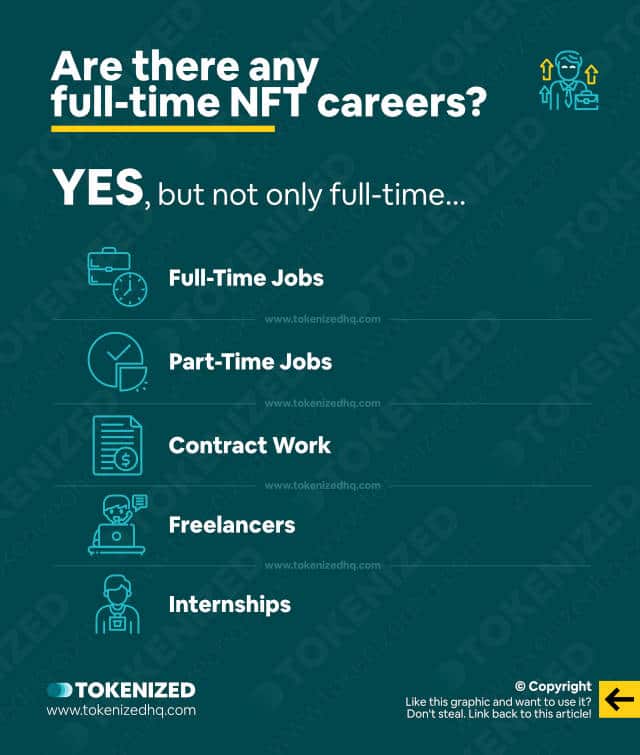 Just like in any other industry, careers take on many different forms.
Some people work full-time, some work part-time, and others work as freelancers.
These are things that are not dictated by the type of industry you're in.
Instead, you'll encounter businesses of varying sizes that have very different needs.
Some need full-time staff while others can only afford someone part-time.
Others will not want to take on the risk and responsibility of an employment contract and hence may opt for a freelancer.
Whatever you're looking for, you'll find an NFT career for it.
Just make sure you're approaching the right type of company for your specific needs.
What Skills Do I Need for a Career in NFTs?
No matter what sort of job you're looking to get in NFTs, make sure that you've actually spent time exploring NFTs and interacting with them before you apply. The required skills will mainly depend on the exact type of job you are applying for.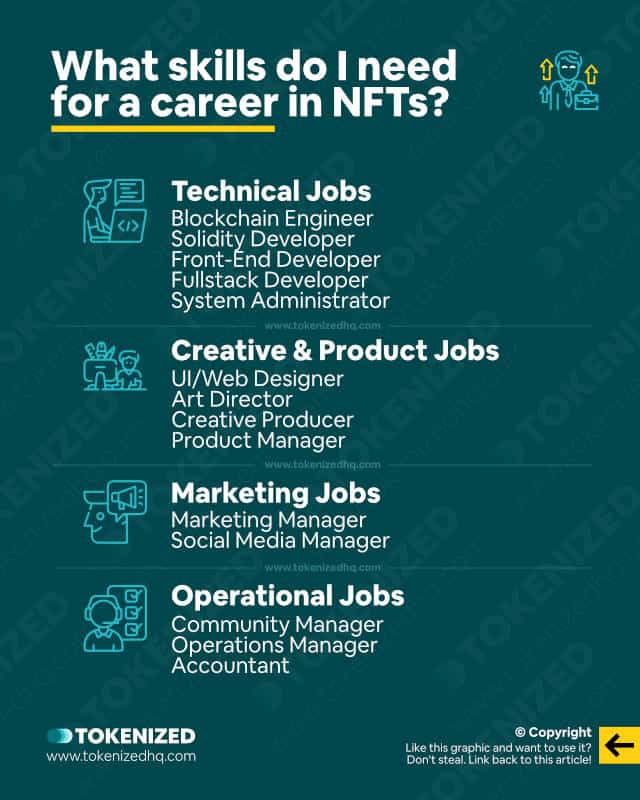 A lot of people think that you need special skills in order to start a career in NFTs.
But that's absolutely rubbish.
Sure, if you want to work in NFTs as an engineer, then in all likelihood you'll probably have to have experience in smart contract development.
For the vast majority of jobs, however, technical experience is not really necessary.
If someone is hiring for an NFT social media marketing job, then they're looking for an expert in social media, not smart contracts.
Of course, given the technical nature of the industry, it always helps if you understand the basic concepts of the technology.
It also helps if you understand the specific culture of the industry.
But no one is expecting you to be a blockchain wizard.
The vast majority of people who work in the oil industry have never been on a drilling platform in their entire life.
So don't overthink it.
The skills you'll need are primarily linked to the function that the job fulfills, not the industry itself.
Here are some examples of job titles in NFT careers:
NFT Developer
Blockchain Developer
Smart Contract Engineer
NFT Discord Moderator
NFT Community Manager
Marketing Manager
NFT Project Manager
Creative Director
NFT Illustrator
Social Media Manager
The list could go on forever.
Check out our guide on the 40+ most popular NFT job titles if you'd like to know more.
The 5 Best Web3 Job Boards for NFT Careers
If you're looking to start a career in NFTs, then the one place you should NOT be looking for jobs is the major job platforms.
Sites like Indeed, Stepstone, or LinkedIn definitely have their purpose and are great for finding jobs in "classic" industries.
However, if you're specifically looking for opportunities in NFTs, then you are much better off looking at dedicated Web3 job boards.
Below are some of the best niche job boards that we recommend if you're looking for NFT jobs.
1. Web3 Natives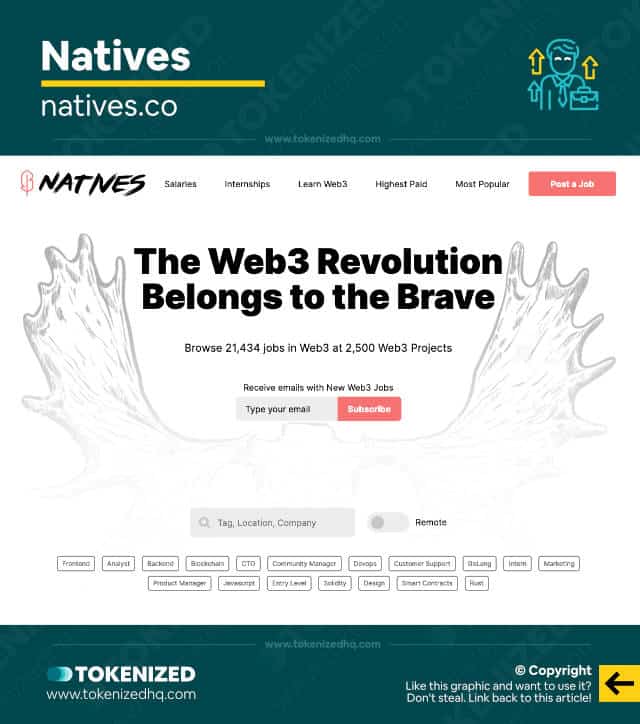 Natives is a Web3 jobs board looking to become the leading hub for digital natives that want to pursue a career in Web3.
The site hasn't launched yet, but you can sign up for their mailing list and get notified once they go live.
While it may only look like a job board at first, the team has much bigger plans for the future.
Features will include:
Searchable job listings for Web3
Email notifications
Company pages
Recruiting tools
Affordable, paid listings with demand-based pricing
2. Niftyjobs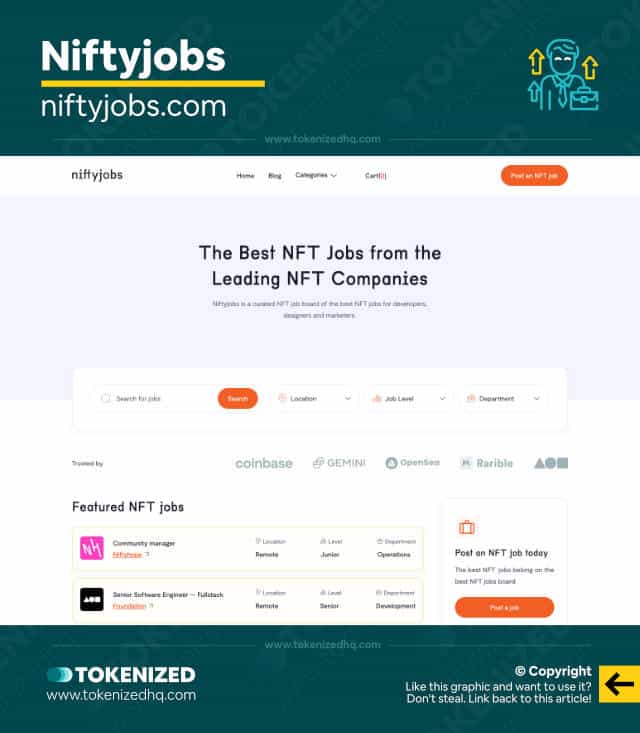 The Niftyjobs website has dedicated itself entirely to NFTs.
So, if NFTs are the only thing you're looking for, then this might be the right job board for you.
That being said, this also limits the number of opportunities that you'll find.
Features include:
Filter by location, job level, and department
Email digest
Companies can list jobs for free
Featured job listing for a fee
3. The Metaverse Jobs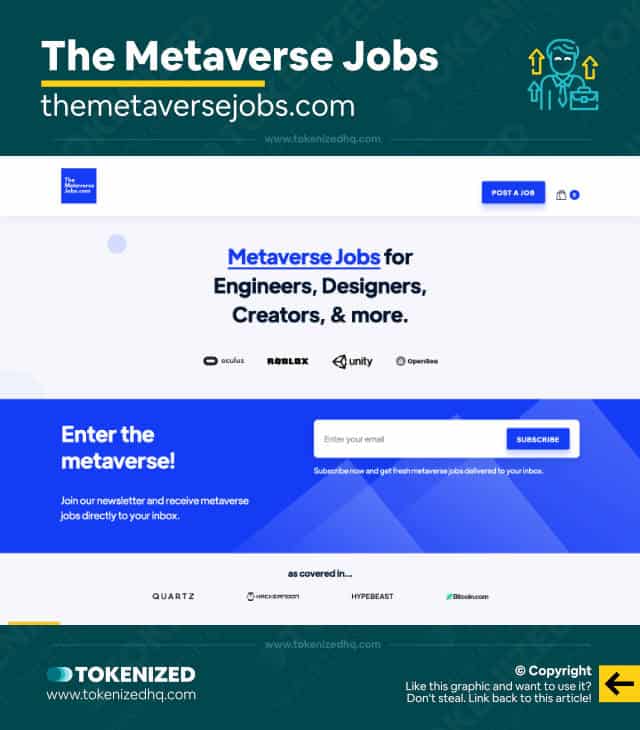 The Metaverse Jobs is obviously a play on words, but they do try to cover more than just the Metaverse.
In fact, you'll find job listings for all sorts of sub-sections of the crypto industry.
Features include:
Filter by industry segment, department, and remote
Email digest
Covers the full crypto scene
Only paid listings starting at $89 per listing
4. NFT Gigs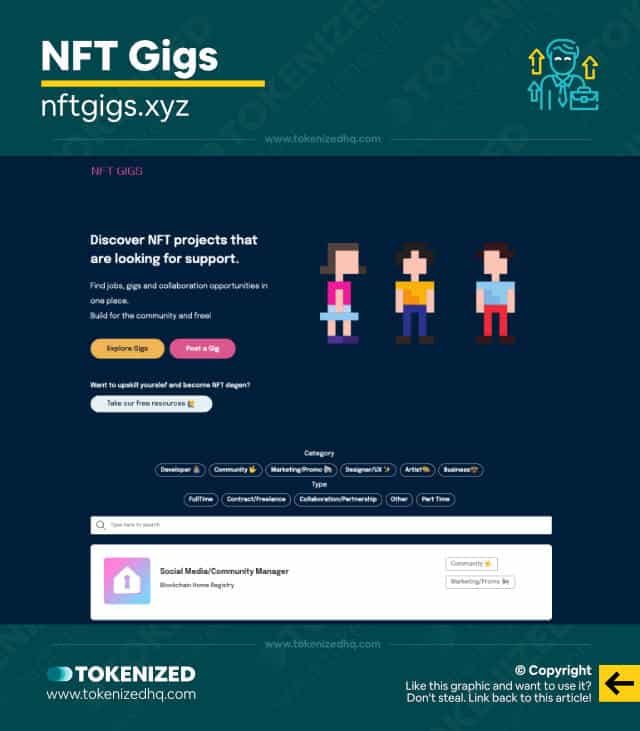 NFT Gigs is considerably smaller than many of the other NFT career boards we've seen so far.
However, despite the narrow focus, it's a great product that is community-built and aims to be 100% free for everyone.
Features include:
Filter by category and tag
100% free to use and list
5. CryptoJobsList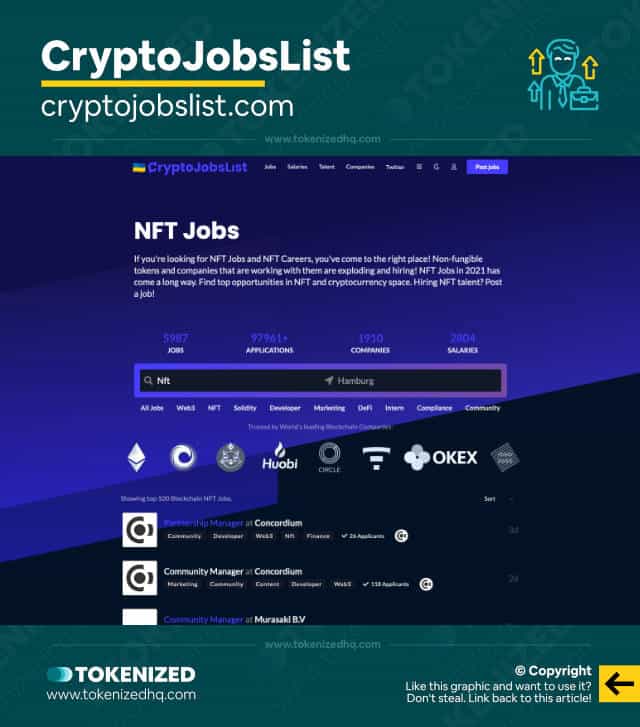 The CryptoJobsList website has been around for quite some time now and was originally launched in 2017.
What started out as a job board specifically tailored towards cryptocurrency jobs has evolved into a database that spans the entire Web3 space.
Features include:
Filter by department, location, and more.
Email digest
Covers the entire crypto scene
Only paid listings, starting at $69 per listing.
Frequently Asked Questions (FAQ)
Before we wrap up, let's quickly address a few frequently asked questions that many people have in relation to good Discord server rules.
Are NFTs a career?

It depends on how you look at NFTs. Non-fungible tokens are primarily a technology and a job category. However, considering that NFTs have the potential to unlock significant value over the next 10-20 years, it's not surprising that a lot of people trying to start a career in the NFT industry.

What is an NFT engineer?

NFT engineers are usually backend developers by trade who have specialized in smart contract development. Currently, the most popular smart contract programming language is still Solidity, however, there are many blockchains that are working on making smart contracts more accessible by supporting more widespread languages.

How do I start working with NFTs?

The only way to understand what NFTs are is to actually set up a cryptocurrency wallet, buy some crypto, and actually purchase your very first NFT. Although you don't need to understand everything that goes on under the hood, most NFT jobs will expect you to have participated in the NFT scene to some extent before considering you as a new hire.
Conclusion
Despite the recent collapse of the NFT market, there is a close-knit community of builders who believe in the future of technology.
Emerging industries take years, not just months, to grow and establish themselves.
If you want to be a part of this new and growing industry, we highly recommend you check out some of the job boards for NFT careers that we listed above.
Here at Tokenized, we want to help you learn as much as possible about the coming NFT revolution. We help you navigate this fascinating new world of non-fungible tokens and show you how you can integrate tokenization into your own business.