Are you looking for more information on NFT job titles?
Maybe you're considering making a career change and have your eyes set on the NFT industry, but you're not entirely sure what sort of job position best fits your skill set and what the exact requirements are?
Well, don't worry, because as new as the NFT space may be, most NFT job titles aren't particularly different from what you're used to in other tech jobs.
In this guide, you'll learn about some of the most popular NFT job titles for each department and skill set.
Let's dive right in!
Key Points (tl;dr)
Job titles are one of the most important aspects of any company's recruiting strategy. As strong talent becomes increasingly difficult to find, recruiters will have to invest more into grabbing the attention of potential candidates.
An effective NFT job title is the very first thing that any candidate uses in order to assess whether the position is relevant to them or not. The clearer your message is, the more likely you are to receive relevant applications.
Make sure you not only communicate the department that the position is located in but also at what level it is and if possible, the specific function that it has within your business.
Smaller, yet more focused NFT job boards, such as Natives, can be a very cost-effective alternative to many of the large incumbents in the industry.
For a detailed overview of the most popular NFT job titles for various departments, PLEASE READ THE FULL ARTICLE.
Like this content? Then share it!
The 40+ Most Popular NFT Job Titles in 2023
Here's the answer. Great article by @ChrisHeidorn right here: https://tokenizedhq.com/nft-job-titles/

www.tokenizedhq.com
Why Do NFT Job Titles Matter?
Job titles are the headline of every ad for a job position. Your NFT job titles need to grab the attention of your target audience and should convey the position's level as well as the fact that it is NFT-related.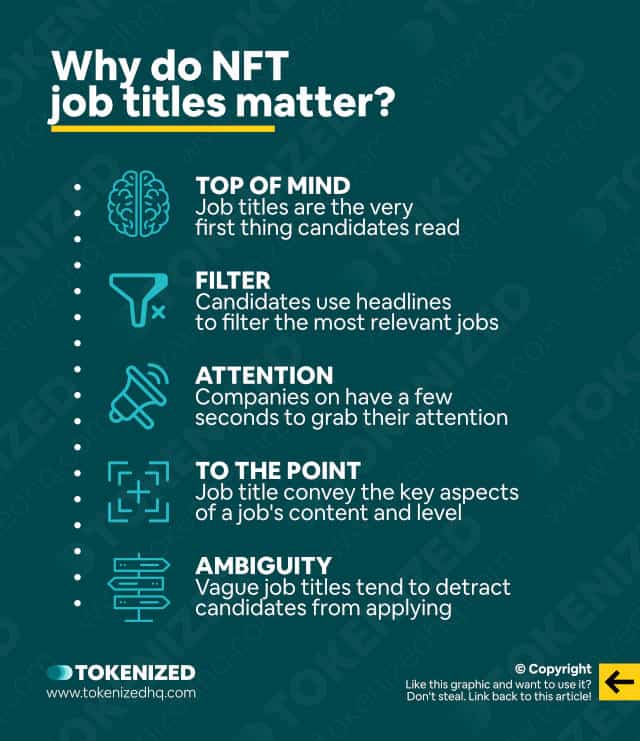 Let's take a minute to talk about why NFT job titles even matter in the first place.
Remember, we're dealing with a very nascent technology here and the industry is still very young as well.
Even though cryptocurrency and blockchain jobs have been around for quite some time and are slowly entering the mainstream's broader awareness, specific NFT-related jobs are still fairly rare.
In fact, most of the greater public doesn't even have a clue what NFTs really are and their opinions are driven by sub-optimal headlines of major media outlets.
Nevertheless, NFT companies and startups still need to find a way to attract the right talent.
And let's face it, the demand for skilled people in this industry is far greater than the current supply.
So, in order to stand out from the competition, recruiters need to ensure that their NFT job titles are clear and concise.
How to Write an Effective NFT Job Title
When writing an NFT job description, always make sure that the headline conveys all of the key elements that the applicant is interested in. Every headline should contain information about the department, the specific function, and also the level at which the job is within the organization.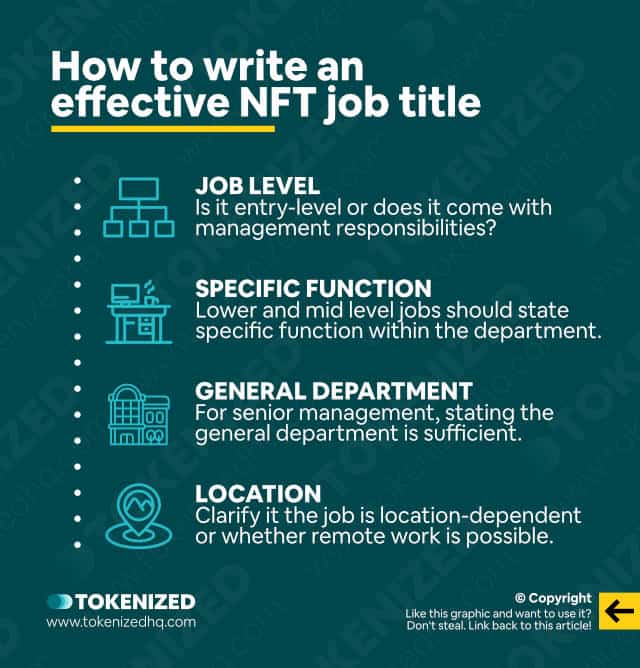 In a recruiter's market (buyer's market), job applicants need to pay special attention to how they craft their resumes.
It's no secret that HR departments of big companies are commonly flooded with hundreds or even thousands of applications.
Screening all the candidates becomes an extremely lengthy process and time is money.
That's why most recruiters end up filtering applications by only a few, very simple criteria.
You literally only have 10 seconds to grab someone's attention.
And guess what?
In a seller's market, and that's what we'll be dealing with for the foreseeable future, it works in a very similar way.
You, the employer, are trying to grab the attention of potential candidates.
Obviously, you're necessarily in a position to be picky, but if you're in the NFT space, you may as well want to hire someone who is actually looking for jobs in NFTs.
This is critical because the culture of the NFT space tends to be fundamentally different from the rest of the crypto world.
There is considerably more focus on community and inclusiveness, and we'd be willing to bet that you'll also find a higher percentage of women.
So how exactly do you craft effective NFT job titles?
Well, there are a few things that every job title should contain:
Indication of job level: Junior, Analyst, Senior, Director, Lead, Head, VP, Chief
Specific function (low/mid levels): Graphic Designer, Content Producer, Writer, Product Manager, Frontend Engineer, Account Manager
General department (higher levels): Head of Marketing, VP of DeFi, Chief Financial Officer, Director of Business Development
Optional indication of location: Remote, WFH
If this seems too abstract for you, let's have a look at some potential templates that you could use:
Low Level Positions:[Level] [Specific Function], [Location]

Junior DevOps Engineer
Internship in Human Resources
Blockchain Investment Analyst
Junior Crypto Affiliate Manager

Mid/High Level Positions:[Level] [Department]

Head of Social Media
Lead Blockchain Engineer
Head of Business Development
Director of Marketing
Please bear in mind that these are just some examples of NFT job titles and you are obviously free to write them however you like.
However, it is always helpful to be as specific as possible because you want to make sure that you attract the right candidates.
Quality is more important than quantity.
The Most Popular NFT Job Titles by Department
Every time a new technology comes around the corner, a significant portion of the newly created business are startups.
And by startups we don't just mean that they are new companies, we suggest that they are literally run by young, motivated, but also inexperienced founders.
Startups can rarely afford seasons HR professionals and recruiters, so the hiring is often done by the founders themselves.
When your time is limited, you don't always have the luxury of spending hours over hours crafting the perfect headline for a job listing.
So that's why we've put together this list of some of the most popular NFT job titles that you'll find for various different departments.
And as you can see, they're not fundamentally different from what you'd see in other industries as well.
Engineering / Development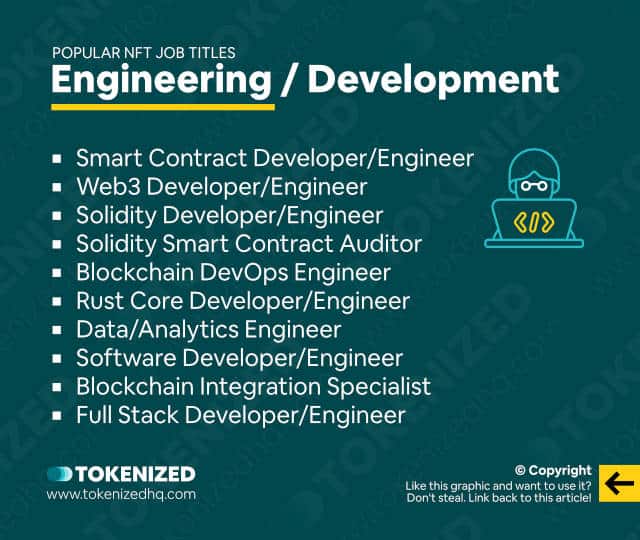 The most sought-after and highest-paid jobs in the NFT space tend to be in engineering.
The global pool of developers proficient in smart contracts and programming languages such as Solidity, is still relatively small.
These NFT developer jobs usually involve designing system architectures, coding, testing, and deploying smart contracts.
That being said, blockchain projects also need regular backend and frontend engineers.
Smart Contract Developer/Engineer
Web3 Developer/Engineer
Solidity Developer/Engineer
Solidity Smart Contract Auditor
Blockchain DevOps Engineer
Rust Core Developer/Engineer
Data/Analytics Engineer
Software Developer/Engineer
Blockchain Integration Specialist
Full Stack Developer/Engineer
Marketing & Sales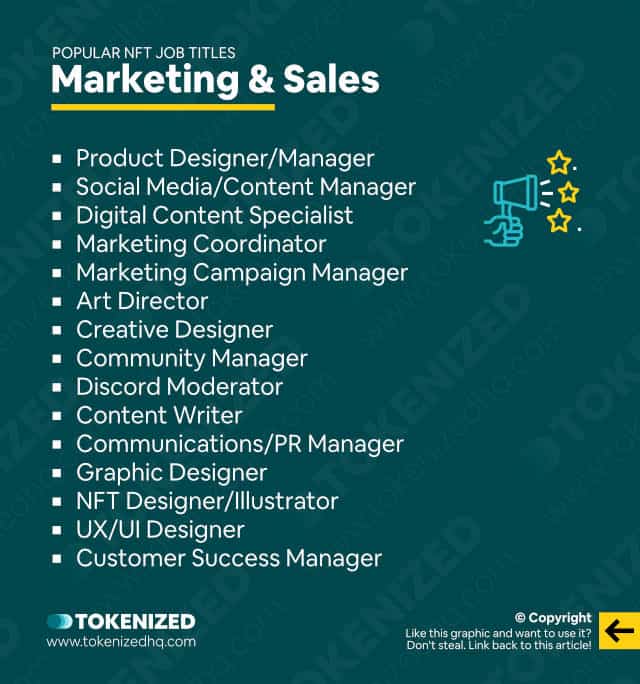 While Sales departments are usually less common in the NFT space simply because are still relatively few B2B-focused companies, NFT marketing jobs play a fairly dominant role.
That is partly because digital marketing has created so many new jobs that require specialized knowledge of specific platforms and strategies.
That being said, you'll also find quite a few NFT project manager jobs in this area as well.
Here are some of the most common NFT job titles for marketing:
Product Designer/Manager
Social Media/Content Manager
Digital Content Specialist
Marketing Coordinator
Marketing Campaign Manager
Art Director
Creative Designer
Community Manager
Content Writer
Communications/PR Manager
Graphic Designer
NFT Designer/Illustrator
UX/UI Designer
Customer Success Manager
As you can see, most of the NFT artist jobs are clustered into the "Marketing" category.
Finance & Risk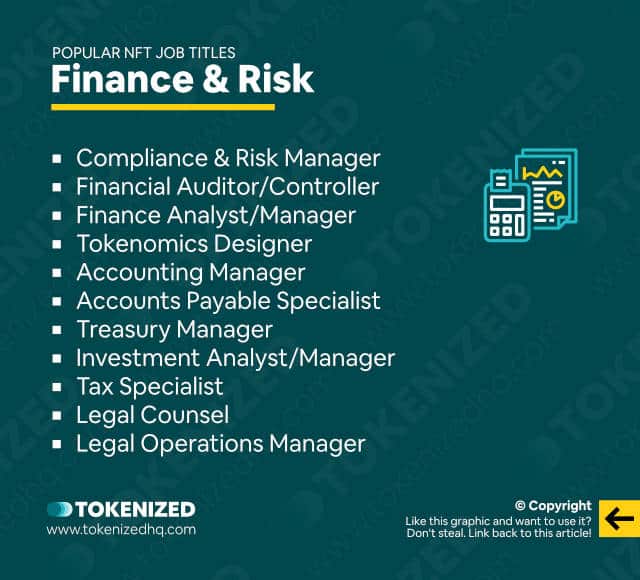 Jobs in finance and risk management may not seem particularly attractive to the majority of people out there.
However, there are few areas in tech where they are more important than in the blockchain space.
So, even though these may not sound much like common NFT job titles, they certainly become very important once a project becomes more successful.
Compliance & Risk Manager
Financial Auditor/Controller
Finance Analyst/Manager
Tokenomics Designer
Accounting Manager
Accounts Payable Specialist
Treasury Manager
Investment Analyst/Manager
Tax Specialist
Legal Counsel
Legal Operations Manager
You'll notice that we didn't mention any NFT analyst jobs in here because research doesn't necessarily fall into the category of finance and risk.
Nevertheless, they are still related since research analysts usually provide the basis for a lot of investment decisions.
Operations & Human Resources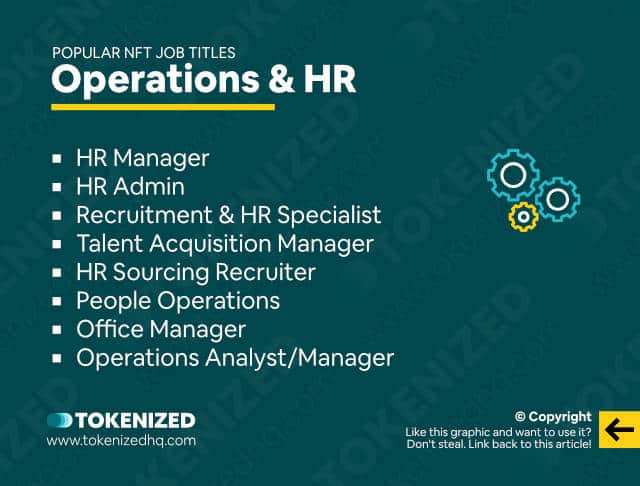 We could go on forever but we're going to close off this list with popular job positions in operations and human resources.
Let's face it, even though all you see are some pretty little JPEGs on the blockchain, there's a lot more going on under the hood.
And isn't this article a case in point with regards to how even an NFT project needs HR managers and recruiters?
HR Manager
HR Admin
Recruitment & HR Specialist
Talent Acquisition Manager
HR Sourcing Recruiter
People Operations
Office Manager
Operations Analyst/Manager
Where Can I Find NFT Jobs?
The most cost-effective way to hire Web3 talent is by focusing recruiting efforts on smaller, specialized job boards that cater to the specific needs of the blockchain, crypto, and NFT industry.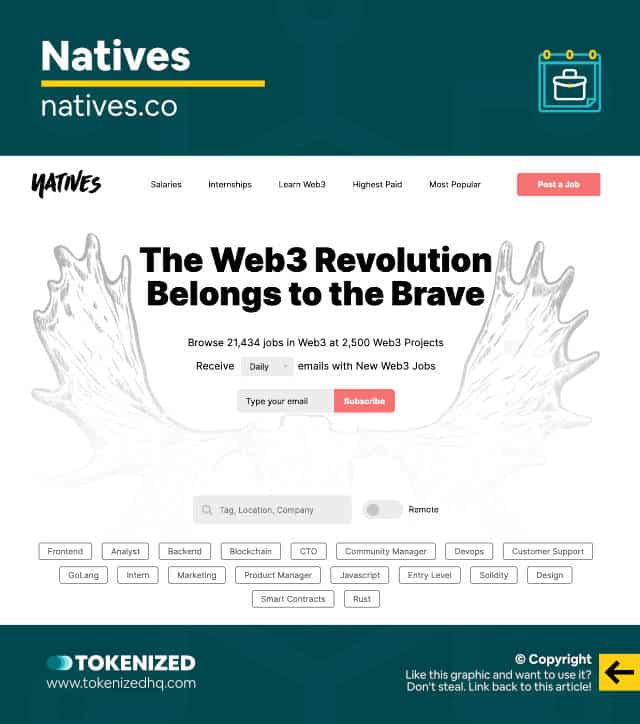 Hiring the right talent is already expensive and it does not look like it's going to get better anytime soon.
However, just like big corporations tend to waste a lot of their advertising budget by displaying their ads to people who aren't actually interested in their products, the same thing happens with recruiting departments as well.
It's very common for startups and larger companies alike to focus too much on the big job market brands, such as LinkedIn, Indeed, and many more.
But do you really think that's where the majority of the people who are interested in blockchain, crypto, and NFTs look for jobs?
Of course not.
It can be considerably more cost-effective to focus your recruiting efforts on smaller job boards that have a much more specific audience.
That's why we've partnered with Natives, a Web3 job board whose mission is to become the most cost-effective platform to recruit talent in Web3 and blockchain.
Natives has not launched yet, but you can join their mailing list today and you'll be notified as soon as they go live.
Conclusion
Hiring is going to become a lot more difficult over the next few years and it will be particularly challenging in high-tech areas such as NFTs and blockchain.
It's time that you realize how competitive this space is and prepare to do whatever it takes to acquire and retain strong talent.
Stepping up your hiring efforts is an important step toward accelerating your growth and gaining market share.
Here at Tokenized, we want to help you learn as much as possible about the coming NFT revolution. We help you navigate this fascinating new world of non-fungible tokens and show you how you can integrate tokenization into your own business.