Are you looking for NFT Moderator jobs to apply for?
Perhaps you've gone really far down the rabbit hole in recent months and have discovered that life in a Discord is exactly what you've been looking for.
Well, in that case, you might just be cut out for the job of an NFT Moderator or NFT Community Manager, and we're going to provide you with some insights on what that means.
In this guide, you'll learn everything you need to know about the role and responsibilities, as well as the average salary of typical NFT Moderators and Community Manager jobs.
Let's get right to it!
Key Points (tl;dr)
NFT Moderators are the first point of contact for most members of an NFT community and help answer any sort of questions they may have. In that sense, they are a form of customer service.
Another critical responsibility of NFT Discord Moderators is to keep the peace within the Discord server and ensure everyone adheres to the rules. This is important because discussion can sometimes become quite heated.
This is one of the reasons why exceptional interpersonal and communication skills are a key requirement for most Discord moderator positions as well as Community Manager roles.
NFT Moderators are usually volunteers or only receive very little compensation. Most of the benefits from social status within the community as well as the opportunity to pursue professional career paths within the project at a later stage. Many moderators eventually become Community Managers.
It goes without saying that Discord Moderators are most certainly "Remote OK" jobs.
Since there is a sufficient supply of potential candidates within most communities themselves, it is rare to see public job listings for NFT Moderators. Your best bet is to check the "internships" section of niche Web3 job boards such as Natives.
For a detailed overview of the requirements of NFT Moderator jobs and NFT Community Managers, PLEASE READ THE FULL ARTICLE.
Like this content? Then share it!
The Truth About NFT Moderator Jobs in 2023
Here's the answer. Great article by @ChrisHeidorn right here: https://tokenizedhq.com/nft-moderator-jobs/

www.tokenizedhq.com
What does an NFT Moderator do?
Discord Moderators of NFT projects are responsible for providing first-level support to community members as well as ensuring the community rules are adhered to. In most cases, moderators are volunteers from within the community itself.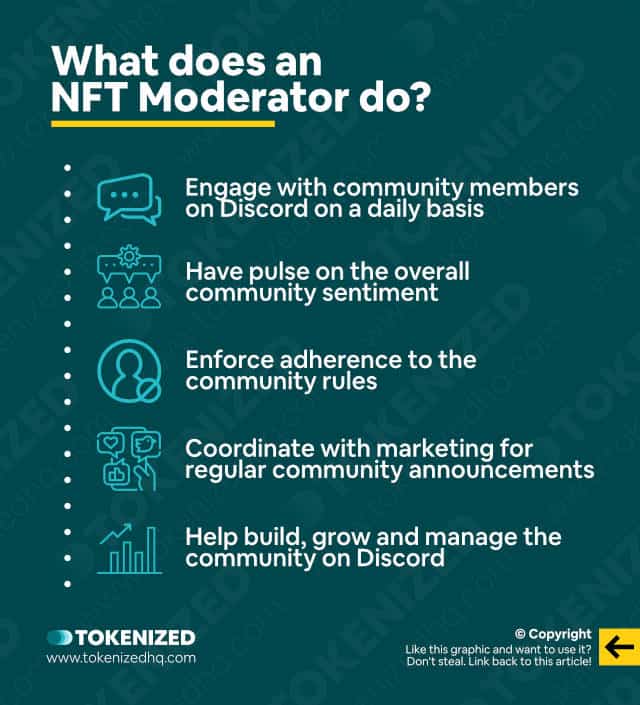 If you've ever been on a Discord server or any other sort of online chat room for that matter, then you also know that things can get quite hectic in there.
Although most NFT communities tend to be very welcoming and kind, the fact that nearly everyone is anonymous allows people to act in ways they usually wouldn't in public.
Therefore it's important to have moderators on your Discord server.
They're effectively the same thing as a hallway monitor in high school.
Usually, moderators are selected from within the community because it ensures that those who take on NFT moderator jobs actually understand the culture and it also increases the acceptance of authority.
NFT moderators make sure that Discord members adhere to the rules and guidelines of the community and also facilitate community announcements on an ongoing basis.
In many cases, NFT Moderator jobs are internship-level positions that eventually may evolve into a full-fledge community management role.
NFT Community Managers usually manage a team of moderators and will also cover a wider range than just the Discord server.
If you consider yourself a "people person" and have strong interpersonal skills, then NFT moderator jobs might be just the right thing for you.
Let's look at some of the Pros and Cons of becoming a Discord moderator.
Pros:
You earn responsibilities
Higher social status within the community
You get to help people & make friends
You might make some money too
Cons:
Time-consuming with long hours
Potentially too much responsibility
May have to make unpopular decisions
Typical Requirements & Responsibilities of NFT Moderator Jobs
NFT Moderators and Community Managers must have exceptional interpersonal and communication skills. Managing large groups of community members requires striking a fine balance between support and authority.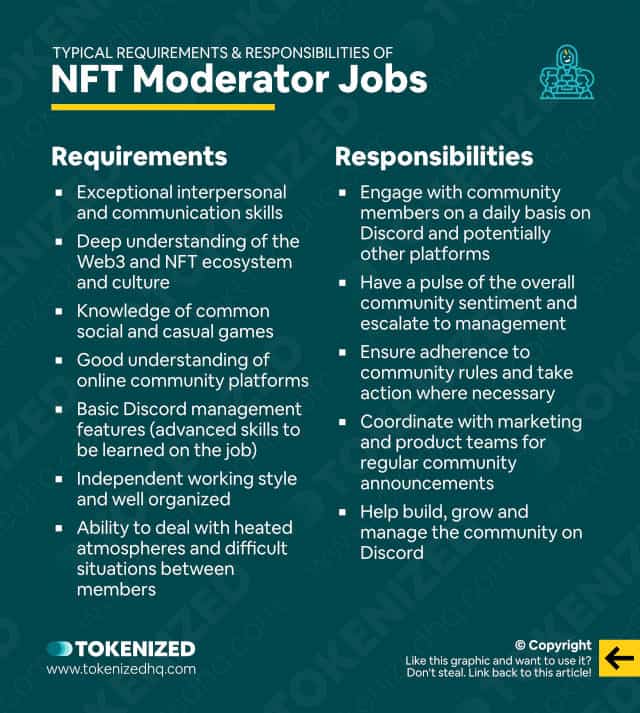 Discord servers may sometimes feel like you're at a digital party at your friend's house, but in reality, these are tough and consuming jobs.
Managing people and finding a good balance between being kind but also letting people know when certain lines are crossed, can be very challenging.
That's why NFT Moderator jobs usually require candidates to have very strong interpersonal and communication skills.
Let's have a look at some common requirements and responsibilities of NFT Moderator jobs.
Common Requirements & Skills:
Exceptional interpersonal and communication skills
Deep understanding of the Web3 and NFT ecosystem and culture
Knowledge of common social and casual games
Good understanding of online community platforms
Basic Discord management features (advanced skills to be learned on the job)
Independent working style and well organized
Ability to deal with heated atmospheres and difficult situations between members
Common Responsibilities:
Engage with community members on a daily basis on Discord and potentially other platforms
Have a pulse of the overall community sentiment and escalate to management
Ensure adherence to community rules and take action where necessary
Coordinate with marketing and product teams for regular community announcements
Help build, grow and manage the community on Discord
Common career path:
Discord Moderator
NFT Community Manager
Social Media & Community Manager
Marketing Operations Manager
Marketing Manager
What is the Average Salary of NFT Community Manager Jobs?
While Discord Moderators are usually unpaid, the natural next career step is to become a Community Manager. NFT Community Managers in Western markets are paid between $40k and $75k per year.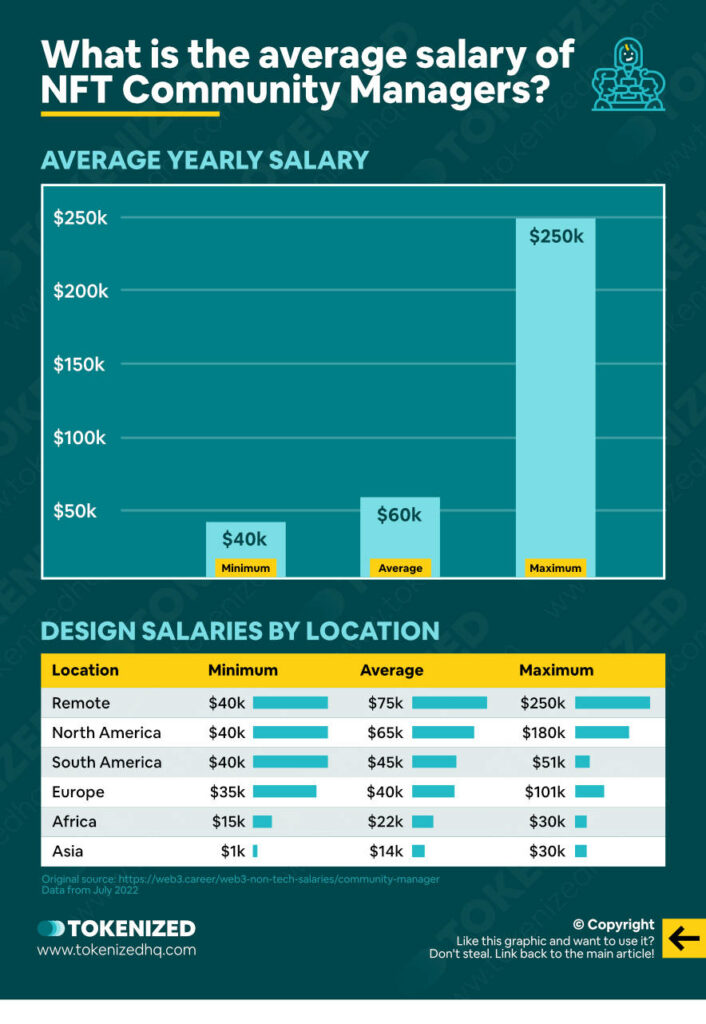 It's important to note that NFT Moderator jobs are part of the community management team, however, they are not Community Managers.
Traditionally, moderators of chatrooms and forums have usually been voluntary positions.
That means that in many cases they are unpaid or they do not pay a lot.
To give you an example of what to expect, there are a lot of requests for NFT moderators on Upwork and they usually do not pay more than $250 a month.
Now, obviously, there are exceptions, however, these tend to be within the more successful NFT projects that have a considerable amount of liquidity at their disposal.
If you're looking for a full-time position then what you'll want to apply for is an NFT Community Manager role.
However, if you do not have any previous experience in this area, you'll have a hard time getting hired.
Therefore, we usually recommend that people do an internship as a Discord Moderator or volunteer to be a Moderator first.
Once they've gathered sufficient experience, they can apply for NFT Community Manager roles either within their current project or elsewhere.
For the sake of completeness, we've provided statistics on the average salaries of NFT Community Manager jobs above.
Are NFT Jobs for Discord Moderators Remote OK?
Yes, Discord Moderators are usually volunteers and therefore not full-time employees. Working from home is absolutely normal.
Considering that NFT Moderator jobs are usually unpaid or paid very little, it's safe to assume that they aren't full-time positions.
And since life in a Discord is by definition "remote", we'd be very surprised if any company or project required their moderators to be based in an office.
For all intents and purposes, we believe that 99.9% of the NFT Moderator jobs will allow you to work from anywhere in the world.
The only limitation is that you may have to stick to certain shifts during the day.
Where Can I Find NFT Moderator Jobs?
Most NFT Moderators are hired from within their respective communities. Therefore most major job platforms do not list these types of roles. However, some niche Web3 job boards do have sections with internships as well.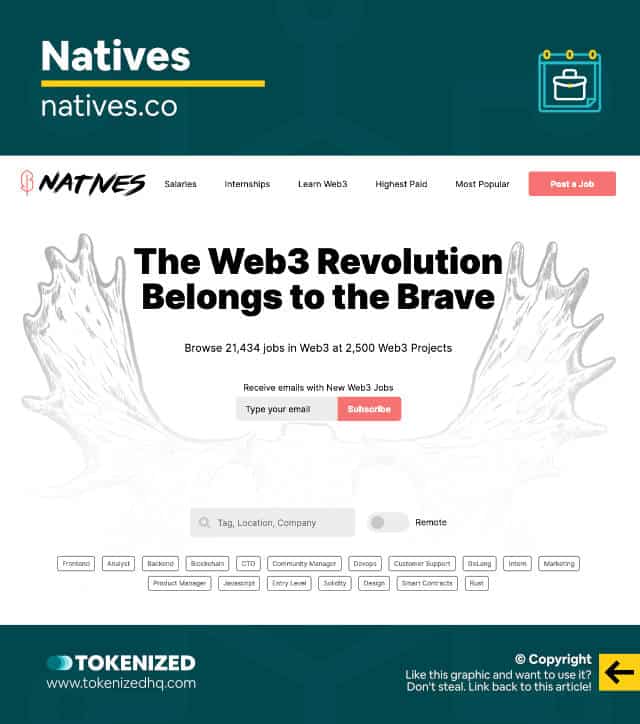 Interestingly, Discord moderators are rarely hired from outside the community Discord itself.
That's why you won't find many Discord moderator positions advertised on major job platforms.
There's also little incentive for NFT projects to do so since it's fairly easy for them to find candidates.
If you're keen on joining the team of a particular project where you're already a member, then that's the best place to ask for an internship or trial period.
For those of you who already have experience in this field and are looking for NFT Community Manager jobs, then you're best off checking one of the niche job boards for Web3.
An up-and-coming crypto jobs board is "Natives" (a reference to "Digital Natives" or "Web3 Natives").
These community-driven platforms tend to be much better at catering to the specific needs of their niche.
This not only saves everyone time but is also considerably more cost-effective for recruiters of bigger companies.
Conclusion
Many will be disappointed to hear that most Discord moderator jobs are unpaid volunteers.
But that doesn't mean that it has to stay that way forever and we strongly recommend that candidates look at the potential for career progression.
Most NFT Community Managers were moderators at some point in their NFT careers and naturally evolve into positions with more responsibility and better pay.
Here at Tokenized, we want to help you learn as much as possible about the coming NFT revolution. We help you navigate this fascinating new world of non-fungible tokens and show you how you can integrate tokenization into your own business.