Are you looking for the top NFT communities to join?
Perhaps you recently got into NFTs and now you're trying to find the most exciting and supportive NFT communities out there?
Well, you've come to the right place because we've done the hard work for you and put together an extensive list of the best NFT communities we could find.
In this guide, you'll discover some of the best NFT communities out there, why they are important for success, and how to access their NFT community Discords.
Let's check it out.
Key Points (tl;dr)
NFT communities are groups of like-minded NFT collectors and investors who jointly work on building their own culture and brand and thus promoting the future success of the project as a whole.
Strong NFT communities are absolutely essential for the success of NFT projects. It is the unique combination of exclusivity and community that allows NFT projects to unleash their full potential via social media. Every holder of a project's NFT is implicitly a shareholder and ambassador.
Some of the best NFT communities include:

Bored Ape Yacht Club
CryptoPunks
VeeFriends
Cool Cats
World of Women
Deadfellaz
Alien Frens
CryptoMories
Nuclear Nerds
The Flower Girls
For a full overview of the top 10 NFT communities out there, PLEASE READ THE FULL ARTICLE.
Like this content? Then share it!
The 10 Best NFT Communities You Should Know in 2023
Here's the answer. Great article by @ChrisHeidorn right here: https://tokenizedhq.com/nft-communities/

www.tokenizedhq.com
What Are NFT Communities?
Most NFT communities rise from within NFT projects that launch with 10,000 uniquely different avatars. Becoming a true member of the community usually requires you to own one of its tokens. As the community grows, it works towards building a joint culture and identity that acts as a brand to the outside world.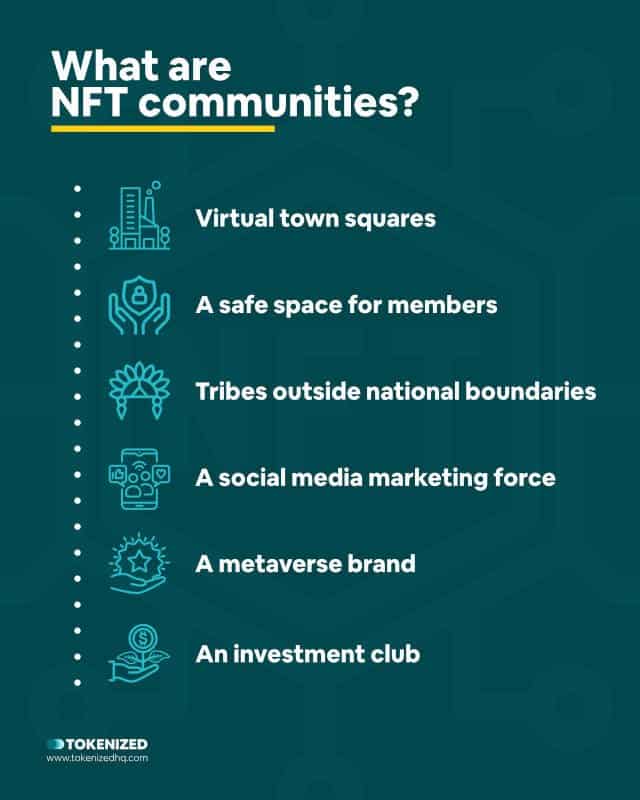 In this day and age, the word "community" is used fairly loosely and usually refers to any sort of central location where people with the same interests meet to engage with each other.
While in the early days of the Internet communities primarily existed on Usenet or other forms of bulletin boards and forums, things have changed a lot recently.
Social media and Web 2.0 brought about platforms such as MySpace, Facebook, Twitter, and eventually app-based social media like Instagram and others.
As our lives become increasingly digitalized and we spend more and more time in virtual spaces, either at work or in our free time, the idea of the "metaverse" is becoming a lot more relevant than the headlines suggest.
NFT communities are at the forefront of this evolution, creating digital "tribes", each with their own unique culture and dedicated "town squares" in the form of a Discord server.
While most NFT communities are open, in the sense that anyone can join an NFT community Discord and get a feeling for what it's like, becoming a true member of these communities eventually requires an investment.
This investment comes in the form of an NFT, usually represented by a unique avatar that members can boast in their online identities.
Community is one of the trending topics of this decade and we believe it will penetrate nearly all aspects of our life much quicker than we all think.
Every new 10k PFP project that launches and manages to create a sustainable culture and brand will likely be around for a very long time.
NFT communities are the cities and nations of the future metaverse.
A slightly different type of NFT community are Alpha Groups with the specific purpose of researching and sharing "insider information" on upcoming NFT projects.
If you're curious to learn more about the very exclusive clubs, make sure you check out our guide on NFT Discord servers for Alpha Seekers.
Why Are Strong NFT Communities Important?
Successful NFT projects are built on social dynamics. Exclusivity helps create demand and social status. However, the true power of NFT communities lies within the incredible marketing power that they can unleash on social media as customers transform into ambassadors.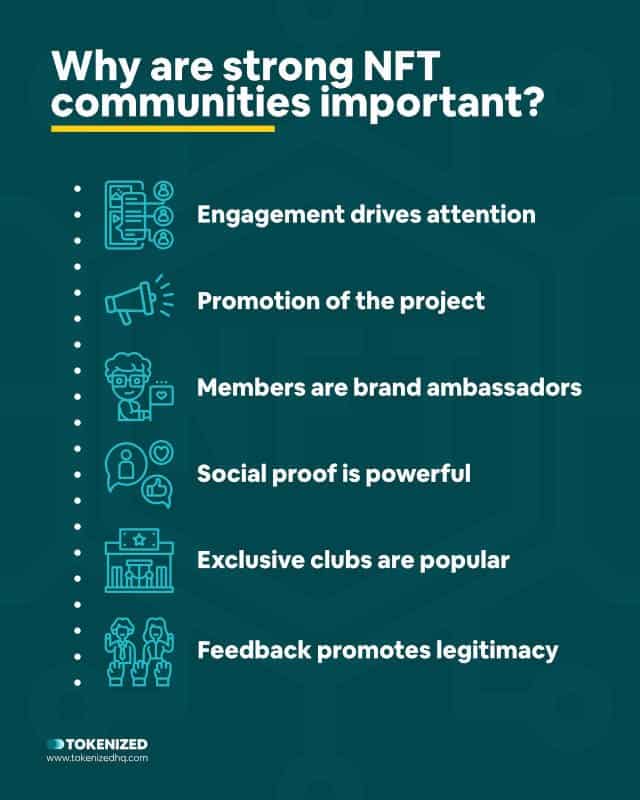 NFT communities have become an essential element of any successful NFT project.
Not only is community interaction necessary in order to establish its own lore and distinctly unique culture.
Since early members of each "tribe" are also financially invested in the future success of the community, the incentives of the founders and members are perfectly aligned.
NFT holders are much more likely to help promote their community because they also stand to gain from doing so.
In other words, a diverse NFT community quickly becomes an army of marketers that help create brand awareness on social media.
This is an aspect that is particularly interesting for big established brands as well.
Launching an exclusive NFT community can help establish a self-governing ambassador program unlike we've ever seen before.
This is also one of the reasons why we've seen many global brands dive headfirst into NFTs.
They clearly see the opportunity for a symbiotic relationship between their most loyal fans and the brand itself.
The Best NFT Communities
Bored Ape Yacht Club
CryptoPunks
VeeFriends
Cool Cats
World of Women
Deadfellaz
Alien Frens
CryptoMories
Nuclear Nerds
The Flower Girls
Obviously, everyone has their own set of preferences and it's always difficult to put together a list that everyone can agree with.
Nevertheless, we believe that we have a responsibility to make sure that new members of the NFT space don't get lost in the endless jungle of NFT communities and projects.
Especially newcomers with limited budgets are frequently attracted by many of the newer NFT projects simply because they are cheaper.
While there's nothing wrong with joining a smaller NFT community that comes with a more affordable price point, you should be aware that there are many scammers out there who prey on inexperienced users.
Therefore we always recommend that you join an established community first and learn the ropes from a safe space before venturing out into uncharted territory.
This will greatly improve your overall experience and you might just end up sticking with one of them in the end.
And if you have no clue where to start, you can always start off by simply joining the OpenSea Discord first.
Here's our personal list of the most popular communities right now.
1. Bored Ape Yacht Club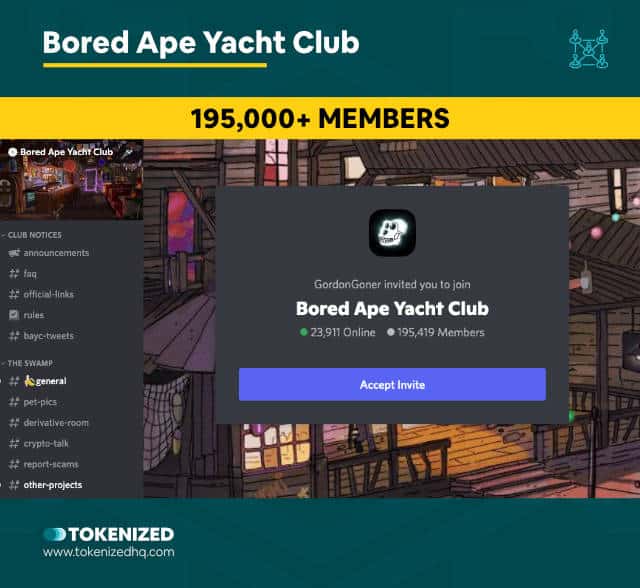 If you've spent any amount of time in the world of NFTs then it's literally impossible to not know what the Bored Ape Yacht Club is.
After successfully flipping CryptoPunk in terms of the most expensive PFP project in the world, they even acquired the full IP rights to CryptoPunks.
Yuga Labs, the company that created BAYC, is now on a mission to build its vision of the metaverse.
While BAYC is obviously the most successful community out there right now, bear in mind that all the success and money also come with a certain elitism.
If you're very new to this space, we wouldn't necessarily recommend the BAYC community right now.
2. CryptoPunks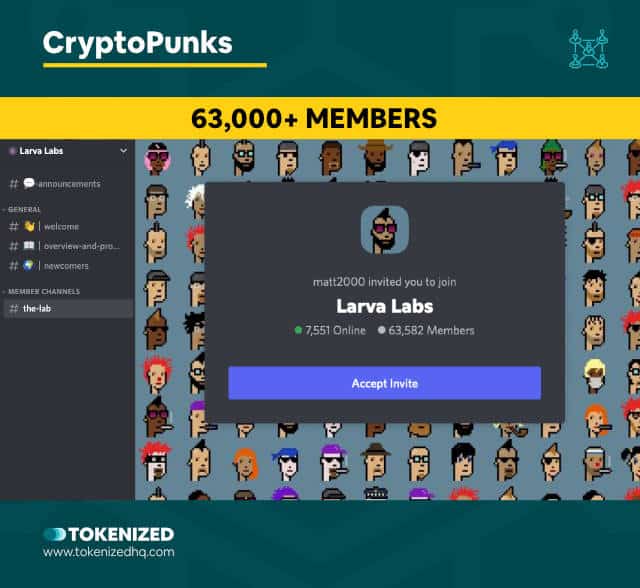 We decided to list CryptoPunks here simply because it's essentially the OG projects for all 10k PFP projects.
Larva Labs is essentially the inventor of the 10k PFP concept and CryptoPunks are still considered extremely valuable assets, despite being overtaken and selling all IP rights to BAYC.
While it may not be the best community for newbies, it's always worth stopping by and having a look around.
3. VeeFriends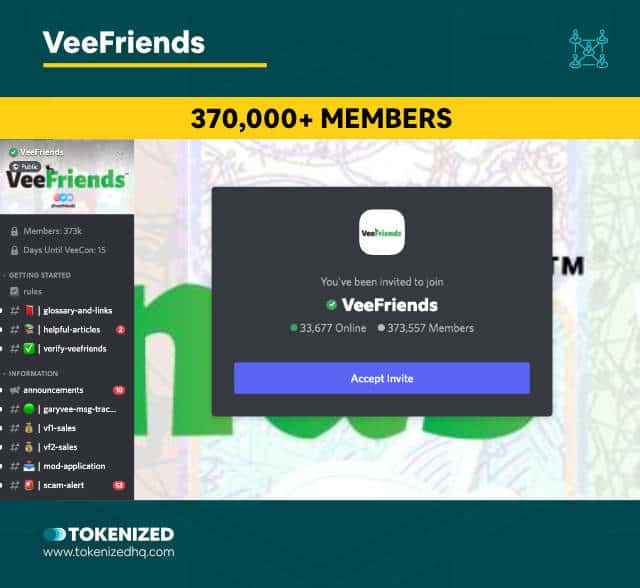 If you're familiar with Gary Vee then it's beyond a doubt that you know what VeeFriends is.
A lot of people had doubts about the VeeFriends project when it initially launched, however, they completely underestimated the positive energy of Gary Vee's existing following.
VeeFriends' contribution to the NFT space is absolutely phenomenal because it has created an incredibly positive atmosphere and is one of the best places to get onboarded into NFTs and crypto in general.
The size of the VeeFriends Discord literally speaks for itself.
4. Cool Cats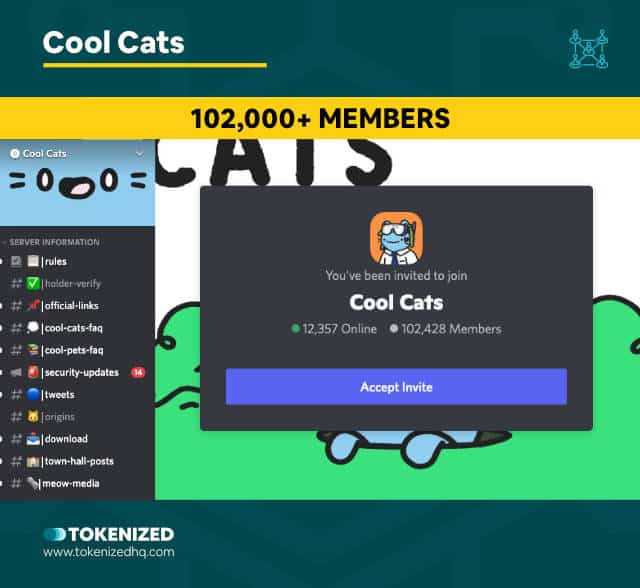 Cool Cats are widely considered one of the OG projects out there and their unique look has spawned a number of look-a-like projects such as Cool Dogs and Cool Monkes.
The team has gone through some rough patches recently after encountering numerous issues with the launch of their initial play-to-earn game.
That being said, their core community is still full of positive energy and we can only recommend that you have a look around in their lively Discord.
5. World of Women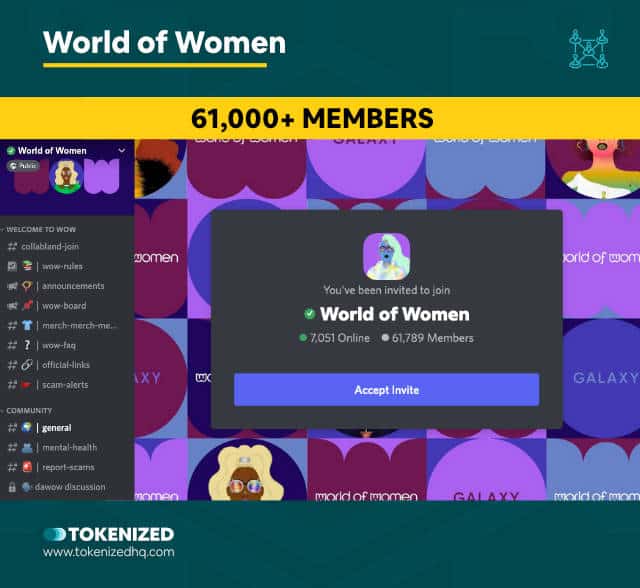 World of Women took a while until it eventually unleashed its full potential, mainly because women are still underrepresented in the NFT space.
However, World of Women is doing an absolutely great job at changing this and the number of female celebrities boasting a WoW NFT in their online profiles is a testament to this.
If you believe in female empowerment or just want to hang with women (and men) who are open-minded, then the World of Women Discord is right for you.
6. Deadfellaz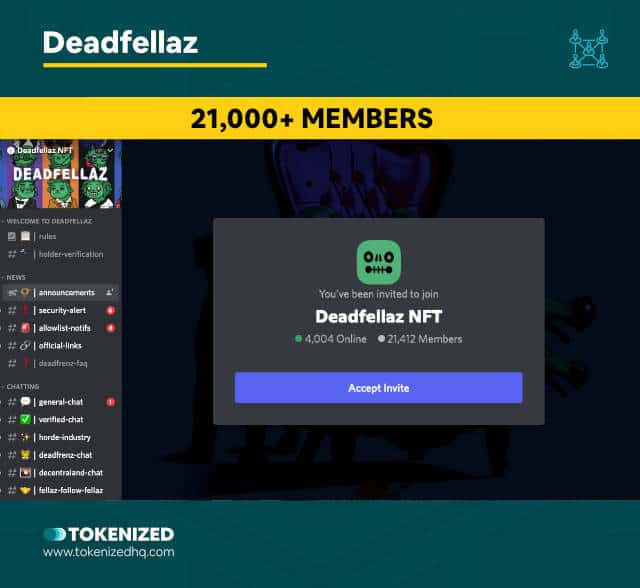 Deadfellaz, despite the gory name, is an incredibly positive and welcoming NFT community that has made a real name for itself.
Leader by female founder and mother Betty, the horde has created one of the top NFT communities out there and we are convinced that Deadfellaz has a very bright future ahead of them.
7. Alien Frens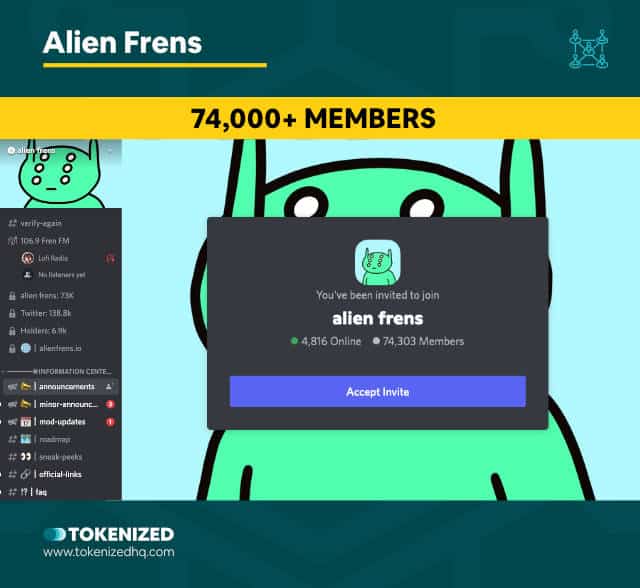 Alien Frens aren't just cute little alien avatars, they are also one of the most lively and energetic NFT communities in the entire scene.
Their mission is to build the largest group of friends in the metaverse and owning an Alien Frens NFT gives you lifelong access to that friendship.
Aliens Frens was one of the most hyped projects of early 2022 and although the floor prices have corrected quite heavily since there is no doubt in our minds that Alien Frens will be around for the long haul.
8. CryptoMories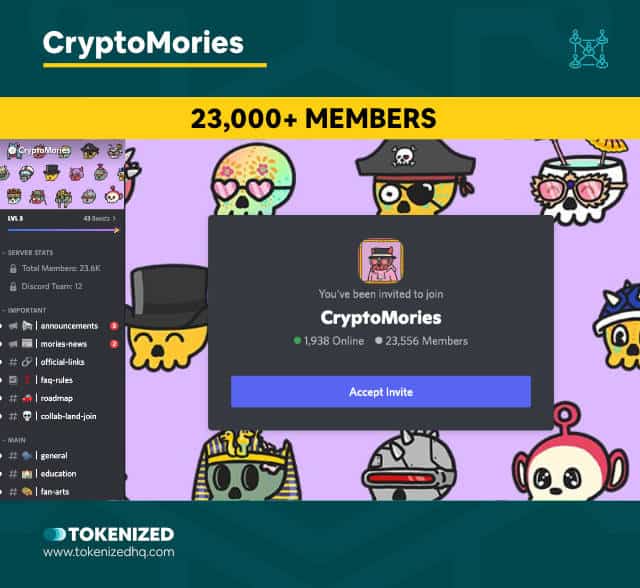 Everyone in the NFT space will agree that CryptoMories are amongst the most beloved and positive NFT communities out there.
Their community Discord was the very first community to put mental health at the forefront of its culture.
It has reinforced this emphasis by partnering with Impact Suite, a company that helps employees improve their lives through evidence-based digital wellness tools.
We strongly recommend that check out the CryptoMories Discord!
9. Nuclear Nerds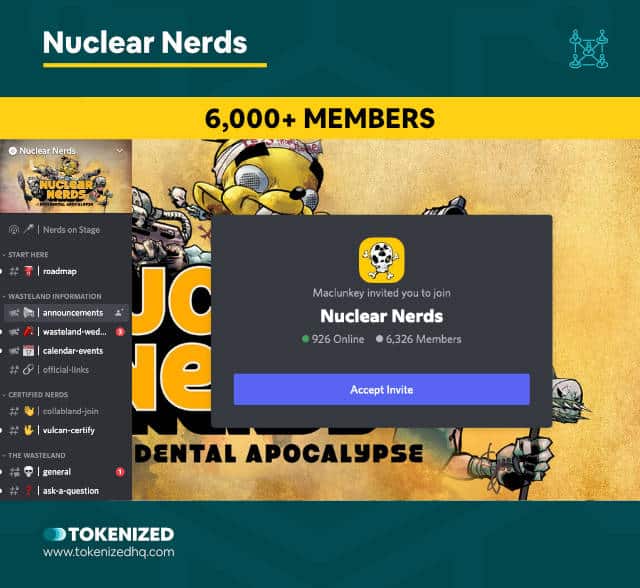 In our list of the best NFT communities, the Nuclear Nerds Discord is by far the smallest of the bunch.
However, the team has very intentionally taken a different route than many other projects and is focusing on healthy, organic growth.
So even though they only have 6,000 members, you need to look at how active and engaged they are in order to get a decent assessment of the community.
What we've seen so far has been immensely positive and we are incredibly bullish on the Nuclear Nerds community as it continues to build its culture.
10. The Flower Girls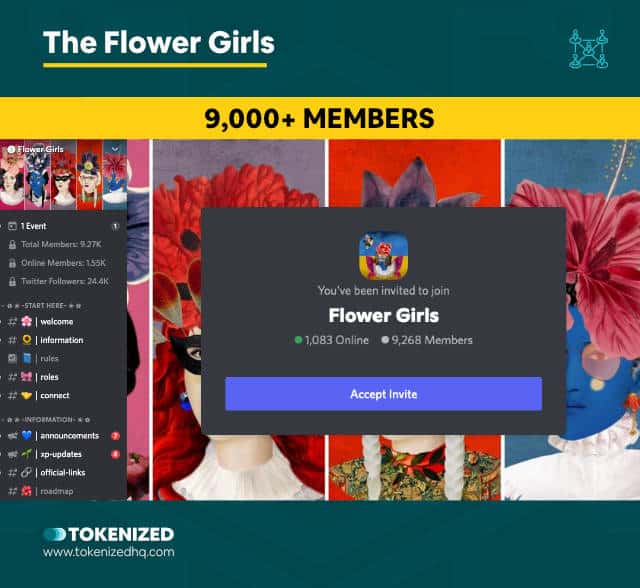 Another smaller community that everyone should have on their radar is The Flower Girls.
Despite only having just over 9,000 members in their Discord, the project has attracted the attention of many female celebrities, including Gwyneth Paltrow.
The Flower Girl team has done an incredible job in creating a safe space for newbies to the NFT scene, focusing on charity, education, and just an overall positive vibe.
Conclusion
The beauty of the Internet is that it allowed the world to connect in entirely new ways and build completely new business models.
Cryptocurrency and NFTs are doing very much the same thing by enabling joint identities that transcend nationalities and gender.
NFT communities are a little bit like your favorite sports team, while the difference is that you're just a fan, you're also a player on the field.
Here at Tokenized, we want to help you learn as much as possible about the coming NFT revolution. We help you navigate this fascinating new world of non-fungible tokens and show you how you can integrate tokenization into your own business.