Looking to join some NFT Discord servers that give you alpha on the hottest projects?
Maybe you've finally digested 2022's collapse of the NFT market and now you're looking for ways to become a much smarter investor in the NFT revolution?
Well, we've got good news for you, because we've researched some of the best NFT Discord servers out there, including those that give you the inside scoop on the most successful projects.
In this guide, we'll show you where you can join some of the most knowledgeable people in NFTs.
Let's dive right in.
Key Points (tl;dr)
Discord has become the de facto standard platform for online communities in the NFT space. What used to be private Facebook Groups are now exclusive NFT Discord servers.
Unlike most of the larger NFT communities run by businesses, NFT marketplaces, and 10k PFP collections, NFT Alpha Groups tend to be small, close-knit groups of investors with common interests. They join forces and support each other in their quest for "alpha" so can generate the type of financial gains they love.
In today's guide, we share 7 of the most exclusive NFT Alpha Groups in the market:

Dark Echelon
Champs Only
Plug Pass
A-List
Zerk Pass
PROOF Collective
NFT Alpha Club
For a full overview of the top 7 exclusive NFT Discord servers out there, PLEASE READ THE FULL ARTICLE.
Like this content? Then share it!
7 Elite NFT Discord Servers for Alpha Seekers
Here's the answer. Great article by @ChrisHeidorn right here: https://tokenizedhq.com/nft-discord-servers/

www.tokenizedhq.com
What is an NFT Discord Server?
NFT Discord servers foster and encourage constructive debate about current events and trends in the NFT industry, while also fulfilling their educational responsibility with regard to new members.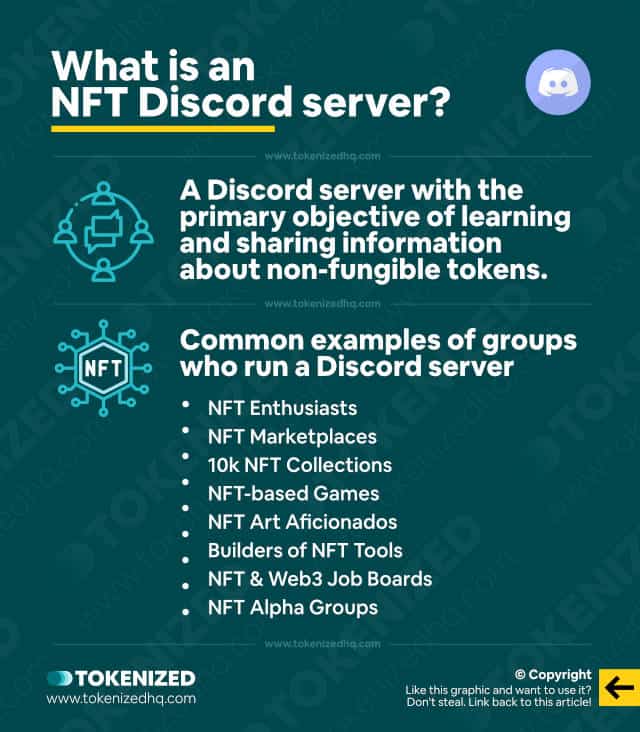 This may come as a shock to you, but it's really quite simple.
An NFT Discord server is literally any Discord server that hosts a community of people that share a common interest in NFTs.
It really doesn't matter what the specific common denominator is, as long as the primary objective is to learn and share knowledge about non-fungible tokens.
Some of the most common types of NFT Discord servers are created by the following groups of people:
NFT Enthusiasts
NFT Marketplaces
10k NFT Collections
NFT-based Games
NFT Art Aficionados
Builders of NFT Tools
NFT & Web3 Job Boards
NFT Alpha Groups
As you can see, the list of potential reasons to create dedicated NFT Discord servers is long.
And most people aren't just members of one single NFT community.
In fact, I myself am a member of at least a dozen different Discord servers on NFTs.
However, there's one type of Discord server for NFT fans that stands out: NFT Alpha Groups.
You might be wondering what exactly an NFT alpha group is.
Well, that's exactly what we'll discuss in the next section below.
NFT Alpha Groups vs. NFT Communities
NFT Alpha Groups are exclusive members-only communities that research and share insights on the latest and best projects in the NFT space. In most cases, you gain access by becoming a holder of the group's official NFT pass.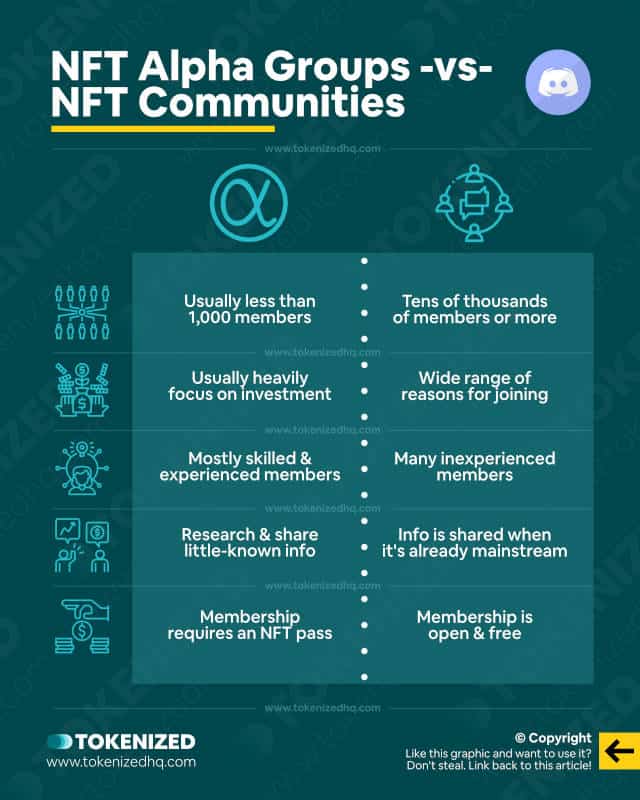 What exactly does "alpha" mean?
When people use the word "alpha", they are usually referring to information that isn't widely known yet.
Getting critical information on a project earlier than the greater public is tremendously valuable because it allows you to make more informed decisions than others.
While alpha doesn't necessarily have to be inside information, inside information is nearly always "alpha".
Although all NFT communities strive to share as much alpha with their community as they can, often times it's difficult to differentiate between gossip, hearsay, and genuine insights.
And the more people know that something important is going to happen, the less valuable that piece of information becomes.
Alpha groups are especially pervasive in any industry that revolves around investing and speculation, and NFTs are no different.
Over the past 2 years, we've seen more and more Alpha Groups launch their own NFT Discord servers.
They strive to create elite and exclusive clubs of like-minded people who are not just there to benefit from the insights of others.
Instead, most Alpha Groups have strict rules and they encourage gathering and sharing information with fellow members of the group.
Most people are oblivious to the fact that these exclusive NFT Discord servers exist.
So today, we're going to share with you our list of the top 7 NFT Alpha Groups that run a dedicated Discord server.
7 Elite NFT Alpha Groups on Discord
Dark Echelon
Champs Only
Plug Pass
A-List
Zerk Pass
PROOF Collective
NFT Alpha Club
Bear in mind that not all NFT Alpha Groups are open to the public.
Some only accept applications occasionally and have a strict vetting process.
In other cases, gaining access to the Alpha Group requires you to buy an NFT from their very own collection.
So, instead of paying recurring monthly fees, you're basically acquiring an NFT membership.
1. Dark Echelon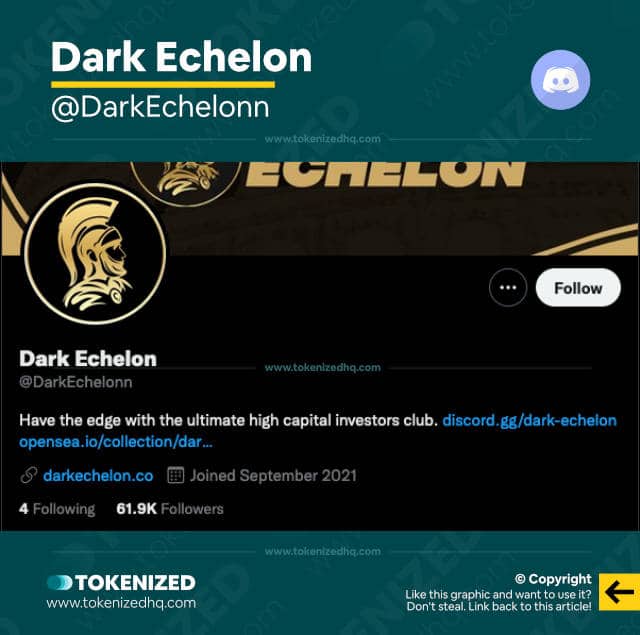 Dark Echelon advertises itself as the "ultimate high-capital investors club" and that it provides its members with an "edge".
At the time of writing, you can gain access to the group by acquiring one of 520 NFTs from their collection.
Current Floor Price: 2.49 ETH (19 August 2022)
2. Champs Only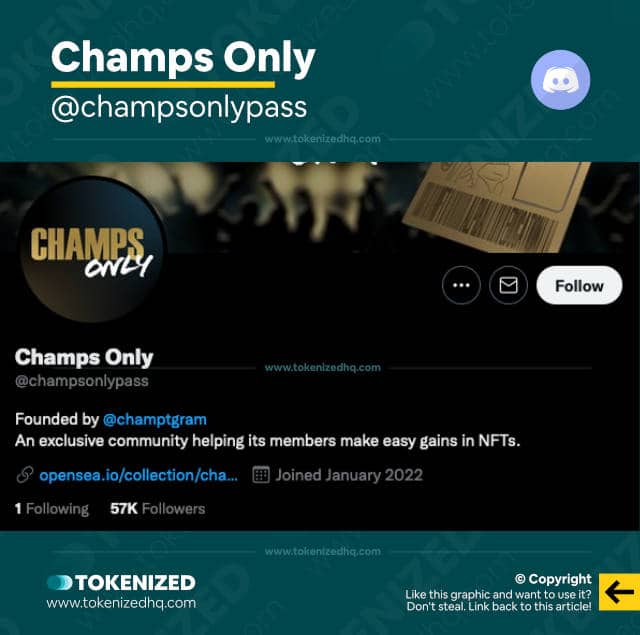 Champs Only advertises itself as an exclusive community that helps its members make easy gains in NFTs.
While we cannot independently verify this, their very own membership collection of 1,444 NFTs seems to be doing quite well, with over 1,300 unique holders.
Current Floor Price: 0.45 ETH (19 August 2022)
3. Plug Pass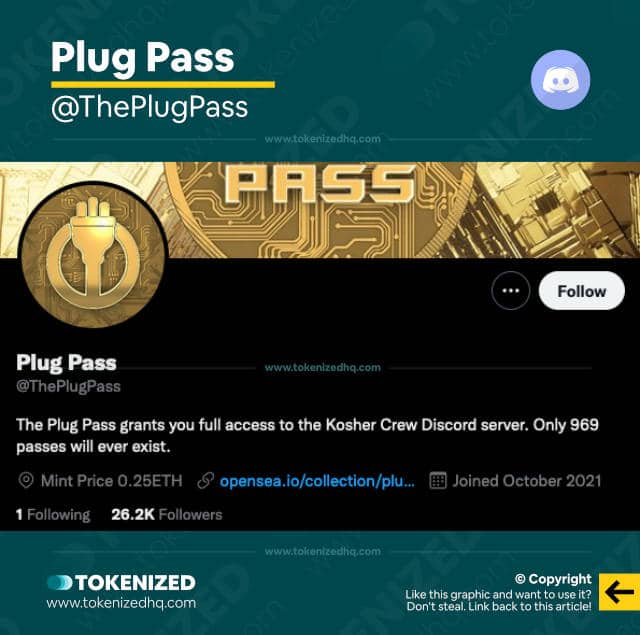 Next on our list of Alpha Groups is Plug Pass, which gives you access to the Kosher Crew Discord server.
Once again, in order to get access, you must first purchase one of 969 Plug Passes from their collection.
Current Floor Price: 0.19 ETH (19 August 2022)
4. A-List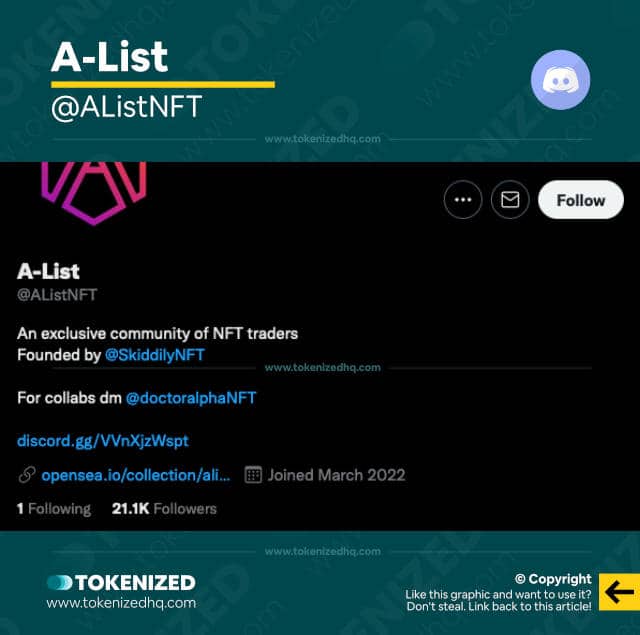 Once again, A-List also runs an exclusive NFT Discord server for its community of NFT traders and enthusiasts.
Their objective is to create value for their members through an analysis-based perspective.
There are only 150 A-List passes at the moment, which is one of the most exclusive groups we know of.
Current Floor Price: 0.35 ETH (19 August 2022)
5. Zerk Pass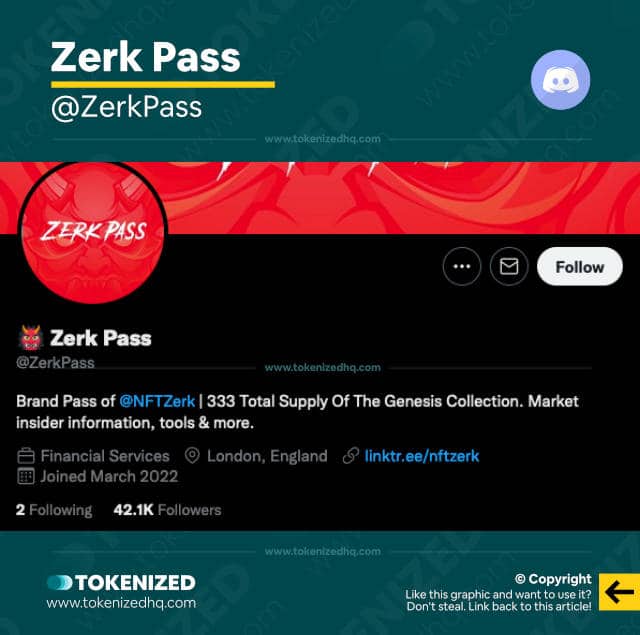 As per the Zerk Pass website, owning a pass will give you access to the full range of Alpha call channels.
They claim that they have a full-time team working on scouting new projects to partner with.
The team also seems to be working on its very own community launch pad.
Current Floor Price: 0.35 ETH (19 August 2022)
6. PROOF Collective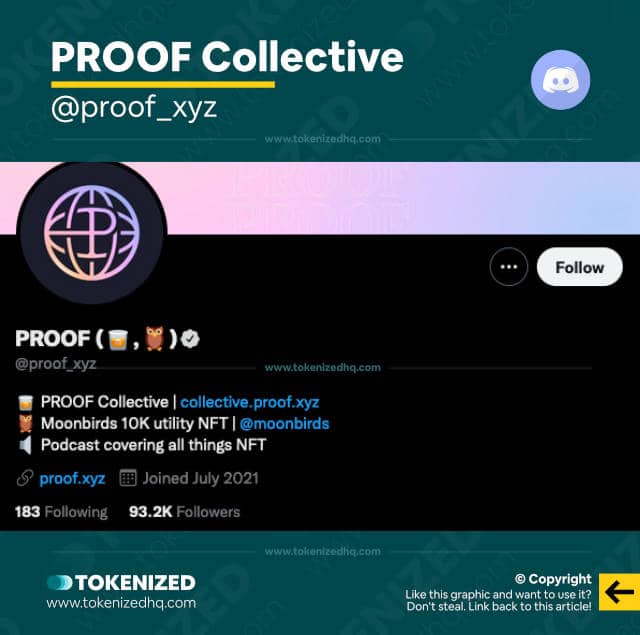 The PROOF Collective, founded by the one and only Kevin Rose is by far the most famous Alpha group in the NFT space.
Not only has the floor price of the extremely limited 1,000 membership NFTs increased to a whopping 62 ETH, members also received massive value in the form of Moonbirds NFTs.
While PROOF is obviously a great example of what is possible in this space, considering Kevin Rose's huge reach via social media, it's also unlikely that other groups will be able to replicate this.
7. NFT Alpha Club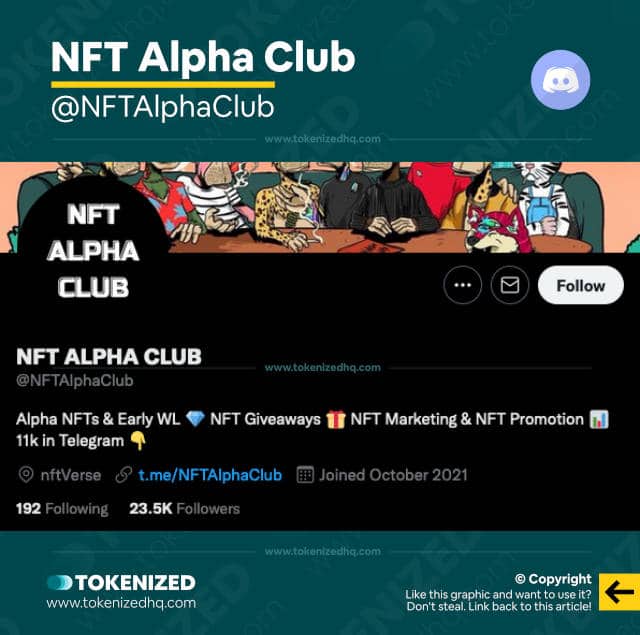 Technically this one doesn't really fall into the usual Alpha group category, simply because it's not exclusive.
However, considering that NFT Alpha Club is an open community, we figured it might be worth listing them anyway.
It provides its members with valuable information on upcoming NFT projects and whitelist opportunities.
Bear in mind though, that the group operates via Telegram instead of Discord.
Conclusion
The biggest and most open NFT Discord servers aren't always the ones that you should be joining.
Instead, you should be looking for close-knit communities that share the same objective as you.
If you consider yourself an NFT investor, then you should definitely contemplate joining an NFT Alpha group.
Here at Tokenized, we want to help you learn as much as possible about the coming NFT revolution. We help you navigate this fascinating new world of non-fungible tokens and show you how you can integrate tokenization into your own business.