Are you looking for an invite link to the OpenSea Discord server?
Perhaps you're trying to get into the OpenSea Discord hoping that you could ask someone directly about how to get an OpenSea API key?
Lots of people have tons of questions about how Discord servers work and what exactly awaits them there.
In this guide, you'll learn exactly how to get into the OpenSea Discord server as well as an overview of all the channels it has.
Let's dive right in.
Key Points (tl;dr)
OpenSea's Discord server is the primary platform that it uses to manage its community as well a many support requests.
The OpenSea community Discord can be accessed very easily by simply clicking on the following invite link: https://discord.com/invite/opensea
The Discord server has more than 100 channels spread across 9 different categories. Many of them are parimarily meant for documentation and archiving, however there are still more than 38 active discussion channels for you to choose from.
There is even an #api-key-request channel, however, it is only meant to address simple questions. In order to get your hands on an OpenSea API key, you will have to use the official application form.
For those who are new to NFTs, we've included a list of some of the most welcoming and reputable NFT project communities. Scroll down to check out the full list.
For a detailed overview of all channels inside the OpenSea Discord, PLEASE READ THE FULL ARTICLE.
Like this content? Then share it!
OpenSea Discord Server: Key Facts & Figures in 2023
Here's the answer. Great article by @ChrisHeidorn right here: https://tokenizedhq.com/opensea-discord/

www.tokenizedhq.com
What is the OpenSea Discord?
The OpenSea Discord is OpenSea's official community management platform. Similar to a traditional online bulletin board, Discord servers use so-called "channels" to organize broad topic clusters. Instead of creating threads and posts, Discord channels use live chat and voice calls for communication.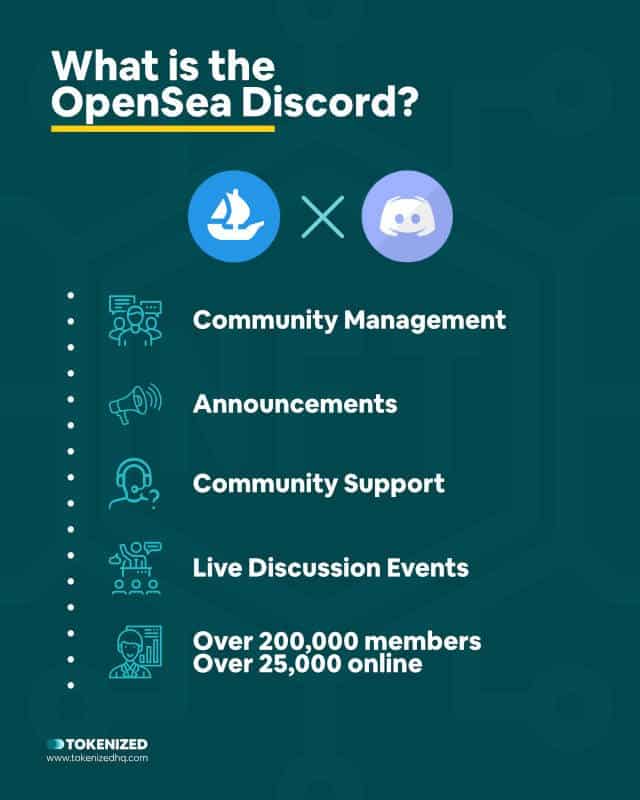 Discord is an instant messaging and Voice-over-IP platform that allows users to communicate via a variety of different media either directly or as part of communities.
After its initial release in 2015, it quickly became the leading platform used by gamers around the world.
Over time it has reached other market segments as well and is now the de facto standard platform for most NFT communities.
While Discord and Slack share many similarities, Slack is more tailored towards businesses and development teams, while Discord is considerably more playful by design.
Most cryptocurrency and NFT projects use a Discord server for community management purposes and the same holds true for the OpenSea Discord.
It allows users and fans to interact with each other as well as with the OpenSea support team.
It's actually a very effective way to contact OpenSea staff if you're dealing with technical issues.
The OpenSea Discord server currently has more than 200,000 members, of which more than 25,000 are usually online at any given time.
How to Get an OpenSea Discord Invite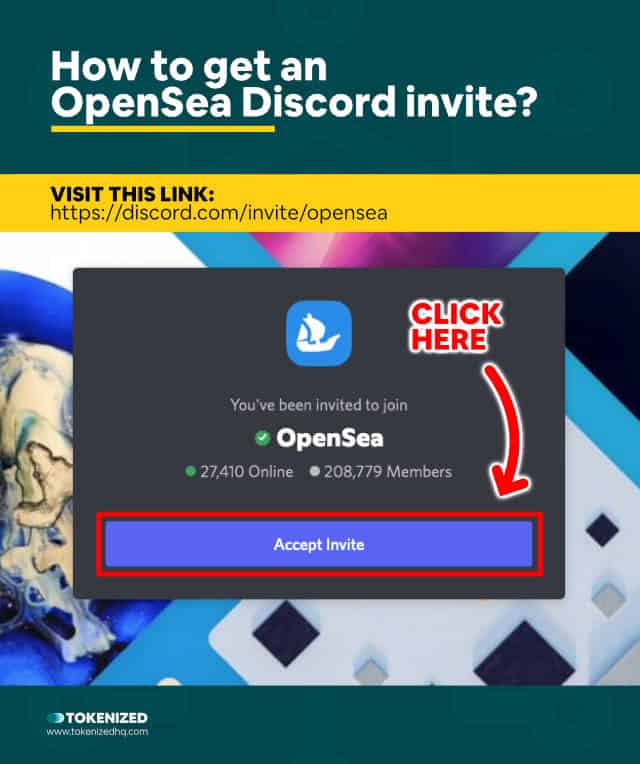 The easiest way to access the OpenSea Discord server is by simply visiting the official invite link: https://discord.com/invite/opensea
Not all Discord servers are always open to everyone and very often they have tiered access levels.
This means that not every user will necessarily have access to all channels in the Discord.
Luckily, the OpenSea Discord is completely open to join and it also has a constant and unlimited invite link:
If you click the link above you'll be forwarded to the OpenSea Discord server invite page.
Once you've verified that you're about to join the right Discord server, simply click the blue "Accept Invite" button.
If you've installed the Discord app on your device, it will automatically launch the application.
Otherwise, you'll gain access directly through the browser.
Bear in mind that you may have to register for an account if you don't already have one.
What Channels Does the OpenSea Discord Have?
OpenSea's Discord server has a total of 9 different channel categories and over 100 individual channels. They cover a broad range of topics: Discussion channels, announcements, news, support, developer resources, and much more.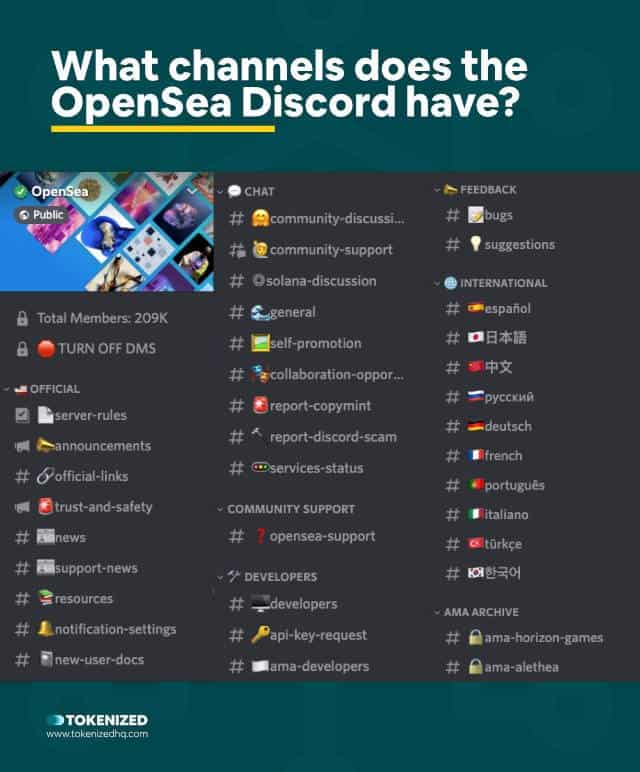 OpenSea's Discord server has a wide array of categories and channels to choose from.
In fact, it has more than 100 different channels spread across 9 different categories.
That being said, 22 of them are AMA archives and another 48 channels simply record activity from various dApps.
So, in the end, you mainly have 38 truly active discussion channels.
Here's an overview of the OpenSea Discord's current channel structure:
Official

Server Rules
Announcements
Official Links
Trust and Safety
News
Support News
Resources
Notification Settings
New User Docs


Chat

Community Discussion
Community Support
Solana Discussion
General
Self Promotion
Collaboration Opportunities
Report Copymint
Report Discord Scam
Services Status


Community Support
Developers

Developers
API Key Request
AMA Developers
Github
Hackathon Hello NFT World
Hackathon Hello NFT World Find a Team Channel


Discord Ranks
Feedback
International

Spanish
Japanese
Chinese
Russian
German
French
Portuguese
Italian
Turkish
Korean


AMA Archive (22 channels)
dApp Activity (48 channels)
Can I Request an API Key on the OpenSea Discord?
The OpenSea Discord cannot be used to apply for an OpenSea API key. The #api-key-request channel is primarily used for informational purposes as well as first-level customer support. The actual application must happen via the official application form.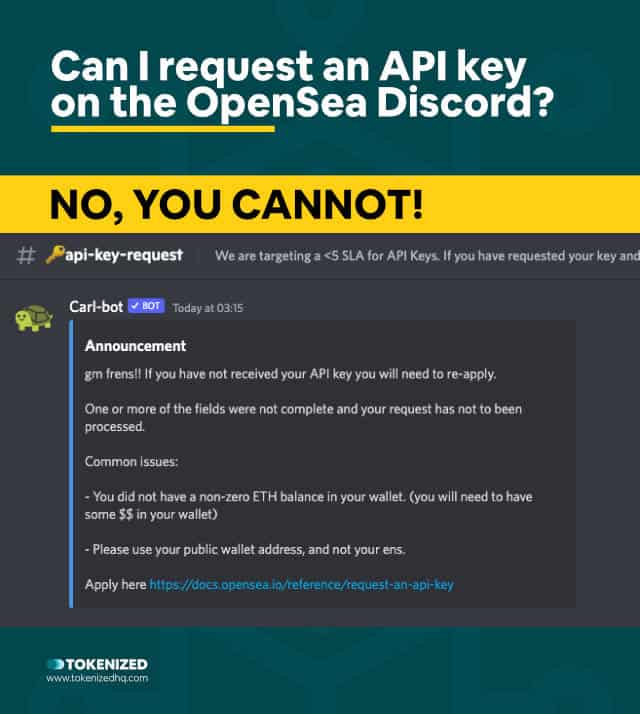 OpenSea does have a dedicated channel on its Discord server for questions related to the OpenSea API.
However, the channel is primarily used to address simple questions regarding the application process for an API key.
You cannot actually apply for an OpenSea API key from within the channel itself.
Some common issues that keep coming up:
If you've been waiting for your API key for a long time, you will most likely have to re-apply.
Your wallet must have a non-zero ETH balance when you apply.
You must use your public wallet address and not an ENS domain address.
If you're having trouble getting your hands on an API key, we recommend you check out our guide on how to get an OpenSea API key.
Discord Servers of Leading NFT Projects
Nearly all NFT projects use Discord servers to manage their communities.
If you're still new to NFTs then you probably haven't joined any of them yet.
In order to get you started and make sure you discover some of the more reputable NFT projects out there, we've put together a small list of popular NFT community Discords:
Conclusion
Discord servers have become one of the most popular tools for community management in the past few years.
Adoption has spread like wildfire across the entire cryptocurrency scene as well as amongst NFT projects.
The OpenSea Discord server allows you to get in touch with like-minded people who can also help you with any sort of problems you might encounter on OpenSea.
Just be aware that Discord servers are occasionally hacked and subject to phishing attacks, so make sure you never click any links you don't know.
Here at Tokenized, we want to help you learn as much as possible about the coming NFT revolution. We help you navigate this fascinating new world of non-fungible tokens and show you how you can integrate tokenization into your own business.