Are you looking for NFT curator jobs to apply for?
Perhaps you're getting sick and tired of the traditional art world and want to go where all the digital art action is right now.
Well, although jobs for digital art and NFT curation are still fairly rare, art exhibitions, auction houses, and many businesses are seeing an increased need for people who are experts in the field of digital art.
In this guide, you'll learn everything you need to know about the role and responsibilities of typical NFT curator jobs.
Let's dive right in!
Key Points (tl;dr)
The job of the art curator is to provide information and context regarding the significance of a piece of art against the historical and cultural backdrop of when it was created.
NFT curation is not fundamentally different, other than the fact that the art is being created with other means and on top of new technology.
Most NFT art curation jobs will require previous curatorial experience, including a deep understanding of the digital and crypto art scene. The perfect profile for these types of jobs is almost as rare as the jobs themselves. Therefore, it's reasonable to assume that such positions will come with higher salary expectations.
For a detailed overview of the requirements of NFT art curator jobs, PLEASE READ THE FULL ARTICLE.
Like this content? Then share it!
The Truth About NFT Curator Jobs in 2023
Here's the answer. Great article by @ChrisHeidorn right here: https://tokenizedhq.com/nft-curator-jobs/

www.tokenizedhq.com
What does an NFT Curator do?
A good NFT curator provides information on works of art, creates connections to other similar artwork, and generally helps others understand why a certain piece of art is relevant in today's socio-economic and cultural context.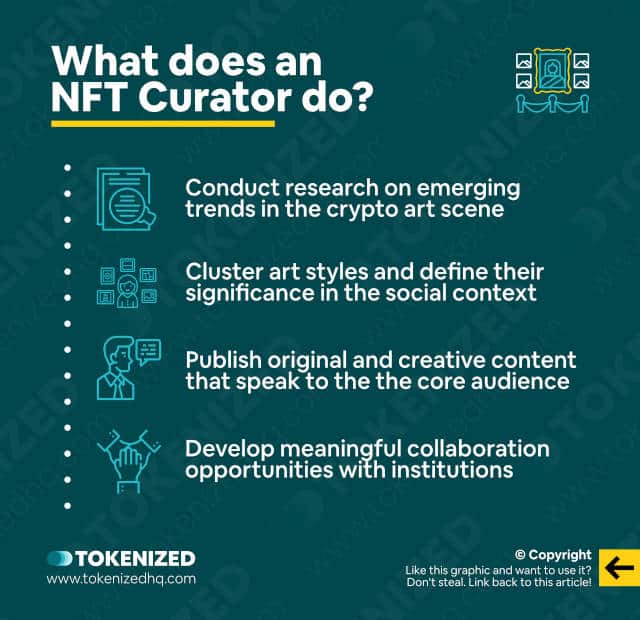 Traditional art curators spend most of their time researching various different works of art and trying to interpret them in the context of their time in history.
Given that most people are not particularly knowledgeable about the art world, their role as storytellers is more important than ever.
An NFT curator's job isn't fundamentally different because, in the strictest sense, they do the exact same thing.
What makes them seem different is merely the fact that they specialize in a section of the art scene that most people, including established art professionals, can't seem to take seriously.
And this is quite ironic, given that pop art initially had to deal with the same level of skepticism.
Today, modern art is part of that very same establishment.
NFT curator jobs are tasked with making decisions about which NFTs should be displayed and how they should be perceived.
They have considerable influence in determining what the market will accept as significant pieces of art during a time of transformation.
Given that the means used to produce NFT artwork are very different from an oil painting on canvas, NFT curator jobs require a significantly more technical understanding of how the blockchain works than other non-technical jobs in NFTs.
For example, unless you understand the difference between on-chain artwork and conventional NFTs, you won't be able to properly assess their significance.
Typical Requirements & Responsibilities of NFT Curator Jobs
Most NFT art curation jobs will require previous curatorial experience in art as a baseline. Furthermore, a successful candidate should have a deep understanding of the digital art and crypto art scene, including sufficient technical expertise in blockchain technology.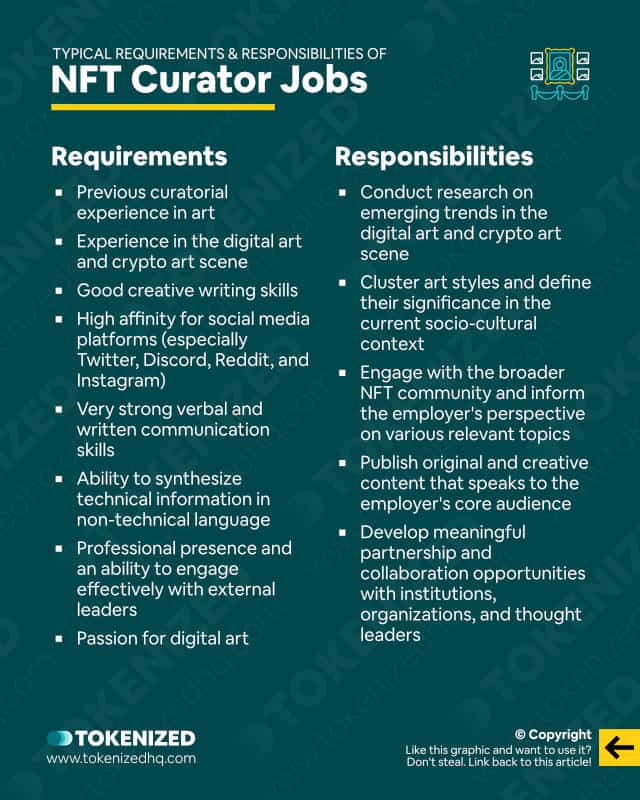 The NFT scene revolves around social media and evolves at the speed of the underlying technology.
This also means that information flows at an incredibly fast pace and public debates sometimes become chaotic.
The good NFT curator will need to have a deep understanding of the evolution of the internet from the original Web to Web 2.0 and eventually the future of Web3.
Common Requirements & Skills:
Previous curatorial experience in art
Experience in the digital art and crypto art scene
Good creative writing skills
High affinity for social media platforms (especially Twitter, Discord, Reddit, and Instagram)
Very strong verbal and written communication skills
Ability to synthesize technical information in non-technical language
Professional presence and an ability to engage effectively with external leaders
Passion for digital art
Common Responsibilities:
Conduct research on emerging trends in the digital art and crypto art scene
Cluster art styles and define their significance in the current socio-cultural context
Engage with the broader NFT community and inform the employer's perspective on various relevant topics
Publish original and creative content that speaks to the employer's core audience
Develop meaningful partnership and collaboration opportunities with institutions, organizations, and thought leaders
Common NFT curation job titles include:
NFT Curator
NFT Art Curator
Curation Lead for NFT & Digital Art
Curator of NFTs
What is the Average Salary of NFT Curator Jobs?
Generally, it is reasonable to expect salaries of NFT curators to be similar to those of traditional art curators. That being said, given the specific profile of skills and requirements, strong candidates can easily expect salaries to be at the upper end of the range.
Given the very narrow market, we do not feel that there is sufficient data available to provide a fair assessment of the typical salary for NFT curator jobs.
Jobs in NFT curation, while obviously linked to crypto, are still primarily embedded within the greater art scene.
Therefore, it is reasonable to expect salaries for digital art and NFT curator jobs to be in a similar range as traditional ones.
However, since a fair amount of technical understanding of the blockchain is required, we'd expect salaries closer to the range's upper end.
Many people like to talk about crypto and NFTs, but very few actually understand what happens under the hood and that's where great talent has leverage.
Where Can I Find NFT Curator Jobs?
The best place to find job positions in NFT and digital art curation is on the respective sites of major art industry organizations and companies. That being said, some niche Web3 board are doing their best to include more art-related job positions in their database.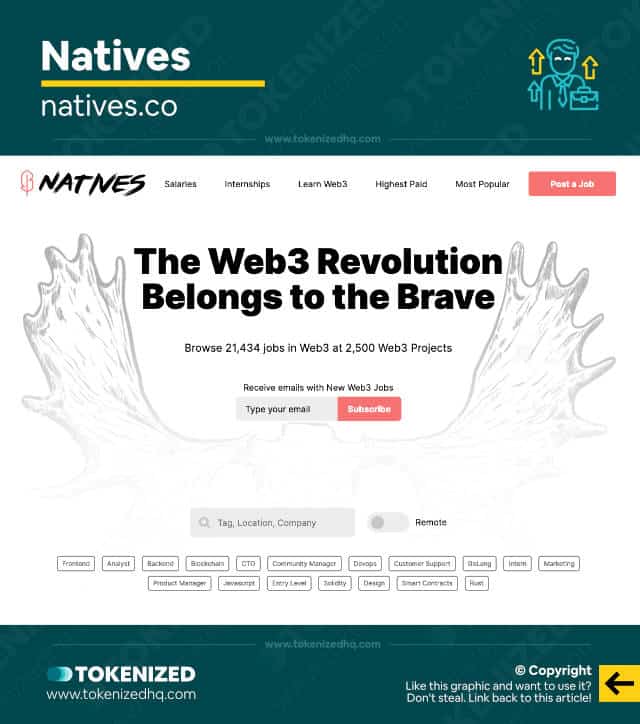 Traditional job platforms are not really the best places to specifically look for jobs in digital art curation.
For the most part, you're much better off checking some of the more technologically progressive art exhibitions (Art Basel) and particularly auction houses (Christie's).
Dedicated Web3 job boards may be helpful too, however, most of them are heavily focused on NFT developer jobs and NFT marketing jobs.
That being said, the team at Natives is trying to fill that gap and provide more transparency on NFT art curation jobs for those looking to start a career in Web3.
Natives hasn't launched yet, but this community-first job board aims to become the leading job platform for digital natives in the Web3 industry.
Conclusion
The job of an NFT curator is not fundamentally different than that of a traditional art curator.
The primary difference lies within the medium being used, the technological complexities around how blockchains work, and the fast-paced environment of social media.
It's reasonable to expect that today's digital art movement is the equivalent of the pop art movement in the 1950s and 1960s.
Here at Tokenized, we want to help you learn as much as possible about the coming NFT revolution. We help you navigate this fascinating new world of non-fungible tokens and show you how you can integrate tokenization into your own business.