Are you looking for NFT marketing jobs to apply for?
Perhaps you've been thinking about a career change for some time now and would like to put your marketing experience to better use in an industry that's actually growing.
Well, despite the recent crash of the NFT and crypto market as a whole, the underlying technology is here to stay and this massive market potential will need a lot of marketers as well.
In this guide, you'll learn everything you need to know about the role and responsibilities and the average salary of typical NFT marketing jobs.
Let's dive right in!
Key Points (tl;dr)
Having the best artwork or most advanced tech is no longer enough to win in this market. Marketing and sales specialists help NFT projects and startups get the exposure they need in order to sell their products.
Businesses are competing for eyeballs and attention because they translate into a better chance of making a sale. An effective marketing strategy needs to consider where customers spend most of their time and how to engage with them.
Marketing is a broad field and most sub-categories will require specialized skill sets in order to get the most out of each marketing channel.
Typical salaries for NFT marketing jobs largely depend on the scope and region of the position. Therefore it is difficult to provide reliable estimates. Product-focused roles will usually pay more than those primarily tasked with managing social media presences.
For a detailed overview of the requirements of NFT marketing jobs, PLEASE READ THE FULL ARTICLE.
Like this content? Then share it!
The Truth About NFT Marketing Jobs in 2023
Here's the answer. Great article by @ChrisHeidorn right here: https://tokenizedhq.com/nft-marketing-jobs/

www.tokenizedhq.com
What does an NFT Marketer do?
NFT marketers are responsible for promoting an NFT project and creating awareness via various different marketing channels. These usually include social media (mainly Twitter) or community Discord channels.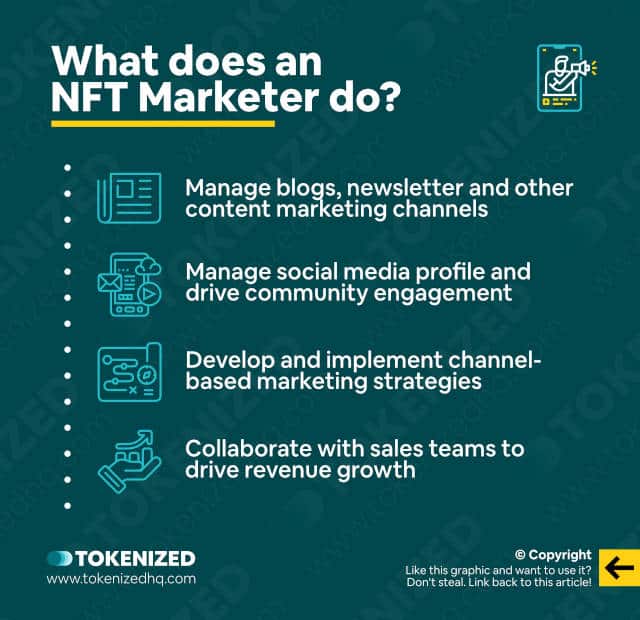 As much as smart contract engineers and other NFT developers are crucial to the success of NFT projects and other crypto startups, the importance of marketers is overlooked far too often.
You see, unless you get really lucky, it doesn't matter how good your product is.
If you can't get it in front of potential customers or aren't able to convince them to buy it, you're still going to fail.
NFT marketing jobs are frequently belittled because the industry has a disproportionate number of technical people in its workforce.
In other cases, marketers and salespeople are thrown into the same bucket as scam artists which simply isn't a fair representation of their true purpose.
The fact of the matter is that most technical people, no matter how intelligent they might be, are horrible marketers.
"Build it and they will come" is probably one of the dumbest statements ever because it simply isn't true in today's economy.
No matter what you're selling, you need to figure out ways to create awareness for your product and convince prospective customers why your product is the right choice for them.
NFT marketing jobs come in many different forms, including social media marketing, community engagement, content marketing, or growth hacking.
In the end, the objective is mostly the same.
You want your brand to be at the top of people's minds and get your product in front of as many eyeballs as possible.
Not every product requires the same type of marketing strategy and it largely depends on where your ideal customer is.
But the right marketing and sales strategy can go a long way in becoming a successful company.
Typical Requirements & Responsibilities of NFT Marketing Jobs
Marketing jobs in NFTs will usually require a similar set of skills as other jobs in digital marketing. Content marketing, social media marketing, and growth marketing are amongst the most common areas that also apply to the NFT industry.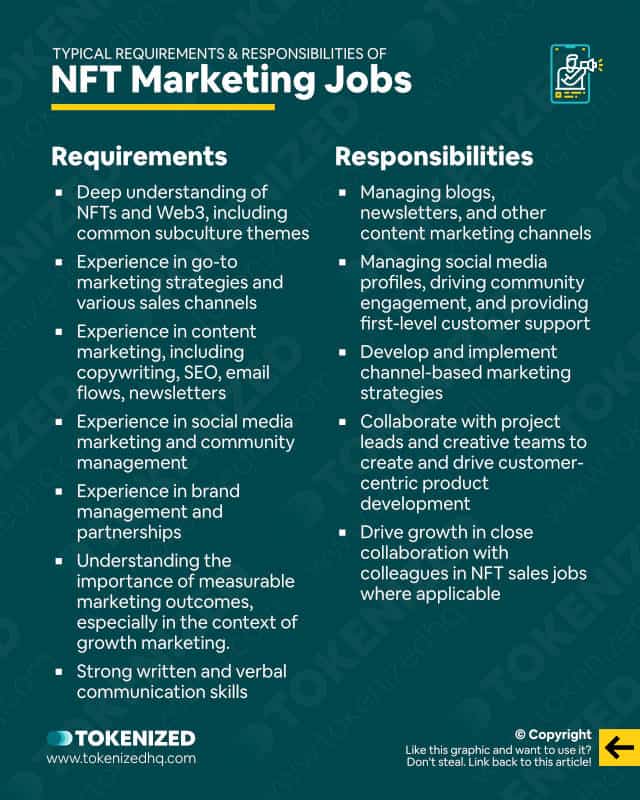 It's difficult to pinpoint the exact set of skills and responsibilities for NFT marketing jobs mainly because it depends on a number of factors.
For example, a marketing executive or specialist will have different responsibilities than a full-blown Marketing Manager.
That being said, as a marketer you should at least understand the basic concepts of various types of digital marketing.
And more importantly, you should understand how to effectively market in the context of the NFT industry.
Common Requirements & Skills:
Deep understanding of NFTs and Web3, including common subculture themes
Experience in go-to marketing strategies and various sales channels
Experience in content marketing, including copywriting, SEO, email flows, newsletters
Experience in social media marketing and community management
Experience in brand management and partnerships
Understanding the importance of measurable marketing outcomes, especially in the context of growth marketing.
Strong written and verbal communication skills
Common Responsibilities:
Managing blogs, newsletters, and other content marketing channels
Managing social media profiles, driving community engagement, and providing first-level customer support
Develop and implement channel-based marketing strategies
Collaborate with project leads and creative teams to create and drive customer-centric product development
Drive growth in close collaboration with colleagues in NFT sales jobs where applicable
Common marketing and sales job titles in NFTs include:
Web3 Partnerships & Growth Manager
Marketing Research Assistant
Marketing Manager
Chief Marketing Officer
Growth Marketing Lead
Product Marketing Director
Product Designer
Content Writer
Digital Marketing Manager
Social Media Marketing Specialist
Community Marketing Manager
Business Development Manager
Head of Sales
What is the Average Salary of NFT Marketing Jobs?
Salaries of NFT marketing jobs will vary greatly depending on the size of the business, the scope of the role, and the location of the company. However, it seems that community and social media marketing jobs tend to pay less than other functional areas.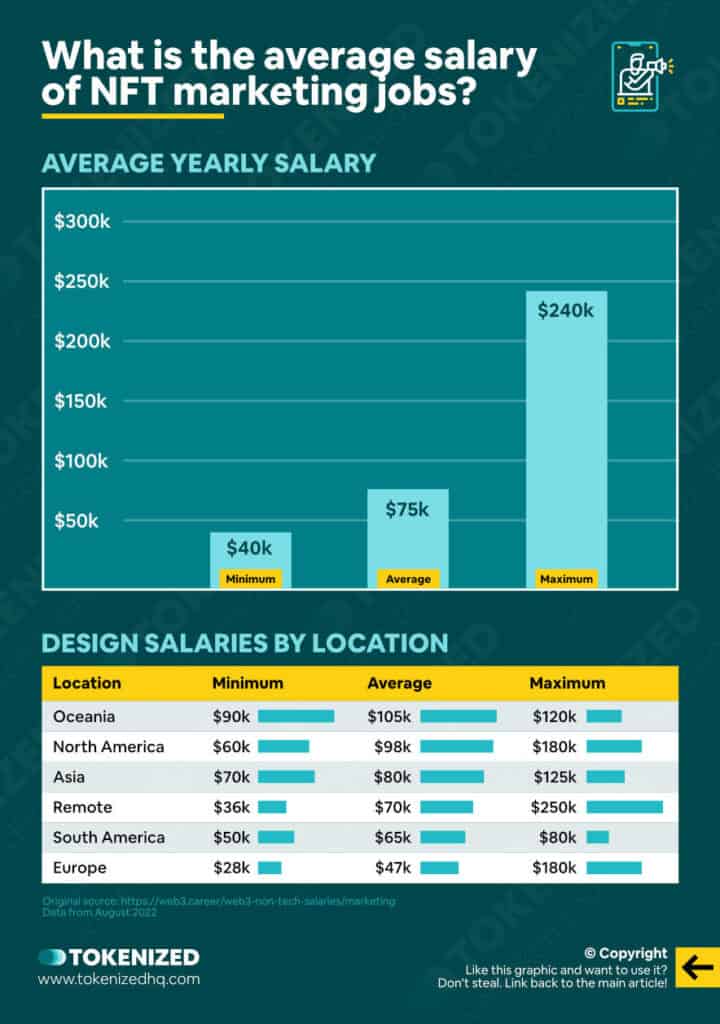 Since the functional area of marketing and sales is so vast, it's difficult to find reliable numbers of average salaries in this space for jobs in NFTs.
Typical salaries will largely depend on the specific area within marketing and the seniority of the role itself.
For example, it's fairly obvious that a Marketing Manager will normally be paid more than a Social Media Marketing Manager.
Why? Well, simply because the scope of responsibilities tends to be larger with the Marketing Manager since it includes social media too.
The broader and more strategic the role, the higher the salary will be and specifically, Product Managers are amongst the best-paid roles in this space.
However, if we ignore regional differences for a minute, typical salaries for NFT marketing jobs are usually in the range of $60,000 to $180,000 for US-based companies.
There are jobs that are paid considerably less, however, they are usually in other regions of the world or considerably smaller in scope (e.g. NFT moderator jobs).
Are NFT Jobs for Marketing and Sales Remote OK?
You can reasonably expect marketing and sales jobs in the NFT industry to be available to remote candidates. That being said, some jobs may require you to be located within the same country as the company.
Although there is a bit of a trend among established companies to try to get their workforce back into the offices a bit more, the Web3 industry is largely open to remote jobs.
Most of the people who pursue NFT careers or work in Web3 rarely see each other in real life and most of their work is online anyway.
Physical attendance in an office usually doesn't matter much unless it's a team event.
That being said, many of the remote jobs you'll find online may have restrictions in terms of the country or continent where you must be based.
This is mostly due to tax legislation in the company's based country.
Where Can I Find NFT Marketing Jobs?
Smaller Web3-focused job boards, such as Natives, are growing in importance as major job platforms become increasingly expensive and less effective in terms of finding the right talent and the right price.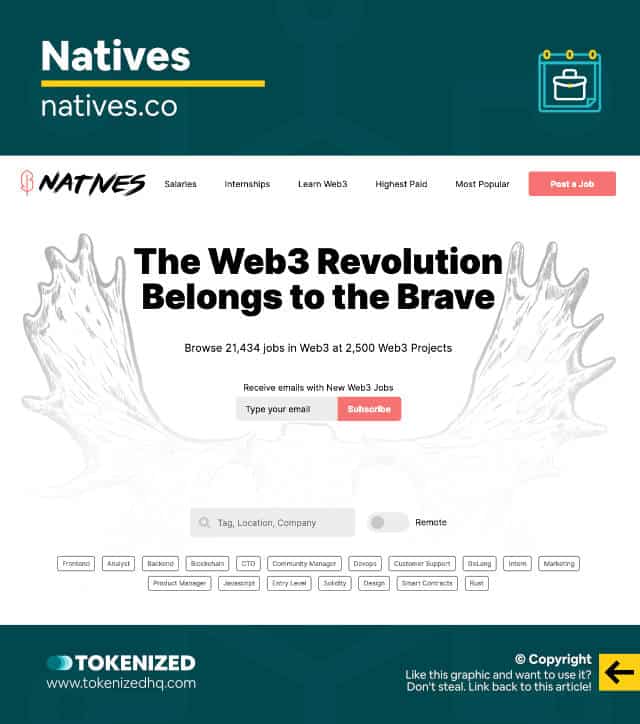 There are tons of platforms and job boards on the internet but most of them have become too big by now.
With so many job listings it's becoming increasingly difficult to find jobs for a very specific niche.
And the costs associated with listing a job on these sites have skyrocketed due to the shortage in labor as well.
Small and mid-sized Web3 companies are much better off focusing their hiring efforts on niche web boards for NFTs and Web3.
Not only is it much cheaper to list a job there, but you're also far more likely to be seen by an audience that is actually interested in your industry.
Natives is one of these niche sites for web3 jobs and it's planning to go live later this summer.
Conclusion
In an industry that is as technical as crypto, it's not surprising that marketing and sales were neglected for a long time.
But more and more companies are realizing that a great product is worthless if you can't get it in front of customers.
NFT marketing jobs have never been more important than now and can be a key differentiator in an increasingly competitive market.
Here at Tokenized, we want to help you learn as much as possible about the coming NFT revolution. We help you navigate this fascinating new world of non-fungible tokens and show you how you can integrate tokenization into your own business.