Are you looking for NFT Project Manager jobs to apply for?
Maybe you consider yourself an all-rounder, generalist, or simply a Jack of all Trades and want to launch projects in the NFT space without necessarily launching your own startup?
Or are you unsure what an NFT Project Manager actually does and now you're looking for insights into what the job actually entails?
Well, either way, you're going to find the following article very enlightening.
In this guide, you'll learn everything you need to know about the role and responsibilities, as well as the average salary of typical NFT Project Manager jobs.
Let's get right to it!
Key Points (tl;dr)
NFT Product Managers and Project Managers are usually responsible for developing and driving a company's product strategy in the context of NFTs. They integrate and manage cross-functional teams, leading them towards a common objective.
Ideal Project Managers for NFTs tend to be highly skilled all-rounders that have experience in analyzing market needs, developing products that address these needs, and marketing them to the right customers.
This is also one of the reasons why candidates with startup experience, including former founders, tend to be a good fit for these roles.
Good and entrepreneurial Project Managers are rare and so is the number of such jobs in the market. Salaries vary by location and size of the organization but are generally in the range of $60k to 160k (and even up to $300k in exceptional cases).
Most positions are available for remote work, however, some employers may insist on proximity to engineering teams and occasional office presence.
Although Project Manager roles a common and abundant on major job platforms, searching for such a position in the Web3 industry are better off searching on niche job boards such as Natives.
For a detailed overview of the requirements of NFT Project Manager jobs, PLEASE READ THE FULL ARTICLE.
Like this content? Then share it!
The Truth About NFT Project Manager Jobs in 2023
Here's the answer. Great article by @ChrisHeidorn right here: https://tokenizedhq.com/nft-project-manager-jobs/

www.tokenizedhq.com
What does an NFT Project Manager do?
NFT Project Managers are responsible for leading cross-functional teams in an effort to develop and market new products that capitalize on this emerging technology within the scope of the company's existing line of business.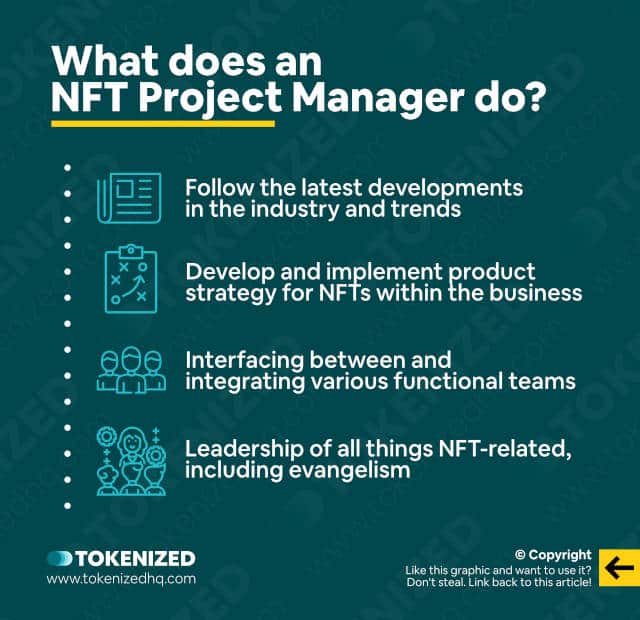 Let's face it, being a Project Manager can mean a whole lot of different things depending on who you're asking and what the context is.
For the most part, outside the context of NFTs, a Project Manager is simply someone who is responsible for managing any sort of project that involves people from different departments.
The term "Project Manager" is often used as a title but it can also refer to someone who has received certified training as a professional Project Manager.
Does that mean that you need to go through formal training in order to become a good Project Manager?
No, of course not.
Anyway, so what exactly do people mean when they say they are looking for an NFT Project Manager?
Your initial assumption might be that an NFT project is looking for someone to manage it properly.
While this might seem intuitive, this is rarely the case because NFT projects (i.e. 10k PFP projects and similar startups) are usually managed by the founders themselves.
So when you see a job position for an NFT Project Manager, then it is usually a position within an established company that is looking to explore NFTs.
NFTs are still so new that most company non-tech businesses still consider them to be explorative "projects".
They will only commit to real departments once they believe there is a future for NFTs.
And those companies that already know that they want to enter the NFT space are usually looking for someone to help them build that new line of business.
For the most, NFT Project Manager jobs require all-rounders who have a good understanding of many different business functions and have an entrepreneurial mindset.
That is also why NFT Project Manager positions are very popular among existing Product Managers, Marketing Managers, and former startup Founders.
As an NFT Project Manager, you not only need to have a deep understanding of NFTs, but you also need to have experience in managing cross-functional teams, creating products, and marketing them to users.
Typical Requirements & Responsibilities of NFT Project Manager Jobs
Ideal candidates for NFT Project Manager roles are experienced all-rounders with an entrepreneurial mindset that are capable of leading teams effectively and building a shared vision within and outside their organization.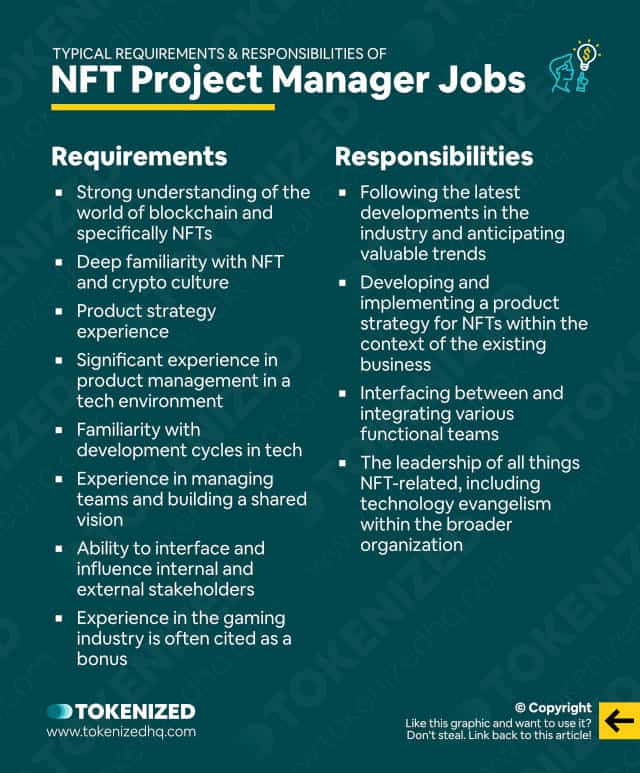 There is no standard NFT Project Manager job and every project or business will have slightly different requirements based on its objectives.
Nevertheless, the majority of the NFT project jobs are faced with similar challenges simply because NFTs are such a new technology.
Since these are not cookie-cutter project management roles, the best candidates tend to be Jacks of all Trades who are capable of defining a clear vision and leading teams toward a common goal.
Let's look at some of the most common requirements and responsibilities of Project Managers and Product Managers in NFTs.
Common Requirements & Skills:
Strong understanding of the world of blockchain and specifically NFTs
Deep familiarity with NFT and crypto culture
Product strategy experience
Significant experience in product management in a tech environment
Familiarity with development cycles in tech
Experience in managing teams and building a shared vision
Ability to interface and influence internal and external stakeholders
Experience in the gaming industry is often cited as a bonus
Common Responsibilities:
Following the latest developments in the industry and anticipating valuable trends
Developing and implementing a product strategy for NFTs within the context of the existing business
Interfacing between and integrating various functional teams
The leadership of all things NFT-related, including technology evangelism within the broader organization
Common NFT project job titles include:
NFT Project Manager
Web3 NFT Project Manager
Product Manager
Senior Product Manager
What is the Average Salary of NFT Project Manager Jobs?
NFT Project Managers have a considerable impact on a business' strategy and thus bear a lot of responsibility. These positions are among the higher-paid jobs within the NFT industry and are usually within the range of $60k to $300k per year, depending on the size of the organization.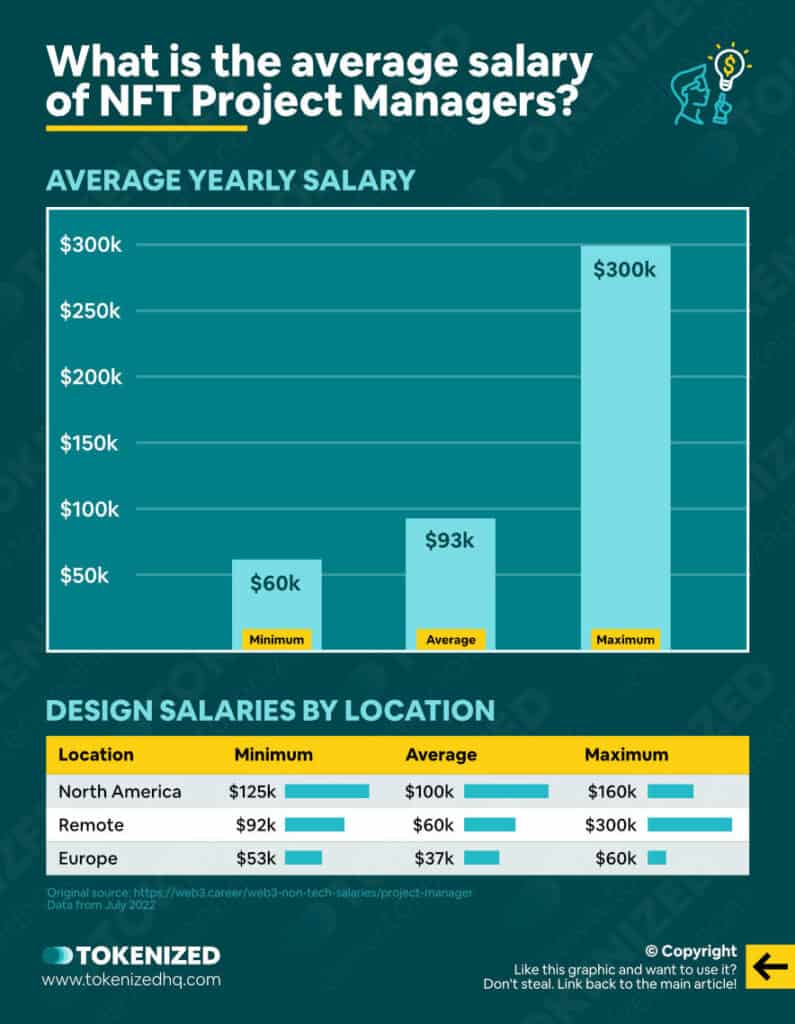 Project Manager and Product Manager positions tend to be a bit rarer than others, simply because they are focal points of responsibility within most businesses.
However, given the wide range of experience and skills, as well as the entrepreneurial mindset that careers in NFT tend to require, there isn't a lot of supply of talent in the market.
Ironically, specialists are often easier to find than these strong all-rounders and it shows in the average salaries that are being paid.
While NFT developer jobs still command the high end of the pay scale, Project Manager jobs are quite attractive as well.
The stats for Europe are a bit skewed since the labor market is very regionally diverse, but overall NFT Project Manager jobs pay between $60k on the low end and $160k on the high end.
Obviously, there are always exceptions to this rule but we've found that the positions paying considerably more than this are usually in senior management.
Are NFT Jobs for Project Managers Remote OK?
The majority of Project Manager roles are generally available on a remote basis. However, larger corporations may require occasional office presence or regular proximity to the engineering team.
Although many Project Manager and Product Manager jobs are available for remote work, especially since the pandemic, there is a higher percentage of location-based positions than for other NFT-related jobs.
This is partly because product management jobs are ideally located in proximity to development teams.
However, there is also a higher proportion of large corporations that hire for this sort of position and many of them are returning to a more office-focused style of work.
That being said, given the right candidate, most employers are likely to be willing to accept a compromise on this.
Where Can I Find NFT Project Jobs?
The best places to find specific NFT project jobs are niche job boards run by people within the NFT and crypto industry, such as the Web3 Natives job board. These platforms tend to be considerably more cost-effective for companies that are hiring talent within this industry.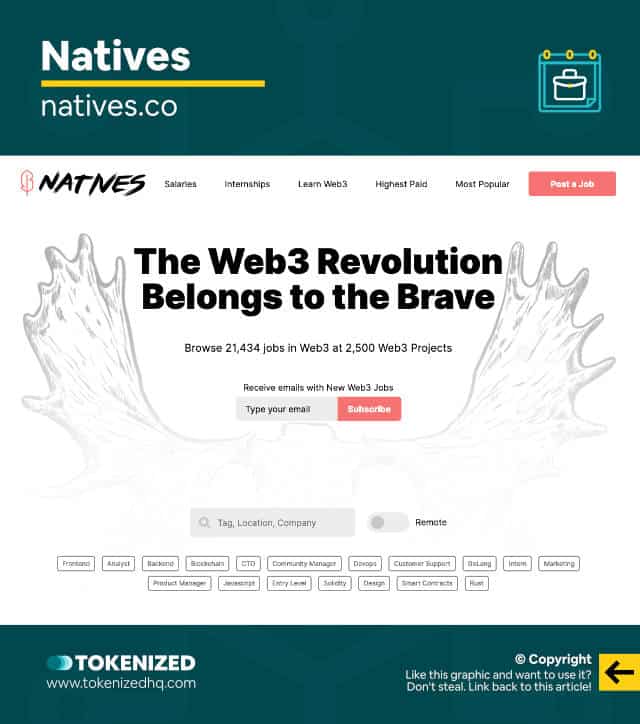 If you're looking for an NFT-related position in a large, multinational corporation, then the major job platforms may be the right place for you.
However, if you really want to get into the weeds of the crypto and NFT industry, then you're more likely to find suitable positions on Web3 job boards.
Smaller niche platforms are more likely to be cost-effective for the employer and they also cut out all the irrelevant jobs for you.
One of these smaller job platforms in Web3 is "Natives", which caters specifically to the Web3 and crypto industry.
Although the site hasn't launched yet, you can already sign up for their newsletter and get notified once it goes live.
Conclusion
There are so many different interpretations of Project Manager positions that it's difficult to really pinpoint what the job entails.
However, it's clear that NFT Project Managers should ideally be all-rounders who not only have a wide array of skills but are also able to take an integrated view on things.
Many project management roles in NFTs are very similar to Product Managers and have considerable influence on the strategy of the business.
Here at Tokenized, we want to help you learn as much as possible about the coming NFT revolution. We help you navigate this fascinating new world of non-fungible tokens and show you how you can integrate tokenization into your own business.