Are you looking for NFT analyst jobs to apply for?
Perhaps you've got a knack for data analytics, research, and everything that involves crunching data and summarizing information into digestible insights.
Well, if you were also planning on starting a career in NFTs and blockchain, then you'll probably find the following article quite helpful.
In this guide, you'll learn everything you need to know about the role and responsibilities and the average salary of typical NFT analyst jobs.
Let's get right to it!
Key Points (tl;dr)
An NFT Analyst is usually a research position that is tasked with analyzing certain topics and markets while also keeping an eye on emerging trends. It can, but doesn't necessarily have to involve data analysis.
Some jobs are specifically advertised as NFT Data Analyst roles, which will usually require a considerable amount of data crunching as well as the use of advanced analysis tools.
Typical salaries for NFT research jobs are difficult to assess, simply because the definition of an "analyst" varies too much among industries, companies, and hierarchies.
The highest-paid NFT analyst jobs will usually require extensive experience in data analysis or are senior positions within the organization.
For a detailed overview of the requirements of NFT Analyst jobs, PLEASE READ THE FULL ARTICLE.
Like this content? Then share it!
The Truth About NFT Analyst Jobs in 2023
Here's the answer. Great article by @ChrisHeidorn right here: https://tokenizedhq.com/nft-analyst-jobs/

www.tokenizedhq.com
What does an NFT Analyst do?
NFT analysts are usually responsible for researching a wide range of topics that are relevant to the NFT and Web3 industry as a whole. They are best suited for analytical people who are also good at summarizing concepts and insights into easy-to-understand language.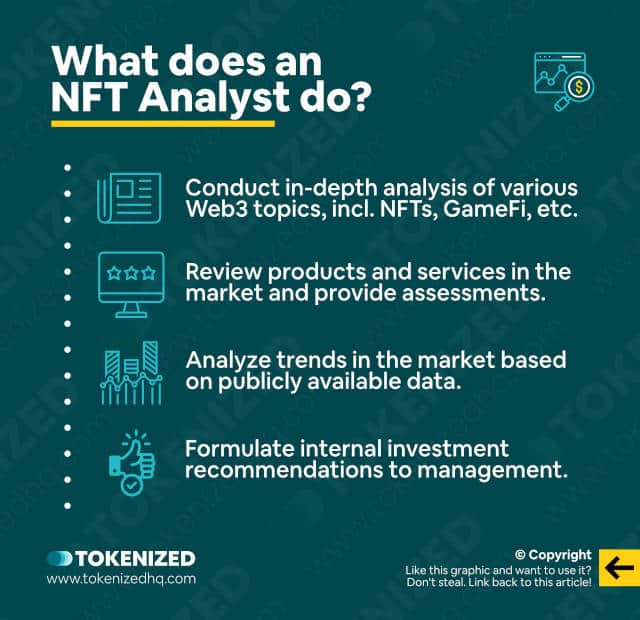 The term NFT analyst can refer to a number of different types of jobs.
First of all, it's fairly common that analyst jobs are usually among the entry-level positions within an organization.
This is particularly true when you see the very generic term "business analyst" in a job description.
However, in the context of NFT jobs, NFT analyst jobs are usually closely linked to data analysis and investment decisions.
NFT Data Analysts, also known as NFT Research Analysts or NFT Investment Analysts, are experts in exactly what their title says.
They conduct research not only on NFTs in general but also by analyzing large quantities of on-chain data.
All of the information they gather and analyze is used to generate insights that form the basis for strategic business decisions or even investment decisions.
For example, it is extremely common for a Web3-focused investment fund to have NFT analysts on its team.
That being said, NFT analyst jobs should not be confused with jobs that are done by full-blown data scientists.
Data Scientists usually have a background in mathematics and tend to have considerably more expertise in the analysis of big data streams and building mathematical models around them.
If a company is looking for a data scientist then the job description will explicitly say so.
But if you're generally an analytical person and are good at synthesizing information in easy-to-understand language, then NFT analyst jobs may be right for you.
Typical Requirements & Responsibilities of NFT Research Jobs
NFT researchers are responsible for keeping a pulse on the market, identifying emerging trends, and formulating recommendations for the management of their organization or customers.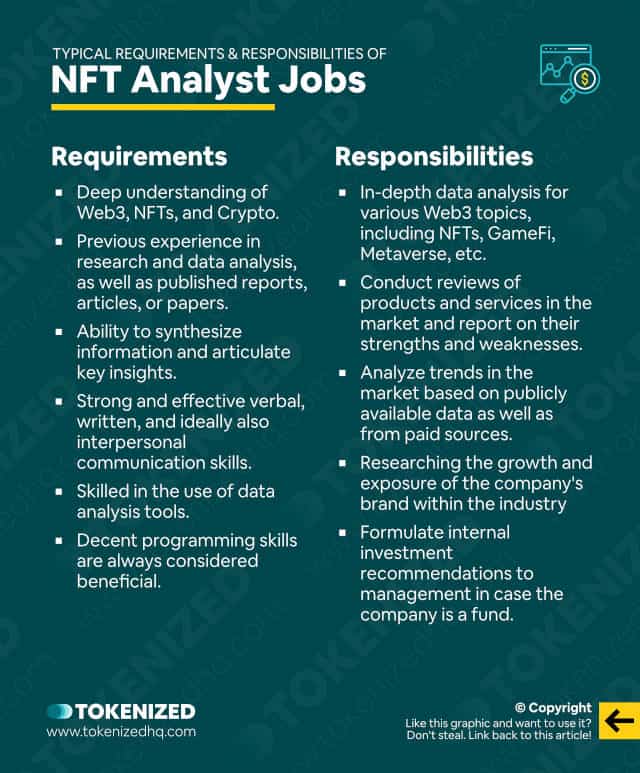 As you may have guessed, the primary skill set needed for NFT research jobs is the ability to thoroughly research, analyze and synthesize information.
That type of research involved ranges from quantitative to qualitative data and will generally require a broad range of skills.
While you don't need to be a full-blown data scientist, it's usually helpful if you're comfortable with data analysis and the tools that are typically used for this type of work.
Let's have a look at some common requirements and responsibilities of NFT analyst jobs.
Common Requirements & Skills:
Deep understanding of Web3, NFTs, and Crypto.
Previous experience in research and data analysis, as well as published reports, articles, or papers.
Ability to synthesize information and articulate key insights.
Strong and effective verbal, written, and ideally also interpersonal communication skills.
Skilled in the use of data analysis tools.
Decent programming skills are always considered beneficial.
Common Responsibilities:
In-depth data analysis for various Web3 topics, including NFTs, GameFi, Metaverse, etc.
Conduct reviews of products and services in the market and report on their strengths and weaknesses.
Analyze trends in the market based on publicly available data as well as from paid sources.
Researching the growth and exposure of the company's brand within the industry
Formulate internal investment recommendations to management in case the company is a fund.
Common NFT job titles for research and analysis include:
NFT Data Analyst/Researcher
Senior Data Analyst
Blockchain Analyst
Game Economy Analyst
NFT/Crypto Investment Analyst
Research Analyst
Special Investigation Analyst
Research and Operations Analyst
What is the Average Salary of NFT Analyst Jobs?
Due to a lack of clarity in what an analyst typically does, it's difficult to say what the average salary for an NFT analyst job is. Depending on the required skills and seniority of the role, salaries can range from as little as $40k to as much as $160k per year.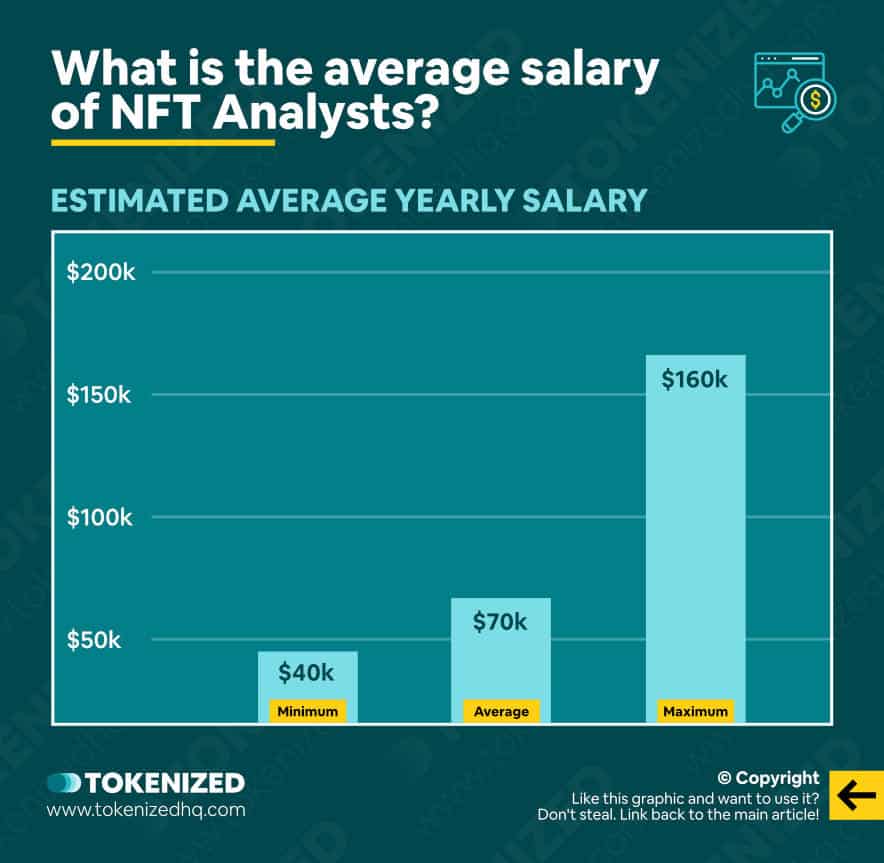 Unfortunately, there isn't a lot of public data available on the typical salaries of NFT research jobs.
The problem lies in the fact that there is such a wide array of jobs that contain the term "analyst" in their titles.
So while a "Senior Data Analyst" for blockchain games in a US-based startup may be compensated with up to $160,000 per year, a "Research Analyst" may have to expect less than that.
The term "analyst" is so vague and the type of analysis so different in its complexity, that it makes it very difficult to compare job positions.
That being said, here's a rough guideline that you may find useful:
Assumption: A position at a company based in North America
$40k to $80k per year: NFT research and analyst jobs that require little to no use of complex data analysis tools.
$80k to $160k per year: NFT data analyst jobs that primarily focus on the analysis of big data and the creation of data models.
These salaries will differ regionally across the globe and obviously more senior positions will generally pay more.
Are NFT Jobs for Analysts Remote OK?
Yes, as an analyst the majority of the collaboration required by the job can usually be done with various online-based tools. However, bear in mind that not all remote jobs are necessarily also available to global candidates.
As with most Web3 jobs, you can reasonably expect that NFT analyst jobs will be available remotely as well.
Research and analysis don't necessarily require interaction with your team on a daily basis and much of the collaboration can happen virtually as well.
However, bear in mind that some of the best-paying NFT analyst jobs are with US-based companies and that means that "remote" does not always mean "global".
There are tax implications involved with hiring global staff and that's why remote and global employment contracts aren't always as simple and straightforward as we would like them to be.
Where Can I Find NFT Analyst Jobs?
Major job platforms have grown so big that they simply cannot cater to niche markets such as NFTs or Web3 as a whole. That is why niche job boards such as Natives are the recommended choice in today's market.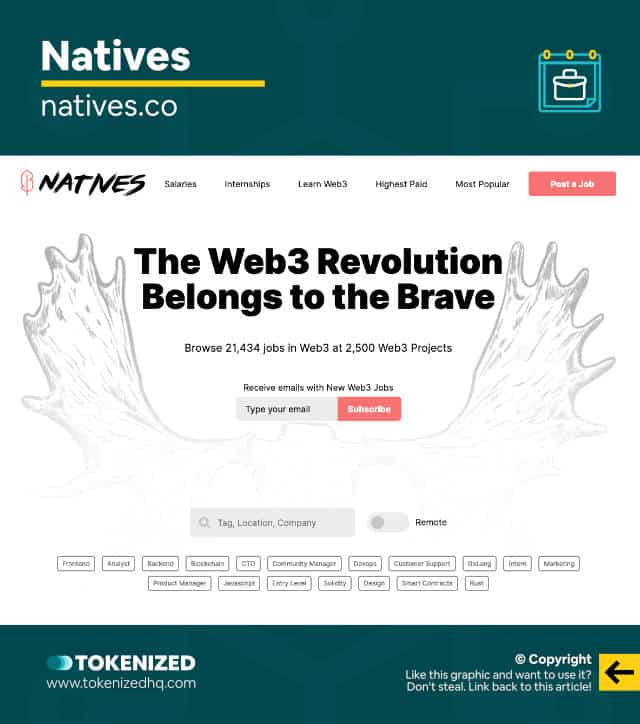 The market for Web3 jobs is still relatively small and NFT jobs, specifically, are even more of a niche market.
Generally speaking, searching for jobs in Web3 on one of the big major platforms isn't always the most effective method.
This is especially true because these platforms are incredibly expensive and many startups simply cannot afford to list their job positions there.
For many of these companies, it's a lot more cost-effective to go where their audience is and rather post their jobs on their own Twitter account or on a niche Web3 job board such as Natives.
Although Natives is still in development, its launch is scheduled for the late summer of 2022.
We strongly recommend that you sign up for their mailing list to get early access to the platform.
Conclusion
The market for research and data analysts is enormous and you can rest assured that the NFT and Web3 industry will need its fair share of analysts.
However, when comparing NFT analyst jobs to one another, it's not always easy to tell which ones are merely entry-level positions and which ones actually require strong data analysis skills.
In most cases, you can use the salary range in the job listing to determine whether it's a more senior role or not.
Here at Tokenized, we want to help you learn as much as possible about the coming NFT revolution. We help you navigate this fascinating new world of non-fungible tokens and show you how you can integrate tokenization into your own business.