So you want to get a job at OpenSea?
Perhaps you've been looking to start a career in blockchain or NFTs and are considering applying for an OpenSea job in one of its headquarters or remote.
Well, not to worry, because the OpenSea career team to hiring like crazy in order to meet the overwhelming demand they've experienced in the past 12 months.
In this guide, you'll learn everything you need to know about OpenSea careers, the benefits they come with, and where you can apply for a job at OpenSea.
Let's dive right in.
Key Points (tl;dr)
OpenSea's headquarters are in New York City, however, they also have a large office in San Francisco as well as a few remote staff in Singapore to cover specific needs.
OpenSea has roughly 500-600 employees right now (May 2022) but given the company's growth, you can expect this number to continue going up quickly.
Nearly all or at least the vast majority of new OpenSea job openings can be done remotely. This is especially true for developers, designers, and customer support. Some management positions may require you to be located in the United States.
OpenSea jobs come with a number of perks, including things like paid maternal leave and health insurance. While this is very common in many other developed countries (especially in Europe), in the United States this isn't the norm yet.
You can find a list of more than 50 job openings at OpenSea, covering various fields including business development, marketing, community, design, engineering, finance, legal and more.
For a detailed list of all current OpenSea job openings, PLEASE READ THE FULL ARTICLE.
Like this content? Then share it!
OpenSea Careers: Everything You Need to Know in 2023
Here's the answer. Great article by @ChrisHeidorn right here: https://tokenizedhq.com/opensea-careers-and-jobs/

www.tokenizedhq.com
Where is OpenSea Based?
OpenSea's official headquarters are located in the SoHo district of New York City. However, driven by the startup's massive growth, the company has also opened offices in San Francisco to benefit from the bay area's talent pool.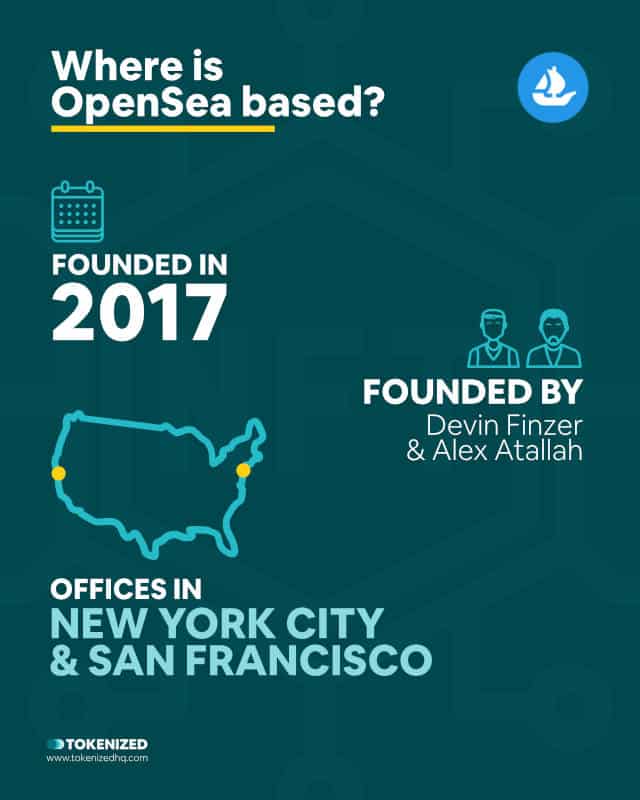 A lot of people get confused by where OpenSea is actually based.
Depending on what website you check, their headquarters are sometimes listed as New York City and in other cases, it says San Francisco.
Well, the truth is that OpenSea was founded back in 2017 by Devin Finzer and Alex Atallah, and they originally set up their offices in New York City's SoHo district.
But OpenSea has come a long way since then and considering all the massive funding they've received in recent years, it shouldn't come as a surprise that they now also have an office in San Francisco.
The SF bay area is the world's capital city for venture funding and it also attracts the ideal candidates for an OpenSea career.
New York is a crucial location for a lot of startups though, so you can rest assured that you'll be able to land an OpenSea job in the big apple as well.
Interestingly, OpenSea also has 2 open positions for people based in Singapore, though we suspect this is primarily meant to cover the Asian timezones.
How Many Employees Does OpenSea Have?
As of May 2022, OpenSea has an estimated staff of somewhere between 500 and 600 employees, spread across their New York City and San Francisco offices, as well as various remote positions.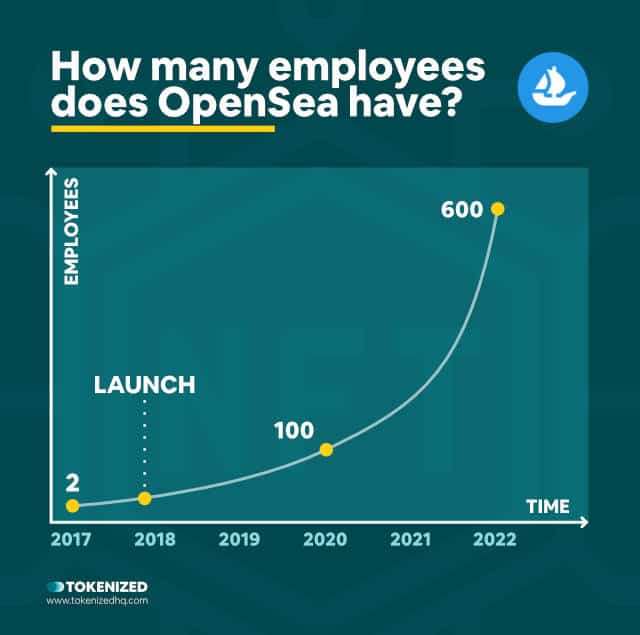 There are a lot of contradictory sources on the internet regarding how many people work at OpenSea.
We believe this is mainly due to the fact that OpenSea careers have become overwhelmingly attractive in a very short period of time and many of the OpenSea job listings are not up to date.
While in 2021 the company probably had around 100 employees, the latest funding grounds have given OpenSea's hiring efforts a major boost.
According to data on LinkedIn, nearly 650 people claim that they currently work for OpenSea.
We suspect that the real number is somewhere between 500-600 and continuously growing, especially since some of their recent acquisition of Gem will require staff to help with the integration.
If you've keen to find out more about OpenSea, have a look at our article on some interesting OpenSea stats.
Alternatively, you can also check out our guide on OpenSea stock which also contains tons of useful info.
Are There OpenSea Careers for Remote Workers?
The vast majority of OpenSea careers and jobs and be pursued on a remote basis. This is especially true for developers, designers, and support staff, but even a lot of management positions as well.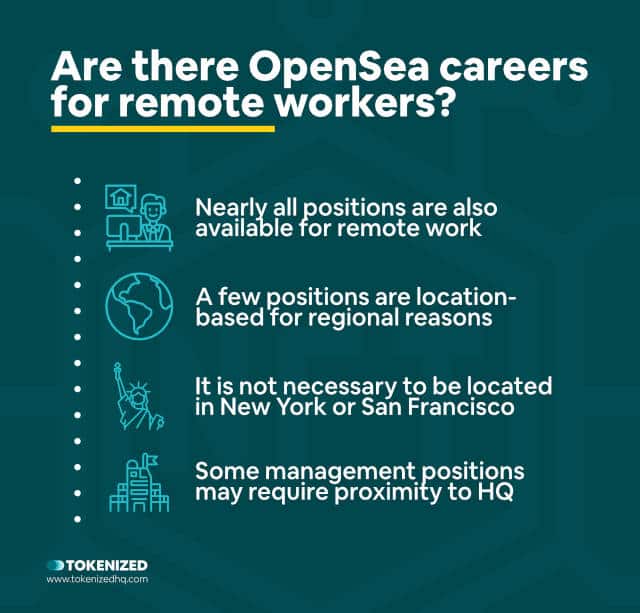 If there's anything that the global pandemic taught the world, it's that not all jobs need to be in an office.
And even though a lot of large corporations are trying to pull people back to their office desks, they also know that this isn't necessary for every job position.
In the tech industry which attracts tons of young talent, the OpenSea careers team simply can't afford to not offer remote positions.
Especially blockchain developers, who are currently in extreme demand and very much used to working in remote and distributed teams, shouldn't have any problem finding a remote job.
When it comes to hiring the best tech talent, startups are trying to go the extra mile.
So don't worry, many of the OpenSea jobs you'll see are also open to remote workers.
What Are OpenSea's Corporate Values?
OpenSea's official corporate values are: cultivating continuous growth, prioritizing genuine empathy, embracing openness, and fostering inclusive collaboration.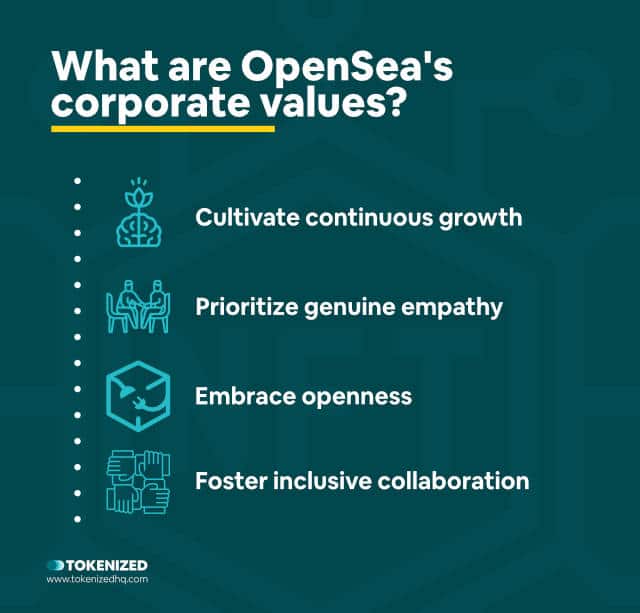 Most big corporations have defined certain corporate values which they expect their employees to respect.
The objective behind such value frameworks is to create a joint corporate culture that promotes collaboration, productivity, and personal growth.
A lot of startups neglect this aspect in the early stages of their existence because survival is initially their primary concern and the teams are small enough to manage culture directly.
However, as a company grows and onboards an increasingly diverse body of people, values become incredibly important in order to keep things together across hundreds and thousands of people.
OpenSea has defined 4 primary values for its corporate framework:
Cultivate continuous growth (read: continuous improvement)
Prioritize genuine empathy (read: customer focus)
Embrace openness (read: network effects first)
Foster inclusive collaboration (read: be tolerant of others)
What Benefits Do OpenSea Jobs Offer?
OpenSea careers come with a number of perks which include paid maternal leave, health insurance, flexible working conditions, and much more.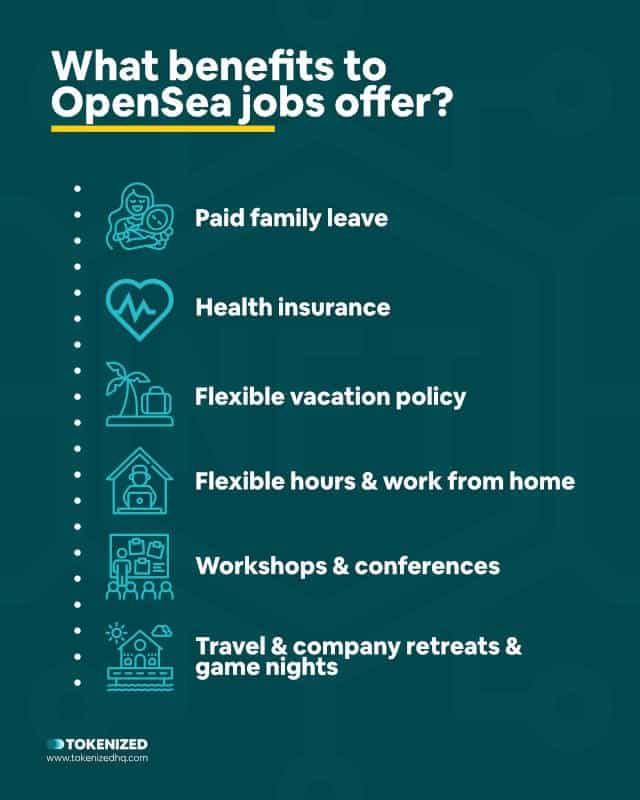 In today's competitive job market, where companies are fighting for the very best talent, corporate benefits play a big role.
Strong talent is currently in the driver's seat and that's why a lot of staffing teams, including the OpenSea careers team, need to think about how they can attract and keep their talent.
OpenSea jobs come with a variety of perks which include:
Paid family leave
Health insurance
Flexible vacation policy
Flexible hours
Work from home
Workshops & conferences
Travel & company retreats
Game nights
Especially for Europeans, paid family leave and health insurance might sound like a given.
But don't forget that a lot of these perks are not table stakes in the United States.
That might seem shocking to you but it's a reality for most Americans and they are still somewhat controversial within the political debate.
List of 50+ OpenSea Job Positions
If you're keen on joining the OpenSea team, we recommend that you apply for any of the job openings listed below.
But also make sure you also check out some of the other sites that list NFT jobs for various skill sets that are required in this space.
You'll notice that nearly all of them are very flexible in terms of location and can also be done remotely.
Source: OpenSea at Lever
Conclusion
OpenSea is growing like crazy and there's tons of opportunity for young talent.
The pandemic has also shown us that you no longer need to be based in California in order to work for a top startup.
That's why we've included a list of the latest job opening at OpenSea.
Check out the list of potential OpenSea careers and apply now!
Here at Tokenized, we want to help you learn as much as possible about the coming NFT revolution. We help you navigate this fascinating new world of non-fungible tokens and show you how you can integrate tokenization into your own business.