Are you trying to learn more about the Gem NFT marketplace aggregator?
Perhaps you heard the recent news of their acquisition by OpenSea and you're trying to figure out why they did it?
Well, not to worry, because we're more than familiar with the Gem NFT site and can tell you exactly what it is going on.
In this guide, you'll learn everything you need to know about the Gem NFT makretplace aggregator as well as why OpenSea bought them in the first place.
Let's get to it.
Key Points (tl;dr)
Gem.xyz is an NFT marketplace aggregator that not only provides NFT traders with fully visibility of the entire market supply but also allows users to bulk buy and sell NFTs.
Gem's unique features include a sweep button, integrated rarity filters, the ability to pay with any ERC-20 token as well the retention of rewards from integrated marketplaces such as LooksRare.
We believe OpenSea's acquisition of Gem is a combination of an "acqui-hire" as well as a defensive move. Buying acquiring Gem OpenSea stands a much better chance of retaining high-volume "pro" traders. However, it also benefits from the technical prowess of the Gem development team and can use the aggregator a "test lab" for future feautres on OpenSea.
The acquisition comes soon after a core developer team member, Josh Thompson, was removed for the team and cap table due to allegations of rape and sexual harassment.
For a detailed analysis of why OpenSea acquired Gem, PLEASE READ THE FULL ARTICLE.
Like this content? Then share it!
Gem NFT Aggregator: Everything You Need to Know in 2023
Here's the answer. Great article by @ChrisHeidorn right here: https://tokenizedhq.com/gem-nft/

www.tokenizedhq.com
What is Gem NFT?
Gem NFT is the leading NFT marketplace aggregator, covering all of the most popular Ethereum-based NFT marketplaces, including OpenSea, LooksRare, X2Y2, Rarible, and NFT20. NFT aggregation platforms allow users to scan the market and buy NFTs in bulk rather than purchasing each NFT individually.
If you're not familiar with Gem.xyz then let me give you a quick rundown of what the Gem NFT aggregator site is and why it's important.
Gem NFT is a marketplace aggregator that incorporates some of the most popular NFT trading platforms, including OpenSea, LooksRare, and X2Y2.
NFT marketplace aggregators are particularly popular amongst big traders who like to purchase multiple items in bulk.
Gem NFT allows you to bundle together listings from various different marketplaces and buy them in one go.
Not only is it very convenient, but it also tends to reduce the overall gas fees involved with purchasing NFTs.
Aggregation platforms also have the added benefit of providing a holistic view of the market, effectively solving many of the liquidity issues involved with switching to a competing marketplace.
Gem NFT has only been around for about 3 months after launching in January 2022.
The idea isn't new, since their primary competitor Genie.xyz has been on the market for at least twice as long.
However, despite having the first-mover advantage, Gem quickly took the lead by iterating much faster and excelling on the user experience front.
What Are Gem NFT's Features?
Gem's list of features includes an aggregated search function, a discover page, batch buy and sell, up to 40% gas savings, multi-token payment options, and a rarity filter. It covers markets places such as OpenSea, LooksRare, Rarible, X2Y2, and NFT20.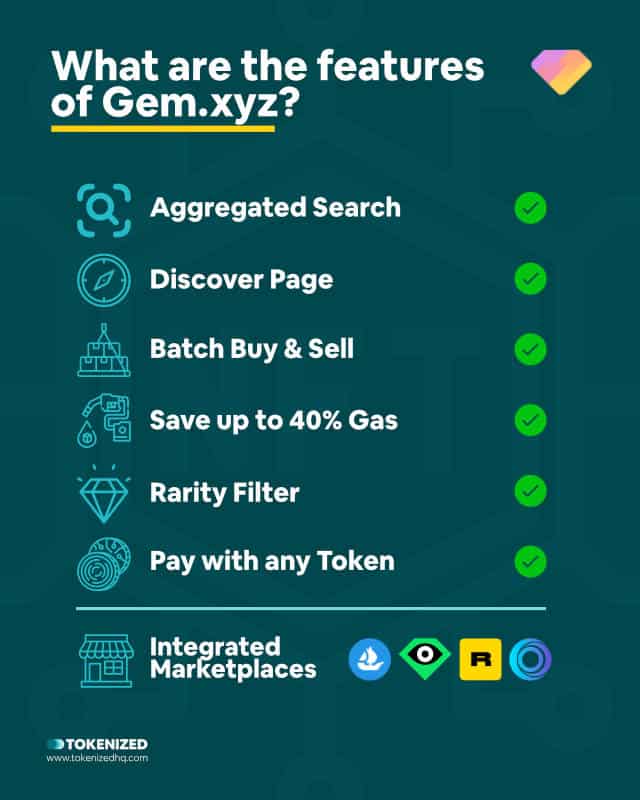 Gem has all the common features you'd expect from an NFT aggregation platform and much more.
The most obvious benefit of Gem is the fact that you have one unified interface from which you can scan the entire market.
There's no longer any need to visit OpenSea or LooksRare individually.
Instead, you just look at what's available straight from your Gem NFT dashboard.
Gem.xyz allows you to batch buy and sell NFTs, not only saving your time and effort but all up to 40% on gas fees thanks to optimized smart contracts.
And it doesn't stop there.
They even have an integrated rarity filter and they allow you to pay with any ERC-20 token.
And they've even managed to integrate marketplace rewards from sites like LooksRare, that otherwise would have ended up in the aggregator's wallet.
Here's a quick overview.
Features include:
Aggregated search function
Discover page
Batch buy and sell
Save up to 40% on gas
Pay with any token
Rarity filter
Marketplaces covered:
OpenSea
LooksRare (this is big!)
Rarible
X2Y2
NFT20
Why Did OpenSea Acquire Gem NFT?
OpenSea's acquisition of Gem in April 2022 was a strategic move to defend market share and invest in superior technology. OpenSea is now in a position to use Gem as their test lab for professional traders while keeping OpenSea as simple and accessible as possible.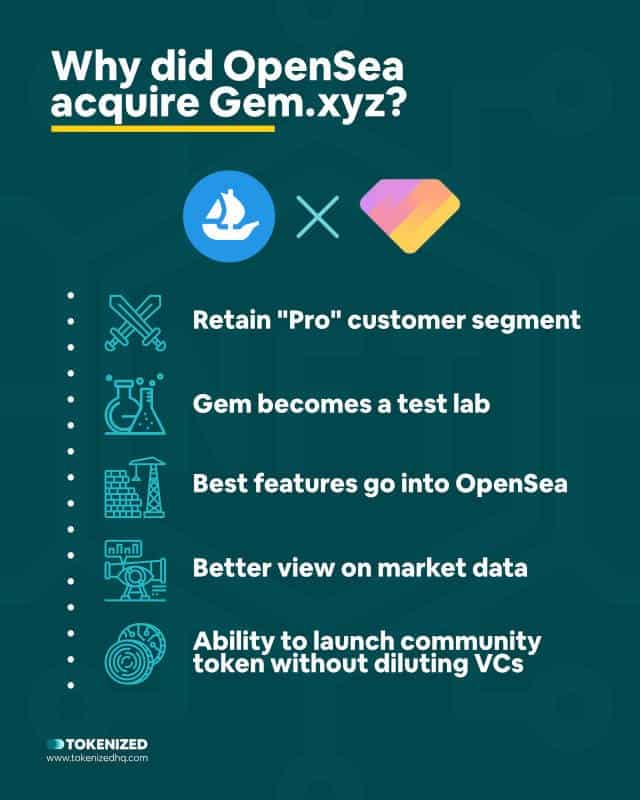 On the 25th of April 2022, OpenSea announced that it had acquired Gem.xyz for an undisclosed amount.
The official press statement claimed that the acquisition was part of their efforts to serve more experience "pro" users.
Gem will continue to operate as a separate product and brand, however, this obviously allows OpenSea to address a customer segment that otherwise would have been difficult to serve from the main OpenSea website.
In fact, we wouldn't be surprised if OpenSea used Gem as a sort of test lab where new features are tested first.
Once certain features are battle-tested, they can be integrated into OpenSea's marketplace quite easily.
However, we're not convinced that this is the only reason for the acquisition.
Although OpenSea still dominates the market by a wide margin, the competition is growing stronger by the day.
NFT marketplace aggregators like Gem and Genie play an important role in this context because they are enablers for competing marketplaces.
Any standalone NFT marketplace would traditionally have a hard time gaining traction simply because the largest volume traders are attracted by liquidity.
Since OpenSea offers the greatest liquidity, more often than not they would have to go back to OpenSea to make their trade.
Even though they might hate OpenSea.
Aggregation platforms like Gem significantly reduce this barrier by providing transparency across many marketplaces.
And if you take this one step further, once an NFT aggregator gathers enough users, it is technically in a position to start acting as its own marketplace.
Obviously, this poses a threat to OpenSea's dominance and if you've been studying some of the Dune Analytics OpenSea dashboards, you'll have noticed that the competition is starting to make a dent.
The pending launch of Coinbase NFT will only make it worse for OpenSea.
We believe the acquisition of Gem NFT is a very clever strategic move for the following reasons:
OpenSea retains "pro" trading volume (defensive move)
Gem becomes OpenSea's "test lab"
The best features are integrated into OpenSea
Gem provides OpenSea with better visibility into competing marketplaces
OpenSea could launch a community token via Gem, rather than via OpenSea itself
There are many benefits to this acquisition for OpenSea.
Unfortunately, the community will most likely hate most of it.
Gem NFT Team Controversy
About two weeks before the acquisition, Gem announced the removal of Josh Thompson from their team.
Thompson was a core developer and former shareholder at Gem, going under the pseudonym "Neso".
Unfortunately, information surfaced that led to allegations that Thompson had engaged in rape, sexual harassment, and grooming of minors.
The removal of Thompson from both the team as well as the cap table (he previously held shares) was apparently a key factor in enabling the acquisition by OpenSea.
The formal announcement by OpenSea addressed the issue head-on, stating that it had come up as part of their due diligence process.
Conclusion
The acquisition of Gem NFT by OpenSea took the entire NFT scene by surprise.
While the investment makes total sense for OpenSea which has been struggling with various scandals and increasing competition, the NFT community is a lot less happy.
Most of the community is rooting for the underdogs, the smaller competitors who are challenging the status quo.
Every time an incumbent like OpenSea buys a competitor, it's another hit to a scene whose morale is built on the ambition to take on the wealthy establishment.
Here at Tokenized, we want to help you learn as much as possible about the coming NFT revolution. We help you navigate this fascinating new world of non-fungible tokens and show you how you can integrate tokenization into your own business.