Are you looking for insightful OpenSea statistics?
Perhaps you're researching for your next article or you're working on a pitch deck and desperately need some useful OpenSea stats?
Well, look no further because we've put together a really helpful list with some of the craziest OpenSea statistics out there.
In this guide, you'll learn about some of the key facts and figures around OpenSea as well as how influential the company has become.
Let's dive right in.
Key Points (tl;dr)
OpenSea was founded in 2017 and currently has around 600 employees (April 2022).
Since it's first pre-seed round at Y Combinator it has received total funding of more than $420 million and is currently valued at $13.3 billion.
Since early 2021 OpenSea has experienced exponential growth, with more than 500,000 active users in January 2022.
It's monthly transaction volume has consistently been above $2 billion since August 2021, resulting in more than $50 million in revenue per month.
OpenSea statistics on website traffic as well as blockchain activity can we sourced from site like SimilarWeb or Dune Analytics.
For a detailed overview of all 8 OpenSea statistics, PLEASE SCROLL FURTHER DOWN THE ARTICLE.
Like this content? Then share it!
8 Crazy OpenSea Statistics You Should Know in 2023
Here's the answer. Great article by @ChrisHeidorn right here: https://tokenizedhq.com/opensea-statistics/

www.tokenizedhq.com
When Was OpenSea Founded?
OpenSea was founded in 2017 in New York City's SoHo district by Devin Finzer and Alex Atallah.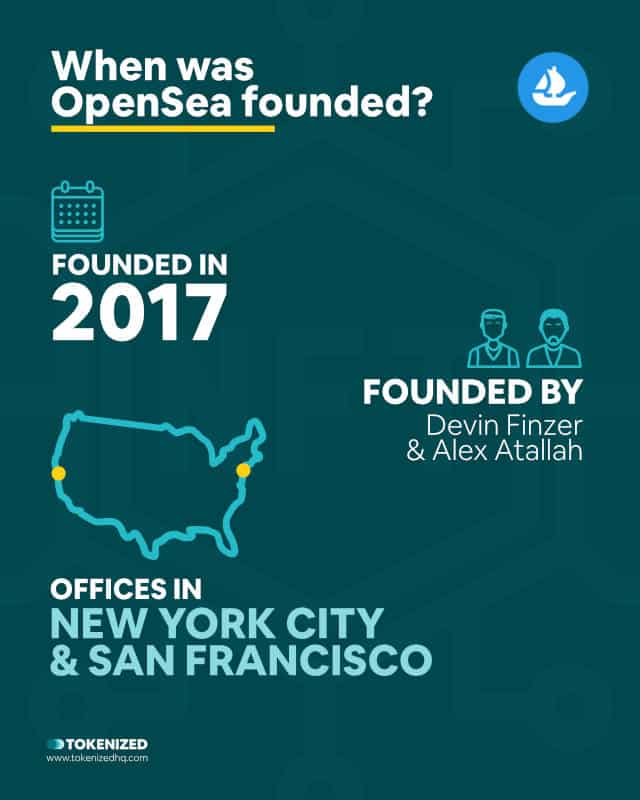 Most people who get into NFTs today are dumbfounded when they realize how long the OpenSea NFT marketplace has been around already.
Believe it or not, OpenSea was founded back in 2017 when the world was still busy dealing with the newest Bitcoin hype cycle.
The company was founded by Devin Finzer and Alex Atallah, and the beta version of the site was launched in December 2017.
The official legal entity behind the OpenSea brand is called Ozone Networks Inc.
OpenSea currently has offices in New York City and San Francisco.
How Many Employees Does OpenSea Have?
OpenSea currently has roughly 600 employees, as of April 2022. This number not only matches data from LinkedIn but is also in line with the company's growth over the past 12 months.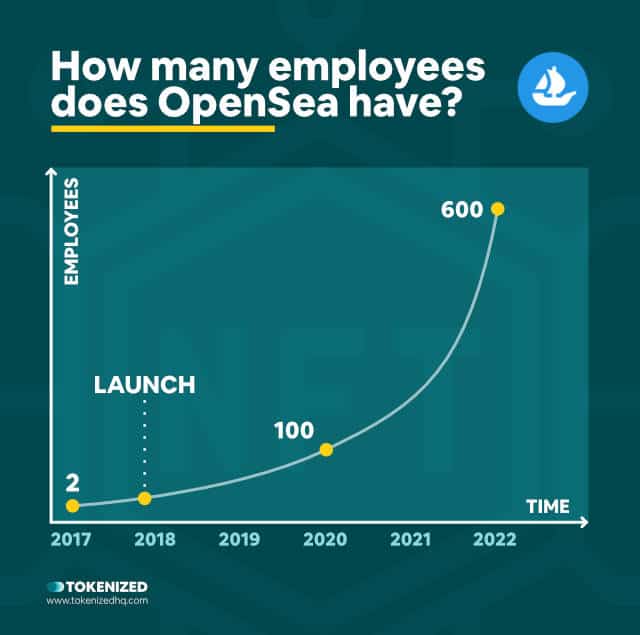 As with many other OpenSea statistics, there are a number of contradictory sources on how many employees OpenSea has.
It seems that most of them are outdated at best and the numbers simply do not align with the company's growth trajectory.
While the official Wikipedia page of OpenSea claims that the number of employees is 93, we believe this to be extremely outdated.
According to the latest OpenSea stats on LinkedIn, nearly 600 people claim to work for OpenSea.
This is largely in line with the company's growth as well as other sources that claim the headcount is around 620.
How Much Funding Has OpenSea Received?
Since its original pre-seed round at Y Combinator, OpenSea has received more than $420m in angel and venture capital funding. It is currently valued at just over $13b.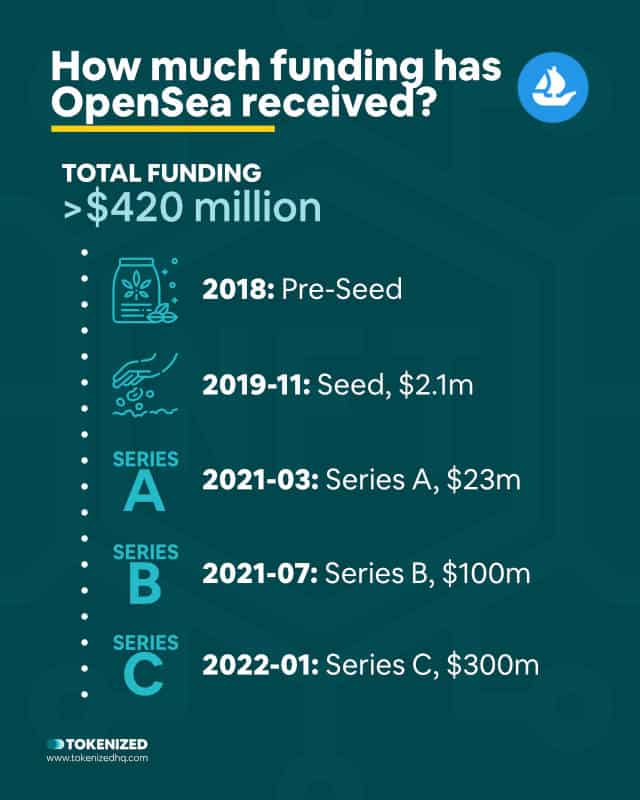 Funding rounds are always a bit of a mystery because it's not entirely clear how many individual angel investors were involved.
However, OpenSea stats on funding are available on Crunchbase.
What we know is that everything started off with a pre-seed round by Y Combinator in 2018.
OpenSea funding rounds so far were (as of April 2022):
2018: Pre-seed round at Y Combinator
May 2018: Seed round, $2m from multiple investors
November 2019: Angel round, $2.1m from multiple sources
March 2021: Series A, $23m from Andreesen Horowitz and others
July 2021: Series B, $100m from Andreesen Horowitz and others
January 2022: Series C, $300m from Paradigm, Coatue Management, and others
So, throughout the past 5 years, OpenSea has received a mind-boggling amount of more than $420m.
We can't tell you exactly how much OpenSea stock each one of them has, but rest assured, it's most definitely a lot!
What is OpenSea's Current Valuation?
OpenSea's last funding round in January 2022 valued the startup at $13.3 billion.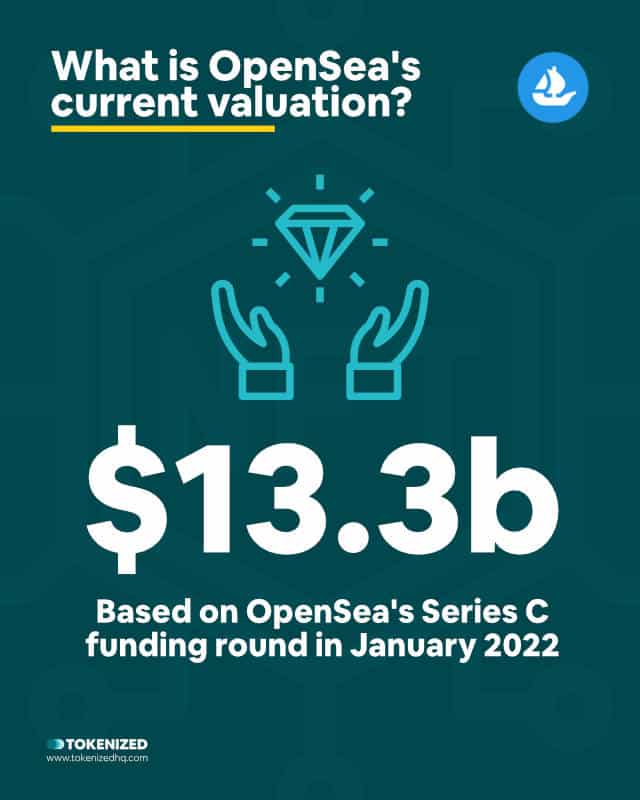 OpenSea has been growing at an insane speed over the past 24 months.
In light of this growth, it's not surprising that the company has gone through several funding rounds already.
And while we're absolutely sure that the startup is burning through cash faster than you can light a match, given the transaction volume it is processing, it's safe to say their 2.5% service fee is nothing to sneeze at.
Based on OpenSea's latest funding round in January 2022, when it raised $300m from venture capital firms, the company is now valued at roughly $13.3 billion.
How Many Users Does OpenSea Have?
The number of monthly active users on OpenSea hit an all-time high in January with 546,000. Since 2018 the website has welcomed a total of more than 1.5m unique crypto addresses that have made at least one transaction (a person can hold multiple addresses).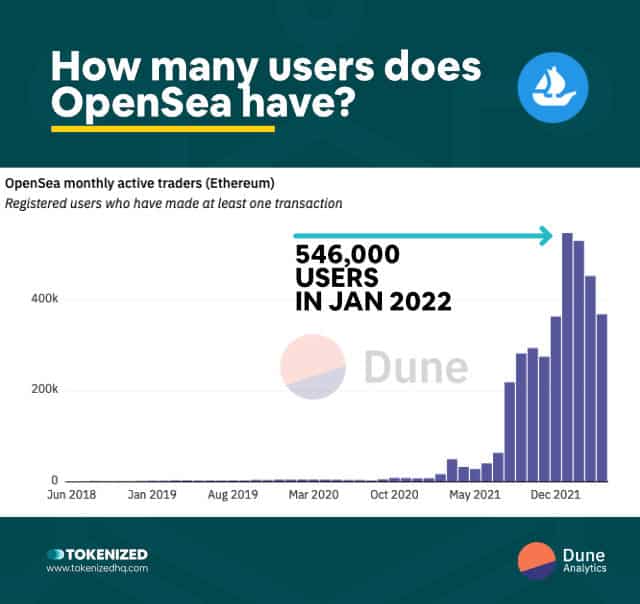 OpenSea has seen absolutely exponential growth in the past 2 years and its user count is one of the most shocking OpenSea statistics out there.
While they only had roughly 4,000 active users in early 2020, that number grew to a whopping 600,000 users at its peak in January 2022.
That number has since corrected and is now closer to 350,000 active users as the market goes through a bit of a bear market (April 2022).
However, surely this is not the end of the line and we absolutely expect OpenSea to hit new highs of active users very soon.
How High is the OpenSea Revenue?
OpenSea's monthly revenue has consistently been above $50 million per month since August 2021. Full-year revenue for 2022 will most likely be between $750 million and $1 billion.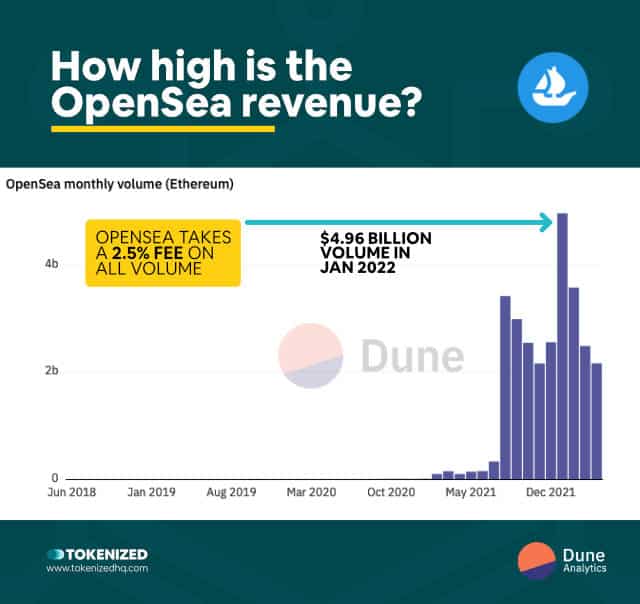 OpenSea makes money by charging a 2.5% service fee on every transaction that is processed via the platform.
Considering that OpenSea effectively has a monopoly on the over 95% of the market's trading volume, this adds up quickly.
While according to OpenSea statistics on Dune Analytics the company was "only" processing around $125m in monthly transaction volume in the first half of 2021, this changed dramatically only 2 months later.
Ever since August 2021, OpenSea has been processing a monthly trading volume of more than $2 billion and even reached as much as $5 billion in January 2022.
That's at least $50 million in revenue every month.
OpenSea Statistics on Web Traffic
OpenSea currently gets between 80 and 100 million visitors per month and is ranked within the top 400 websites in the world. While the United States represents the largest individual country with nearly 23% of all traffic, the vast majority of its users are from outside the US.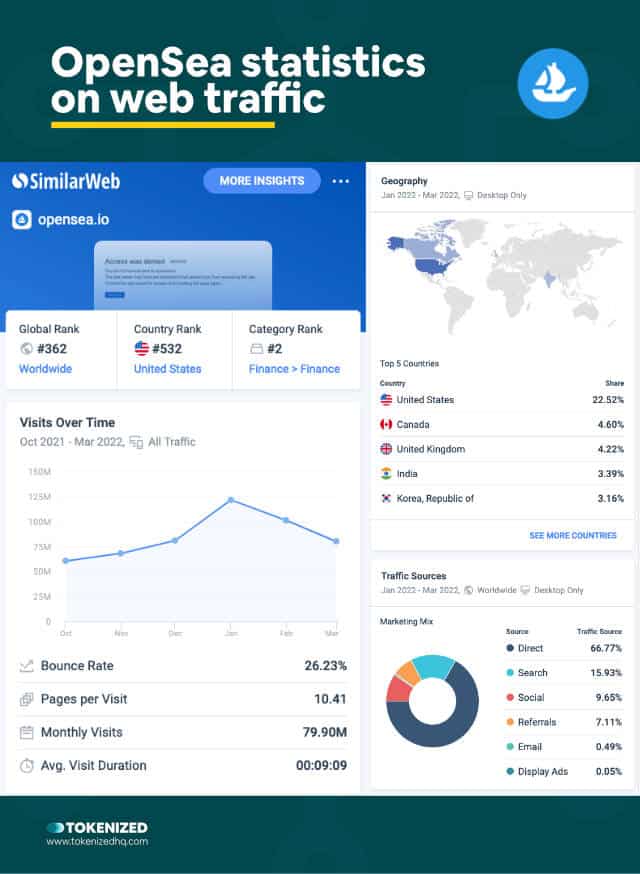 Obviously, it's hard to say how much traffic OpenSea gets on a daily basis since this information isn't necessarily public knowledge.
However, we can use websites such as SimilarWeb to get some estimates and insights into how relevant OpenSea is.
According to SimilarWeb, OpenSea receives around 80 million monthly visits right now (almost 125 million at its peak in January 2022).
That's a huge amount of traffic and that not only puts it into the top 400 websites in the world but also #2 within the Finance category.
The top 5 countries that use OpenSea are the United States, Canada, United Kingdom, India, and South Korea, with the US taking the lion's share of almost 23% of the traffic.
OpenSea's massive relevance is also illustrated by the fact that over 65% of its traffic is direct traffic and only 16% comes from search engines.
OpenSea Stats from On-Chain Data
Dune Analytics is an excellent source for on-chain data from various blockchain sources. It allows anyone to query blockchain transaction data using simple SQL queries and will dashboards for ongoing market research and analysis.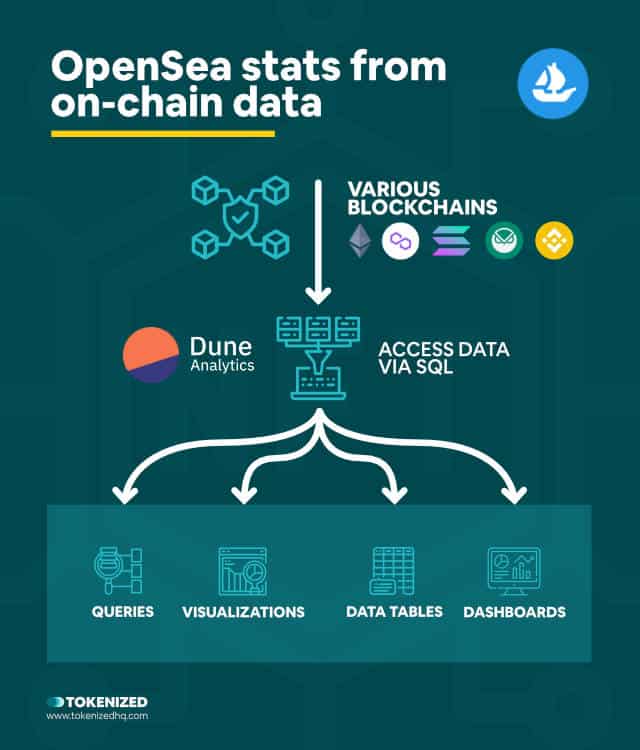 While very often it is difficult to get reliable data on proprietary information of companies, the blockchain is different.
Thanks to the public nature of the blockchain, everything that happens on-chain is visible to anyone.
Granted, it's a lot of information and it's not always easy to process, but companies like Dune Analytics allow anyone to query the blockchain using simple SQL queries.
This data is then aggregated and can be visualized with charts so that meaningful insights can be extracted from it.
Here at Tokenized, we've put together a great list of the top 6 Dune Analytics OpenSea dashboards.
These dashboards provide you with unprecedented transparency into the inner workings of OpenSea as well as many other dApps.
Conclusion
The speed at which OpenSea has grown is absolutely mind-blowing.
This becomes even more apparent when you look at the various OpenSea statistics that we've shared with you today.
It's time to take NFTs seriously and if you want an even clearer picture of what is going on, we strongly urge you to have a look at Dune Analytics and how it can help you in your decision-making.
Here at Tokenized, we want to help you learn as much as possible about the coming NFT revolution. We help you navigate this fascinating new world of non-fungible tokens and show you how you can integrate tokenization into your own business.