Are you looking for ways to buy or sell OpenSea stock?
Perhaps you've realized just how massive the NFT market is going to become and you'd love to invest in the leading NFT marketplace?
Well, we've put together this nice overview and company profile for people just like you.
In this guide, you'll learn everything you need to know about OpenSea stock before the company eventually goes public.
Let's dive right in.
Key Points (tl;dr)
OpenSea was founded in 2017 and currently has an estimated 500-600 employees (April 2022).
Although OpenSea's CFO Brian Roberts has hinted that the company is very likely to go public at some point, they currently do not have any specific plans.
This is probably also due to the fact that the OpenSea community has clearly positioned itself against an IPO and would rather see the issuance of a community token such as an OpenSea coin.
Since it's first pre-seed round at Y Combinator it has received total funding of more than $420 million and is currently valued at $13.3 billion.
OpenSea has a wide array of investors, including major VC funds as well as individual angel investors.
Throughout it young history, OpenSea has made a total of 3 strategic acquisitions, including most recently the NFT marketplace aggregator Gem.xyz.
For a detailed overview of all facts and figures about OpenSea stock, PLEASE SCROLL FURTHER DOWN THE ARTICLE.
Like this content? Then share it!
OpenSea Stock Pre-IPO: Everything You Need to Know
Here's the answer. Great article by @ChrisHeidorn right here: https://tokenizedhq.com/opensea-stock/

www.tokenizedhq.com
What is OpenSea Stock?
OpenSea stock are shares of the legal entity that runs the OpenSea website. OpenSea is currently the largest peer-to-peer marketplace for non-fungible tokens (NFT). NFTs can represent artwork, collectibles, gaming items, and other virtual goods on a blockchain network. OpenSea provides an open marketplace for buying and selling NFTs through a smart contract.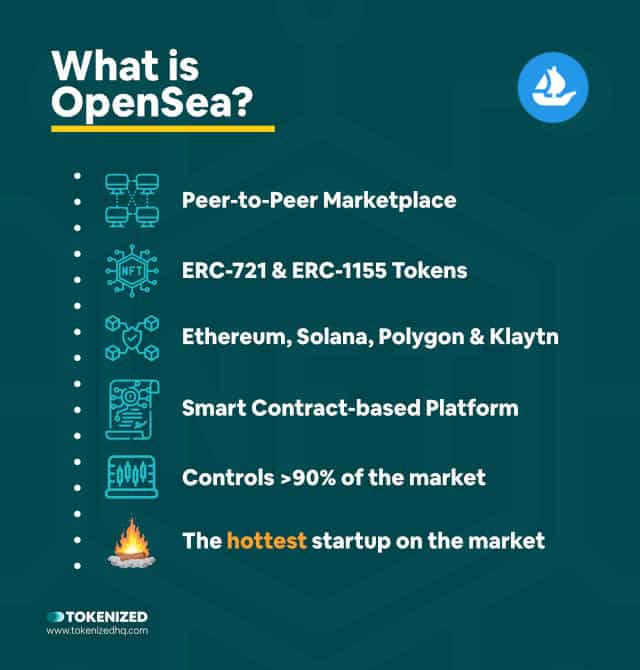 Unless you've been living behind a rock you've probably heard of one of the hottest startups in the market: OpenSea.
OpenSea runs a semi-decentralized NFT marketplace that can be used to buy and sell ERC-721 and ERC-1155 tokens on the Ethereum blockchain.
While OpenSea also supports other blockchains such as Solana, Polygon, and Klaytn, the vast majority of its trading volume comes from Ethereum-based projects.
The reason why we say that it's only a semi-decentralized marketplace is that its legal structure and past behavior have demonstrated that it is actually a centralized corporation.
Ownership is highly concentrated on a few wealthy individuals and not the community of users.
This is particularly problematic given the fact that OpenSea controls more than 90% of the relevant trading volume in the market.
That being said, it's quite obvious that OpenSea has been a huge success for those who had the foresight and opportunity to invest in early investment rounds.
Is OpenSea Listed on a Stock Exchange?
OpenSea is a private company and therefore isn't listed on any stock exchange. Its share cannot be traded on the open market.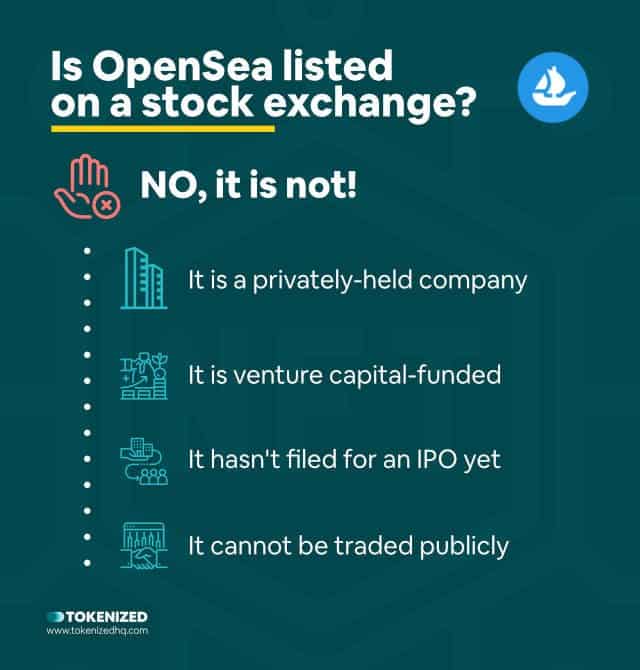 When people hear about a new up-and-coming startup, they often start to search the internet for information on how to invest.
This is primarily driven by the ever-present fear of missing out and the urge to hit it big with a single simple investment.
That's also why you probably searched for the term "OpenSea stock".
You were probably hoping that you could simply head over to your favorite brokerage website and go buy some OpenSea stock.
Well, I'm afraid that's not how it works.
OpenSea is a private company and although private companies may issue stock and have shareholders, their shares do not trade on exchanges and aren't issued via an initial public offering (IPO).
Does OpenSea Plan to Go Public?
While it's safe to assume that OpenSea will file for an IPO at some point, OpenSea's leadership recently denied that it has any plans to go public in the immediate future.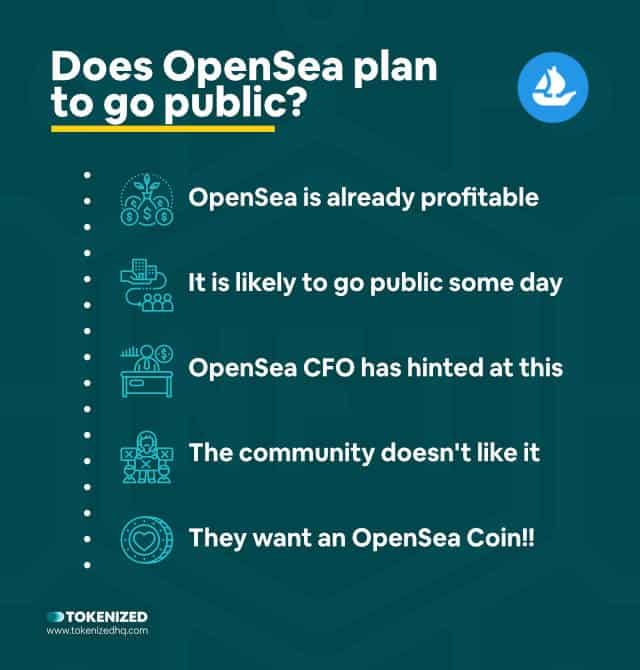 Given the fact that OpenSea is already a highly profitable company, it's foolish to assume that they wouldn't go public.
OpenSea's CFO Brian Roberts, who successfully lead Lyft through its IPO in 2019, has hinted at a potential IPO of OpenSea stock in the future.
However, the community of OpenSea users has been a vocal opponent of such plans.
The community is already at odds with the company due to the fact that OpenSea, in their view, has not done enough to prevent malicious activity on the platform.
Furthermore, many of the top traders are upset that the startup's leadership has never pursued to option of releasing an OpenSea coin.
In a time when proponents of Web3 ideals are battling with the fact that many of the top startups, including OpenSea, are effectively funded by established venture capitalists of the Web 2.0 era, going public is a very unpopular endeavor.
Of course, it's only realistic to assume that OpenSea will eventually go public since its investors obviously want to cash out.
Nevertheless, this will be challenged by the community who already feel that a few wealthy people are profiting on the backs of those who made OpenSea what it is today.
Can You Invest in OpenSea?
Unless you are an accredited investor and sufficiently well-connected to get into one of the venture capital funds that have the opportunity to invest in startups like OpenSea, there's no realistic scenario in which an average person on the street would be able to invest in OpenSea before an IPO.
If you'd like to invest in OpenSea stock, we suggest you head to the back of the queue and join the line.
It's incredibly rare for a startup to become profitable this early in its development, so you can imagine how many people are keen to get in on the action.
The problem is that all the gatekeepers are already wealthy individuals or investments funds run by even more wealthy individuals.
That's right: The ethos of Web3, where the users are the owners of the platforms, is essentially non-existent here.
And you can bet that leading VCs such as a16z (Andreesen Horowitz) are not keen on letting simple folk like you and me get into the action this early.
In fact, look at what happened with Coinbase after its IPO.
Do you really want OpenSea to go public and become the exit vehicle that all of these venture capitalists need in order to turn their investments into actual gains?
Think about it.
OpenSea Company Overview
In the next few sub-sections, we've put together key facts and figures about the company.
A lot of this information is the type of critical data that you would need to make an informed decision about whether to buy OpenSea stock or not.
Please bear in mind that not all of the information is public record and is only available to paying customers of leading startup databases.
We also have another article on some crazy OpenSea statistics that we recommend you have a look at as well.
OpenSea Key Information
OpenSea was founded in 2017 in New York City by co-founders Devin Finzer and Alex Atallah.
Here of some of the key facts and figure that you should know about:
OpenSea Company Timeline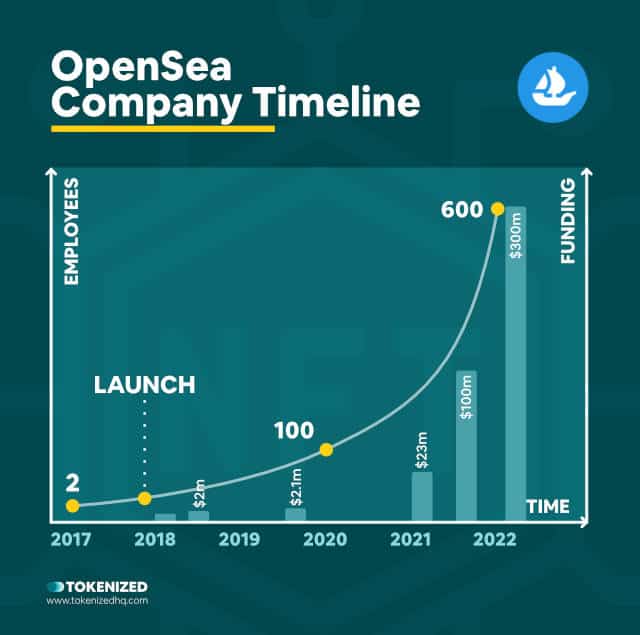 After founding the company in 2017, Devin Finzer and Alex Atallah launched the first version of the OpenSea marketplaces in December of that year.
It did not take long for them to close their first pre-seed funding round with Y Combinator in January 2018 for a modest sum of $120k.
OpenSea subsequently went on to close several more funding rounds.
Here's a brief timeline:
January 2018: Pre-seed round at Y Combinator
May 2018: Seed round, $2m from multiple investors
November 2019: Angel round, $2.1m from multiple sources
March 2021: Series A, $23m from Andreesen Horowitz and others
July 2021: Series B, $100m from Andreesen Horowitz and others
January 2022: Series C, $300m from Paradigm, Coatue Management and others
Although OpenSea already had 100 employees by the end of 2021, it was the Series C funding round that boost their hiring efforts to well beyond 400 employees.
OpenSea Valuation, Funding & Cap Table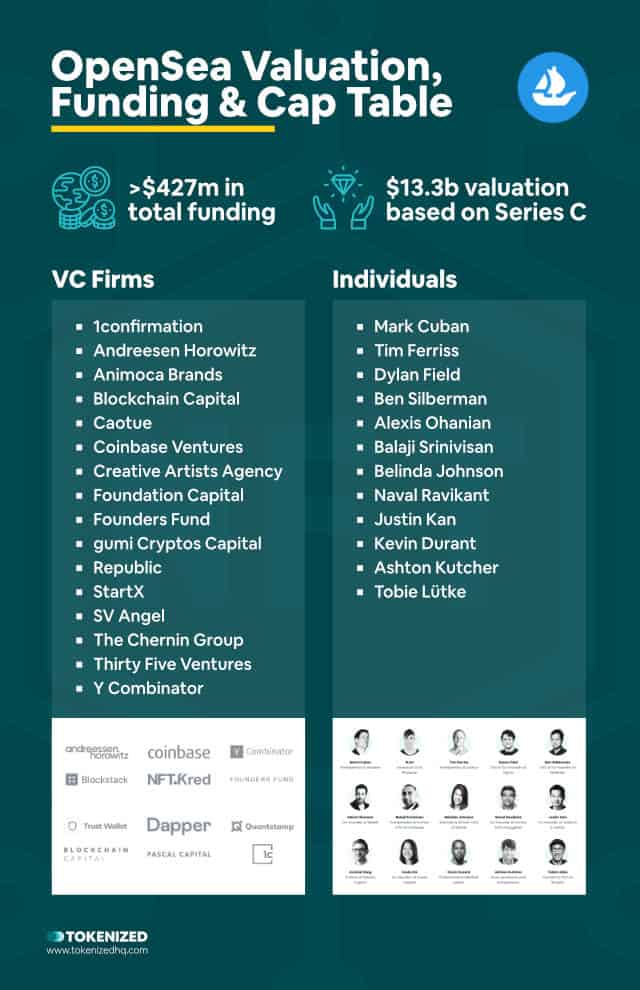 OpenSea closed its last funding round in January 2022 and managed to raise $300 million.
This milestone has increased the implied valuation of OpenSea stock to astronomical levels of roughly $13.3 billion.
We've put together a nice little overview of the different funding rounds as well as the number of investors that participated.
Below you'll also find a list of all named investors that we are aware of:
Venture Capital Firms:
1confirmation
Andreesen Horowitz
Animoca Brands
Blockchain Capital
Caotue
Coinbase Ventures
Creative Artists Agency
Foundation Capital
Founders Fund
gumi Cryptos Capital
Republic
StartX
SV Angel
The Chernin Group
Thirty Five Ventures
Y Combinator
Individuals:
Mark Cuban
Tim Ferriss
Dylan Field
Ben Silberman
Alexis Ohanian
Balaji Srinivisan
Belinda Johnson
Naval Ravikant
Justin Kan
Kevin Durant
Ashton Kutcher
Tobie Lütke
OpenSea Acquisitions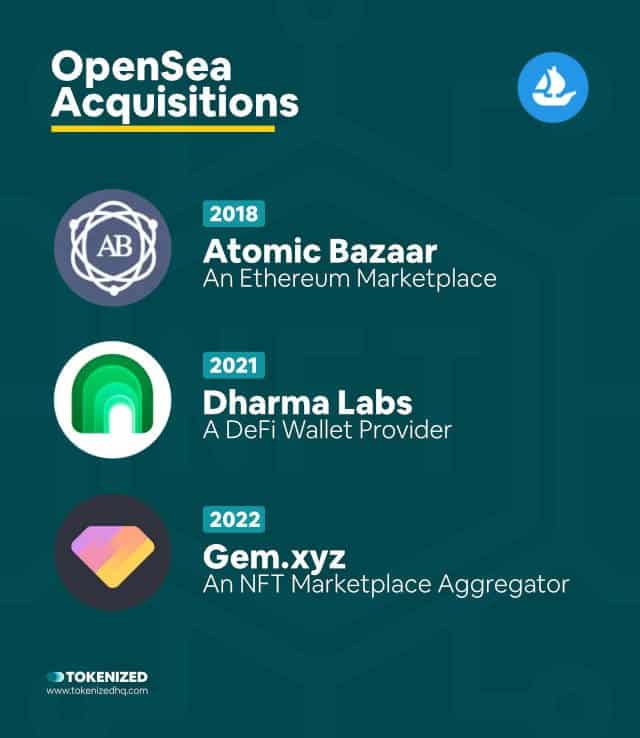 A lot of OpenSea's funding has gone towards extensive hiring.
This was absolutely necessary in order to support the massive growth that the company experienced in the past 12 months.
However, vast sums have also been poured into strategic acquisitions within the cryptocurrency space.
While we aren't familiar with the exact deal amounts, here are some key investments that we are aware of:
December 2018: Atomic Bazaar, an Ethereum marketplace
January 2022: Dharma Labs, a DeFi wallet provider
March 2022: Gem, an NFT marketplace aggregator
OpenSea Press Releases
Please find below some of the latest press releases associated with OpenSea stock.
Conclusion
It's clear that OpenSea stock has been a massive success for all of its early investors.
Unfortunately, it also means that OpenSea is currently on the classic Web 2.0 route that is heavily funded and completely owned by venture capitalists.
This means that the users who made the platform what it is today will largely miss out on all of the gains.
While the company tells a nice story of decentralization, it remains a picture-perfect example of the classic centralization of wealth and power in the tech industry.
And its latest acquisition of the Gem NFT aggregator is the logical next step in preventing further competition.
Here at Tokenized, we want to help you learn as much as possible about the coming NFT revolution. We help you navigate this fascinating new world of non-fungible tokens and show you how you can integrate tokenization into your own business.