Are you having trouble finding an OpenSea coin price?
Or perhaps you thought it might be a good idea to invest in OpenSea and are desperately looking for information on OpenSea coin?
Don't worry, a lot of people are trying to learn more about a potential OpenSea coin and that's why we've decided to clarify the situation.
In this guide, we'll explain why you are having trouble finding an OpenSea token on any of the exchanges you're used to.
So let's dive right in.
Key Points (tl;dr)
There is no OpenSea coin or token. OpenSea is a privately owned and VC-backed startup with no intentions of launching a community coin.
Since OpenSea doesn't have its own token, there's also no reason for it to be listed on CoinMarketCap.
Based on it's latest Series C funding round, OpenSea is currently valued at $13.3 billion.
Other NFT marketplaces that do have their own governance token include LooksRare, X2Y2, Rarible and SuperRare.
Do not confuse OpenOcean's token for an OpenSea coin. OpenOcean has nothing to do with NFTs and they are most likely just trying to ride on OpenSea's coattails.
Like this content? Then share it!
OpenSea Coin: Everything You Need to Know in 2023
Here's the answer. Great article by @ChrisHeidorn right here: https://tokenizedhq.com/opensea-coin/

www.tokenizedhq.com
Does an OpenSea Coin Even Exist?
There is no OpenSea coin or governance token. OpenSea is a privately owned and VC-funded startup that never launched its own governance token and it is highly unlikely that this will ever change.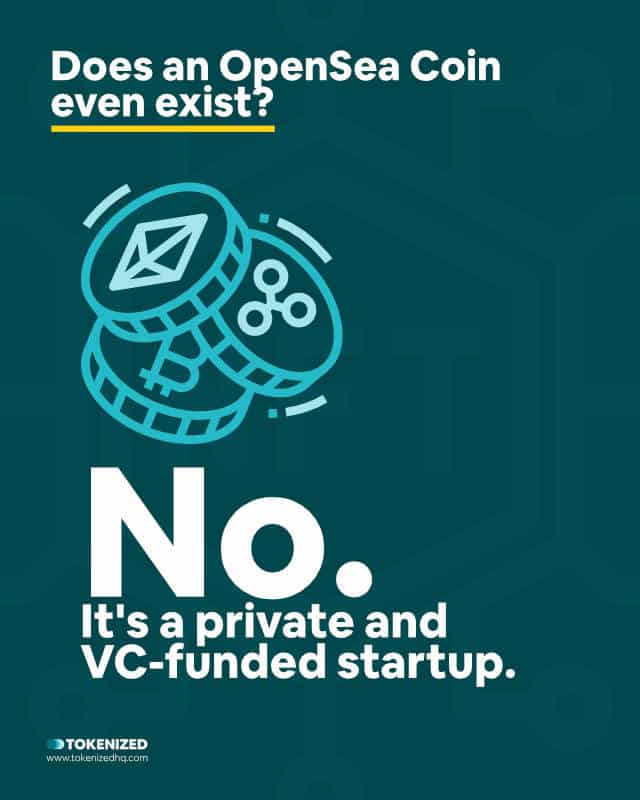 Given the exponential growth of the NFT market size and the monopolistic dominance of this market by OpenSea, it's not surprising that many people are looking to invest in OpenSea.
However, it's important to understand that OpenSea is exclusively funded by early angel investors as well as large venture capital firms.
It is a private company that touts itself as a leader in Web3, while in fact, it is really more like a Web2 company doing business in a Web3 space.
For obvious reasons early investors are happy with the current situation and have little interest in launching an OpenSea coin or token simply because it would dilute the value of their own OpenSea stock.
The community has been asking for an OpenSea coin for a very long time because of the amount of OpenSea fees they are paying.
They are looking to align incentives in a more community-centric way.
However, to this day OpenSea has NOT launched its own token and it does not look like it will happen anytime soon.
Why isn't OpenSea Listed on CoinMarketCap?
OpenSea does not have a governance token and therefore there is no reason for it to be listed on CoinMarketCap. CoinMarketCap only lists coins and tokens that can be traded freely on exchanges.
Since OpenSea isn't a cryptocurrency and also doesn't have an official OpenSea crypto coin, it's not really surprising that OpenSea isn't listed on CoinMarketCap.
Many people tend to assume that any larger project in the crypto space must be listed on CoinMarketCap.
And yes, obviously you can find information about OpenSea on CoinMarketCap, however, this is almost exclusively limited to educational content.
If you don't have your own coin or token, there's no reason to list you on CoinMarketCap.
What is OpenSea's Market Cap?
OpenSea's latest Series C funding round in January 2022 raised $300 million. Based on this latest financing, OpenSea's market cap is currently estimated at $13.3 billion.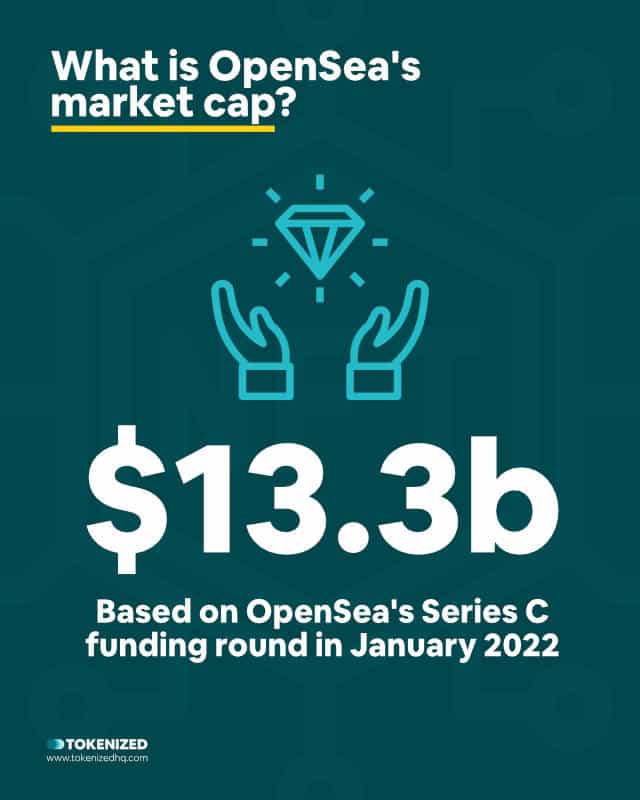 First of all, OpenSea is a private company and only public companies are listed on a stock exchange.
Since OpenSea is privately owned, it's not always easy to value the company.
Traditionally, a publicly listed company's market capitalization is valued based on the share price at which it is trading, multiplied by its total number of shares.
If stock options and other future stock is factored in, then this is usually referred to as the fully diluted market cap.
For private companies, there are usually two ways to calculate the market cap.
If you have sufficient information on the company's profitability, you can use a discounted cash flow analysis to create a valuation.
Without this information, your best bet is to look at how much money the startup raised in its latest funding round and how much of the company was given up for this.
Using this approach, the latest OpenSea market cap is valued at $13.3 billion.
What NFT Marketplaces Have a Token?
The number of NFT marketplaces that are launching with their own governance token is steadily increasing. At the moment they include LooksRare, X2Y2, Rarible and SuperRare.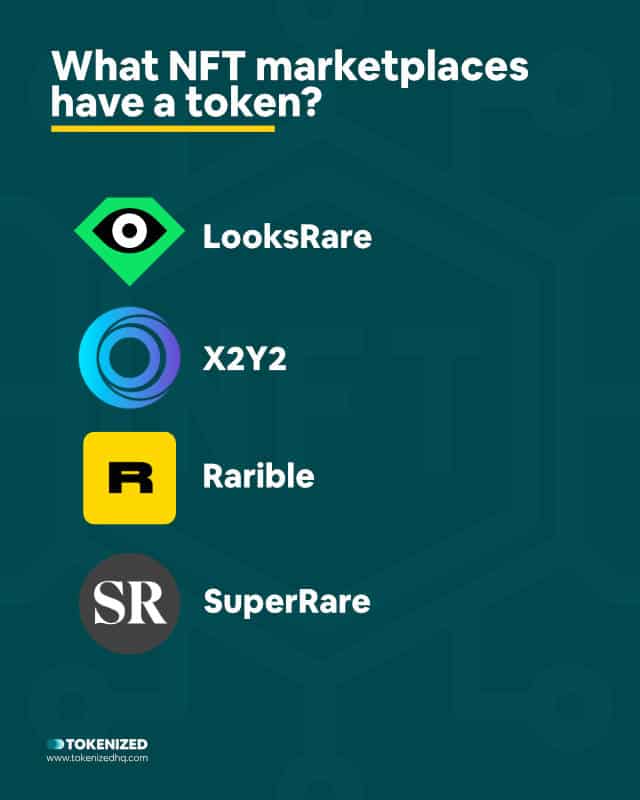 Given how Web3 promotes a decentralized web as well as community-owned business models, it's not surprising that there are several OpenSea alternatives that have their own governance token.
In fact, two new NFT marketplaces were launched in early 2022 already and each one has its own token.
These two new contenders are LooksRare and X2Y2.
What makes them special is the fact that these aren't just governance tokens.
In fact, all of the trading fees which OpenSea currently keeps for itself, are paid out to holders of LOOKS and X2Y2 tokens.
At 2% of the total trading volume, that's quite a bit.
Here's a list of all NFT marketplaces that have their own token:
What is OpenOcean?
OpenOcean is a trading platform and exchange aggregator that integrates with decentralized as well as centralized exchanges. It is unclear why the team chose a name that is so close to OpenSea's. It is possible that they were hoping for SEO benefits.
OpenOcean advertises itself as an aggregator that gives you the best rates across decentralized and centralized exchanges.
In other words, it's a trading platform that unites both DEXs and CEXs.
It's unclear whether the team chose the name "OpenOcean" in order to troll OpenSea or whether they were hoping for some SEO benefits by using an extremely similar name.
If they were attempting to ride on the coattails of OpenSea, then I'm afraid clearly did not work.
Someone who searches for "OpenSea coin" is obviously looking for an OpenSea token and not some token from a random crypto trading platform that's ranked in the 800s on CoinMarketCap.
Conclusion
If you were looking for a community token from OpenSea, then I'm afraid you're going to be disappointed.
OpenSea does not have its own coin and given that it is a VC-funded private business, it is more than unlikely to happen.
Never say never, but there's currently no incentive for investors to even entertain the idea of a community buy-out.
Here at Tokenized, we want to help you learn as much as possible about the coming NFT revolution. We help you navigate this fascinating new world of non-fungible tokens and show you how you can integrate tokenization into your own business.