Looking for a good Discord server name for your new community?
Perhaps you've decided it was time to start your very own online community on Discord but now you're not really sure how to name your server?
We all want our own creations to look slick and sound cool, and ideally, they should also resonate with the audience we're trying to attract.
In this guide, we'll discuss how to pick good Discord server names and also share our massive list of over 500 really good suggestions.
Let's check it out.
Key Points (tl;dr)
If you're about to pick a new name for your Discord server, the most important thing is that it should resonate with the target audience in your niche. Sometimes inside jokes and puns can help with this but it's also a good idea to ask your community if you already have one.
Remember to keep your server name short and sweet, and try to pick something unique if possible. Although this isn't crucial, since names can still be changed later, it will help you with your branding efforts further down the line.
To get access to our massive list of 500+ good Discord names, scroll down towards the end of the article.
For a detailed overview of 10+ essential Discord server channel ideas, PLEASE READ THE FULL ARTICLE.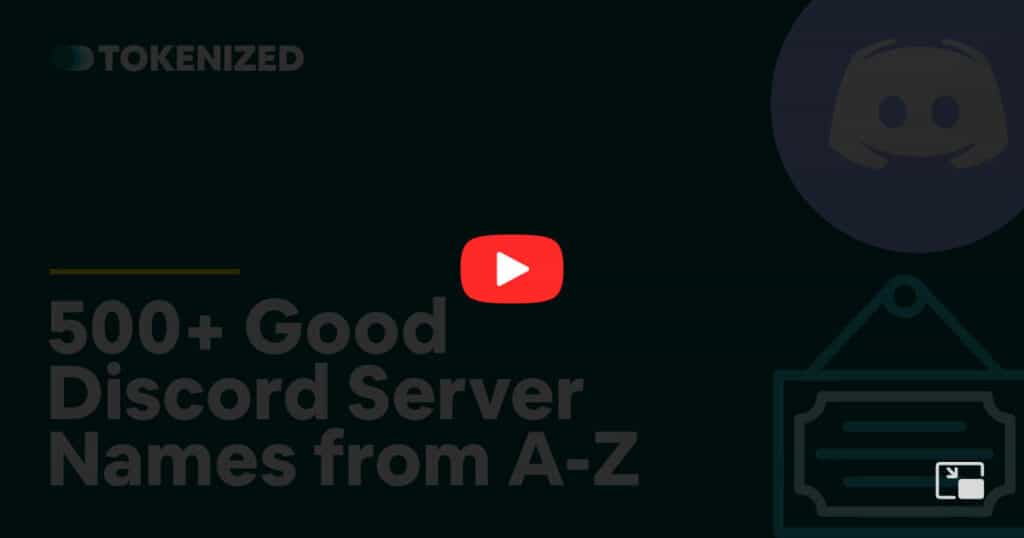 Like this content? Then share it!
500+ Good Discord Server Names in Alphabetical Order
Here's the answer. Great article by @ChrisHeidorn right here: https://tokenizedhq.com/good-discord-server-names/

www.tokenizedhq.com
How to Pick A Good Name for Your Discord Server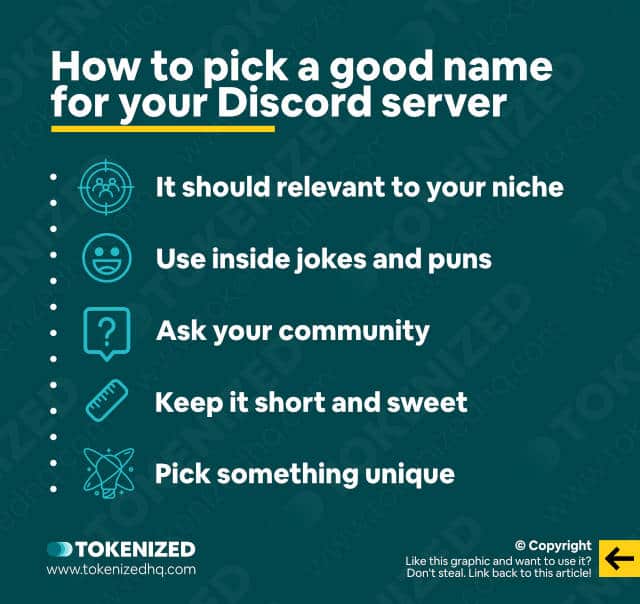 Picking a good Discord server name can be tricky.
After all, you want something that is catchy, clever, and most importantly, relevant to your server's purpose.
However, with a little creativity, you should be able to come up with something that fits the bill.
Here are a few tips to get you started.
Purpose
First, take a look at your server's purpose and brainstorm some keywords that sum it up.
If you're building a server for gamers then you may want to integrate the word "game" into the name or something that's related to a specific game you like to play.
Once you have a good list of potential keywords for your niche, try to play around with them and see if you can come up with any puns or other clever ways to use them in your server's name.
Insides Jokes & Puns
Another good way to come up with a good Discord server name is to think about inside jokes or other memorable moments that have happened on your server.
These could make for good names, especially if you can find a way to work them into a pun or other clever wordplay.
Ask Your Community
Finally, don't be afraid to ask for help!
If you're stuck, try reaching out to your fellow server members and see if they have any ideas.
Brainstorming together can often lead to some great results.
With these tips in mind, you should be well on your way to picking out the perfect name for your Discord server.
Keep it Short & Sweet
Try not to go overboard with the length of the server's name.
Good Discord server names are easy to understand and to the point.
Remember, the name of your server is essentially part of your brand.
Pick Something Unique
Although it's nearly impossible to avoid a certain amount of overlap and some people may come up with the same name.
However, if you can, try to pick a Discord server name that is unique and will help you stand out from the crowd.
You want your community to recognizable and easy to find by its name.
What if I Can't Think of a Cool Name?
If you simply can't come up with any good Discord server names for your community, then you probably just need some inspiration.
Sometimes it's also better to pick a name from an existing list of ideas and use it as a temporary name.
The key thing is not to get stuck at this stage and rather focus on building your community.
You can always change the name at a later stage and show you how to do this a bit further down in this guide.
In the meantime, check out our massive list of good Discord server names below.
Who knows, you just might find what you're looking for.
500+ Examples of Good Discord Server Names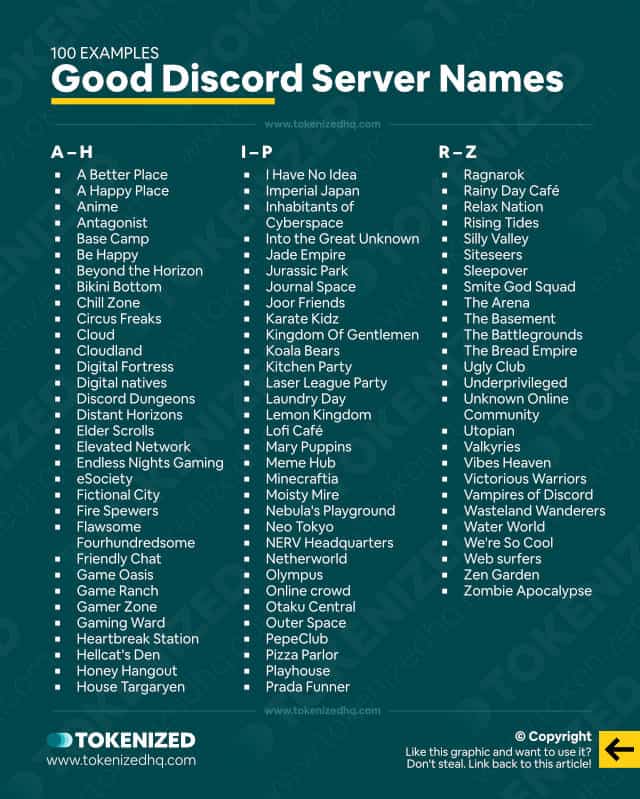 I get it, some of you may not be interested in spending hours figuring out what to name their Discord server.
That's why we've put together this extensive list of good Discord server names and sorted them alphabetically for you.
Now, obviously, 500 Discord server names is a pretty huge list.
That's why you'll only the top 10 server names for each letter of the alphabet.
If you'd like to take a look at the full list, feel free to access it for FREE via the button below.
Server Names by Category
Before we dive into the list of alphabetically sorted server names for Discord, I would like to point out that we have also gone through the trouble of putting together specially curated lists of Discord server names for a number of different categories.
Some of you may find it easier going through a slightly shorter list that already meets most of your criteria, so here you'll some of those lists:
Letters A-D
| A | B | C | D |
| --- | --- | --- | --- |
| A Better Place | Base Camp | Chill Zone | Digital Fortress |
| A Confederacy of Dunces | Base Resort | Chillzone | Digital Hangout |
| A Happy Place | Be Happy | Circus Freaks | Digital natives |
| Afterlife | Beautiful People | City of Cats | Direwolf Den |
| Alucard | Bedrock | Clean Escape | Disco Inferno |
| Anime | Beyond the Horizon | Cloud | Discord Dungeons |
| Anime World | Big Brains | Cloud Landings | discord_is_for_losers |
| Another World | Big Socks | Cloud Nine | Discordia |
| Antagonist | Bikini Bottom | Cloudland | Distant Horizons |
| Anti Stress | Billionaires | Club Dolphin | Dogdays |
Table with 40 examples of Discord server names starting with the letters A, B, C, or D.
Letters E-H
| E | F | G | H |
| --- | --- | --- | --- |
| Elder Scrolls | Fictional City | Game Oasis | Heartbreak Station |
| Elemental Nation | Final Fantasy VII | Game On | Heaven or Vegas |
| Elevated Network | Fire Spewers | Game Ranch | Hellcat's Den |
| Elysium | First Person Shooter | Gamelodge | Hide Out |
| Endless Abyss | Fitness Universe | Gamer Shack | Hideaway |
| Endless Nights Gaming | Flawsome Fourhundredsome | Gamer Zone | Honey Hangout |
| Equestrian Wasteland | Footloose and Fancy-Free | Gamer's Paradise | Hostezza |
| Eris' Playground | FortThisNite | Gaming Area | House of Whores |
| eSociety | Friendly Chat | Gaming Ward | House Targaryen |
| Eternal Discord | Friends Hangout | Gang Party | Hub of Heroes |
Table with 40 excellent Discord server names starting with the letters E, F, G, and H.
Letters I-L
| I | J | K | L |
| --- | --- | --- | --- |
| I Have No Idea | Jade Empire | Karate Kidz | Laser League Party |
| IHOP | Jugemu | Keep Going | Last Pick |
| Imperial Japan | Jurassic Park | Kingdom Of Gentlemen | Laundry Day |
| Infinite Server | Just Emotes | Kitchen Sink | Lazy Seal Gang |
| Infinity | Jumping Castle | Kitten Korner | Legends |
| Inhabitants of Cyberspace | Journal Space | Koala Bears | Lemon Kingdom |
| Internet citizens | JoinTheFun | Keke Klub | Let's Go |
| Internet society | JamTime | Kumbaya | Literal Hell |
| Into the Great Unknown | Joor Friends | Kitchen Party | Lofi Café |
| iDiscord | Jalamanga | Kids on Discord | Lone Wolf Sanctuary |
Table with 40 good Discord server names starting with the letters I, J, K, and L
Letters M-P
| M | N | O | P |
| --- | --- | --- | --- |
| Mary Puppins | Nebula's Playground | Olympus | PepeClub |
| MEE-Bot Commands | Neko Atsume Addicts | Onionland | Phoenix Down |
| Meme Hub | Neo Tokyo | Online crowd | Pizza Parlor |
| Mental Hospital | Neptune's Pride | Online users | Play Corner |
| Middle Earth | Nerd Herd | Oompa Loompa Land | Player vs. Environment |
| Minecraftia | NERV Headquarters | Otaku Central | Playhouse |
| Mineplex Official Discord | Net surfers | Out of House | Pokemontopia |
| Misfits | Netflix and Chill | Out of Porportion | Pony Square |
| Moisty Mire | Netherworld | Outer Space | Prada Funner |
| Money Hunters | Netizens | Otherside | Procrastination Station |
Table with 40 Discord server name examples starting with the letters M, N, O, and P.
Letters R-U
| R | S | T | U |
| --- | --- | --- | --- |
| Ragnarok | Silly Valley | The Arena | Ugly Club |
| Rainbow Road | Silver Bullet | The Asylum | Ultimate Dankers |
| Rainy Day Café | Siteseers | The Basement | Underprivileged |
| Ravenclaw Tower | Skull Island | The Batcave | Universe Sandbox Official |
| Red Wolves | Sky World | The battle zone | Unknowing |
| Relax Nation | Sleepover | The Battlegrounds | Unknown Online Community |
| Residents of the Web | Slumber Party | The Birdlands | Up All Night |
| Respectful Folks | Small Brains | The Brainstorming Zone | Users of the Internet |
| Rising Tides | Smite God Squad | The Bread Empire | Utopian |
| Robloxian High School | Social Spot | The Breakfast Club | Underworld |
Table with 40 of the best Discord server names starting with the letters R, S, T, and U.
Letters V-Z
| V | W | Z |
| --- | --- | --- |
| Valkyries | Wasteland Wanderers | Zen Garden |
| Vibe Place | Wasting Life | Zephyr |
| Vibes Heaven | Water World | Zombie Apocalypse |
| Vibing Booth | Watering Hole | |
| Victorious Secret | Waynes Side Manor | |
| Victorious Warriors | We're So Cool | |
| Video Junkies | We're trying our best | |
| Virtual Watercooler | Web community | |
| Vampires of Discord | Web surfers | |
| Voodoo Gaming | Webizens | |
Table with 40 good Discord server names starting with the letters V, W, and Z.
Are Discord Server Names Unique?
Discord server names are not unique.
In other words, even if another server has already used a particular name, there's nothing stopping you from giving your Discord server the same name.
However, good Discord server names should be as unique as possible.
Duplicate names for Discord servers mean that there's a certain risk of confusion if people start searching for your Discord server, since they may end up in the wrong one.
This is particularly relevant if you've enabled the discovery and your server is set to public.
It allows users to find your server via Discord's search function.
That being said, this feature is restricted to Discord servers with 7,000 or more members.
Can I Change My Discord Server Name?
Your Discord server name can be changed at any time.
Unfortunately, many websites provide false information on how this works and end up confusing the actual server name and your personal nickname on a given server.
In order to change the name of your Discord server, you need to follow these steps:
Step 1: Click on your server's name and select "Server Settings".
Step 2: Now make sure you're in the "Overview" tab.
Step 3: Look for the text field called "Server Name" and enter a good Discord server name.
Step 4: Hit the "Save Changes" button.
That's how easy it is!
Frequently Asked Questions (FAQ)
Before we close off this guide, let's quickly address some of the most common questions related to good Discord server names.
What is a server name example?

Good examples of Discord server names are Chill Out Café, Vibe Corner, Fortnite Freaks, Roblox Rumble, and literally anything that will resonate with the audience that you're targeting with your community.

What if a Discord server name is taken?

Don't worry about it. Server names on Discord are not unique. That means that multiple servers can use the same name without causing any immediate problems. Of course, if both servers end up being very successful, then there's a slight risk of confusion. However, this is very rare.

Can I use numbers in our Discord server name?

Sure you can. Why wouldn't would you?

Can Discord server names contain NFSW words?

No, given that Discord's community guidelines are very strict with regard to content that is categorized as adult or NSFW, we strongly advise against using any form of explicit wording that isn't suitable for all ages.

Are there any Discord server name generators?

Yes, there are a number of free name generators available on the internet. Some of the are tailored towards Discord while others are not. Check out our dedicated article on Discord server name generators to find out which ones work best for your specific needs.
Conclusion
Picking a good Discord server name is probably one of the most exciting parts of creating a new online community on Discord.
Unfortunately, it's also one of the steps that most people struggle with because they tend to overthink the process.
Your key objective should be to get going and start building your community. Branding and names are secondary and can always be changed at a later stage.
Here at Tokenized, we want to help you learn as much as possible about social media. We help you navigate the world of tech and the digitalization of our society at large, including the tokenization of assets and services.