Are you looking for cool Discord server names?
So you're planning on setting up a Discord server where you and your friends can hang out and play your favorite video games.
But you don't want it to be like any other Discord server, you want to be the coolest place on earth and so it obviously needs to have a really cool name.
Well, in this guide, we'll show you 50 of the coolest Discord server names we could find on the web plus a lot more.
Let's check out the list.
Key Points (tl;dr)
Most Discord servers tend to be testosterone-laden places filled with tons of boys and men who are mainly interested in games and technology. So there's a lot of pressure to come up with really serious and cool-sounding Discord server name ideas.
That's not to say that there aren't any women, but the vast majority of them simply have other interests and put more emphasis on other things. They generally take a more positive and light-hearted approach to nearly everything.
So when it comes to coming up with cool Discord server name ideas, you need to hit a certain tone so that it resonates with the majority of Discord users: gamers.
We've put together a curated list of the 50 very best server names that we believe sound "cool" so that you don't have to spend hours searching for inspiration.
For a comprehensive list of 50 cool Discord server name ideas, PLEASE READ THE FULL ARTICLE.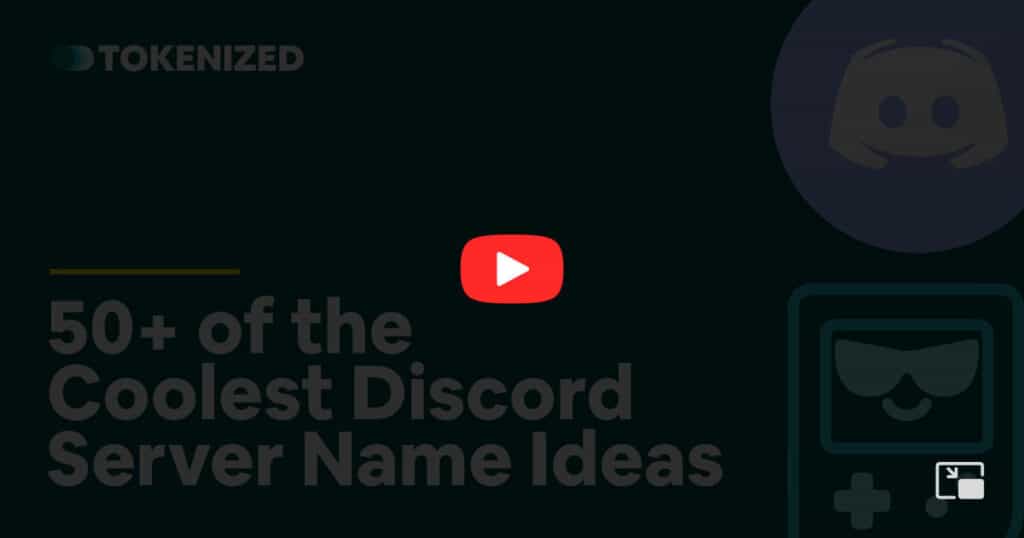 Like this content? Then share it!
50+ Cool Discord Server Names [+ Free PDF]
Here's the answer. Great article by @ChrisHeidorn right here: https://tokenizedhq.com/cool-discord-server-names/

www.tokenizedhq.com
What Makes a Discord Server Name "Cool"?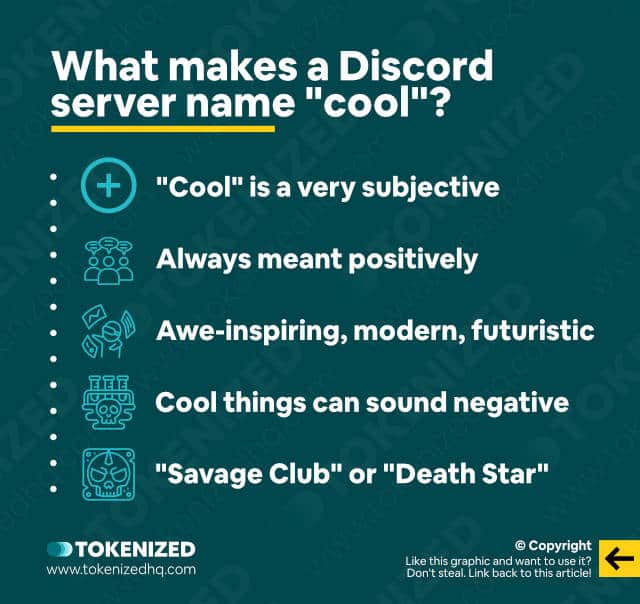 It's really important that we talk about what is considered "cool" and what isn't.
I think we can all agree that although there are some server names where most people would agree that they sound cool, it's still a highly subjective matter.
If you're totally into gaming then your definition of cool may be strikingly different from that of someone who's more into aesthetics or cute stuff.
So for the purposes of this article, let's quickly clarify which criteria we've used to determine which Discord server names should be considered cool and which should not.
The term "cool" is commonly used to describe things that are really good but also somewhat modern and futuristic.
Even though it's meant to be a positive term, a cool Discord server name doesn't necessarily have to sound positive.
In fact, many of the most serious and dark server names sound absolutely cool (e.g. Savage Club, The Outcasts, etc).
Therefore please take this list with a grain of salt, simply because it's impossible to match everyone's taste.
Where Can I Find Cool Discord Server Names?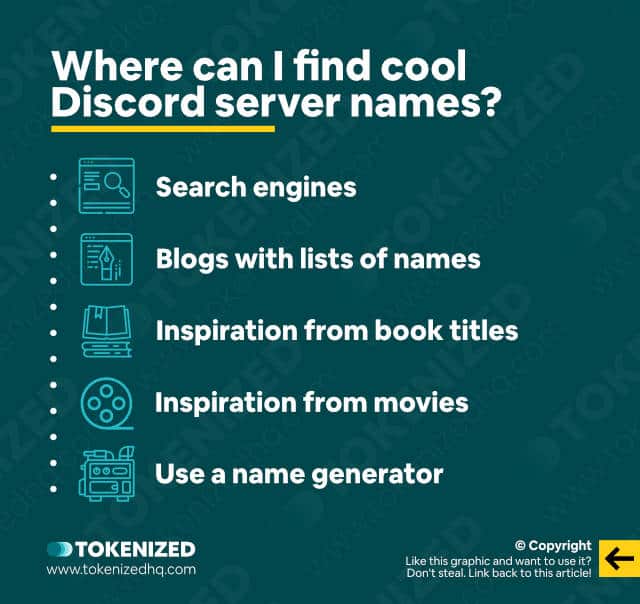 You ended up on this page because you found us through your preferred search engine.
As you may have noticed, the search results are riddled with sites that advertise their endless lists of cool Discord server names.
Some of them have 100 names, others have 200 names, and a couple of them even claim to have more than 3400 names on their page, even though it's a blatant lie.
And instead of actually looking at their huge lists of Discord server names and trying to figure out which ones fall into a particular category, they just put together random lists.
You see, they mainly just want to position their articles as "catch-alls" for various different interests because it makes them rank higher in search engines.
So they claim to have the best, the cutest, the funniest, the most aesthetic, and even the coolest Discord server names all in one article.
But is that actually realistic? Of course not.
Instead, we've actually done the hard work and gone through our grand list of over 500 good Discord server names in order to curate the perfect list of cool-sounding server names for you.
And the outcome of the hard work is what you'll find below.
50 Cool-Sounding Discord Server Names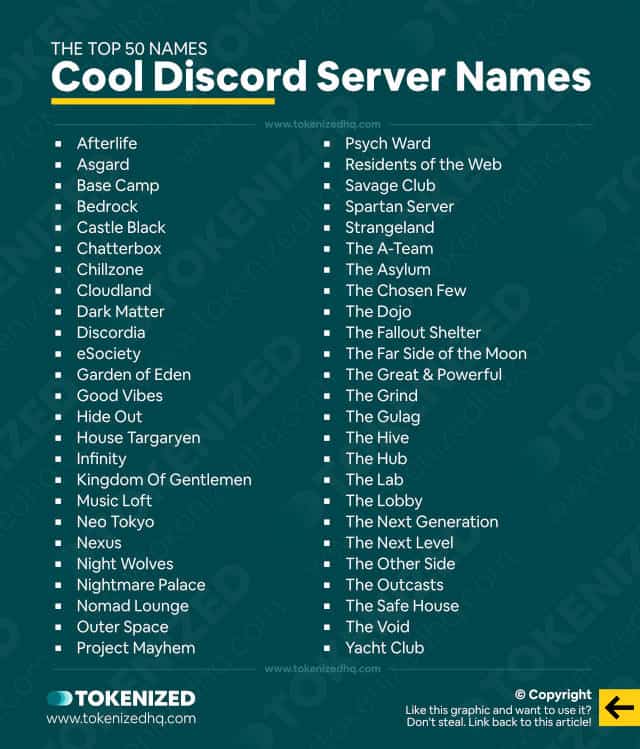 Below is our curated list of 50 cool Discord server names that you can copy and paste or use as inspiration for your own server.
Please note that this is only a selection from our full list of over 500 name ideas for Discord servers of all kinds.
If you'd like to get even more inspiration, feel free to download a copy of the list by clicking the button below.
Afterlife
Asgard
Base Camp
Bedrock
Castle Black
Chatterbox
Chillzone
Cloudland
Dark Matter
Discordia
eSociety
Garden of Eden
Good Vibes
Hide Out
House Targaryen
Infinity
Kingdom Of Gentlemen
Music Loft
Neo Tokyo
Nexus
Night Wolves
Nightmare Palace
Nomad Lounge
Outer Space
Project Mayhem
Psych Ward
Residents of the Web
Savage Club
Spartan Server
Strangeland
The A-Team
The Asylum
The Chosen Few
The Dojo
The Fallout Shelter
The Far Side of the Moon
The Great & Powerful
The Grind
The Gulag
The Hive
The Hub
The Lab
The Lobby
The Next Generation
The Next Level
The Other Side
The Outcasts
The Safe House
The Void
Yacht Club
Frequently Asked Questions (FAQ)
Before we close off this guide, let's quickly address some of the most common questions related to cool Discord server names.
Why do cool Discord server names sound so serious?

The term "cool" is often used by boys and men to describe something that they consider "awesome". While it's meant as a positive remark, it doesn't mean that the name has to be positive in itself. So, for example, someone might think that "The Abyss of Hell" sounds really cool. Most women would probably disagree. "The Death Star" might be considered cool because it's a reference to Star Wars. But we can all agree that it's actually a villain.

Where can I find more cool Discord server name ideas?

Rather than searching through endless lists of server names that may or may not have been pre-sorted for you, you can also just use one of the many name generators that are available on the internet. We're big fans of Reedsy's book title generator because book titles almost always sound cool and aesthetic.
Conclusion
Having cool Discord server names is particularly important in the gaming scene.
This is especially true because it is still a primarily male-dominated space and boys tend to identify most with these types of server names.
We hope you find our curated list useful and find the inspiration you need to potentially even come up with your own ideas for server names.
Here at Tokenized, we want to help you learn as much as possible about social media. We help you navigate the world of tech and the digitalization of our society at large, including the tokenization of assets and services.