Are you looking for funny Discord server names?
Perhaps you're about to create your very own Discord community and you want to make people laugh as soon as they join the server?
Coming up with a funny name for your Discord server isn't easy, especially if you're not a particularly talented comedian.
In this guide, we'll show you the 50 funniest Discord server names you've ever seen.
Let's check out the list.
Key Points (tl;dr)
Tired of the same old Discord server names that are just boring, pretentious, or just take themselves too seriously? Well, in that case, you need to pick something that's funny.
Funny Discord server names that are witty and use wordplay to make people chuckle are always a good way to welcome new members to the community. After all, everyone's there to have some fun.
To make this process easier for you, we've curated a list of the top 50 funny Discord server names that we could find. They are meant to provide you with inspiration so that you may come up with a variation that best fits your specific needs.
For a comprehensive list of 50 funny Discord server name ideas for your next community, PLEASE READ THE FULL ARTICLE.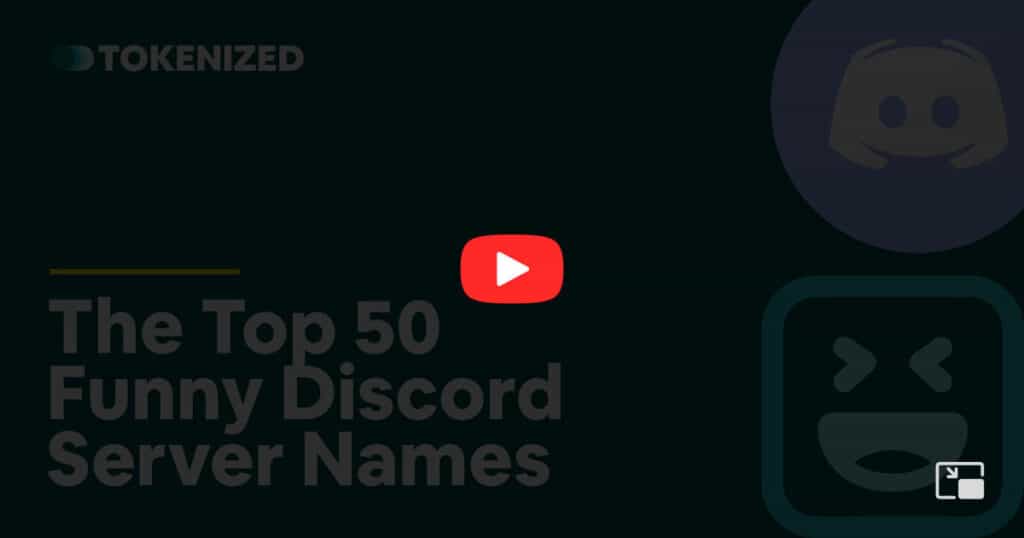 Like this content? Then share it!
The Top 50+ Funny Discord Server Names [+ Free PDF]
Here's the answer. Great article by @ChrisHeidorn right here: https://tokenizedhq.com/funny-discord-server-names/

www.tokenizedhq.com
How to Come Up With Funny Discord Server Names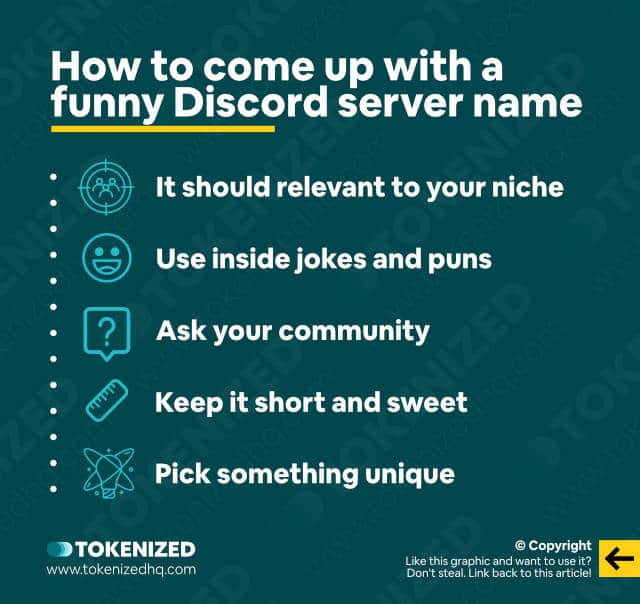 Sometimes, the hardest part of starting a new Discord server is thinking up the perfect name.
A good name can help to set the tone for your server and attract new members, but coming up with something clever and original can be tough.
If you're struggling to think of a good name, here are a few tips that may help.
First, try brainstorming with friends or other server admins.
Collaborating with others can help to spark new ideas and get the creative juices flowing.
Second, try thinking of puns or plays on words related to your server's theme or purpose.
Puns can be a great way to add some personality to your server name.
Finally, don't be afraid to have some fun with it.
After all, a server is only as fun as its name.
So if you're feeling stuck, take a deep breath and let your creativity run wild.
The 50 Funniest Discord Server Names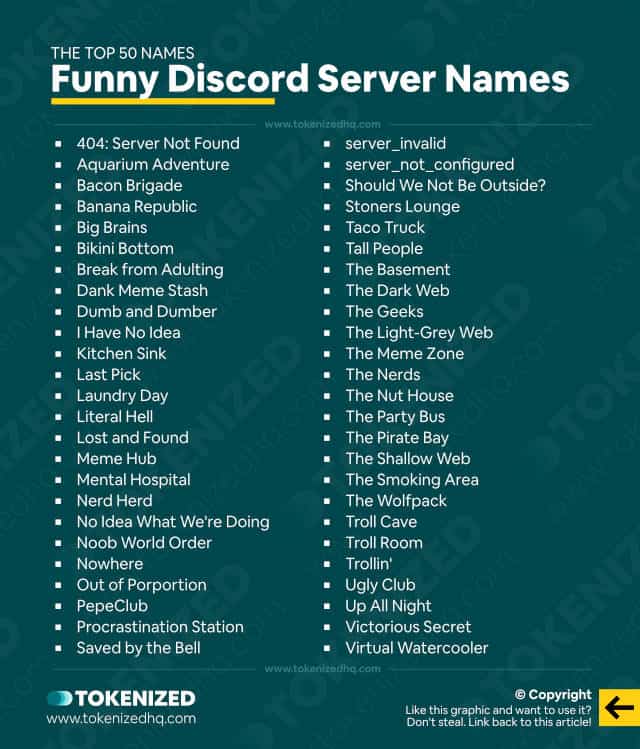 After countless hours of research and analysis, we managed to curate a list of 50 funny Discord server names that are guaranteed to make you smile.
We've distilled over 500 Discord server name ideas from various categories down to this special list with only the most ironic and humorous ideas.
If you're looking for even more ideas, make sure you download our free PDF with the full list of over 500 creative Discord server names.
You'll not only find a lot more cool server names but also Discord server names for gamers as well.
404: Server Not Found
Aquarium Adventure
Bacon Brigade
Banana Republic
Big Brains
Bikini Bottom
Break from Adulting
Dank Meme Stash
Dumb and Dumber
I Have No Idea
Kitchen Sink
Last Pick
Laundry Day
Literal Hell
Lost and Found
Meme Hub
Mental Hospital
Nerd Herd
No Idea What We're Doing
Noob World Order
Nowhere
Out of Proportion
PepeClub
Procrastination Station
Saved by the Bell
server_invalid
server_not_configured
Should We Not Be Outside?
Stoners Lounge
Taco Truck
Tall People
The Basement
The Dark Web
The Geeks
The Light-Grey Web
The Meme Zone
The Nerds
The Nut House
The Party Bus
The Pirate Bay
The Shallow Web
The Smoking Area
The Wolfpack
Troll Cave
Troll Room
Trollin'
Ugly Club
Up All Night
Victorious Secret
Virtual Watercooler
Frequently Asked Questions (FAQ)
Before we close off this guide, let's quickly address some of the most common questions related to funny Discord server names.
What are some weird names for Discord servers?

The weirdest Discord server name ideas that those that seem completely random and out of place. Although they are guaranteed to make you laugh, they're usually so ridiculous that no one in their right mind would ever come up with them.

Is there a tool that can help me generate Discord server name ideas?

Yes, there are dedicated name generators for Discord that can not only help you find cool usernames but also Discord server names. Vadoo.tv is one of those tools and will generate dozens of ideas for you in just a few seconds.
Conclusion
Funny Discord server names are a great way to show your community that you don't take yourself too seriously.
After all, no one wants to join a Discord server full of uptight people who don't put fun first.
By choosing a hilariously funny server name for your Discord community, you're guaranteed to put a smile on everyone's face.
Here at Tokenized, we want to help you learn as much as possible about social media. We help you navigate the world of tech and the digitalization of our society at large, including the tokenization of assets and services.