Are you trying to come up with a cool name for your Discord server?
Perhaps you've been brainstorming some ideas but just can't think of anything good because you don't know where to start?
Well, not to worry, because there are a number of Discord server name generators that will help you get tons of inspiration and ideas.
In this guide, we'll show the top 5 name generators for Discord servers as well as how to pick a good name for your server.
Let's dive right in.
Like this content? Then share it!
Top 5 Discord Server Name Generators in 2023
Here's the answer. Great article by @ChrisHeidorn right here: https://tokenizedhq.com/discord-server-name-generators/

www.tokenizedhq.com
How to Come Up With a Good Discord Server Name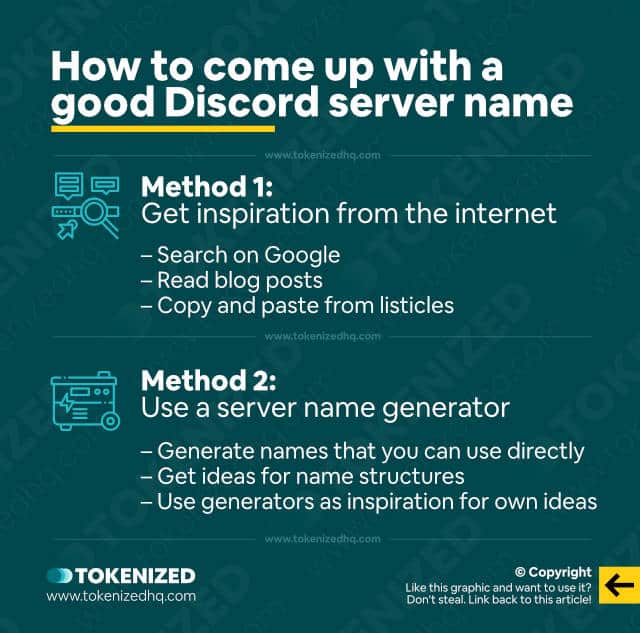 Whenever we need to come up with a good name for something, most of us will go into some form of brainstorming mode.
We jot down all the words that come to mind and which may seem loosely related to our topic.
The very structured people among us might build a mindmap that allows them to link everything together.
However, the problem with this approach is that by trying to be particularly clever we all seem to come up with the very same names.
And we all know there's nothing worse than choosing a name that's already being used, or even worse, the domain name has already been secured by someone else.
So what can you do to mix things up a little bit and get inspiration from wildly different sources?
Here are two methods that will help generate tons of new ideas for potentially good Discord server names.
Method 1: Get Inspiration from the Internet
The most obvious thing that comes to mind is to start with a Google search.
And guess what? The web is full of blog posts that tout their massive lists of good, cool, funny, cute, and even aesthetic Discord server names.
Each one of these articles tries to one-up the other and the lists just keep getting longer and longer.
Heck, we also have articles like that right here on Tokenized, but at least we put in the extra effort of categorizing and curating them for our users.
The others just copy and paste listicles from all sorts of random sources.
Will you be able to get some inspiration from any of the lists of Discord server name ideas?
Sure you will, but what do you think happens when everyone's using the same list for inspiration?
Right! Everyone ends up using the same damn names over and over again.
But luckily, there's another solution.
Method 2: Use a Server Name Generator
So, instead of using a static list of ideas that someone compiled for you at a certain point in time, what if you could add a little more randomness?
There are tons of tools out there that allow you to generate names for Discord servers but also for other situations.
Some Discord server name generators just spit out random names while others actually take some input from you and then give you more tailored inspiration.
Of course, not all of the ideas that you get from these name generators are good but they're actually really great for some random inspiration.
And that's why we've collected a list of the very best Discord server name generators out there right now.
Key Points (tl;dr)
If brainstorming isn't your thing and you don't have a lot of creativity in you, then there are 2 methods that you can use to still come up with a good name for your Discord server.

Method 1: Get inspiration from listicles on the internet
Method 2: Use a name generator for inspiration

Some of the most effective name generators for Discord server names weren't actually created with Discord in mind. However, they still do a great job in helping you come up with ideas.
In this guide, we've listed the top 5 Discord server name generators that we could find on the web. They are provided by:

adoo
Minehub
Khaoz Studios
The Story Shack
Fantasy Name Generators
The 5 Best Discord Server Name Generators
Vadoo
Minehub
Khaoz Studios
The Story Shack
Fantasy Name Generators
Bear in mind that not all of these name generators were specifically created for Discord servers.
However, we made sure that we selected those tools that were most likely to make suggestions that could easily be used for a Discord server.
Remember, you're not supposed to just copy and paste what these tools give you.
Instead, you should use them as inspiration and then give them your own spin.
1. Discord Name Generator by Vadoo.tv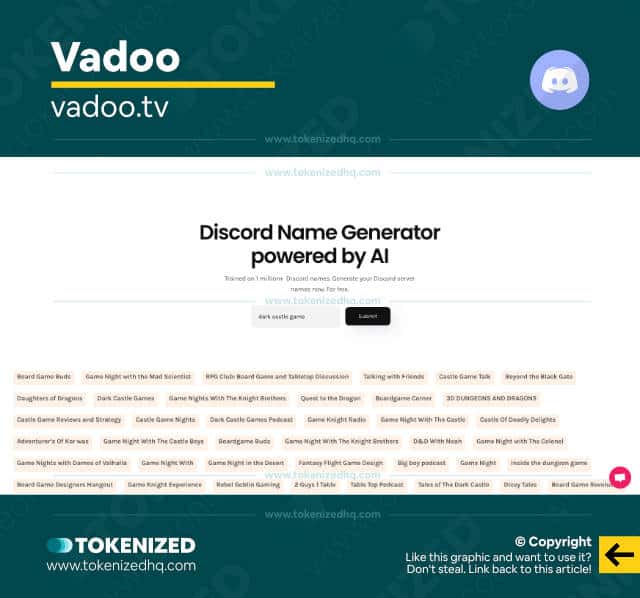 Vadoo is actually a video hosting and marketing company but they've created a free Discord server name generator because they think it will attract their target audience.
And guess what, their tool is actually quite good because it takes user input and then runs it through some form of (very) basic AI.
The server name ideas are actually quite good too, however, make sure you enter multiple descriptive keywords for best results.
Key features:
User keyword input
AI-generated
2. Server Name Generator by Minehub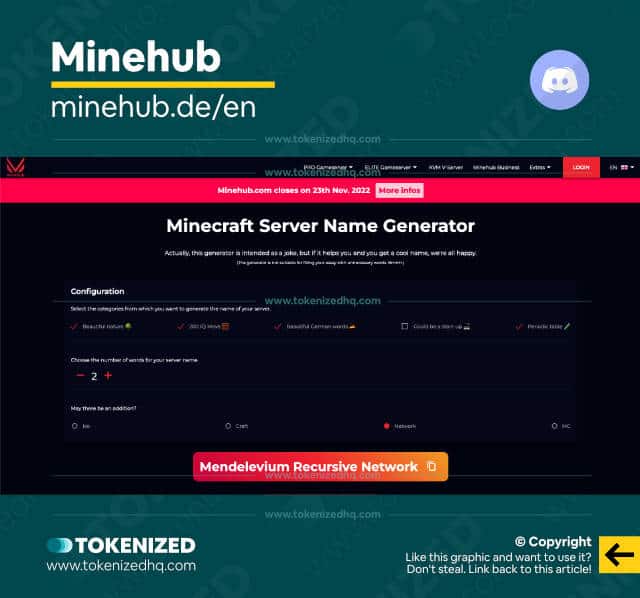 Technically the Minehub name generator was created for Minecraft and not for Discord.
However, since most users on Discord are still gamers, there's actually a good chance the suggestions will be suitable.
In fact, some of the random ideas were so good that you could easily use it as a Discord server name generator.
Key features:
Multiple configuration options
Define the number of words in the name
Only 1 suggestion at a time
3. Automatic Server Name Generator by Khaoz Studios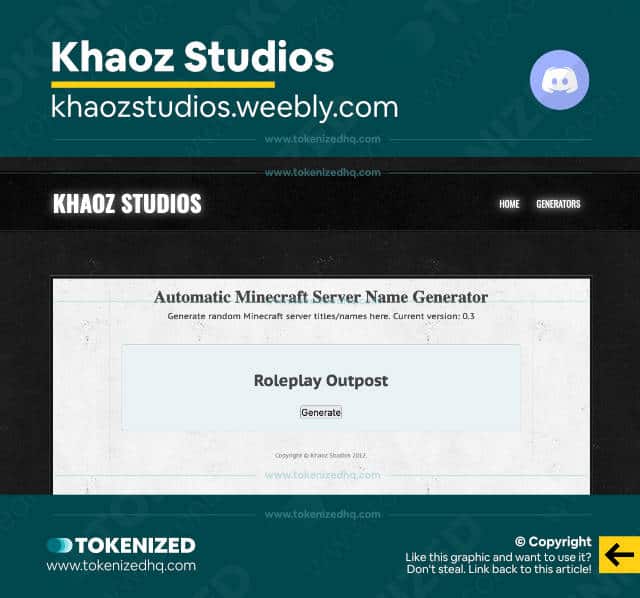 Next on our list is another server name generator by Khaoz Studios that was originally created for Minecraft.
But once again, the server name ideas it generates could easily be used for Discord as well.
The site is very simple and doesn't take user input but the random names are actually surprisingly good.
Key features:
One-click name generation
Good name database
4. Clan Name Generator by The Story Shack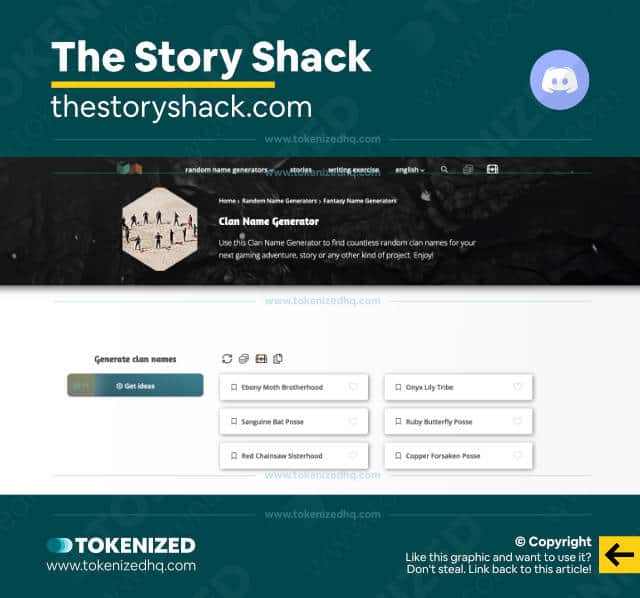 TheStoryShack is apparently a site that is geared towards independent writers but it also boasts a huge selection of all sorts of random name generators.
In this particular case, we've selected their Clan Name Generator because it is most likely to align with the needs of someone who is creating a Discord server.
The name suggestions are surprisingly good and can be used as a basis for your own spin-offs.
Key features:
Unfortunately, no user input
Usually 3-word combinations
5. Realm Name Generator by Fantasy Names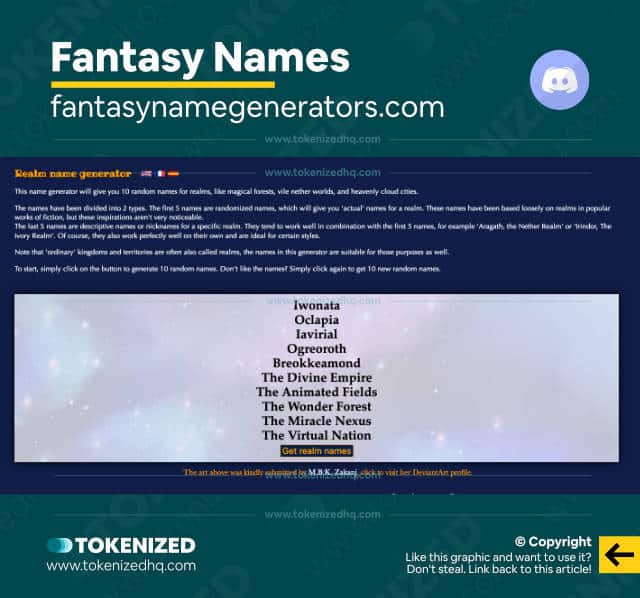 The last Discord server name generator on our list is actually a tool for fans of fantasy and folklore.
But perhaps that's exactly why it's such a good fit for Discord names.
There are so many fantasy games out there that use exactly the type of names and words that you frequently encounter on many Discord servers.
Key features:
Generates 10 realm names at a time
Always a mix of 5 odd ones and 5 that could be book titles
Frequently Asked Questions (FAQ)
Before we close off this guide, let's quickly address some of the most common questions related to Discord server name generators.
Are Discord server name generators free?

Yes, all of the name generators that we have encountered so far have all been free to use. Most of the time, they are relatively simple tools that simply create name combinations based on a certain algorithm. No one would be able to charge money for something like that.

How can I use a Discord server name generator for inspiration?

Think about what your Discord server will be about. Who is the audience you are trying to reach? What are common words in that scene? Now generate some server name ideas using the tools we've listed above and try to add your audience-specific words into the mix.
Conclusion
Not everyone has the gift of imagination and that's one of the reasons why so many people are looking for inspiration when it comes to naming their Discord server.
One way of getting ideas and inspiration is by using a Discord server name generator that spits out random word combinations.
While this approach clearly isn't perfect, sometimes all you need is a little push to get the creative juices flowing.
Here at Tokenized, we want to help you learn as much as possible about social media. We help you navigate the world of tech and the digitalization of our society at large, including the tokenization of assets and services.